Crab Cake Sauce Recipes for the Best Ever Crab Cakes
Crab cakes are made by combining fresh or canned crab meat with bread crumbs, milk, onions, mayonnaise, eggs and various spices and seasonings. Various other ingredients are often added such as chopped red or green peppers, coriander or basil.
The mixture is formed into small round and flattened cakes, that are grilled, sauteed, deep fried, barebcued or baked. Sometimes, moderate sized cakes are filled with stuffing of various type and served on hamburger buns.
Gourmet crab cakes, served in many restaurants, do not have fillings, but are made from freshly cooked crab meat that is left chunks and served as an accompaniment to other seafood dishes or as an entrée or starter.
Crab cakes made from fresh blue crabs or other local crabs are much better than canned crab, though this can be used if no fresh crab meat is available.
What really makes any crab dish special is the sauce. This article provides a collection of the best crab sauce recipes and the best ever crab cake recipes for you to try at home.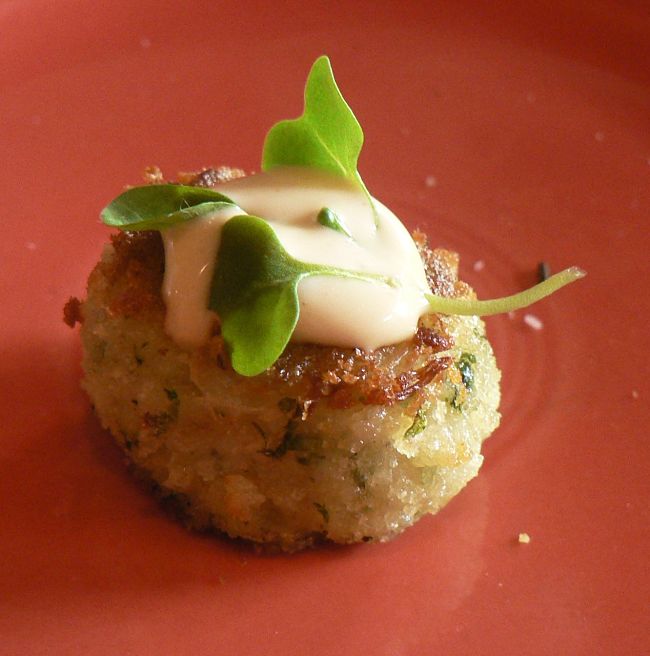 Crab Cake Sauce Recipes
Creamy Caper Sauce
1/2 cup chopped fresh parsley
1/2 cup chopped fresh chives
1/2 cup drained capers, coarsely chopped
1 tablespoon fresh lemon juice
2 tablespoons extra-virgin olive oil
1 cup mayonnaise
Blend the ingredients together, whisk until smooth and chill before serving
Chilli and Lime Mayonnaise Sauce (very simple)
1 cup (250ml) mayonnaise
1/2 cup (125ml) sweet chilli sauce
Freshly squeezed juice and grated zest of 2 large limes
Mix the ingredients together in a small serving bowl
Lemon Dill Sauce Recipe
1 garlic clove, minced
2 teaspoons fresh lemon juice
1 tablespoon grated lemon zest
1 tablespoon chopped fresh parsley leaves
2 tablespoons chopped fresh dill leaves
1/4 cup buttermilk
1 cup mayonnaise
Whisk all the ingredients together until smooth
Tartar Crab Cake Sauce
1/2 cup mayonnaise
3 tablespoons sweet pickle relish
2 tablespoons capers, rinsed and drained
1 teaspoon Creole mustard
1/4 teaspoon Cajun-Creole seasoning
1/4 teaspoon Tabasco or other hot pepper sauce
Combine all the ingredients and blend with a whisk
Dijon Crab Cake Sauce
1 tablespoon butter
2 tablespoons Dijon mustard
1/2 oz (15 ml) white wine
pinch of salt
1 clove of garlic clove, minced
1 shallot, finely chopped
1 tablespoon vegetable oil
Sauté the garlic and shallots in a pan on medium heat, until translucent and slightly softened. Add wine to the pan, and let reduce for 15-30 seconds. Add the mustard and salt and increase the heat bring to boil. Then remove from the heat and add the butter while stirring gently.
Cajun Remoulade Crab Sauce
1/4 bunch tarragon (finely chopped)
1/4 bunch flat leaf parsley (finely chopped
1/4 bunch chives (finely chopped)
1/4 bunch chervil (finely chopped)
1 1/2 g salted capers (chopped and rinsed)
50 g (2 oz) gherkins, chopped including the juice
250 ml (9 fl oz) vegetable oil
juice of one lemon
2 egg yolks
One or two pinches of Cayenne pepper to taste
Pinch of Spanish paprika
Salt to taste
Beat egg yolks, add the vinegar liquid from the gherkins and the lemon juice. Gently drizzle in the vegetable oil in a fine stream as you beat the mixture to emulsify it and make it thicken like a mayonnaise. Add the chervil, chives, gherkins and tarragon. Blend into the sauce and then add the cayenne pepper and paprika (according to your taste preference). Finally add the chopped capers and combine well to finish the sauce.
Horseradish Mayo Crab Sauce
2 teaspoons grated lemon zest
2 Tablespoons fresh lemon juice
1 cup mayonnaise
2 Tablespoons prepared horseradish
1/4 teaspoon freshly ground black pepper
Salt to taste
Combine all ingredients in a dish and mix well till combined and creamy. Taste and adjust the amount of pepper and salt. Cover and refrigerate.
Spicy Avocado Crab Sauce Recipe
1 ripe small avocado, pitted and peeled
1/4 cup fat-free (skim) milk
1 fresh jalapeño or serrano chilli, with stem removed and chopped
1/4 teaspoon sugar
1/4 teaspoon salt
1 tablespoon fresh lime juice
1 tablespoon mayonnaise
Add the avocado, lime juice, salt, mayonnaise, sugar, and the chilli to a food processor bowl and pulse several times until the chilli is finely chopped. Add the milk and purée the sauce until creamy and smooth. Transfer the sauce to a bowl and chill before serving.
Lemon Mustard Crab Cake Sauce
1/2 cup mayonnaise
2 tablespoons Dijon mustard
1 tablespoon fresh parsley, finely chopped
juice of 1 lemon
Combine all ingredients, whisk and chill.
Citrus Butter Crab Cake Sauce
1/2 lb (220 g) unsalted butter, cut into small cubes
2 tablespoons heavy cream
5 peppercorns
1 bay leaf
1/2 shallot, finely chopped
1 1/2 teaspoons cider vinegar
Juice of 1 lemon
Juice of 1 lime
1/4 cup orange juice
Add the orange, lime and lemon juices, vinegar, bay leaf, shallots and peppercorns to a medium-size, heavy saucepan and combine. Using medium heat, bring to the boil and simmer until all the liquid has been reduced. Stir in the heavy cream and cooking until the mixture is reduced by about one half. Lower the heat to medium-low. Gradually add the butter while stirring with a wooden spoon until butter is just melted. Remove from heat, cool and strain the sauce into a serving bowl.
Best Ever Crab Cake Recipes
Most crab cakes are deep or shallow fried, but you can also grill, bake an barbecue them for a low fat option. You can add the crisp crust of the fried option by shallow frying them when they are cooked. When frying them choose a high smoke point, neutral flavored oil such as grape seed or rice husk oil.
Crab Cake Recipe 1
1 egg, beaten
250 g (9 oz) white crabmeat, in large chunks
2 Tablespoons parsley, finely chopped
Pinch of paprika
Pinch of nutmeg
1/4 teaspoon white pepper
1/2 teaspoon salt
1/2 teaspoon mustard powder
40 g ( 1 1/2 oz) breadcrumbs
Lemon wedges, to serve
Vegetable oil, to cook
Flour, to coat
Add the breadcrumbs, seasoning, mustard powder and parsley to a medium-size bowl and mix well to combine. Add the crab and gently mix through to retain the chunks. Slowly add the egg to make a firm mixture that can be shaped into four or five cakes.

Using some seasoned flour spread onto a flat dish, coat both sides of the fishcakes by turning in the flour. Transfer the plat to the refrigerator and chill for about 30 minutes.

Add a small amount of oil to a heavy frying pan and shallow fry the crab cakes, a few at a time, using medium to high heat for about 3-4 minutes on each side. Turn carefully when nicely browned and crisp. Serve immediately with one of the sauces described above.
Crab Cake Recipe 2
1 lb ( 500 g) crabmeat, picked free of shells
1/4 teaspoon garlic powder
1/2 lemon, juiced
1 teaspoon dry mustard
1 teaspoon Worcestershire sauce
1 egg
1/4 cup mayonnaise
3 green onions (green and white parts), finely chopped
1/3 cup crushed saltine crackers
Dash cayenne pepper
1 teaspoon salt
1/2 cup oil ( rice bran, grape seed or peanut oil)
flour, for dusting the crab cakes

Mix all the ingredients together (except for the flour and oil). Shape into patties, flatten and lightly dust with flour. Heat oil in a large heavy skillet over medium to high heat. Fry the crab cakes, two or three at a time until browned on both sides (generally about 3-5 minutes). Serve immediately while warm.
Crab Cake Recipe 3
4 teaspoons vegetable oil
1 large egg white, lightly beaten
1 large egg, lightly beaten
1 lb ( 500 g) crabmeat, removed from shells, or canned
1/4 teaspoon freshly ground black pepper
1 tablespoon hot pepper sauce (such as Tabasco)
1 tablespoon fresh lemon juice
1 tablespoon chopped fresh parsley
1/4 cup finely chopped red bell pepper
1/4 cup finely chopped onion
4 slices wholemeal or white bread
Lemon wedges (optional of dressing)
Fresh parsley sprigs (optional for dressing)
1 can cream style sweet corn (optional)

Place the bread slices in a food processor and pulse about 10 times to make coarse bread crumbs. Combine all the ingredients except the oil in a bowl, add about half the breadcrumbs and mix well. Shape about 8 portion from the mixture into patties about 1/2 in thick(1.5 cm). Place the remaining breadcrumbs in a shallow dish and roll the patties in the breadcrumbs to coat. Heat about 2 teaspoons of oil in a large heavy skillet or frying pan over medium to high heat. Fry the crab cakes in batches of two until crisp and brown on both sides.
Related Articles
=> How to Make Garlic Sauces, Aioli, Toum - Best Sauce Recipes, Tips, Variations
=> Pesto Sauce Variation Recipe Collection - Gremolata, Chimichurri, Parsley & Other Herbs
=> Best Chimichurri Sauce Recipe for Argentine Food
=> Make Buffalo Wing Sauce at Home - Quick, Easy Recipes
=> Collection of Best Sauce Recipes for Fish Fillets
=> Spanish Romesco Sauce and Romescada Fish Stew Recipes
=> Lemon Sauce Recipes - Sweet, Savory, Sour, Spicy, Tangy
=> 10 Easy Butter Sauce Recipes and Cooking Tips
=> 14 Best Nut Sauce Recipes: Peanut, Almond, Pecan, Macadamia, Walnut, Cashew
=> Best-Fettuccine-Alfredo-Sauce-Recipes-with-Interesting-Additions
=> Beurre Blanc Sauce Recipes with Lemon, Dill, other Herbs for Seafood
=> Best Harissa Paste and Sauce Recipes to Spice Your Life
=> Best Chermoula Sauce and Marinade Recipes for Fish, Seafood, Chicken and Meat
=> Homemade Horseradish Sauce Recipes, Other Uses for Fresh Horseradish
=> How to Make Lemon Curd, Recipe for Lemon Butter Sauce for Fish Sauce
=> Best Pesto Recipe Homemade, Nutritious, Delicious Basil Pesto Sauce
=> Homemade Tartar Sauce Recipe