Creamy Clam Chowder Recipe with Fish, Potatoes, Corn, Green Beans
This clam chowder recipe has better and more intriguing taste and texture. Fresh green beans are added right at the end of the cooking process. Fish, herbs and vegetables are added to the clams.
This recipe includes a kaleidoscope of colors, tastes and texture by adding smoked fish, plain fish, potatoes, sweetcorn, parsley, green beans, onions, celery, and leek.
The broth is creamy and includes white wine, milk, cream and butter. This chowder is rich and wholesome. The calorie count is high but it is a very nutritious main meal or starter.
It keeps well in the fridge for a few days and is ideally served with warm crusty rolls, or slices of warm wholemeal bread.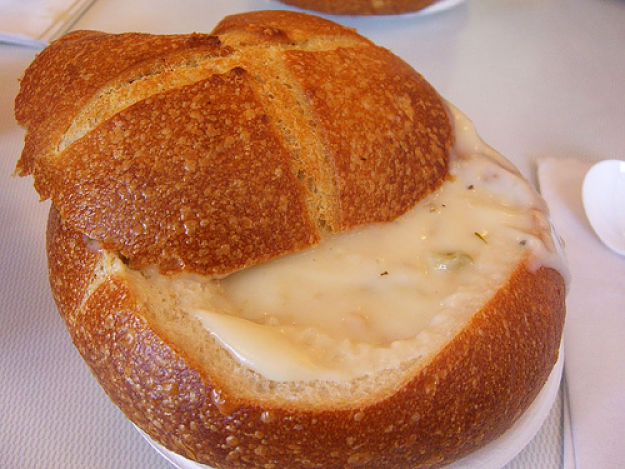 Classic Clam Chowder Recipe
Ingredients
300 ml ( 1 1/3 cups) cream
1 large leek, finely chopped
200 ml (1 cup ) dry white wine
2 stalks of celery, finely diced
200 g (7 oz) green beans, chopped
large bunch of fresh parsley, finely chopped
2 onions, finely chopped and dived into half portions
6-8 potatoes, cubed (washed potatoes don't need to be peeled)
8 crusty white bread rolls, or warm wholemeal bread (to serve)
1 kg ( 2 lb) good quality clams (or you can use scallops if clams unavailable)
Method
Place a large saucepan on the stove and apply medium heat. Add 1 tablespoon butter and then fry the onion until transparent and softened. Season well with salt and freshly ground pepper. Add the bay leaves torn into pieces. Then add the clams in their shells and the white wine. Cook the clams for about 3-4 minutes. Remove the meat from the cooked clams and set aside. Add the potatoes to the saucepan. Next, cover the pan and simmer the mixture gently until the potatoes have softened a little, but are still firm.

Using a large separate pot, add some butter and sauté the remaining onion with the leek and celery over medium heat. Season with pepper and salt and cook the vegetables until soft. Add 3/4 of the milk and place the smoked fish skin-side up into the milk and bring to the boil. Cook the fish for a few minutes. Then remove the fish, cool slightly and then flake the flesh from the skin. Set the fish aside in a bowl.

The add the corn and green beans to the milk mixture. Next add the potatoes, smoked fish and plain fish, clams and parsley mixture. Cook the assembled chowder gently for 15-20 minutes to combine the tastes.

Serve the chowder in bowls with warm crusty bread or rolls.
Related Articles about Soups and Best Ever Recipes
=> Best Minestrone Soup Recipes with Delightful Variations
=> Quick and Easy Soup Recipes Made with Whole Foods
=> Seafood Chowder Soup Recipes - Homemade, Simple, Tasty
=> Best Mulligatawny Soup Recipes for Lamb, Chicken, Vegetarian Varieties
=> Chicken Enchilada Soup Recipe Collection - Slow Cooked in Crock Pot
=> 10 Best Vietnamese Pho Soup Recipes
=> Best Easy Homemade Stock Recipes for Soups, Stews, Curries and Drinks
=> Best Spicy Shrimp, Fish and Seafood Soup Recipes - Hot, Sweet and Sour Flavors
=> Best Wonton Soup Recipes - Easy to Make Homemade Won Tons
=> 10 Best Homemade Thai Tom Yum Soup Recipes
=> Make Tom Kha Gai Soup - Spicy Thai Chicken Soup with Lime, Chillies
=> Tuscan Ribollita Soup Recipe with Slow-Cooked Beans, Vegetables
=> Sorrel Recipe Ideas : Soups, Sauces, Quiche, Jamaican Food, Drinks