Crispy Coconut Shrimp Batter Recipe, with Yogurt, Mango, Chive Dip
Try this beautiful shrimp batter made with desiccated coconut, eggs and lemon. The batter is crisp when cooked. There is also a recipe for mango, yogurt lime and chive dip, which is the perfect accompaniment for this delightful prawn or shrimp dish. Before starting to cook the shrimp take note of these tips for frying seafood:
Choose the Correct Oil for High Temperature Frying - You need a neutral tasting oil with a high temperature 'smoke point'. Many vegetable oils such as olive oil will start to smoke and break down, ruining the dish. Peanut oil and canola have a strong taste that is too strong for seafood. The best choices are grape seed oil, rice bran oil and sunflower oil.
Always Use an Oil Thermometer - The temperature is critical, especially if you want a crisp batter. Even a short term drop below an ideal temperature of 360 degrees F (180 degrees C).
Fry in Small Batches - This stops temperature drops and keeps the items well separated in the oil. Fry 1-3 shrimp at a time depending on their size and the size of the pan
Drain The Cooked Shrimp Well - While paper towels are often recommended, this often leaves the shrimp oily. A better option to retain the crisp texture is to drain on a cooling or roasting rack over a plate or baking sheet, placed in a warm oven. This cools them quickly and keeps them warm and crisp while you fry the remaining batch.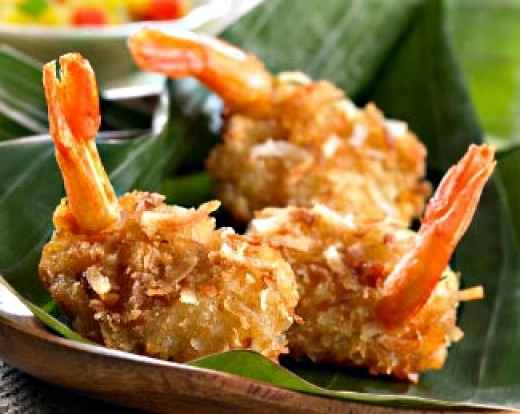 Recipe for Crispy Coconut Shrimp with Yogurt, Mango and Chive Dip
Ingredients for the crispy coconut shrimp (prawn) batter

2 eggs, well beaten
75 g (2.6 oz) plain flour
1/2 lemon, with skin zested
100 g (3.5 oz) desiccated coconut
rice bran or grape seed oil , for frying
1 teaspoon garlic powder or 3 fresh cloves crushed
450 g (1 lb) raw green prawns (shrimp), heads removed and peeled, but with the tail left on

Ingredients for the yogurt, mango and chive dip:

2 tablespoons lime juice
1 mango, flesh removed and diced
2 tablespoons fresh chives, finely chopped
100 g (3 oz) Good Quality Greek yogurt (low fat if you prefer)

Method

To make the dip mix the lime juice, the mango and Greek yogurt in a bowl and blend to form a thick paste using a hand held blender. Mix in the chopped chives and season with salt and pepper.

To make the batter mix the garlic, desiccated coconut together in a bowl and set aside. Whisk the eggs in another bowl and set aside. Put the flour into another bowl, well seasoned with freshly ground pepper and salt. Coat each prawn in batter by tossing it in the flour, dipping it into the beaten egg, and finally into the coconut mixture. Repeat to coat all the prawns in batter.

Using a thick base frying pan, add enough oil so it is about 1.5 cm (0.5 inch) deep, and heat over moderate heat until it just starts to smoke. Fry the prawns in batches of 3-5 at a time and cook for about 30 seconds on each side. The prawns should assume a delightful golden color with the pink prawns visible through the translucent batter. Remove the crispy shrimp when cooked and drain on paper towels. Serve the fried shrimp with the chive and mango dip.