Crispy Pan Fried Potatoes Recipe with Garlic, Rosemary, Stracchino
This delightful Italian recipe can be served as a side dish with drinks, as an entrée or with barbecued, grilled or roasted meat and fish. The potato pieces are boiled and then pan-fried with rosemary, whole cloves of garlic and topped with pieces of stracchino cheese (or similar) and a drizzle of olive oil. The potatoes are soft inside, crisp on the outside and blend perfectly with the contrasting texture of the chewy crushed garlic cloves and soft pieces of your favorite curd-like cheese. The rosemary adds a flavor highlight that brings blends all the tastes together and tantalizes the taste buds. The dish is easy to prepare.
Ingredients
2 heads of garlic
Olive oil for serving
3 sprigs of rosemary, cut in half
Salt and freshly ground black pepper
700 g (1.5 lb) washed potatoes, cut into large pieces with the skin retained
Rice bran, grape seed, or similar neutral tasting high smoke point oil for pan frying
250 g (1/2 lb) stracchino cheese (or Camembert, or even blue-vein cheese, or similar soft curd-like cheese, at room temperature)
Method
Boil the potatoes in a large pot covered with a generous amount of water and a large sprinkling of salt for 30 minutes until the potatoes are just cooked. Drain the potatoes in a colander to remove excess water. Slightly crush them to flatten slightly. Spread on paper towels and dry the pieces as this ensures they will become crisp when fried.

Divide the garlic heads into cloves and crush and every clove with the back of a knife leaving the skin attached.

Add about 1.5 inches (3-4 cm) of oil to a large heavy-based pan and heat to about 180 degrees C (350 degrees F). When the oil reaches this temperature, add the potatoes and fry until crisp in batches (generally about 1-2 minutes). Remove with a slotted spoon and set aside on a wire rack in a baking pan, placed in a warm oven. Then add the garlic and fry for about one minute, and then add the rosemary sprigs for an extra minute. Remove with a slotted spoon and drain on a paper towel.

Place potatoes, garlic and rosemary in a shallow serving bowl. Top with salt and freshly ground pepper and chunks stracchino or other cheese. Toss and sprinkle with good quality extra virgin olive oil and vincotto (optional).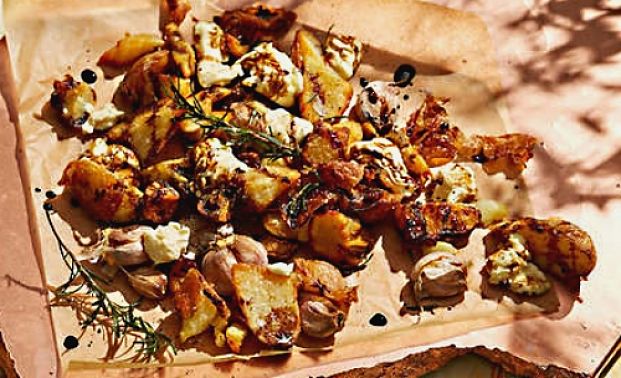 Delicious Pan Fried Potatoes with Garlic, Rosemary and Stracchino cheese is a delightful side dish for a barbecue or roast. See the easy to follow recipe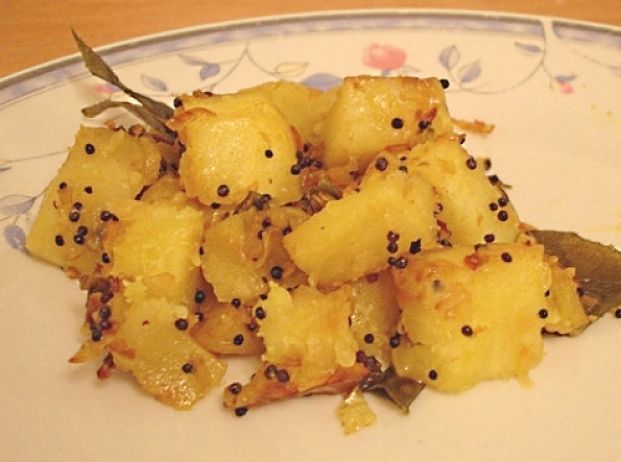 Boiled and Pan Fried Potatoes are delicious - soft on the inside and crisp on the outside. Follow the recipe for this delightful side-dish with whole garlic cloves, Rosemary springs and cheese chunks