Crispy Skin Tofu in Spicy Tomato Sauce Recipe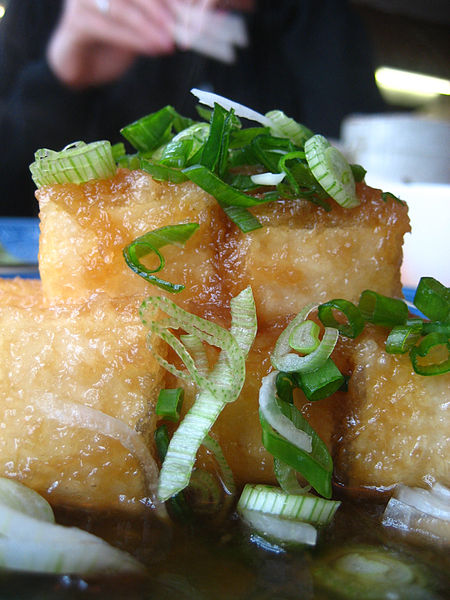 Jeremy Keith [CC-BY-2.0], via Wikimedia Commons
Crispy skin tofu is a delight when served with a homemade tomato sauce
This is a delightful vegetarian way of enjoying tofu cooked with shallot, garlic, chilli, fresh coriander is a fresh tomato sauce.

Ingredients
2 teaspoons of sugar
2 tablespoons fish sauce
1/2 fresh coriander leaves
1 tablespoon garlic, crushed
1 teaspoon freshly ground black pepper
3 spring onions, cut into short lengths
1 tablespoons fresh shallots, finely sliced
4 ripe red tomatoes, chopped into large pieces
1-3 Thai bird's eye chillies, thinly sliced (optional number)
500 g (1 lb) silken tofu, drained and cut into 3cm (1.5 inch) cubes
200 ml rice bran or grape seed oil (neutral tasting, high smoke point)
Method
Heat the oil in a deep frying pan or wok to 180 degrees C (350 degrees F) -use a thermometer as the temperature is important. Throughout dry the outside of the tofu cubes with paper towels. Working small batches to ensure the oil stays at the correct temperature and cook the tofu cubes until the outside is crisp (about 5 minutes). Remove with a slotted spoon and drain on paper towels.

Heat about 1 tablespoon of oil in a separate pan or wok and stir-fry the shallot, garlic and chilli (about one minute). Add the tomatoes,fish sauce, salt and sugar. Stir and cook the tomatoes. Then add 1/2 cup of water and gently simmer the sauce mixture for about 10 minutes. Add the spring onion and simmer for 1-2 minutes. Put the tofu on a serving plate and then pour or spoon over the tomato mixture garnish with torn coriander leaves and serve.