Easy Baked Beans Recipes - Healthy Homemade Baked Beans That Kids Love
Most kids love baked beans, but the canned varieties are full of sugar and are lifeless in terms of taste and texture. The good news is that you can easily make them at home using either canned cannellini, butter and other beans, and a homemade tomato sauce.
Otherwise you can make the whole dish yourself from scratch using dried beans, fresh tomatoes and herbs.
There lots of options and variations to try including various meats, vegetables, spices and herbs.
For children you may want to include extra ground or pureed ingredients to boost the nutrients in the bean dishes by adding herbs, corn, parsley, grain meals, ground nuts and many cooked vegetables and ingredients.
This article includes and range of baked beans recipes from the simple to the more complex.
All of them are tasty easy to make and being homemade you can control exactly what goes into them.
This includes recipes starting with entirely raw ingredients. It also includes a chart of the nutrients you can expect from homemade baked beans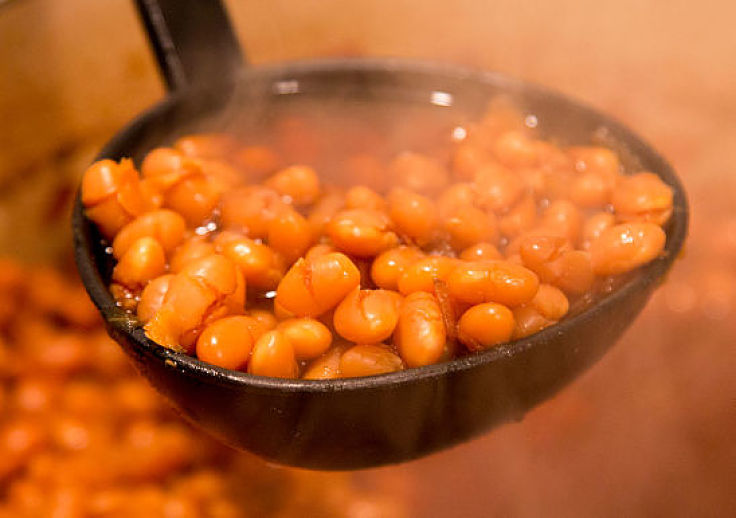 Healthy Delicious Homemade Baked Beans
Homemade tomato sauce can be enriched with nutrients by adding fresh garlic and your choice of fresh herbs such sage, rosemary, coriander and basil. You can also add ground or finely chopped nuts, flours and seeds to the sauce mix.This gives the baked beans a richer taste and they are much more nutritious. The beans don't have to be baked - they can be soaked overnight and then boiled or steamed.
Nutrients in Homemade Baked Beans Compared with Canned Varieties
The table below compares the nutrients in homemade baked beans with a range of canned baked bean varieties. All baked beans are relatively high in calories with the home cooked ones slightly higher in energy content. However, the homemade baked beans have higher protein and fiber levels than the plain canned beans, and less fat than most of the canned varieties.
All the minerals and most of the vitamins are much higher in home cooked baked beans. These nutrients can be boosted by added herbs to the recipes.
The saturated fat levels are much lower in homemade baked beans than the beans with franks varieties.
In conclusion the homemade baked beans are healthier with the extra fat and calories offset by the boosted amount of vitamins and minerals. These advantages can be multiplied by added extra ingredients to the sauce mix such as fresh herbs and vegetable purees.
Best Ever Homemade Baked Bean Recipes
The following recipes offer a variety of tastes and complexity for making delicious baked beans at home. Kids will enjoy being involved and this will help them appreciate them.
Quick and Easy Baked Beans Using Canned Tomatoes
3 tablespoons of chopped parsley or coriander
10 large sage leaves, or alternative
2 bay leaves
3-5 cloves of garlic
1 can of chopped tomatoes
500 g (1 lb) dried cannellini beans (soaked overnight in a large bowl, covered with water)Grape seed or olive oil
Salt and pepper to taste
Wash and drain the soaked beans. Cover with fresh water, add 2 bay leaves and 2 extra cloves of garlic and simmer gentle for 60-90 minutes. You will know when the beans are cooked as they can be squashed easily between your fingers. Don't overcook them or they will turn chalky like the canned ones.
To make the tomato sauce, finely chop the garlic and fry it gently in a little oil in a saucepan for about 2 minutes, until transparent but not browned. Add the sage, parsley and/or other chopped herbs. Season with finely ground fresh pepper. Lower the heat and add the can of tomatoes and simmer gently for 20-30 minutes until the sauce has started to thicken and the sharpness of the tomatoes reduced and the sharpness has declined. This saves having to add any sugar.
You can use chopped fresh tomatoes instead of the canned ones. Add the sauce to the beans and serve with a sprinkling for freshly grated cheese and chopped herbs.
Your children will love these beans and you can adjust the taste and seasoning just the way they like them.
Kids enjoy the firm texture of the beans more than the mushy and floury taste canned bake beans.
Smoky Flavored Homemade Baked Beans with Caramelized Sweet Onions
1 teaspoon Worcestershire sauce
1 teaspoon vinegar
1 tablespoon dry mustard powder
1 tablespoon chili powder
1/4 chili sauce (or spicy ketchup)
1/4 cup packed dark brown sugar
1 can diced fire-roasted tomatoes or 1 1/2 cups grilled fresh tomatoes
2 cups chicken or vegetable broth
3 cloves garlic, finely chopped or crushed
1 large onion, finely chopped or sliced
3 tablespoons bacon fat (or vegetable oil)
1 pound dried pinto, cannellini, cranberry or similar beans
1 teaspoon Worcestershire sauce
1/2 teaspoon freshly ground black pepper
1/2 teaspoon of smoked paprika
1/4 teaspoon ground allspice
1/4 teaspoon hot chili sauce (or crushed red pepper flakes)
Salt and pepper to taste
Wash and rinse the beans well and drain. Cover with fresh water in a saucepan, bring to the boil and then set aside in the hot water for about 60 minutes. Add the bacon fat or oil to a large heavy and deep frying pan or Dutch oven and heat to moderate temperature. Add the onions and cook well until soft and golden in color. Add the garlic and cook for another minute. Add all the remaining ingredients, apart from the salt. Simmer over low heat, stirring frequently until the sauce thickens and blends together well (about 30 minutes). Remove from heat.

Heat the oven to 325 degrees F (160 degrees C). Drain beans and add the sauce in a shallow baking pan. Sprinkle with salt and transfer the pan to the pre-heated oven and bake the mixture for about 2 hours. Stir once or twice and added extra water as needed. The aim of baking the beans in this way is for the sauce to impregnated into the beans as they cook. Reduce the oven temperature to 275 degrees F (130 degrees C). Continue cooking for 2-3 hours until the beans are slowly cooked. Season with salt and pepper to taste.
This cooking takes a long time but can be done while doing other things around the house

Nutrition Summary:
Per serving: 244 calories, 11 g fiber, 437 mg sodium, 11 g protein, 40 g carbohydrates, 5 mg cholesterol, 2 g saturated fat and 5 g fat
Homemade Baked Beans with Mixed Vegetables
1/3 cup barbecue sauce
3/4 cup packed light brown sugar
2 sticks of celery, finely chopped
1 small onion, finely chopped
2 cups frozen corn kernels, or fresh corn kernels
1 can (15 ounces) butter beans
1 can (15 ounces) light kidney beans
1 can (15 ounces) chili beans in sauce
1 teaspoon yellow mustard
Fresh herbs
Freshly Ground Pepper to taste
Combine all the ingredients and add to a slow-cooker. Cover the bowl, and cook gently for 3-6 hours on a moderate to low setting. The beans can be cooked on the stove using very low heat with the saucepan suspended on a grate or poached egg rings to reduce the amount of heat.

Nutrition data:
Per serving: 244 calories, 8 g fiber, 673 mg sodium, 9 g protein, 54 g carbohydrates, 0 mg cholesterol, 0 g saturated fat and 1 g fat.
Homemade Bacon Flavored Baked Beans
1 cup packed dark brown sugar
1 1/2 cups lima beans (frozen or dried and soaked)
1 can (15 ounces) butter beans, drained
1 can (15 ounces) kidney beans, drained
1 cup water
1 onion finely diced
1 lb (500g) lean, low fat, smoked bacon strips
Pre-heat the oven to 325 degrees F (150 degrees C). Slice the bacon into small squares. Cook in a large frying pan or Dutch oven until the bacon is dark and crisp. Drain off most of the the fat, then add the onion and water. Bring to the boil and then lower the heat and simmer the onions for 10-15 minutes. Mix in the beans and the sugar. Replace the cover of the Dutch oven, or deep frying pan and place in the oven to bake for 90 minutes, stirring occasionally. Uncover and bake for an additional 30-60 minutes to thicken the sauce. Cool before serving. The baked beans keep well in the refrigerator and can be reheated for breakfast and lunch snacks.

Nutrition data:
Per serving: 331 calories, 9 g fiber, 952 mg sodium, 16 g protein, 56 g carbohydrates, 16 mg cholesterol, 2 g saturated fat and 7 g fat.
Nutrients in Canned and Homemake Baked Beans (100g and 1 cup serving)
| Nutrient | Home baked 100 g | Home baked per cup (250g) | Plain Canned per cup (250g) | Canned with Beef per cup (250g) | Canned with franks per cup (250g) |
| --- | --- | --- | --- | --- | --- |
| Energy (Cal) | 155 | 392 | 239 | 322 | 368 |
| Protein (g) | 5.54 | 14.02 | 12.06 | 16.97 | 17.48 |
| Total lipid (fat) (g) | 5.15 | 13.03 | 0.94 | 9.18 | 17.02 |
| Carbs (g) | 21.63 | 54.72 | 53.70 | 44.98 | 39.86 |
| Fiber (g) | 5.50 | 13.90 | 10.40 | | 17.90 |
| Minerals | | | | | |
| Calcium (mg) | 61.00 | 154.00 | 86.00 | | 124.00 |
| Iron (mg) | 1.99 | 5.03 | 3.02 | 4.26 | 4.48 |
| Magnesium (mg) | 43.00 | 109.00 | 69.00 | 66.00 | 73.00 |
| Phosphorus (mg) | 109.00 | 276.00 | 188.00 | 215.00 | 269.00 |
| Potassium (mg) | 358.00 | 906.00 | 569.00 | 851.00 | 609.00 |
| Sodium (mg) | 422.00 | 1068.00 | 871.00 | 1264.00 | 1114.00 |
| Zinc (mg) | 0.73 | 1.85 | 5.79 | 3.19 | 4.84 |
| Vitamins | | | | | |
| Vitamin C (mg) | 1.10 | 2.80 | 0.00 | 4.80 | 6.00 |
| Thiamin (mg) | 0.14 | 0.34 | 0.24 | 0.14 | 0.15 |
| Riboflavin (mg) | 0.05 | 0.12 | 0.10 | 0.12 | 0.15 |
| Niacin (mg) | 0.41 | 1.03 | 1.09 | 2.50 | 2.33 |
| Vitamin B-6 (mg) | 0.09 | 0.23 | 0.21 | 0.24 | 0.12 |
| Folate (µg) | 48.00 | 121.00 | 30.00 | 114.00 | 78.00 |
| Vitamin B-12 (µg) | 0.00 | 0.00 | 0.00 | 0.00 | 0.88 |
| Vitamin A, IU | 0 | 0 | 274 | 567 | 225 |
| Vitamin E (µg) | | | 0.38 | | 0.41 |
| Vitamin D (µg) | 0.00 | 0.00 | 0.00 | 0.00 | 0.00 |
| Vitamin K (µg) | | | 2.00 | | 2.60 |
| Fatty Acids | | | | | |
| Saturated (g) | 1.95 | 4.93 | 0.18 | | 6.09 |
| monounsat. (g) | 2.13 | 5.40 | 0.24 | 3.68 | 7.33 |
| polyunsat, (g) | 0.74 | 1.87 | 0.31 | 0.55 | 2.17 |
| Cholesterol (mg) | 5.00 | 13.00 | 0.00 | 59.00 | 16.00 |
Related Articles about Beans
=> Fava Beans Health Benefits, Nutrition and Culinary Uses for Broad Beans
=> Homemade Refried Beans Recipe Collection: Healthy, Versatile, Nice
=> American Indian Succotash Recipes - Fresh Corn and Beans with Modern Variations
=> Health Benefits of Soybeans, Tofu, Tempeh - Nutrition Facts and Health Warnings