Easy Banana Bread and Quick Simple Banana Cake Recipes and Tips
Banana bread is one of the home cooked treats that appeals to everyone in the family, from toddlers, to teenagers and adults. It's a cake-like quick bread made with bananas that are mashed to be chunky, so that pieces remain when the bread is cooked.
Banana bread not a diet food as its packed with calories, but it's rich in dietary fiber and nutrients, especially when made with wholemeal flour and yeast instead of baking powder.
Usually nuts such as walnuts, almonds and pecans, honey and a variety of herbs (coriander, basil) and spices (cinnamon, nutmeg) are added to boost the taste and texture.
Iced banana cake is a real favorite for kids and for tea parties.
Banana bread is quick and easy to make at home, with ready available ingredients. You can make it much healthier than the commercial breads. The sweetness of ripe bananas mean that very little sugar has to be added.

This article provides the best ever banana bread and banana cake recipes that are quick and easy to make at home. Give them a try!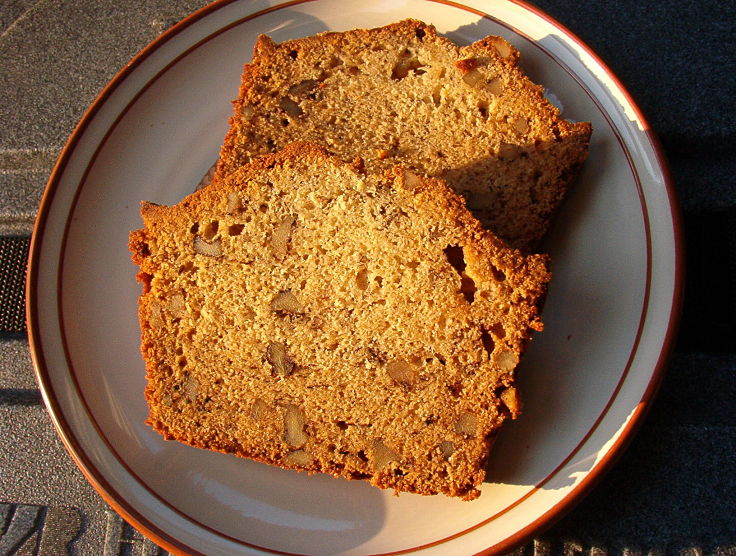 Top Tips for Making Banana Bread and Banana Cake
For banana cake use very ripe, but not overripe bananas, so that they blend into the other ingredients without chunks forming.
For banana bread use bananas that are only just ripe and quite firm. This provides the flavor of the ripe banana, but means that you can only roughly mash the bananas which means that pieces of banana will appear in the cooked bread. It tastes better that way.
Replace the all-purpose or baking flour with whole-meal flour, completely or partially. This provides extra taste and the bread is meant to be moist and have a heavy texture, rather than being light and fluffy.
Rely on the natural sweetness of the bananas, or add a little honey, rather than using a lot of sugar. Brown sugar or even molasses adds a deeper, more complex flavor to the bread than white granulated sugar.
Add various kinds of fresh and dried fruit, and a variety of nuts to the banana bread to add flavor, texture and nutrients. Some examples are blueberries, chopped dried apricots, raisins, sultanas and even figs. Toasted, roughly chopped walnuts, almonds, pecans and macadamia nuts go well with the banana.
There are lots of herbs and spices you can use to boost the flavor, such as orange zest, allspice, coriander, parsley and basil.
Banana Bread with Walnuts and Honey
4 whole ripe bananas
1 tablespoon Honey
1/2 cups Walnuts
1 teaspoons Vanilla extract
2 whole Eggs
1 cup Unsalted butter, soft
1/2 cup Brown sugar
1/2 cup White Sugar (or 1/4 cup of honey)
1 1/2 teaspoons Baking soda
1 cup wheat bran
1 cup All-purpose flour
Preheat oven to 350 degrees F (175 degrees C). Grease a large 9 x 5 inch (23 cm x 13 cm) loaf pan. Mash the bananas (leave chunks) and mix with the two sugars until the mixture is relatively creamy (generally about 3 minutes). Add the eggs, butter and vanilla and mix by hand until smooth. Add all the dry ingredients and combine well, then add the walnuts and mix again. Bake in oven for about one hour. When cooked, remove from the oven and let cool for 5 minutes. Put a plate on top, and the flip the pan over and shake the loaf out of the pan and onto the plate.
Simple Banana Bread Recipe using Baking Soda
1 1/2 cups of all-purpose flour (or half wholemeal flour)
Pinch of salt
1 teaspoon baking soda
1 teaspoon vanilla
1 egg, whisked beaten
1/2 - 3/4 cup sugar (or 1/4 cup of honey)
1/3 cup melted butter
3 - 4 medium ripe bananas, mashed with a fork
This is the simplest possible recipe and can easily be mixed by hand with a wooden spoon. Preheat the oven to 350 degrees F (175 degrees C). Using a wooden spoon, combine the butter with the bananas in a moderate-size mixing bowl. Blend in the egg, sugar and vanilla. Sprinkle the salt and baking soda all over the mixture and mix to combine. Add the flour and mix again. Pour mixture into a greased loaf pan or rectangular cake tin. Bake for about 60 minutes, then cool in the pan on a rack. Remove from the pan by flipping onto a plate and serve warm.
Banana Bread Recipe using Brown Sugar and Cinnamon
2 ripe bananas, mashed with a fork
50 g butter, melted, cooled
2 eggs, lightly whisked
1/2 cup skim milk
2/3 cup brown sugar (firmly packed)
1 teaspoon ground cinnamon
1/4 cup plain flour
1 3/4 cups self-raising flour
Melted dairy spread, oil spray or vegetable oil to grease the pan
Preheat oven to 180 degrees C (350 degrees F). Grease a large loaf pan and line sides and base with baking paper, allowing it to overhang the sides (to help remove the loaf from the pan). Sift the all the flours and the cinnamon into a medium to large bowl. Blend in the sugar. Make a cavity in the center of the mixture and pour in the milk, melted butter, eggs, and combine well. Add the banana mixture to the bowl and stir until just combined. Transfer the mixture to the loaf pan and smooth the surface. Bake in the preheated oven for about 50 minutes. Test for doneness using a skewer inserted into the center. The loaf is cooked when the skewer comes out clean. Remove from oven and set the pan aside for about 5 minutes to cool. Remove from the pan and cool on a wire rack.
Banana Bread with Coriander and Spices
3 ripe bananas, roughly mashed
1 teaspoon cinnamon
1/4 teaspoon vanilla
1/4 cup coriander seeds
1/2 cup walnuts
1 teaspoon baking powder
1 teaspoon baking soda
2 cups all-purpose flour (or replace half with 1 cup of wholemeal flour)
3 eggs
1 cup sugar
1 stick of margarine or butter
Set the oven to 350 degrees F (180 degrees C) and heat until the thermostat switches off. Cream the sugar and margarine. While beating, add the eggs one at a time, and whisk the mixture until fluffy, then add the mashed bananas. Next sift together flour, baking powder and baking soda. Combine the wet and dry mixtures in a medium bowl and add the coriander seeds, walnuts, vanilla and cinnamon. Transfer to a greased loaf tin, and bake for about 60 minutes, or until a skewer inserted into center comes out clean. Let the pan containing the banana bread cool for about 30 minutes and then flip on a plate remove. Cool completely on a wire rack before cutting.
Simple and Easy Banana Cake - Recipe 1
50g (2oz) of butter
1 ripe banana (very finely mashed)
1 egg
1 teaspoon of vanilla essence
1 cup of sugar
1/4 cup of milk
1 cup of self raising flour
Preheat oven to 355 degrees F (180 degrees C). Melt butter in a small bowl in the microwave oven. Pour into medium-size bowl, and add the egg, sugar and vanilla essence, then mix well with a wooden spoon. Next, add the milk and flour and mix until just combined. You don't need a very smooth mixture and so don't mix for too long. Pour the blended mixture into a greased cake tin, and bake for about 25-30 minutes.
Rich Banana Cake with Coconut and Yogurt
125g (4.5 oz) butter or margarine
175g (6 oz) caster sugar
2 eggs
2 very ripe bananas, mashed
200g (7 oz) plain yogurt
200g (1 1/3 cups) plain flour
1 1/2 teaspoons of baking powder
25g (1/3 cup) shredded coconut, to serve
Melted butter or margarine, for greasing the cake tin (line the base with baking paper)
Preheat oven to 350 degrees F (185 degrees C). Grease a spring-form cake baking pan with the melted butter or margarine and then line the base with one or two layers of baking paper. Using and electric mixer or a hand held blender, combine the sugar and margarine in a bowl until pale, smooth and creamy. While beating add the eggs one at time into the banana mixture until just combined. Transfer the mixture to the greased pan and bake for about 45 minutes. Test for doneness then remove from the oven and let stand for 5-10 minutes. Then remove the cake and cool on a wire rack
Related Articles about Bananas
=> Best Banana Pudding Recipes | Healthy Banana Desserts
=> Best Tostones Recipes with Fresh Green Plaintains or Bananas
=> Best Ripe Mushy Banana Recipes for Banana Bread, Cakes, Muffins and Desserts
=> Easy Banana Bread and Quick Simple Banana Cake Recipes and Tips