Easy Fruit Salad Recipes with Spicy, Savory, Tangy Variations
Fruit salad is not a dish that traditionally requires a recipe. You simply chop up whatever ripe fruit is available at the time, mix it in a bowl and serve.

But using a recipe allows you to enjoy some fabulous variations. You can reduce the sweetness by choosing contrasting tangy fruits such as citrus, passion fruit and sour stone fruits, or by adding unsweetened juice.

There are many other ways to create spicy, tangy and sour alternatives to the classic fruit salad. One way is to serve the fruit salad with a spicy sauce or dressing. You can also add spicy ingredients such as herbs, chillies and various spices.

Try some of the intriguing recipes provided below for a way to enjoy fruit in a different way that is less sweet and intriguing.
Fruit Salad Recipes - Delightful Variations to Try
Spicy Fruit Salad Recipe with Basil and Tarragon
Ingredients
Sea salt, to taste
1/3 cup granulated sugar
1 whole dried star anise
2 teaspoons chopped basil
1 serrano chile, cut in half
2 teaspoons chopped tarragon
Freshly ground black pepper, to taste
Mascarpone or crumbled ricotta salata, for garnish (optional)
7 to 8 cups mixed cut fruit, for example: bananas, pears, grapefruit, oranges, pineapple, mango, blackberries, blueberries, raspberries, plums, peaches, kiwi fruit
Method
Prepare the syrup by placing the sugar in 3/4 cup water in a small bowl, Add the chile, star anise and bring to a boil. Then, reduce the heat and simmer for 10 to 15 minutes until the mixture thickens to the consistency of maple syrup. Next, strain the syrup and set aside in the refrigerator. Chop the fruit and pour in the syrup. Add the tarragon and the basil and season to taste with a little salt and pepper. Serve with extra herb leaves and dollops of mascarpone or crumbled ricotta salata as a dressing.
Blueberry and Papaya Fruit Salad Recipe with Ginger and Lime Dressing
Ingredients
1 tablespoon honey
1 cup blueberries or other berries
2 tablespoons finely chopped ginger
1 tablespoon fresh mint leaves, chopped
3 tablespoons lime juice, freshly squeezed
2 ripe papayas, peeled, seeds fremoved and diced
Method
Conbine the lime juice, with the ginger and honey in a large bowl. Add the fruit and mint leaves, and combine well. Serve in small bowls, garnishing each bowl with a sprig of fresh mint or basil leaves.
Spicy Indonesian Fruit Salad Recipe (rujak)
Ingredients
1 mango, peeled, thinly sliced
1/2 papaya, peeled and thinly sliced
1 pink grapefruit, peeled and segmented
565 g (8 oz) can lychees, pitted and drained
1 pomelo or yellow grapefuit peeled and segmented
1/2 pineapple, peeled, cor removed, cut into 3 cm (1 inch) pieces
For the Spicy Syrup
3 teaspoons sambal oelek
1 tablespoon lemon juice
2/3 cup grated palm sugar
2/3 cup kecap manis (sweet soy sauce)
Method
Make the syrup by whisk all the syrup ingredients together until all the sugar has dissolved. Add the fruit to a large bowl, mix well. Serve with spicy syrup in a bowl or jug.
Fresh Fruit Salad Recipe with a Spicy Vinaigrette
Ingredients
for the fruit salad
2 medium pears, cut in half and sliced
2 medium apples, cut in half and sliced
1 pound (500 g) fresh strawberries, sliced
2 medium mangoes, peeled, cut in half and sliced
for the vinaigrette
1/4 cup fresh lime juice
1/4 cup frresh orange juice
1/4 cup fresh cilantro, finely chopped
2 tablespoons white wine vinegar
1-1/2 teaspoons grated lime peel
1/4 teaspoon hot pepper or chilli sauce
Method
Mix the sliced apples, mangoes, pears and strawberries together in a large serving bowl. Make the vinaigrette in a small bowl, by whisking the vinegar, juices, cilantro, lime peel and hot chili sauce together in a small bowl or jug. Drizzle the vinaigrette over the fruit mixture; tossing the fruit to coat all the pieces.
Sweet and Spicy Fruit Salad Recipe with a Honey Lime Dressing
Ingredients
For the Fruit Salad
1/3 cup toasted pine nuts
4 kiwis, peeled and sliced
3 cups strawberries, halved
2 cups fresh pineapple, cut into cubes
2 mangoes, peeled and cut into small pieces
3 cups English cucumber left unpeeled, diced
For the Honey-Lime Dressing
1/2 cup honey
1/2 cup water
1/2 cup fresh lime juice
2 jalapeños, seeded and chopped
1 large piece fresh ginger, finely sliced
Method
Prepare the Honey-Lime Dressing by adding the honey, water, ginger and jalapeños to a small saucepan. Bring the xsaucepan to the boil over high heat, and then reduce the heat to medium-low and simmer gently for about 2-4 minutes. Remove from heat, strain through a fine sieve, add the lime juice, and set aside in the fridge to cool. Remove the jalapeño and ginger from syrup. Next, add the fruit to a glass serving bowl in layers, starting with the pineapple. Next, add layers for the strawberries, cucumber, kiwis and mango pieces. Sprinkle the pine nuts on top. Serve the fruit salad in bowls and drizzle with the honey-lime dressing.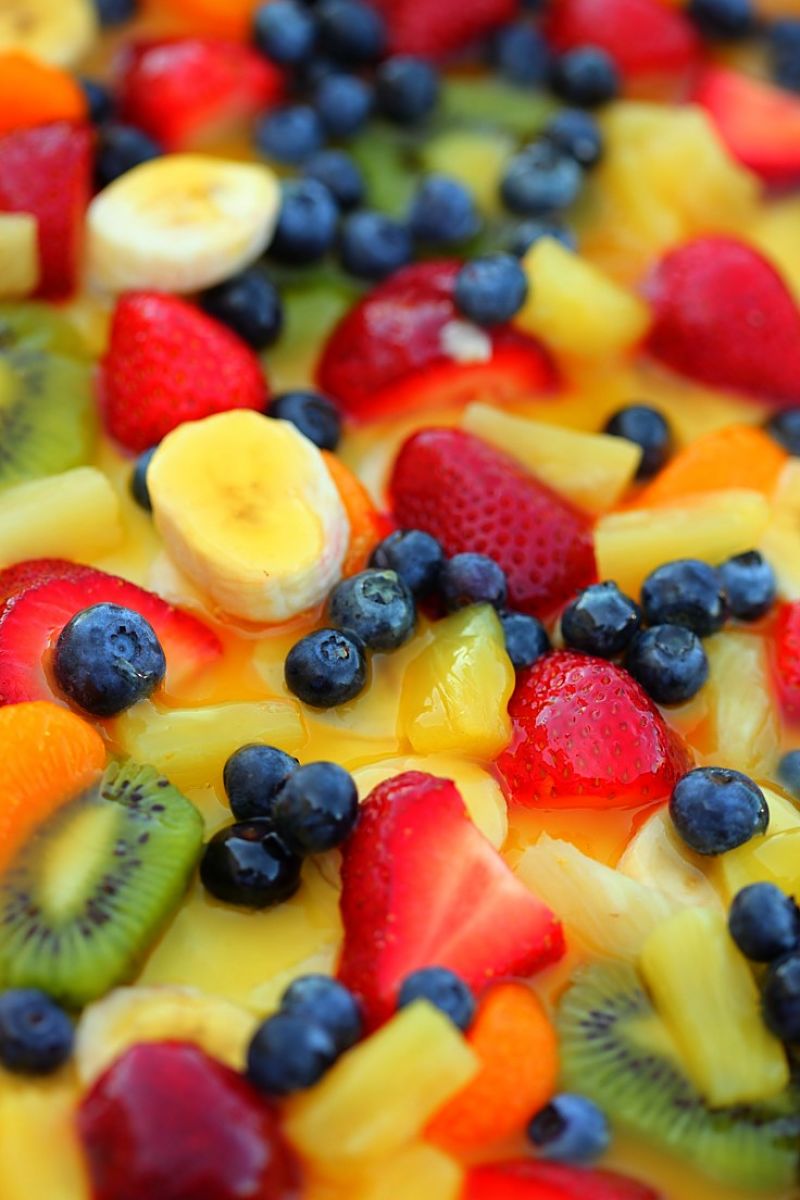 Source:
Pink Sherbet [CC BY 2.0], via Wikimedia Commons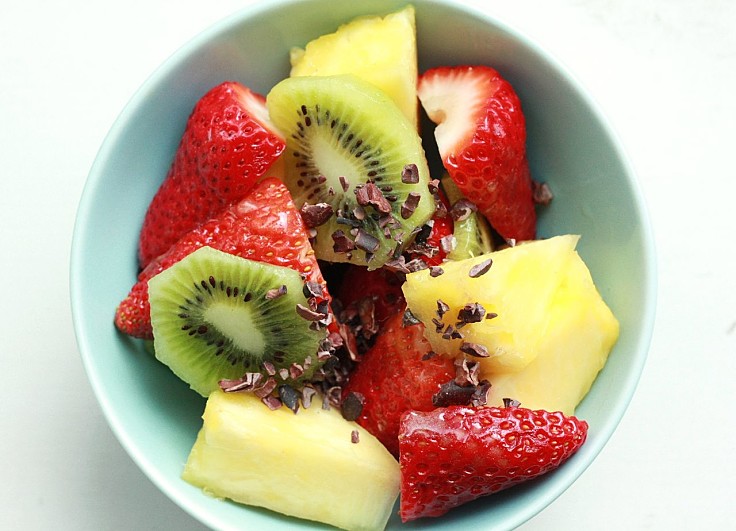 Source:
Jennifer from Vancouver [CC BY 2.0], via Wikimedia Commons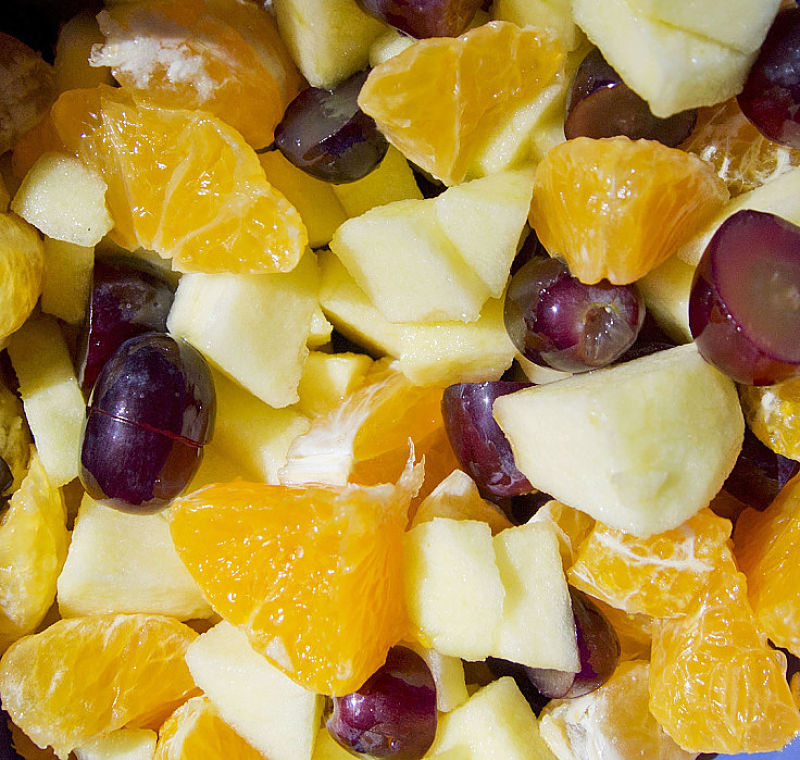 Source:
Tiia Monto [CC BY-SA 3.0], via Wikimedia Commons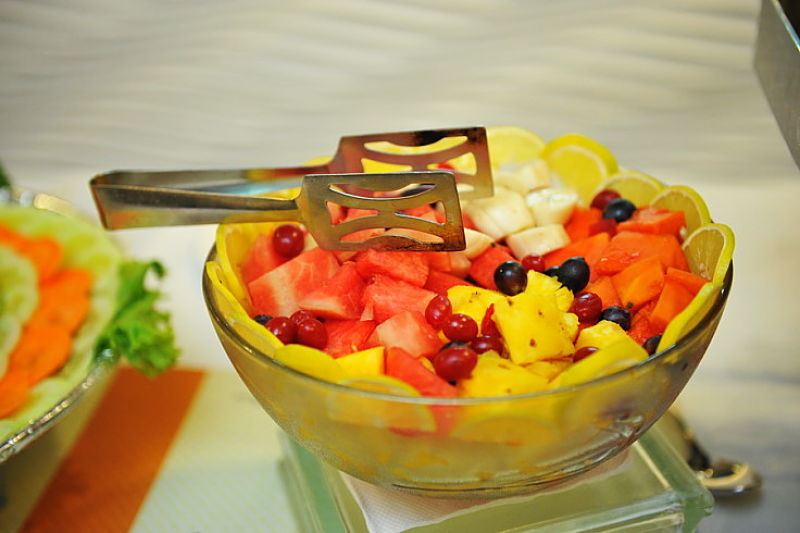 Source:
Karthikpm7 [CC BY-SA 4.0], via Wikimedia Commons