Easy Homemade Healthy Granola Recipes Collection
Granola is a very popular breakfast food and snack food based rolled oats, to which is added other grains, brains, wheat hearts, dried fruit, honey, and other nutritious ingredients.
It is usually baked to make is easier to digest. The honey helps bind the ingredients into crisp clumps to make it more appealing, and the texture is perhaps the unique and universal characteristic that distinguishes granola from muesli.
Granola is a very popular snack, often eaten by hikers, campers, or backpackers. It is a compact high energy food, highly nutritious, lightweight and easy to store. Granola is often used as the main ingredient in energy and health bars.
Granola is often eaten for breakfast when topped with yogurt, fresh fruit such as bananas, blueberries, cherries, and milk which adds to its nutritional value. It is also used as a topping for biscuits, cookies, pastries and a variety of desserts.
There are a wide variety of commercial Granolas available, but why not make it yourself so you can control the ingredients, particularly the calories and fat to suit your taste and dietary requirements.
This article provides a guide on how to easily make homemade Granola that is healthy and highly nutritious.
It includes several fabulous recipes and nutrition information in comparison with other breakfast cereals.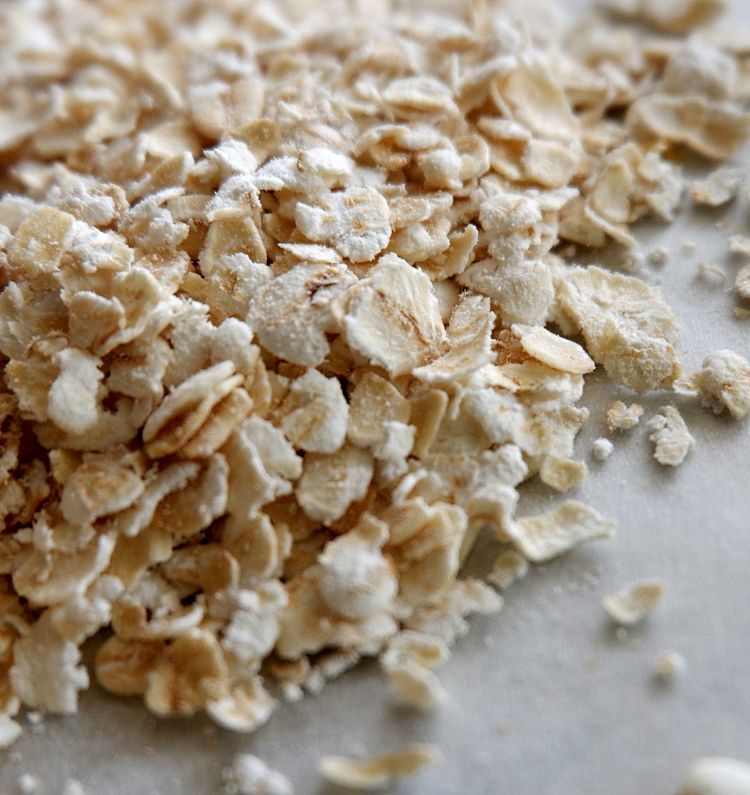 Three Fabulous Homemade Granola Recipes
Recipe 1
1 tablespoon pure vanilla extract
6 tablespoons honey
6 tablespoons grape seed oil or rice bran oil or another high smoke point oil with a neutral taste
1/2 teaspoon salt
1 tablespoon ground cinnamon
1 or 2 cups or sultanas, raisins, apricot or other chopped dried fruit (optional)
1/2 to 1 teaspoon freshly grated nutmeg (to taste)
1 cup chopped or slivered nuts (almonds, pecans, cashews)
1 cup coconut chips
1 cup oat bran
4 cups old-fashioned rolled oats (organic preferred)
Heat the oven to 300 degrees F (150 degrees C). Cover two baking sheets with baking paper or parchment. Mix all the dry ingredients, listed above in a large bowl. Add the honey, oil and vanilla to a saucepan and gently warm over low heat while stirring to make it more fluid (don't bring to the boil). Remove from the heat and mix in with the dry ingredients in a bowl. Mix thoroughly to evenly coat all the dry ingredients. Using a spoon, transfer the granola mixture onto the two baking sheets and spread out into an even layer. Leave a hole in the center to assist with even baking. Bake for about 30 - 40 minutes, or until the granola has turned a golden brown color. Check at regular intervals and rotate the baking pans about halfway through the baking time. Remove from the heat and let cool to room temperature before breaking the granola into clumps. Store in well sealed jars or plastic containers with lids.
Recipe 2
1 cup slivered or flaked almonds
1 cup dried mixed fruit
8 cups rolled oats
1 teaspoon ground cinnamon
3 teaspoons vanilla essence
3 tablespoons hot water
3 tablespoons dark brown soft sugar
1 1/2 cups pitted dates, chopped
2 bananas, peeled and diced
Preheat oven to 120 degrees C (250 degrees F). Puree the dates and bananas in a food processor or chop finely by hand. Add the hot water, brown sugar , vanilla and cinnamon and mix well with a wooden spoon. Transfer the mixture to a medium-large bowl, then add the rolled oats and mix thoroughly. Spread the mixture in an even layer, using strips for even baking, onto large greased baking trays. Bake slowly in the preheated oven for about 60 to 90 minutes, stirring occasionally. Keep cooking until the granola becomes light brown and crunchy. Remove from the oven, allow to cool, transfer back to a bowl and then stir in the dried fruit and nuts. Store in sealed containers.
Crunchy Homemade Granola Recipe
1/4 cup slivered roasted almonds
2 tablespoons roasted cashews
1/2 cup roasted hazelnuts
1/2 cup dried banana
1/4 cup chopped dates
1 cup sultanas
5 tablespoons (100ml) sunflower oil
2 tablespoons linseed
2 tablespoons toasted pumpkin seeds
3 cups (225g) wheat flakes
2 3/4 cups (330g) rolled oats
2 tablespoons honey
1/3 cup (80g) firmly packed brown sugar
Thick yoghurt, honey and fresh fruit, to serve
Preheat the oven to 170 degrees C (200 degrees F). Combine the rolled oats, sugar, honey, wheat flakes, pumpkin seeds and linseed with the sunflower oil in a medium size bowl. Spread the mixture onto a large greased baking tray and toast, mixing and stirring every 10 minutes or so, to prevent burning. This will generally take about 30-40 minutes, until the granola is golden brown and crunchy. Remove from the oven and allow to cool. Mix in the remaining ingredients. Transfer to air0tight containers for storage. It will generally last for about 14 days. For breakfast serve with Greek yoghurt, a variety of fresh fruit, extra honey and milk.
Nutrition Data for Homemade Granola
The table below compares the nutrients in a rich Homemade granola with Homemade Muesli (with fruit and nut), Plain Dry Rolled Oats, Corn Flakes, Just right with crunchy nuggets and Wheaties (raisin bran).
All the data applies to a standard serving of 100g. The major points from the comparison are:
Granola is very rich and is not meant to be a diet food. 100g is a very large serving and most people would have about half of this in a generous breakfast serving. It should be eaten with moderation as a superfood, with generous servings of fruit and low fat yogurt to provide a healthy breakfast. It is rich in vitamins and minerals
The calories (490), fat (24 g) and sugar (20 g) content of granola are all relatively high.
Granola has higher amounts of protein (15 g) than for the other cereals.
The fiber level (9 g) is higher than all cereals apart from raw rolled oats.
Granola is relatively rich in vitamins – particularly for Vitamin E, Vitamin K, Thiamin and Vitamin B6.
Granola is a rich source of many important minerals, including: Calcium , Iron, Magnesium , Potassium , Zinc , Copper and Manganese.
Comparison of the Nutrients in Granola with other Breakfast Cereals (serving size 100 g)
| Nutritents (100 g) | Granola Home Made | Muesli fruit and nut | Dry Rolled Oats | Corn Flakes | Just right with crunchy nuggets | Wheaties raisin bran |
| --- | --- | --- | --- | --- | --- | --- |
| Calories - Total | 489 | 340 | 379 | 360 | 371 | 333 |
| Calories From Carbohydrate | 213 | 257 | 279 | 332 | 316 | 290 |
| Calories From Fat | 217 | 44.1 | 54.6 | 0.9 | 24.3 | 15.3 |
| Calories From Protein | 59.4 | 38.8 | 45.5 | 26.8 | 30.8 | 28 |
| Total Carbohydrate (g) | 53.2 | 77.8 | 69 | 86.7 | 83.7 | 81 |
| Dietary Fiber (g) | 9 | 7.3 | 10.1 | 4.5 | 5.1 | 9 |
| Sugars (g) | 20 | 31 | 1 | 6.5 | 21.2 | 33 |
| Total Fat (g) | 24.1 | 4.9 | 6.5 | 0.1 | 2.7 | 1.7 |
| Saturated Fat (g) | 4.1 | 0.8 | 1.1 | 0 | 0.2 | 0.4 |
| Monounsaturated Fat (g) | 9.5 | 2.4 | 2 | 0 | 0.5 | 0.2 |
| Polyunsaturated Fat (g) | 9.2 | 1.3 | 2.3 | 0.1 | 1.9 | 0.6 |
| Total Omega-3 fatty acids (mg) | 620 | 61 | 100 | 1 | 73 | 46 |
| Total Omega-6 fatty acids (mg) | 8591 | 1242 | 2200 | 50 | 1749 | 597 |
| Protein (g) | 14.9 | 9.7 | 13.1 | 6.7 | 7.7 | 7 |
| Vitamins | | | | | | |
| Vitamin A (iU) | 19 | 546 | 0 | 2681 | 2273 | 909 |
| Vitamin C (mg) | 1.2 | 0 | 0 | 0 | 0 | 0 |
| Vitamin D (IU) | ~ | ~ | ~ | 143 | ~ | 73 |
| Vitamin E (mg) | 11.1 | 7.2 | 0.4 | 0.3 | 2.7 | 0.6 |
| Vitamin K (micro g) | 8.7 | 2.9 | 2 | 0.3 | 2.9 | 1.4 |
| Thiamin (mg) | 0.7 | 0.9 | 0.5 | 1.3 | 0.7 | 1.4 |
| Riboflavin (mg) | 0.3 | 1 | 0.2 | 1.5 | 0.8 | 1.5 |
| Niacin (mg) | 2.1 | 12.1 | 1.1 | 17.9 | 9.1 | 18.2 |
| Vitamin B6 (mg) | 0.3 | 1.2 | 0.1 | 1.8 | 0.9 | 1.8 |
| Folate (micro g) | 82 | 243 | 32 | 357 | 186 | 364 |
| Vitamin B12 (micro g) | 0 | 3.6 | 0 | 5.4 | 2.7 | 5.5 |
| Pantothenic Acid (mg) | 1.6 | 4.6 | 1.1 | 0.1 | 0 | 0.7 |
| Minerals | | | | | | |
| Calcium (mg) | 78 | 0 | 52 | 3 | 26 | 0 |
| Iron (mg) | 4.2 | 8.7 | 4.3 | 19.3 | 29.5 | 13.6 |
| Magnesium (mg) | 175 | 78 | 138 | 16 | 62 | 77 |
| Phosphorus (mg) | 456 | 243 | 410 | 52 | 193 | 255 |
| Potassium (mg) | 540 | 486 | 362 | 117 | 220 | 413 |
| Sodium (mg) | 25 | 231 | 6 | 949 | 614 | 457 |
| Zinc (mg) | 4 | 3.6 | 3.6 | 0.5 | 1.6 | 13.6 |
| Copper (mg) | 0.6 | 0.4 | 0.4 | 0 | 0.1 | 0.3 |
| Manganese (mg) | 4.1 | 2.2 | 3.6 | 0.1 | 2.1 | 2.6 |
| Selenium (micro g) | 27.8 | 17.3 | 28.9 | 5.1 | 5.1 | 7 |