Easy Homemade Meatball and Sauce Recipes with Delicious Variations
Italian style meatballs are a wonderful addition to a pasta and they are easy to make and can be baked or simmered within a freshly prepared pasta sauce. Forget those soggy, salty meatballs you have had in the past. Homemade meatballs have amazing flavours and variety with the addition of fresh herbs and spices and various meats. You can cook them in advance and even freeze them. They are great for a casual dinner, a snack or even for a special dinner occasion.
Meatballs are traditionally made with ground beef, pork, Italian sausage meat, Italian bread crumbs, eggs, grated Parmesan cheese, onion and garlic. But they can be made with ground turkey, lamb and pork and can include tomatoes and fresh coriander, parsley, basil and many different types of cheese. This article shows how easy it is to make delicious homemade meatballs and sauce with many variations.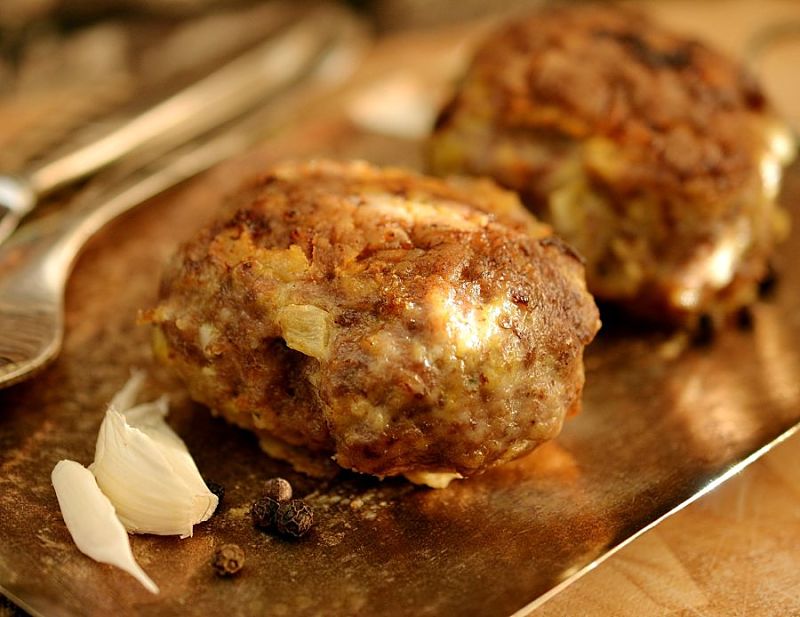 Basic Italian Style Meatballs
Ingredients:
1 1/2 pounds of lean beef or pork (or use a mixture of both or other meats including poultry)
1/4 cup Parmesan cheese, Roman or other cheeses and combinations
1 large slightly beaten egg
1/2 cup Italian breadcrumbs or bread soaked in milk and squeezed
1-2 tablespoons of fine minced garlic
2 tablespoons of finely chopped onion (fried beforehand if you like)
1/2 cup of milk
2 teaspoons of salt (or less)
1 teaspoon of black pepper
2 teaspoons of dried parsley
1 teaspoon dried oregano
Optional - many variations shown below
Method
Pre-heat your oven to 350 degrees F (175 degrees C)
Mix all of the ingredients well in a large bowl.
Using a spoon, form the mixture into small to medium sized meatballs. Don't make them too large or they won't cook inside.
For extra interest you can poke stuffed olives, cherry tomatoes, anchovies and many other things inside the meatballs.
Place the meatballs on a flat baking sheet. You can use pizza pans and line the pan with baking paper or foil.
Bake them for about 25 minutes.
You can also cook the meatballs directly in pasta sauce for about 40 minutes. Brown the outside by frying in olive oil. This gives them great flavour and texture as their absorb the sauce.
To cook in the microwave: Place the meatballs in a single layer in micro-proof pan and cover loosely. Cook on high for 3 minutes; reposition the meatballs. Cover again loosely and micro until brown inside. This takes about 5-7 minutes. Let stand covered for about 3 minutes.
Variations:
Use ground Italian sausage, veal and include basil or rosemary.
You can use ground chicken and turkey in meatballs
One tip with larger meatballs is to cook in muffin pans
Include Ricotta in the mix which tends to make lighter meatballs. Also you can include small cube of Mozzarella.
Include beef bouillon, stock cubes or broth in the mixture as seasoning.
Skip the onion, as it makes the meatballs taste like meatloaf.
Ensure the garlic is chopped very finely.
Use homemade breadcrumbs from Italian bread.
If you cannot make breadcrumbs use stale bread, break into pieces and soak briefly in a little milk for and squeeze.
Finely chopped basin and parsley can be added.
One tip is to not handle the meatballs too when shaping them as this tends to make them tough
Add the water in batches until you get the correct consistency.
Add Worcestershire or S&P sauce, lots of parsley, basil and oregano, salt and pepper.
Roasted red peppers are great diced fine and added to the meatballs.
For the meat use meatloaf mix (beef, pork, veal)
Add a pinch of cinnamon or nutmeg
Some people don't like raw vegetable ingredients in the meatballs
Fry the garlic and onions before adding to the mixture for the meatballs.
Panade is the secret ingredient It is made from a combination of milk, egg, flavoured stock and butter, along with some source of starch such as potato, rice, wheat flour. The panade has the consistency of moist bread dough and is great for binding the meatball ingredients together.
minced parsley is absolutely critical in getting a perfectly flavoured meatball..
You can use an ice cream scoop to make the meatballs and use the lever to pop out the balls.
Add Paprika and also some fresh parsley and extra garlic
Add basil and thyme in lieu of the oregano, and used Romano cheese instead
Add chopped ham or fried chopped bacon for extra flavour.
Fresh Tomato Sauce for Pasta and Meatballs

Ingredients:
2 lb (1 kg) fresh, red, ripe tomatoes (or two cans of tomatoes if not available fresh)
1 tablespoon olive oil
1 medium onion peeled and finely chopped
1-2 cloves garlic, peeled, finely chopped or crushed
about 9 large fresh basil leaves
salt and freshly milled black pepper
To remove the skin of the tomatoes, pour boiling water onto the tomtoes and leave for 60 seconds for large tomatoes, 15-30 seconds for small or medium ones, and the skins can be slipping off easily.
In a medium saucepan, heat the oil, add the garlic and onion and cook for about 5-6 minutes, until they are softened, transparent and pale gold in colour.

Add the diced tomatoes with the basil leaves chopped into pieces. Add the salt and freshly milled black pepper. Simmer gently on a very low heat, without a lid, stirring occasionally, for about 90 minutes (30 minutes for canned tomatoes) until most of the liquid has evaporated. The final tomato sauce should be are reduced to a semi-thick, jam-like consistency. For a thinned sauce, finish cooking at an earlier stage.

When serving this sauce with pasta, it is a good idea to cook the pasta a little less and finished the cooking by draining the pasta, adding the tomato sauce and cooking gently for the last minute.