Easy Hush Puppies Recipes - Filled Cornmeal Fritters
Hush puppies are savory cornbread balls or patties made from cornmeal batter and fillings, that are deep fried, pan fired or baked and served as a side dish with fish or seafood. Typical hush puppy (or 'hushpuppy') batters are made from wheat flour, eggs, cornmeal (or polenta), salt, baking soda, milk or buttermilk, and water.
Fillings added to the batter may include garlic, whole kernel of sweet corn, onion, spring onion (scallion), peppers, various vegetables, fish and many other ingredients.
Drop a spoon full of the mixture into hot oil or onto a hotplate and cook small batches until golden brown. Stiffer versions of the cornmeal mixture can also be rolled into balls and baked in the oven.
There are many variations. Try some of the beautiful recipes provided below.
Spicy Hush Puppies Recipe - Pan Fried
Ingredients
1 free range egg
180 ml (6 fl oz) milk
1/2 teaspoons sea salt
3 teaspoons baking powder
1 small brown onion, finely diced
1 teaspoon caster (superfine) sugar
1/2 cup of plain (all-purpose) flour
1 teaspoon chilli powder (or other spice)
3 tablespoons flat-leaf (Italian) parsley, finely chopped
8 spring onions (scallions), thinly sliced, including the green tops
2 cups rice bran oil, peanut oil or grape seed oil, for shallow-frying
1 small green jalapeño chilli, with stem removed, and very finely chopped
1 cup polenta (cornmeal); preferably the real stuff, not the 'instant' variety
Method
Using a large mixing bowl, combine the polenta, sugar, baking powder, flour, salt and pepper, and mix well. In a separate small bowl, whisk the egg into the milk. Then, fold in the dry ingredients, avoiding over mixing. Next, add the spring onion, onion, chilli and parsley and stir briefly to combine. To cook the hush puppies, half-fill a deep cast iron frying pan or Dutch oven with the oil. Heat over a moderate stove setting for 5-10 minutes. Test if the oil is hot enough by dropping a teaspoon of batter into the oil. The batter should sizzle when it hits the hot pan. But if it is too hot the outside will burn before it cooks inside. Fry tablespoons of the mixture, in small batches, until golden brown and crisp on the outside. Check that the inside is cooked. Drain the hush puppies on paper towel. Season with salt and freshly ground black pepper and serve with wooden skewers, and topped with a sauce and fresh herbs.
Baked Hush Puppies Recipe
Ingredients
1 teaspoon salt
1 teaspoon sugar
2/3 cup whole milk
1 cup yellow cornmeal
1 cup all-purpose flour
3 teaspoons baking powder
2 free range eggs, whisked
1/4 teaspoon cayenne pepper
1/2 cup onion, finely chopped
4 tablespoons rice bran or grape seed oil
Method
Preheat oven to 425 degrees F (220 degrees C). Use nonstick vegetable spray to grease mini muffin pans. Combine the flour, baking powder, cornmeal, salt, sugar and red pepper in a moderate size bowl. Add the onion and mix through. Whisk the eggs, oil and milk in small bowl. Then, pour this mixture into the dry cornmeal mixture and mix until well blended. Spoon enough of the batter to fill the muffin cups to 2/3 full. Bake the hush puppies in the preheated oven for about 15-20 minutes. Test for doneness by inserting a toothpick into the center of a hush puppy. When the toothpick comes out clean the hush puppies are cooked. Serve immediately with sauce and topped with fresh herbs.
Spicy Hush Puppies with Jalapeno Peppers
Ingredients
Salt to taste
1 cup self-rising flour
1/2 cup onion finely chopped
1 1/2 cups self-rising cornmeal
1 (15-ounce; 450 g) can creamed corn
Freshly ground black pepper to taste
2 large free range eggs, lightly whisked
Rice bran, grape seed or peanut oil, for frying
3/4 cup fresh jalapenos, seeded and finely diced or one can (7-ounce; 200 g) diced jalapeno peppers, drained
Method
Using an oil thermometer, heat the oil in a deep-fryer or Dutch oven to 350 degrees F (175 degrees C). Mix the flour, onion, cornmeal, jalapeno, corn and eggs together in a medium size bowl until well combined. Set aside for 5-10 minutes before frying. Drop teaspoons of batter into the hot oil when it reaches the right temperature. Cook in small batches, without overcrowding. Cook the hush puppies, flipping several times until golden brown (generally about 3 minutes). Remove the cooked hush puppies from the oil with a slotted spoon and drain on paper towels in a colander placed in a warm oven. Lightly sprinkle the cooked hush puppies with salt and pepper, to taste. Serve with your choice of sauces and fresh herbs.
Sweet Hush Puppy Recipe
Ingredients
1 egg, whisked
1/2 cup cornmeal
1/4 teaspoon salt
1/2 cup white sugar
1 cup all-purpose flour
2 tablespoons baking powder
1/8 teaspoon ground red pepper
1 cup very finely chopped onion
1/2 cup very finely chopped green pepper
1/2 cup very finely chopped green onion, green tops only
Method
Combine the flour, baking powder, salt, sugar, cornmeal, pepper in a large bowl and mix well. Add green onion tops, chopped onions, green peppers and the beaten egg, stirring to combine well. Cover the mixture, which will be quite dry, and refrigerate for only 1-2 hours. Remove the dough from the refrigerator and shape the dough into small balls ready for deep frying. Heat rice bran or grape seed oil to 330 degrees F (165 degrees C) in a deep fryer or heavy saucepan. Fry the batter balls in the hot oil in small batches until they are dark golden brown in color (about 4 minutes). Drain on paper towels and serve hot.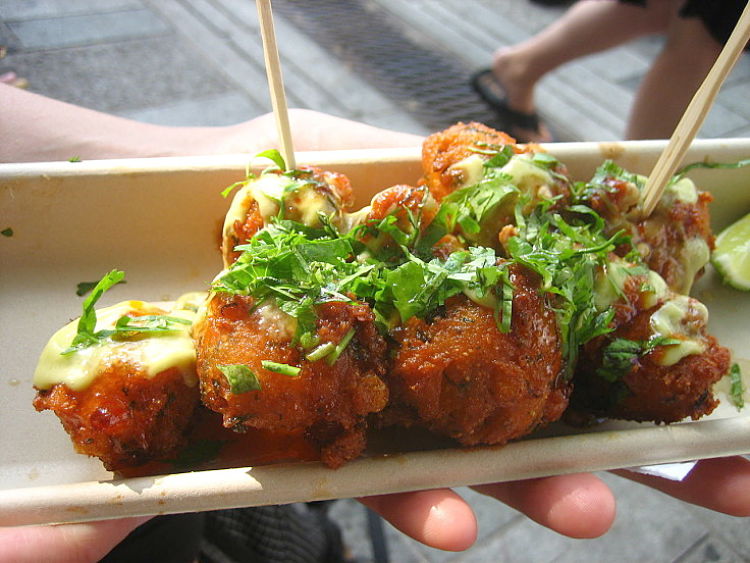 Source:
Jeremy Keith [CC BY 2.0], via Wikimedia Commons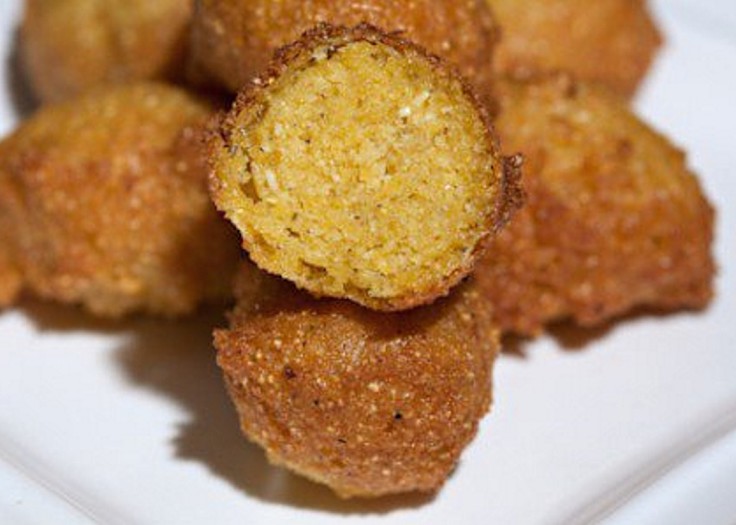 Source: Public Domain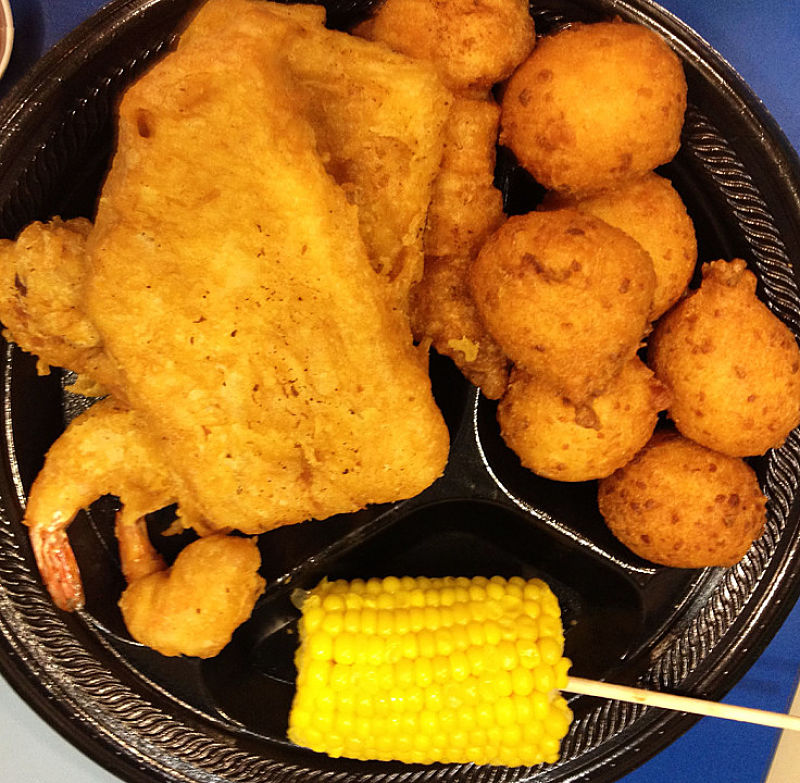 Source:
Yinan Chen [Public Domain], via Wikimedia Commons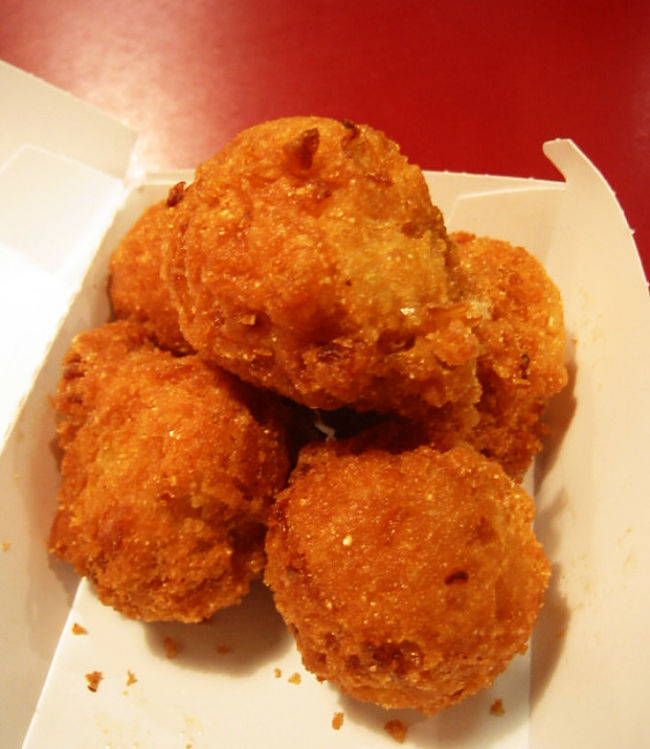 Source:
Whitebox [CC-BY-SA-3.0], via Wikimedia Commons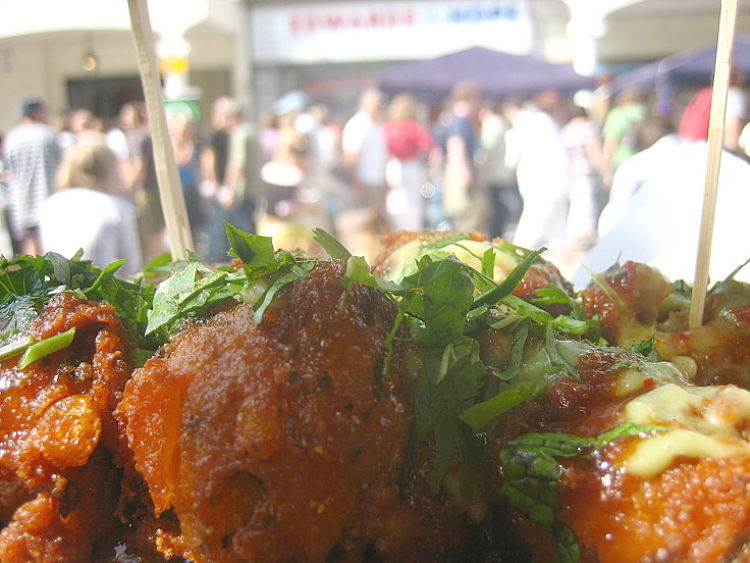 Source:
By Jeremy Keith from Brighton & Hove [CC BY 2.0], via Wikimedia Commons