Easy Sopapilla Recipes - How to Make Authentic Mexican Sopapillas
Sopapillas are a large triangular and hollow puffs of crispy, light and somewhat chewy dough that has been deep fried, They are made with a wheat flour dough leavened with yeast and are just perfect for eating as snacks or desserts with toppings of honey, chocolate sauce, fruit and with a variety of fillings. They can also be made with self-raising flour.
You let the dough rise for about an hour, then knead and roll it out, and then cut it into triangles, which are deep fried for a couple of minutes. It is magic to watch them puff up into airy, hollow golden pockets - great for kids to see.
A sopapilla is a traditional type of quick bread or fried pastry popular in Argentina, New Mexico, Bolivia, Chile, Peru, Texas (a Tex-Mex Dish) and Uruguay. The term means 'bread soaked in oil', and is traditionally created using leavened wheat and masa harina mix, to which butter is added.
Sopapillas can be sweet or savory and can be sprinkled with cinnamon and sugar and drizzled with honey.
Alternatively, they can be stuffed with beans and chilies and eaten with many other savory and sweet fillings.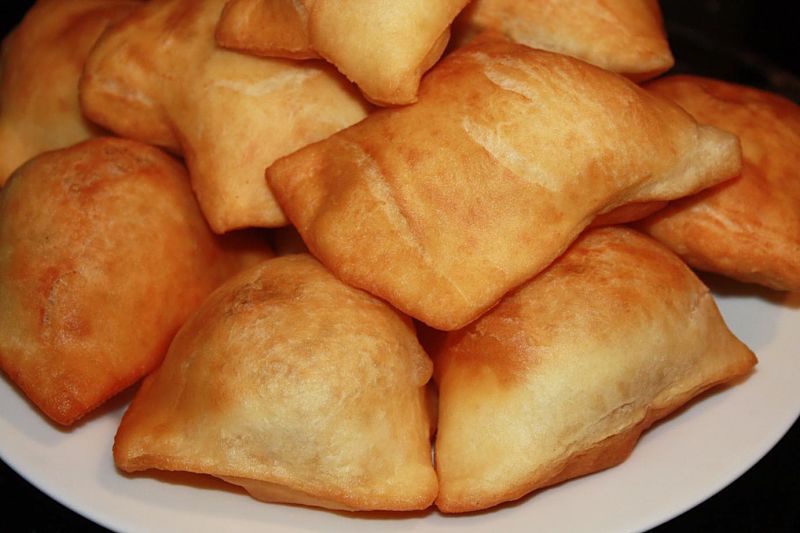 Sopapilla Recipe 1 - Using Yeast
1 teaspoon salt
4 cups all-purpose flour
1 tablespoon of sugar
1 tablespoon of butter, melted
1 1/2 cups luke-warm water
1 package active dry yeast
high smoke point vegetable oil for deep frying
To Serve
Mix the yeast with some warm water and a little honey in a medium size bowl, and leave for 5-10 minutes to activate. Then add the butter and sugar. Then slowly add the flour and salt. Knead the dough for at least two minutes, until the dough is smooth and elastic and well combined. Let the dough rise in a covered, greased bowl for about 60 minutes or until dough is roughly double its original size. Transfer the dough from the bowl to a board or bench top. Punch it down on a floured surface and knead gently. Then roll it out to form an oval or rectangle shape about a 1/4-inch (6 mm) thick. Using a pizza cutter or knife, cut out 3 inch (8 cm) squares. Next, cut squares diagonally to form triangles.
Heat grape seed oil, or similar in a deep fryer or large pot and heat to 375 degrees F (190 degrees C). Fry the dough triangles in pairs for about one minute on each side. The dough should immediately puff out when it hits the hot oil. Drain on paper towels and then serve with a sprinkle of cinnamon and sugar. Provide honey to drizzle onto the hot broken sopapilla so it runs into the cavity. Various other fillings and toppings can be used.
Sopapilla Recipe 2 - with Baking Powder
1 1/2 cups warm water
4 tablespoons butter or other shortening, softened
1 teaspoon salt
2 teaspoons baking powder
4 cups all-purpose flour
2 quarts (1 litres) oil for deep frying
Using a large bowl, mix together the flour, salt, baking powder and shortening. Slowly mix in the warm water. Mix well until the dough stiffens slightly and is smooth. Cover the bowl and set aside for about 20-30 minutes. Roll the dough out on floured board until about 1/4 inch (6 mm thick). Cut into 3 inch (8 cm) squares and then cut diagonally to form triangles. Heat the oil in a large heavy frying pan or deep-fryer to 375 degrees F (190 degrees C). Fry until both sides are golden brown on both sides and the sopapillas are puffed out (about one minute per side). Drain on paper towels and serve hot.
Stuffed Savory Sopapillas
1 teaspoon salt
4 cups all purpose flour (or half wholemeal flour)
1 tablespoon of sugar
1 tablespoons of butter, melted
1 1/2 cups warm water
2 1/2 teaspoons active dry yeast
Oil for deep frying
For the Filling
cooked taco meat sauce
Toppings to suit your preferences such as salsa, guacamole, sour cream, shredded cheese, jalapeno slices, black olives, chopped onion, chopped tomato and shredded lettuce
Combine the yeast with warm water and a little sugar or honey. Set aside for 10-20 minutes for the yeast to start frothing and expanding. Add the flour and salt to a large bowl. You can use a stand mixer or food processor if you like, or mix by hand. Add the sugar and melted butter to the yeast and water mixture. Then pour all of the liquid into the flour in a bowl. Mix and knead the mixture by hand or on the mixer or food processor until the dough forms a ball and is smooth and elastic. Over the bowl and leave in a warm place for about 60 minutes, or until the dough doubles in size. Then transfer the dough to a flat floured surface, punch it down and knead gently. Roll the dough out into a rectangle that is about 1/4 inch (6 mm) thick. Cut out the sopapillas to the desired size and shape. Shallow or deep fry pairs of sopapillas, on both sides for about one minute each side. Remove and drain the sopapillas on paper towels.

Once sopapillas have drained and cooled, tear them open and stuff the inner pockets with your desired savory fillings.