Easy Vegetarian Sushi Rolls Recipes
Vegetarian sushi rolls showcase the delights of fresh crisp vegetables. Texture, taste and color combine to provide a delightful snack of party food. You can combine vegetarian nor rolls with conventional seafood ones to add variety to a sushi platter.
Sushi rolls are easy to make at home. All you need are a bamboo mat for rolling the nori sheets, a rice paddle, rice vinegar, sushi rice and various hot sauces such as wasabi.
Below are a collection of the best vegetarian sushi recipes to try. You can use whatever fresh vegetables that are available at the time. Remember to include vegetables with a variety of textures and herbs to enhance the flavor.
Spicy Vegetarian Nori Rolls with Avocado
Ingredients
for the rice
1 teaspoon salt
2 teaspoons sugar
3 tablespoons unseasoned rice vinegar
1 cup sushi rice, rinsed and drained 3-5 times
for the sauce
1 cup vegan mayonnaise
3 to 4 tablespoons sriracha hot sauce, or other sauce to taste
for the rolls and vegetables
5 sheets nori
5 green onions, sliced
1/2 cup grated radishes
1 avocado, peeled and cut into strips
Method
Cook the rice by rinsing and adding to a large saucepan with 1 cup of water. Cover, and simmer slowly for 15-20 minutes, until all the water is absorbed. Set aside covered for 5 minutes, then transfer to bowl to cool. Fluff the grains to assist with the cooling. Whisk the vinegar, sugar, and salt together in small bowl. Add the sauce mixture to the rice and mix well. Make the sauce by combining the listed ingredients together in small bowl. To assemble the rolls, place 1 nori sheet on a sushi mat or work surface. Spread 1/2 cup rice onto half the nori sheet. Add 1 teaspoon of sauce to the center of the ice. Then add 1 tablespoon grated radishes, several strips of avocado, and top with slices of green onion. Roll the nori sheets tightly to enclose the filling. Dampen the end of the sheet with water and then seal. Use the remaining mixture to make several rolls. Slice each roll into 8 pieces with sharp knife. Serve with soy sauce.
Vegan Veggie Sushi Rolls Filled with Mashed Avocado and Fresh Crunchy Vegetables
Ingredients
2 nori sheets
1 Avocado, mashed
1 small carrot, sliced into thin strips
1 small zucchini, sliced into thin strips
1/2 red bell pepper, sliced into thin strips
1/2 cup of alfalfa sprouts (or any other sprouts you enjoy)
for the tasty sauce
1 tablespoon of Dijon mustard
4 tablespoons of nutritional yeast
2 teaspoons Tamari sauce ( or similar)
1 tablespoon of fresh lemon or lime juice
salt and fresh ground black pepper to taste
1 tablespoon of fresh cilantro, finely chopped
Method
Make the sauce by mixing all the ingredients in a small bowl, to form creamy paste consistency. Adjust the thickness by adding more yeast (to thicken) or lime juice (to thin). Assemble the rolls by placing two nori sheets on a flat surface, or a sushi mat. Mash the avocado into a separate bowl. Spread half the sauce into the bottom end of the sheets. Add half of the mashed avocado and top with long sliced strips of carrots, red bell peppers and zucchini horizontally. Top with alfalfa sprouts and roll the nori sheets, sealing the ends with water. Slice the rolls or serve whole. Serve with a sprinkle of sesame seeds and soy sauce.
Vegetable Sushi Rolls with Cucumber, Radish and Avocado
Ingredients
for the sushi
1 teaspoon salt
1 1/2 cups water
2 teaspoons sugar
4 sheets toasted nori
1/3 cup seasoned rice vinegar
1 1/2 cups short-grained sushi rice
for the Filling (use other fresh vegetables in season)
Soy sauce
6 red radishes chopped
4 scallions, trimmed and sliced
1 carrot, sliced into matchsticks
1 medium size cucumber, seeded and cut into matchsticks
1 small yellow bell pepper, seeded and cut into thin matchsticks
1 medium size firm-ripe avocado, peeled and thinly sliced lengthwise, sprinkled with lemon juice
Method
Combine the vinegar, sugar, and salt in a small bowl. Rinse the rice well in a sieve or colander and drain. Place the rice and water in medium-size saucepan with a tight fitting lid. Bring the rice to the boil over high heat. Stir well and then reduce heat to very, very low. Cover and seal the saucepan and cook over a very low setting for about 15-20 minutes until all the water is absorbed. Remove the saucepan from the heat and set aside with the lid on for about 10 minutes. Transfer the cooked rice to a bowl, fluff with a fork. Add the vinegar mixture and mix with the rice. Then, set aside to cool. Assemble the rolls by placing the four nori sheets onto a flat surface or a sushi mat. Press about 1/4 of the rice onto the nori, in a layer leaving a margin around the edge for sealing. Add the fillings, aligning the matchsticks across the sheet. Roll the nori and seal by wetting the edges of the nori sheet. Slice each sushi roll, crosswise, into about 8 pieces using a sharp knife that has been dipped in water. Serve with soy sauce for a hot and spicy sauce.
Vegetable Sushi Party Rolls
Ingredients
4 Nori sheets
Soy Sauce for serving
Wasabi Paste for serving
1 tablespoon fresh ginger slices
1 cup Sushi Rice (short or medium grain white rice)
1/4 cup Sushi Vinegar (or make your own with rice vinegar, recipe below)
for the fillings (any combination of the following fresh vegetables cut into strips)
Carrot
Cucumber
Bell Pepper
Daikon Radish
Shiso Leaves
Avocado slices
Lettuce leaves
Shiitake Mushroom
Asparagus (lightly steamed)
Coriander, parsley or basil
Pickled Plums (with seeds removed)
Method
Prepare as described for the previous recipes. Cook the rice, by the absorption method and mix the vinegar through it. Assemble the nori rolls.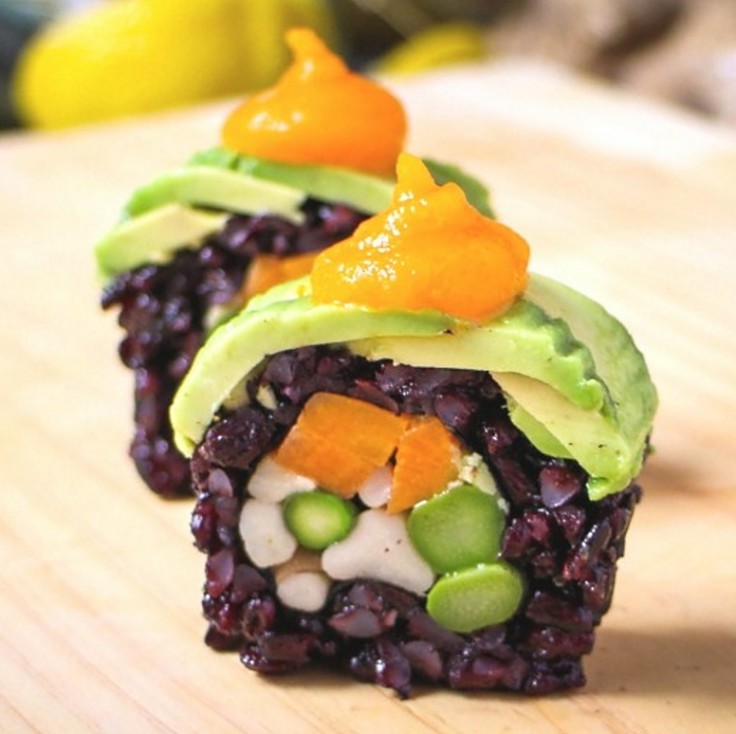 Source: Original Image - John Anderson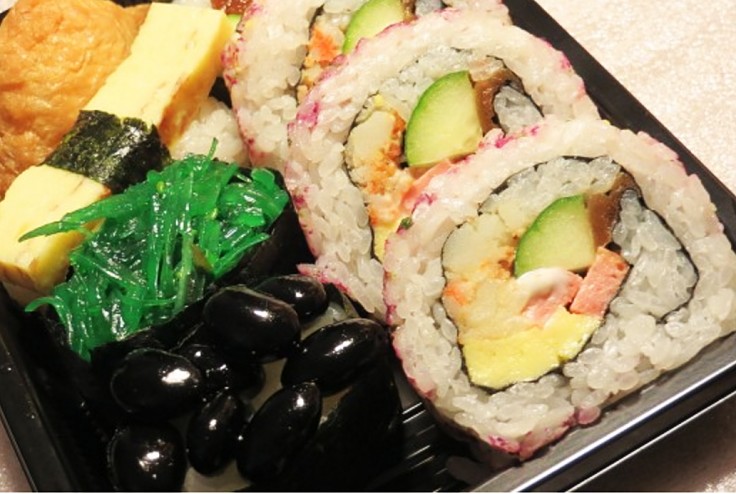 Source:
By Mk2010 [CC BY-SA 3.0)], via Wikimedia Commons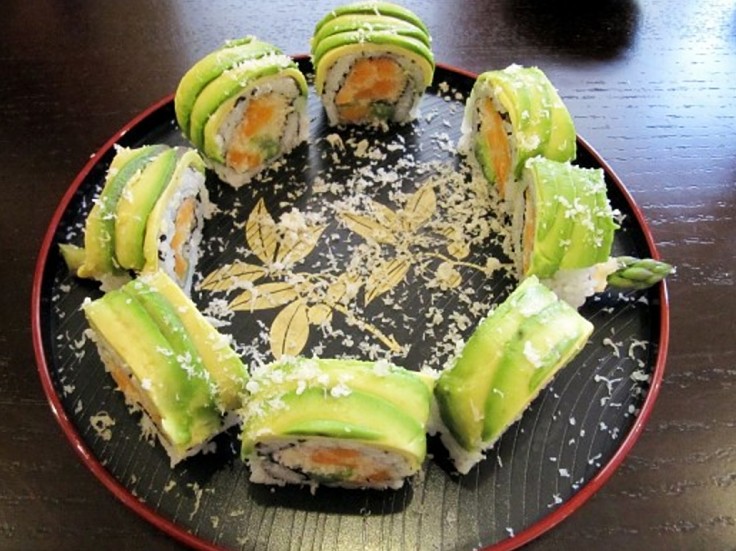 Source: Original Image - John Anderson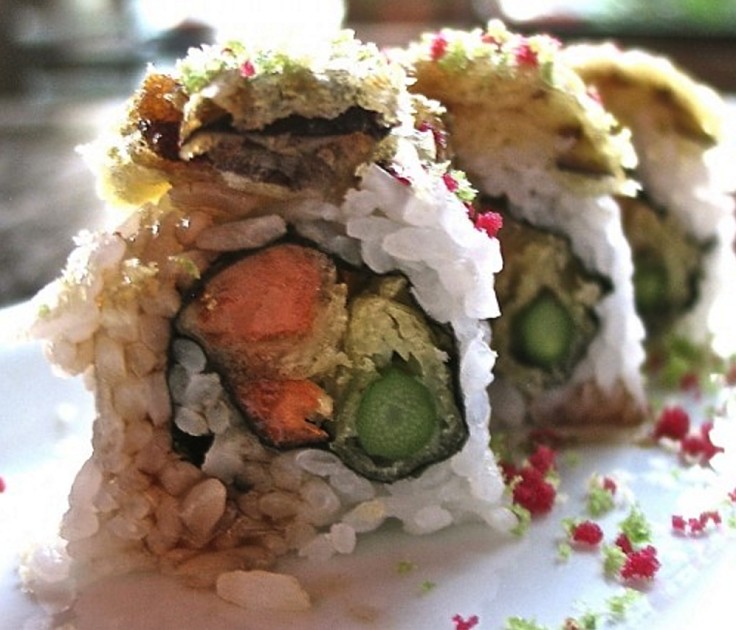 Source: Original Image - John Anderson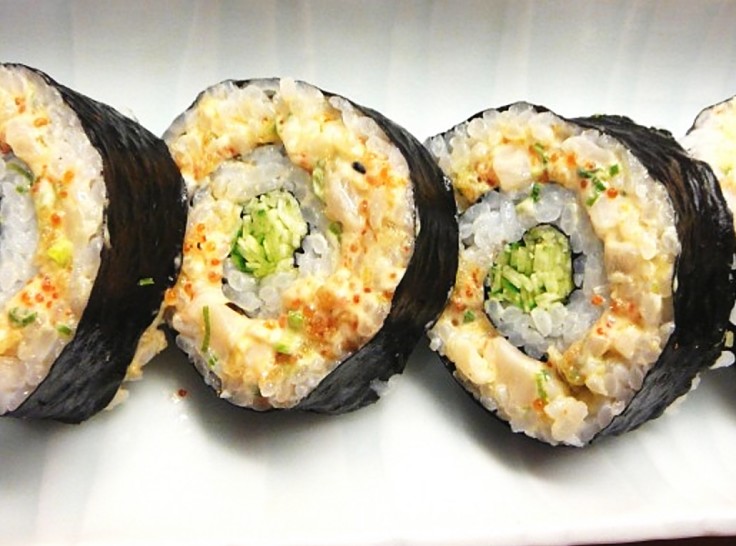 Source: Original Image - John Anderson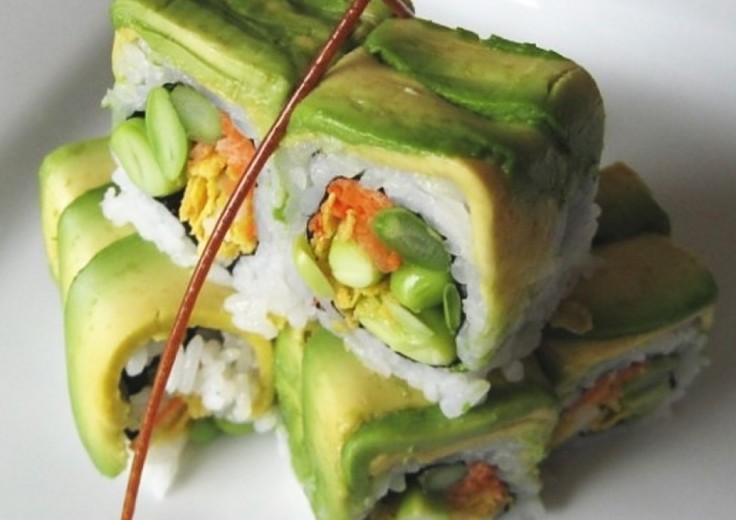 Source: Original Image - John Anderson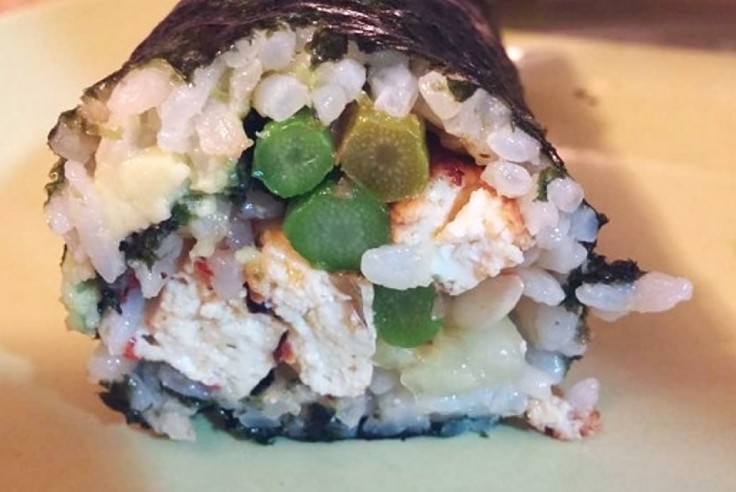 Source: Original Image - John Anderson