Easy Yeast Bread Recipes, Rediscover the Noble Rise for All Occasions
Bakers yeast is‭ ‬a‭ ‬magical‭ ‬friend to mankind providing organic leavening and lifting the spirits by converting sugar into alcohol in beer,‭ ‬wine,‭ ‬cider and other alcoholic beverages.‭ ‬Sadly the yeast packets in many kitchen cupboards lie dormant and neglected because modern cooks say they don‭'‬t have time to wait for yeast to do their magic in baked goods.‭ ‬
Think of what is being missed.‭ ‬All those lovely aromas wafting through the kitchen as the yeasted breads cooked.‭ ‬All the wonderful unique tastes and acid highlights that yeasts add to baked goods are long distant memories. The ultimate is sourdough breads, pancakes and buns but that is another story‭.

It‭'‬s time to give those yeasts a second‭ ‬change, and to let them rise to the occasion.‭ ‬This article provides some fabulous recipes for some full-flavored breads that will re-invigorate‭ ‬your distant memories of just how good yeasted breads can be.‭
‬It is certainly worth the extra time required.‭ ‬If you get organized properly, there is no time penalty, as you can prepare in advance and let the yeast strut their stuff, while you do other things.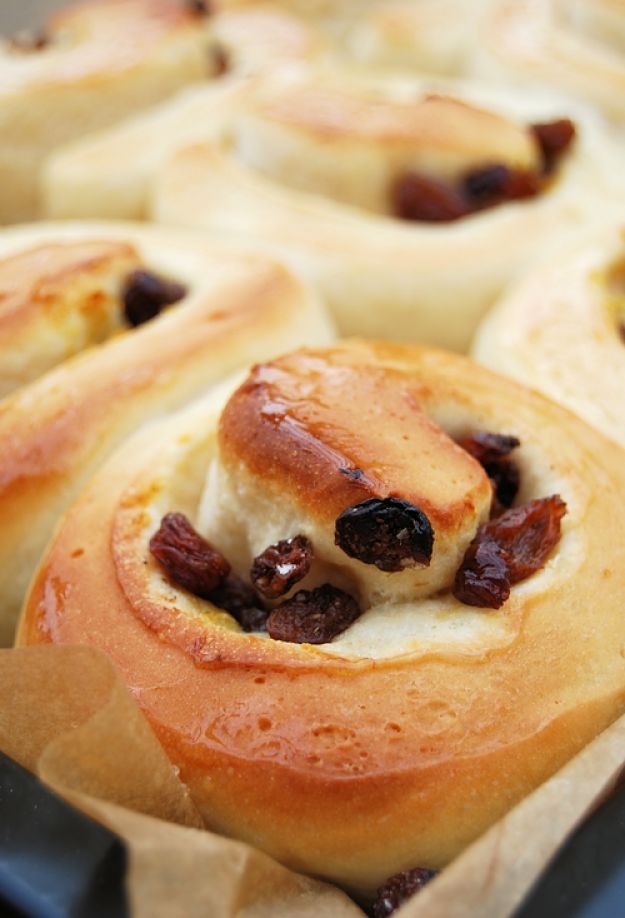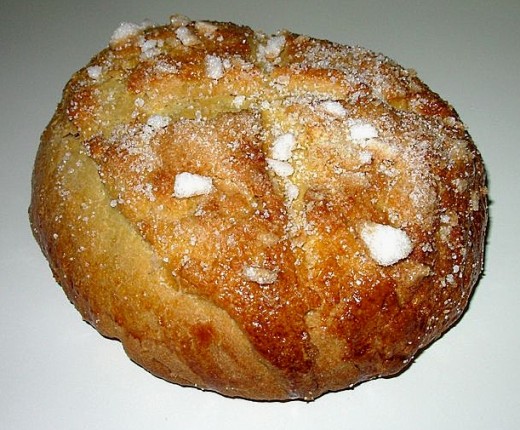 The Benefits of Yeast for Baking Breads, Buns and Yeasted Snacks
The yeast fungus breaks down the sugar and carbohydrates in the dough creating bubbles of carbon dioxide that aerate and naturally rise dough giving it a light and soft texture when eaten. But the kind yeast also‭ ‬release alcohol and acids into the bread that add unique tastes and aroma. Breads made with baking powder and other chemicals can have a chemical taint and they lack the boldness and efficiency of the yeast. Similarly the yeasts bread down the sugars in the bread, reducing its sweetness. This does not occur with the chemical rising agents that produce carbon dioxide when heated‭. No chemically risen bread can compare with yeasted bread‬.‭
Nutrients in Bakers Yeast
Yeast is a fabulous source of vitamins, especially B-group vitamins and folate. A nutrient summary is provided in the table opposite. Yeast extracts in various forms ate very popular including the infamous Vegemite which is made from yeast residues left over from brewing beer. As the yeast proliferate in the bread dough all these nutrients are added to the mixture, enhancing the health benefits. Baked goods made without yeast do not have these extra nutrients.
| Nutrients in 100 g of Yeast | Amount |
| --- | --- |
| Calories | 105 |
| Fiber | 8.1 g |
| Cholesterol | 0.0 g |
| Protein | 8.4 g |
| Fat | 1.90 g |
| Saturated Fat | 0.243 g |
| Vitamins | |
| Carotene, beta | 0.00 mcg |
| Choline | 32.0 mg |
| Cryptoxanthin, beta | 0.00 mcg |
| Folate | 785.00 mcg |
| Niacin | 12.300 mg |
| Pantothenic acid | 4.900 mg |
| Riboflavin | 1.130 mg |
| Thiamin | 1.880 mg |
| Vitamin A | 0.00 mcg |
| Vitamin B12 | 0.01 mcg |
| Vitamin B6 | 0.430 mg |
| Vitamin C | 0.1 mg |
| Minerals | |
| Calcium, Ca | 19.00 mg |
| Copper, Cu | 0.148 mg |
| Iron, Fe | 3.25 mg |
| Magnesium, Mg | 40.00 mg |
| Manganese, Mn | 0.200 mg |
| Phosphorus, P | 336.00 mg |
| Potassium, K | 601.00 mg |
| Selenium, Se | 8.1 mcg |
| Sodium, Na | 30.00 mg |
| Zinc, Zn | 9.97 mg |
The table below shows the nutrients in various types of bread.

| Nutrient Content in 100g of bread | White | Wholemeal | Wheat/Rye | Multi-grain | Italian | Wheat / Oat |
| --- | --- | --- | --- | --- | --- | --- |
| Energy (kcal) | 216 | 198 | 207 | 230 | 232 | 222 |
| Protein (g) | 7.3 | 8.1 | 9.1 | 8.8 | 9.6 | 9.6 |
| Thiamin (mg) | 0.33 | 0.66 | 0.84 | 0.3 | 0.14 | 0.4 |
| Niacin(mg) | 1.6 | 2.1 | 2.1 | 2 | 1.6 | 1.6 |
| Riboflavin (mg) | 0.09 | 0.16 | 0.19 | 0.12 | 0.03 | 0.1 |
| Iron (mg) | 1 | 1.7 | 1.7 | 1.4 | 1.4 | 2.1 |
| Calcium (mg) | 40 | 33 | 40 | 39 | 40 | 48 |
Yeasted Bread Recipes
Presenting plain white yeasted bread recipes would bore everyone - Ho Hum! Far better to provide more complex recipes than a plain loaf,‭ ‬to allow the benefits of yeast to be showcases as worth the effort.‭ The trade off is that ‬complex doughs may take a little longer to rise because the added ingredients tend to slow down the proliferation of the yeast,‭ ‬but its only a minor increase.

There is some extra time involved in making yeasted breads. But the trick is plan ahead and find ways to do other things while the dough is rising. You don't have to set there staring at the dough. If you plan well there is no extra time involved.

Important Tips for Using the Recipes:
measure your ingredients, weigh the flour as the extent of packing in a cup can vary a lot
keep the dough relatively wet and loose‭ (‬bagels being a rare exception‭)
if you have the extra time start by only using half the flour and having a very wet dough for an initial wet rise in the bowl. Cover the bowl and place it in a warm place. The yeast will go crazy and the mixture will froth and bubble. This helps to develop the gluten and makes the main rise much more efficient.
keep the dough wet and lose before the main rise,‭ ‬and ensure you let it rise until it's at least doubled in size,‭ ‬extending the rising time if required. This is crucial not only for the leavening‭ ‬but it ensures the gluten is nicely stretched.‭
finding a suitable warm spot for the rise is also very important. If you use a large bowl you can half fill the sink with warm water and let the covered bowl float in it. Other suitable places are on top of your water heater. It is vital that the temperature is keep warm and does not cool down as this will stop or delay the rise. Getting a quick steady rise under ideal conditions works best.
the recipes specified dried yeast. Fresh yeast is much better but its hard to find. The dried yeast needs to be‭ "‬activated‭" ‬in a cup of warm sugary water before use. It is ready to use when the mixture froths and bubbles.‭ ‬You can use 'quick' yeast varieties that can be added straight into to the flour, but the flavor appears to be different and the rise less efficient.‭
Apple and Walnut Yeasted Chelsea Style Buns
1 medium egg,‭ ‬lightly beaten
100g (4 oz) butter, melted
10g (1/2 oz) sea salt
500g ( 1 lb) strong white bread flour
50g (2 oz) caster sugar
2 teaspoons dried yeast
250ml whole milk, warmed to blood heat
For the filling
1 teaspoons ground cinnamon
100g caster sugar
75g (3 oz) walnuts (or pecans), roughly chopped
100g (4 oz) raisins
3a dessert apples, cored, peeled and dices
60g (2 1/2 oz) butter, melted
For the glaze: 3 tablespoons apricot jam diluted in warm water

Add the yeast to the warm milk and sugar in a bowl.‭ ‬Whisk and set aside for 10-15‭ ‬minutes,‭ ‬until the mixture is frothy. Meanwhile sift the flour and salt into a bowl.‭ ‬Pour in the yeast mixture. Add the beaten egg and‭ ‬melted butter. Mix to form a rough dough ball.‭ ‬Removed and transfer to a lightly floured surface. Knead well until smooth and silky‭, generally‬ about‭ ‬10‭ ‬minutes. You should feel the dough develop resistance and the gluten forms in the dough.‭ ‬The dough should be fairly sticky, so you may need to flour your hands a little.‭ H‬owever, try to minimize the amount of extra flour you add to keep the dough moist. Form the dough into a ball and coat the outside with oil by rubbing oil on your hands. Put the dough in a bowl,‭ ‬cover with plastic film, or a clean tea towel. Put in a warm place and leave until doubled in size. This will take at least 60 minutes, maybe 2 hours, and so plan ahead and use this time to do other things. ‭The ‬the egg, salt and butter in the mixture slow down the growth of the yeast and so the time taken will be longer than for a plain loaf.

Grease a deep rectangular baking pan with melted butter.‭ Next ‬heat‭ ‬butter for the filling in a large frying pan using medium heat.‭ ‬Add the apple pieces and cook for 8-10‭ ‬minutes, stirring often‭ ‬until the apples are soft.‭ ‬Set aside to cool. Next unload the the risen dough on to a floured surface and roll out to a‭ ‬45cm x‭ ‬30cm (17 inch x 12 inch) rectangle.‭ ‬Brush the dough with melted butter,‭ ‬allowing a‭ ‬2cm margin along one of the longer sides.‭ ‬Spread the raisins, apple and walnuts onto the dough,‭ ‬and sprinkle with the sugar and cinnamon.‭ Next r‬oll up the dough,‭ ‬beginning with one of the longer edges. This will form a long‭ ‬swiss roll-style shape with the filling in layers.‭ ‬Trim the ends to form a neat roll. Then cut the rolled dough into‭ ‬12‭ ‬pieces.‭ ‬Lay each piece on its side ‭in the baking pan. Cover the baking pan by inserting in‬ a clean plastic bag and set aside in a warm place to rise. ‭Pre-‬heat the oven to‭ ‬200 degrees C (390 degrees F). Bake for about‭ ‬25-35‭ ‬minutes,‭ ‬until the buns are a deep golden brown color.‭ Brush the baked buns with a little jam diluted in warm water while still hot. ‬Cool a little before serving.
Yeasted Brioche Recipe
4 medium eggs, lightly beaten
100g (4 oz) softened butter
10g (1/3 oz) fine salt
400g (14 oz) white bread flour
2 tablespoons caster sugar
1/3 cup warm milk
2 teaspoons dried yeast
For the glaze:
2 tablespoons milk
1 medium egg
Add the warm milk, yeast and sugar to a bowl, whisk, then set aside for about 15 -20 minutes, until the yeast starts to froth. Mix the flour and salt in a bowl, pour in the butter, eggs and yeast mixture to form a rough dough. Knead using a dough hook on a food processor, or by hand (it will be very sticky). Knead thoroughly until shiny and smooth and shiny. Form until a ball, coat with oil and place into a covered bowl. Transfer to the fridge and leave overnight. On the next day, form the dough into loaf shape and place in a greased loaf tin. Cover the bowl with a with a plastic bag and set aside in a warm place until the dough almost doubled in size (3-4 hours). Pre-heat the oven to 200 degrees C (390 degrees F). Whisk the egg and milk to make a glaze the glaze that is brushed over the loaf. Bake for 10 minutes, then reduce the temperature to 180 degrees C (350 degrees F) and bake for an additional 30-45 minutes, until the loaf is golden brown. Cool on a wire rack.
Yeasted Homemade Bagels
1 cup warm water
2 tablespoons malt syrup (or use sugar)
1 tablespoon sunflower oil
10g (1/3 oz) fine salt
500g (1 lb) white bread flour
1 tablespoon sugar
2 teaspoons dried yeast
Add the sugar and yeast to the warm water in a bowl. Whisk and put in a warm place for about 10 - 15 minutes, until the yeast has made it bubbly and frothy.
Sift the flour and salt into a bowl, add the yeast mixture and oil, and mix to form a rough dough ball. Transfer the dough to a lightly floured board or bench and knead until silky and smooth (10 - 15 minutes). The dough should be stiff, springy and tight. Oil the dough ball and place in a covered bowl in a warm place for 1-2 hours. Wait until the dough doubles in size. When rise, tip the dough onto to a floured surface, knead gently and cut into 12 pieces. Roll each dough piece into the shape of a sausage, then twist around to form a ring. Bind the ends by wetting with water and pressing together. Place the bagels on oiled or sprayed baking trays. Cover and leave to rise again for 20 minutes. You can do this by warming the over on very low heat and switching it off (heck that it's not too hot). In the mean time, preheat the oven to 200 degrees C (390 degrees F). Bring a large saucepan of water to a boil.
Next, add the malt syrup to the boiling water. You need to poach the bagels before baking in the hot water. Add 2-3 bagels at a time to the simmering water and poach for one minute. Turn them over about halfway through. Remove them and repeat for the other bagels. Place the bagels on a baking sheet and bake for 15 minutes, until golden brown. Cool on a wire rack.
Other Articles about Bread and Recipes
=> Easy Bread Pudding Recipes - Savory, Sweet for Dinner and Dessert
=> Filled Flatbread Recipes and Easy Flat Bread Pizza Recipes
=> Easy Bread Pudding Cups Recipe with Garlic and Herbs
=> Easy Spanish Gazpachos Recipes - Meat Stew Served on Unleavened Bread
=> New Summer Blended Gazpacho Soup Recipes Made Without Bread
=> How to Make Sourdough Bread - The Starter, Great Recipes, Best Ever Tips
=> Wholemeal Soda Bread Recipes with Spices, Fruit, Herbs, Nuts
=> Best Irish Soda Bread Recipes With Grain, Fruit and Spice Options
=> Sweet Potato Bread Recipes and Other Potato Breads