Filipino Embutido Recipes - Pork, Beef and Chicken Meatloaf
The Filipino meatloaf dish, Embutido, originally evolved as an adaptation of Spanish sausages. But, the American occupation of the Philippines saw it transformed into a broad group of elongated meatloaf 'log' dishes incorporating a variety of American ingredients including unusual ones such as raisins, ketchup, canned meats, ham, cheese and many vegetables. It is often served with steamed white rice, as well as water cress and other fresh herbs.
Its evolution, and transformation, mean that it is a very versatile dish allowing you to incorporate various ingredients you have at hand, and to adapt the recipe to the way you want it to taste, and look when served. If you love meat loaf, it is worth trying Embutido with its unusual ingredients. It is an ideal party food, served sliced.
Below are recipes for the traditional pork Embutido as well as recipes based on chicken and beef. Enjoy the versatility and surprise of this wonderful dish that is adaptable and easy to make at home.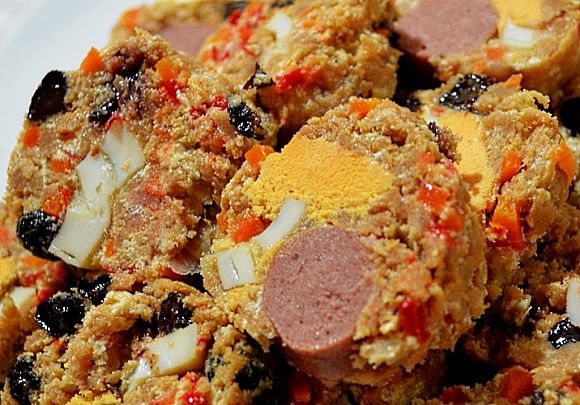 Traditional Pork Embutido Recipe with Raisins, Eggs and Peppers
Ingredients
1/2 cup raisins
1/3 cup sweet relish
3 tablespoons ketchup
4 large free range eggs
3/4 cup fresh or frozen peas
1 1/2 lb (750 g) ground pork
1/2 medium onion, finely chopped
3/4 cup smoked ham, finely diced
1 teaspoon salt, or more to taste
1 teaspoon of freshly ground black pepper
4 Vienna sausages, mashed or finely chopped
1/4 lb (125 g) Edam cheese (or similar), finely grated
Method
Preheat oven to 300 degrees F (150 degrees C). Hard-boil the eggs for 5 minutes, cool, peel and slice peel in half. Whisk the other 2 eggs and add to a large mixing bowl with the black pepper, salt, ketchup, relish, sausages, onion, raisins, peas, ham, cheese and the ground pork. Mix thoroughly with a wooden spoon or with your hands. Line a large, shallow baking pan with a large square of foil, greasing under and on top of the foil. Roll the meat mixture into a 'log' that fits in the baking pan. Insert the boiled egg halves evenly along the length. Place the roll near one of the long sides of the foil. Starting from that edge, roll the meat mixture in the foil to form a cylinder. Pat the foil to seal and crimp or seal the ends to seal.
Put the meat loaf log in the center of the baking pan, and bake for 45 minutes in the pre-heated oven. Then let cool, remove the Embutido and unwrap the foil. Grill or broil the outside of the Embutido till it is lightly brown in color on all sides. Set aside to rest for about 5 minutes. Then, slice and serve with a variety of sauces and fresh herbs. It is traditional served with steamed white rice.
Beef Embutido Recipe with Cheese, Carrot and Onion
Ingredients
salt and pepper
3 eggs, whisked
Foil for wrapping
2 tablespoons pickle relish
1 1/2 lbs (750 g) ground beef
1/4 cup onion, finely chopped
2 hard-boiled eggs, quartered
1/2 cup carrot, finely chopped
1/3 cup tomato sauce or ketchup
2 garlic cloves, finely chopped
1/2 cup panko breadcrumbs (or similar)
1/4 cup red bell pepper, finely chopped
1/2 cup monterey jack cheese, or similar
2 hot dogs or similar, sliced horizontally into quarters
Method
Preheat oven to 350 degrees F (175 degrees C). Using a large bowl add the ground beef, pepper, salt, eggs, breadcrumbs, garlic, relish, cheese, tomato sauce, red bell pepper, onion and carrots. Mix well using a wooden spoon or your hands. Cut out a large square of foil and spray both sides with cooking oil. Place the meat mixture on the foil and flatten out so that it is about 1/2 inch (1 cm) thick. This is done to assemble the other ingredients. Place the quartered hard-boiled egg and sliced hotdog in the center of the meat mixture, forming rows in the center. Starting with one side of the foil, carefully lift the mixture and fold over the eggs and hotdog pieces. Press down to incorporate the eggs and hotdogs into the mixture. Do the same with the other side. Press the mixture down to form a compact 'log' shape. Roll the log in the foil and twist the ends to seal. Bake in the preheated oven for 60-90 minutes, depending on the thickness the meatloaf. Unwrap one end to check the center for doneness. Remove from the oven, rest for about 15 minutes and slice diagonally to serve.
Chicken Embutido with Raisins, Carrots, Onions and Cheese
Ingredients
1 egg, whisked
1/2 cup raisins
4 hard-boiled eggs
salt and pepper to taste
4 Vienna sausages, chopped
1 cup cheddar cheese, grated
1 small carrot, finely chopped
2 tablespoon of pickled relish
1/2 kilo (500 g) ground chicken
1 cup ham, sliced into then strips
1 medium size onion, finely chopped
vegetable oil for cooking and greasing
2-3 cloves garlic, crushed or finely chopped
1 medium piece Spanish chorizo, finely chopped
Method
Preheat oven to 350 degrees F (175 degrees C). Using a large bowl mix all the ingredients (except the boiled eggs and cooking oil) with your hands. Divide the mixture into two portions. Place each portion into the center of a large square of foil and season with salt and pepper to taste. Flatten each mixture. Arrange two eggs at the center of each portion. Roll the mixture to cover the eggs and form into elongated 'log' shapes. Seal by twisting the foil at each end. Place the two logs side by side on a greased shallow baking tray. Bake for 30 to 45 minutes, checking for doneness. When cooked, remove from the oven, let cool for 10 minutes and then and remove the aluminium foil. Next, brown the outside of the embutido in a hot frying pan or by grilled. Slice into thin rings and serve with your favorite sauces.
Related Articles for Side Dishes Using Meat
=> Which Meats Have the Highest Contamination Risks for Food Poisoning?
=> Q&A Cancer Risks of Processed Meat- Bacon, Sausages,Ham and Red Meat
=> Beer Can Burgers - Bacon and Meat Bowl Burger Recipes with Stuffing, Toppings, Sauces
=> Best Blue Cheese Recipes for Dips, Sauces, Bakes, Pasta and Meat Dishes
=> Tips to Make Perfect Meatballs - Best Homemade Meatballs Recipes
=> Easy Homemade Meatball and Sauce Recipes with Delicious Variations
=> Best Meatloaf Recipes - Tips, Healthy Ways to Boost Meatloaf Flavor