Flavored Rice Recipes - Quick, Easy, Homemade, Nice
Rice is easy to prepare, but plain rice can be boring as a snack or when served with other dishes. But you can flavor rice in many ways that are simple, quick and can be done easily at home.
These recipes are not fried rice, but are simpler versions that can even be made in a rice cooker. This idea is to add various simple flavors to rice as it is cooked.
These recipes are great as a snack or as a change when rice is served with other dishes. There are lots of options to try, and you can develop your own variations to suit your taste preferences.
There are basic and more complex recipes, with simple delicate flavors and other with strong spicy Spanish, Indian and Mexican Style flavors. Enjoy!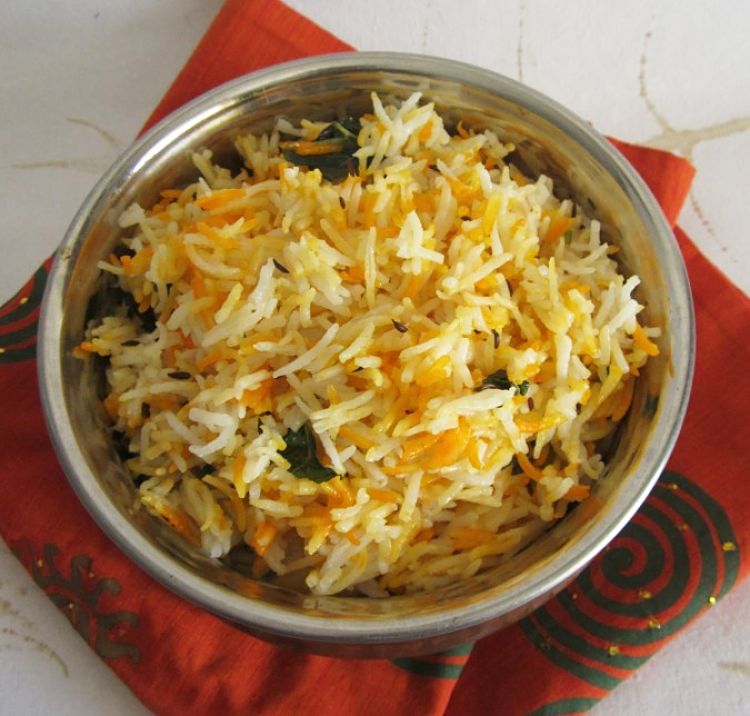 Aromatic Coconut Flavor Rice Recipe
Ingredients
1 stick cinnamon
5 whole cloves
3 cardamom pods
1 3/4 cups plain water
2 cups unsweetened coconut water*
1/2 cup grated, unsweetened coconut
2 cups basmati long grain rice (or similar)
1/4 teaspoon cayenne pepper
1 1/4 teaspoons salt
1-2 cloves of garlic, finely minced
1 cup onion, finely chopped
3 tablespoons coconut oil (or clarified butter)

* Note: Use packaged coconut water or to make your own put 1 cup of grated coconut into 4 cups of boiling water in a pot. Cover and simmer for 2-3 minutes, then remove the pot from the stove and set aside for 15 to 20 minutes. then strain and use the coconut water in the recipe.

Method

Melt the butter or coconut oil over moderate heat in medium-size sauté pan (that has a cover). Add the chopped onion and fry until golden brown (about 8-10 minutes. Add the garlic, salt and cayenne and cook for another minute.

Add the rice and stir well to coat all the rice grains with the oil. Then cook for 3-4 more minutes, stirring frequently. Then, add the grated coconut, the coconut water and the water and mix well. Add the cloves, cardamom pods and cinnamon. Raise the heat to bring the mixture to boiling point. Then set the temperature to low and simmer gently for 15 minutes.

Then take the pan off the stove and set aside covered for about 10-12 minutes. Remove cardamom pods, cloves, and cinnamon from the rice. Fluff the recipe with a fork and serve with fresh herbs as a garnish.
Indian Style Flavored Rice Recipe
Ingredients
2 cloves
8 cups water
2 teaspoons salt
1/4 teaspoon turmeric
1 medium onion, chopped
1/2 teaspoon cumin seeds
1/4 teaspoon chile flakes
One 2-inch piece of cinnamon
3 garlic cloves, finely chopped
1/2 teaspoon dark mustard seeds
2 cardamom pods or ground cardamom
3 tablespoons vegetable oil (or ghee if you have it)
2 cups long-grain rice (Basmati preferred or similar)
Rinse the rice in water until the water runs clear and then let the rice soak in cool water for about 30 minutes and then drain it. Add the rice to 8 cups of salted water boiling in a pot water, stir to stop the rice sticking to the pan. Add the cloves, cinnamon and cardamom and simmer for about 10 minutes or until the rice is just cooked.

Next, drain the rice into a colander and rinse with cold water to stop the cooking process. Remove and discard the cardamom, cloves and cinnamon.

Heat the oil in a large heavy pan, big enough to hold the rice. Add the cumin and mustard seeds and the chile flakes, cook for a few minutes and then add the onions and cooked until golden brown (about 5 minutes) Then add the garlic and fry for an extra 2-3 minutes. Add the rice and turmeric and stir to combine well and heat the rice and cook for another 3-4 minutes. Serve immediately.
Simple Chicken Flavored Rice with Hair Pasta
Ingredients
5 cups water
4 tablespoons butter
1 teaspoon garlic powder
1 tablespoon onion powder
1 cup long grain white rice
2 teaspoons dried parsley flakes
5 teaspoons chicken bouillon powder
1 cup angel hair pasta, broken into small pieces
Method

Melt the butter over medium heat in a large heavy pan. Add the rice and pasta and cook for 1-2 minutes, stirring continuously. Add the water and spices and combine well. Increase the temperature and bring the pot to the boil and then reduce the heat to very low and cook for 15 minutes covered, until all the water is absorbed.
Rice Cooker, Herb Flavored Rice with Tomatoes
Ingredients
1 pinch salt
4 1/2 cups water
2 tablespoons olive oil
1/2 teaspoon dried basil
3 cups uncooked white rice
1/2 teaspoon dried oregano
2 tablespoons white vinegar
1/2 teaspoon of ground black pepper
1 (14.5 ounce) can diced tomatoes, drained (or 1/2 fresh tomatoes, diced)
Method

Add all the ingredients to your rice steamer and in the usual way.
Spanish Style Flavored Rice
Ingredients
1 teaspoon salt
1 poblano pepper
1 serrano pepper
1 red bell pepper
1 jalapeno pepper
2 cups basmati rice
5 cups chicken stock
1 ear of corn, shucked
1/2 cup diced tomatoes
1 tablespoon canola oil
6 cloves garlic, minced
1/2 teaspoon cayenne pepper
1/2 yellow bell pepper, diced
1/4 cup chopped Spanish olives
1 chayote squash, peeled, diced
1 yellow onion, diced, about 1 cup
1 teaspoon freshly cracked black pepper
1/3 cup freshly chopped cilantro leaves
1/2 cup canned black beans, rinsed, drained
Method

Set the grill or broiler to high temperature and grill the poblano, jalapeno, serrano peppers, red bell pepper and corn. Remove the seeds and skin from the peppers and dice. Slice the corn kernels from cob and combine with the chopped peppers.

Meanwhile heat the oil in a large Dutch oven or deep heavy pan. Sauté the onion, chayote and chopped yellow bell pepper until they are just starting to caramelize. Season with black pepper, cayenne and salt and then add the rice and garlic and fry for 3-4 minutes. Pour in the chicken stock, cover the pan and cook gently for about 10 minutes. Add in previously prepared corn and peppers, the black beans, olives and tomatoes. Combine well and continue cooking until the rice is just cooked (about 6 to 8 minutes).

Turn off the heat, adjust seasonings, if necessary and add the cilantro and serve while hot.
Mexican Style Flavored Rice
Ingredients
Juice from 2 limes,
2 cups chicken stock
1 1/2 teaspoons salt
1/2 teaspoon ground cumin
4-5 garlic cloves, finely chopped
Lime and lemon wedges for serving
1 medium onion, peeled and chopped
2 cups long grain white rice (rinsed)
1 (28-ounce) can whole peeled tomatoes
1/4 cup finely chopped cilantro (coriander)
1/3 cup neutral tasting frying oil, such as grape seed oil or rice bran oil
1-2 chille peppers, seeded and finely chopped (for example jalapeño or serrano)
Method

Puree the tomatoes and onion in a food processor or blender until smooth. Ladle 2 cups of this mixture into a medium saucepan. Add the salt, chicken stock and cumin. Bring to a boil over medium heat and then reduce the heat and simmer gently.

Next heat the oil in a heavy deep pan or Dutch oven over moderate heat until very hot. Add the rice, stir and fry until the rice is lightly toasted and golden brown (generally about, 8-10 minutes). Add the jalapeño, cook for 2minutes and then add the garlic and cook for another minute.

Next, pour the hot simmering tomato mixture into the pan with the rice and mix to combine well. Reduce heat to low, cover the pan and cook until all the liquid has been absorbed into the rice (generally about 15 minutes). Gently stir the rice, cover again and cook for an additional 10 minutes. Adjust the seasoning, fluff the rice, sprinkle with lime juice and serve with cilantro sprinkled on top and lime and lemon wedges.