Fresh Corn Recipes - Top 20 Healthy Recipe Ideas for Corn on the Cob
Fresh corn on the cob is a whole food that is very nutritious and surprisingly versatile.
Corn season is now in full swing. Enjoy this scrumptious veggie in every type of dish from breakfast to salads to side dishes. The toughest decision you'll need to make is choosing which recipe to pick first.
Nutritional Data for Fresh Sweet Corn
The calorie content of sweet kernels corn is relatively high at 86 calories per 100 g, but this is lower in calories than wheat and rice, etc.
Sweet corn is gluten-free and is a rich source of dietary fiber (2 g per 100g), vitamins, and antioxidants.
Corn only has about 1 g of fat per 100g serving.
Corn is a rich source of vitamin A with 187 IU per 100 g ( 6% of recommended daily allowance).
It also contains good levels of the B-group of vitamins such as thiamin, pantothenic acid, folates, niacin, riboflavin, and pyridoxine.
Corn has good levels of some important minerals like zinc, copper, iron, magnesium, and manganese.
Corn Recipe Ideas to Try at Various Meal Time
Breakfast
Corn Waffles with Blueberry Syrup
Plain Corn on the cob with butter and salt
Egg White Omelet with Corn, Turkey Bacon and Green Salsa
Sides Dishes and Snacks
Water Soaked Whole Corn Cobs Grilled or Barbecued
Grilled Corn with Five Spice and Lime
Jalapeno Cheddar Corn Cakes
Tomato-Garlic Corn
Chili Lime Corn on the Cob
Barbecue Corn
Lemon-Basil Corn
Grilled Corn Salad with Lime, Red Chili and Cheese
Soups
Chicken and White Corn Chowder
Chinese Chicken and Corn Soup
Creamy Corn and Vegetable Soup
Salads
Corn and Pasta Salad with Homemade Ranch Dressing
Potato, Tomato, Corn and Basil Salad
Grilled Corn Salad
Summer Corn Salad
Farro and Corn Salad
Charred Corn Panzanella
Main Dishes Featuring Corn
Succotash with Grilled Scallops and Parsley Drizzle
Fish Tacos with Chili Mayo and Grilled Corn
Turkey Corn Chili
Best Ever Corn on the Cob Recipes
Spicy Barbecued Corn Salad with Black Beans and Feta Cheese
1 tablespoon of chopped fresh oregano
1 small canned chipotle, seeded and minced
1/4 cup chopped fresh cilantro
1 cup feta or queso fresco cheese, crumbled
One can black beans, drained and rinsed (or 2 cups of cooked beans)
2 tablespoons of cider vinegar
1 tablespoon of adobo sauce
freshly ground black pepper and salt to taste
1/2 cup olive oil
1 large red or green bell pepper
1 medium red onion, cut vertically into segments
3 large cobs fresh corn, husked

Set up a medium hot charcoal or gas grill fire. Place the corn cobs, pepper and onion on a baking sheet and brush with 2 tablespoons of oil. Season with salt and pepper. Grill the onion and corn until just starting to brown (6 -10 minutes), but leave the onions still a little crunchy. Set aside to cool. Grill the red pepper until well charred all over (generally about 12 minutes). Set aside to cool.

In a very small bowl, make the dressing by adding 6 tablespoons of oil, the adobo sauce, the chipotle and the vinegar. Season with pepper and salt.

Place the cooked onions on a chopping board and chop finely. Transfer to a large serving bowl in which the ingredients will be assembled. Slice the corn kernels from the cobs and transfer to the bowl. Remove the seeds and skin from the grilled red pepper and coarsely chop. Add the red pepper, cheese, beans, cilantro, and oregano to the bowl. Stir the dressing add it to the corn mixture, and toss everything well to completely mix. Season to taste with salt and pepper and serve.
Extra Simple Sweet Corn Chowder Recipe
1/2 cup chopped fresh broad leaf parsley leaves, optional
1 cup milk
2 tomatoes, seeded, and chopped
2 medium potatoes, peeled and chopped into cubes
1 medium onion, finely chopped
1 tablespoon grape seed oil or rice bran oil (or other neutral tasting high smoke point oil)
4 to 6 ears corn
freshly ground black pepper and salt to taste
Chopped ham (optional)

Shuck the corn and strip the kernels into a bowl. Take the stripped cobs and place in a pot with 4 cups water; cover, bring to the boil and then simmer for 10 minutes. Add the oil to a heavy saucepan and when the oil is medium-hot add the onion and potatoes. Cook, stirring regularly for about 5 minutes, to soften the onions are par-cook the potatoes. Add the tomatoes and coo for another 1-2 minutes.

Next, strain the water from the boiled corn cobs and add to the the onion and potato mixture in the saucepan. Bring the mixture to a boil, and then lower the heat and simmer until the potatoes are just tender (generally about 10 - 15 minutes; don't overcook them do they disintegrate. Add the corn kernels and milk and heat through for another minute or two. Add pepper and salt to taste and serve with a garnish of parsley.

This simple soup is delicious and really showcases the taste of the corn.
Potato and corn chowder, simply delightful
Rootology[CC-BY-SA-3.0], via Wikimedia Commons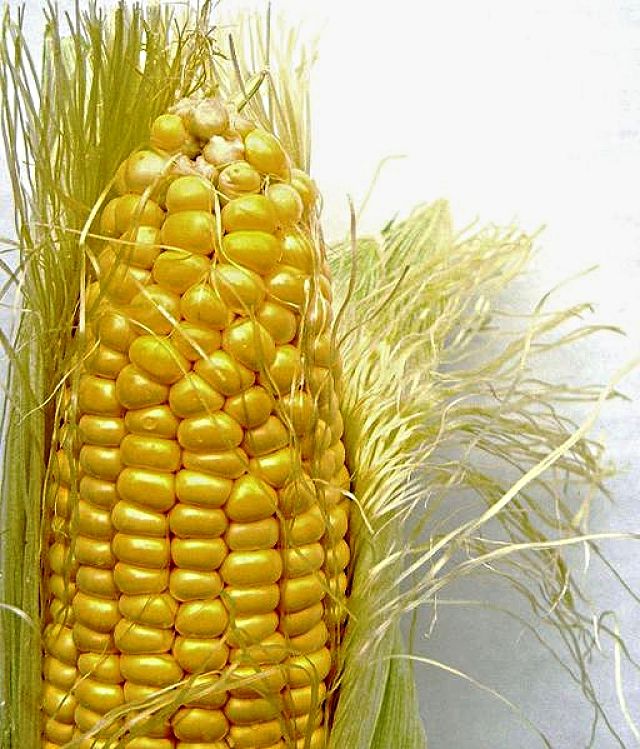 Delightful and Simple Corn on the Cob
Darwin Bell [CC-BY-2.0], via Wikimedia Commons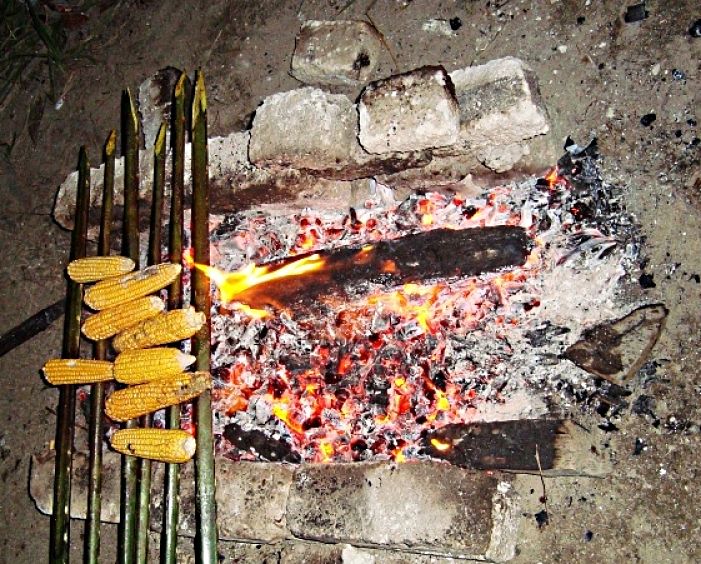 Best Fresh Corn Use Ideas and Recipes
Wagino 20100516 [CC-BY-SA-3.0], via Wikimedia Commons