Fresh Mango Recipe Collection - Savory Dishes, Sweet Dessert Recipes
Save some of those fresh mangoes in season for cooking delightful sweet and savory dishes. Mangoes are sweet, fragrant, juicy and colorful and they are delightful in savory dishes with chicken, pork and seasonal vegetables. You can also eat mangoes at breakfast and in various snacks and light lunch-time meals. Mangoes are also delightful in a wide variety of sweet dishes, desserts and numerous baked dishes. Below are a collection of the best ever fresh mango recipes for you to try. All the recipes have been tried and tested. They are easy to make and use readily available ingredients. All of the recipes showcase the wonderful attributes of mangoes as a cooking ingredient. Enjoy fresh mangoes in many delightful ways
Tandoori Style Chicken Thighs with Fresh Mango Relish
Ingredients
For the Chicken
1 teaspoon paprika
2 teaspoons garam masala
1/2 teaspoon turmeric powder
150 g (5 oz) natural yoghurt
1 small red chilli, roughly chopped
8 skinless and boneless chicken thighs
3 garlic cloves, peeled and roughly chopped
Large piece fresh ginger, peeled and roughly chopped
For the Mango Relish
1 star anise
Salt to taste
1/2 cup whitewine vinegar
1 red chilli, finely chopped
150 g (5 oz) soft brown sugar
1 teaspoon black mustard seeds
Freshly ground black pepper to taste
1/2 red onion, peeled, finely chopped
2 garlic cloves, peeled , finely chopped
Large piece of fresh ginger, finely chopped
4 ripe mangoes, peeled, stoned and roughly chopped
Method
Prepare the chicken by placing the thighs between two sheets of plastic film and flattening by hitting with a rolling pin until it is about 1 cm (1/2 inch) thick. Then, put the chicken into a bowl. Grind the garlic, ginger and chilli in a pestle and mortar to a rough paste. Add the mixture to the bowl with the chicken and the remaining chicken ingredients. Mix and rub the marinade into the chicken to cover all surfaces. Set aside in the refrigerator for 30 minutes. Prepare the relish by adding the sugar and vinegar to a saucepan and heating using a moderate setting. Bring the mixture to the boil, season with salt and pepper and simmer for 25-30 minutes, and set aside to cool. Transfer to a bowl or jug. Pre-heat your grill or barbecue to moderate high. Grill the chicken for 10-12 minutes, turning once. Check the inside of the chicken to ensure it is cooked. Serve the chicken with the mango relish.
Jasmine Rice Pudding with Coconut and Mango
Ingredients
2 ripe mangoes
30 g (1 oz) caster sugar
25 g (1 oz) coconut sugar
Juice and zest of 2 limes
1/2 teaspoons vanilla extract
400 g (14 oz) can coconut milk
1-2 handfuls unsweetened coconut
150 ml (2/3 cup) of Greek yoghurt
150 g (5 oz) Thai jasmine wholegrain rice
1 teaspoons orange blossom water (optional)
Method
Pre-heat your oven to 150 degrees C (300 degrees F). Combine the lime zest, orange blossom water, vanilla, water, coconut milk, sugars and rice in an oven-proof bowl. Mix in a tablespoon of lime juice, then bake for 75-90 minutes. The rice should have absorbed most of the liquid, but should be moist. Bake for another 15 minutes until the rice is soft and just cooked. Meanwhile, toast the coconut by placing a baking tray and roasting in the oven until a light-brown color. Remove the rice and place in a small bowl, cover and refrigerate for 1-2 hours. Just before serving add the peeled and cubed mango, the lime juice and the Greek yogurt.
Chicken Pita Nachos Recipe with Mango and Tomato Salsa
Ingredients
For the Mango Tomato Salsa
1 ripe mango
2 medium tomatoes
1/2 medium red onion
1 jalapeño
2 clove garlic
3 tablespoon fresh cilantro
Juice of 1 lime
Finely grated zest of 1 lime
1/4 teaspoon salt
For the Chicken Nachos
1 jalapeno
1 ripe mango
2 clove garlic
Juice of 1 lime
2 medium tomatoes
1/4 teaspoon salt
1/2 medium red onion
3 tablespoon fresh cilantro
Finely grated zest of 1 lime
Method
Make the salsa, by combining the tomato, mango, garlic, cilantro, onion, jalapeño, lime juice, lime zest, and salt, and mix well. Set the mixture aside to develop the flavors. Next, reheat the oven to 300 degrees F (150 degrees C). Open up each pita bread piece horizontally, to make 12 pockets. Cut each pocket into 8 wedge shaped pieces and place them a single layer on large baking pans. Lightly spray the pita with cooking spray, sprinkle with cumin and bake until crisp (generally about 5 minutes). Add a serving of cubed grilled chicken and black beans on top of the toasted pita chips, and sprinkle with a little cheese. Bake in the preheated oven for 10 to 12 minutes or until cheese has melted. Mix the Greek yogurt, lime juice, lime zest in a small bowl and season with salt and freshly ground black pepper. Set the bowl aside. To serve the nachos, spread the pita bread pieces over a large serving platter and top with some yogurt sauce and the mango salsa.
Broiled Salmon with Fresh Mango Salsa
Ingredients
1/2 red onion
Zest of 1 lime
Juice of 1 lime
1 teaspoon salt
1 jalapeño pepper
2 cloves of garlic
1 cup fresh cilantro
2 large fresh mangoes
2 lb (1 kg) salmon fillets
1 tablespoon extra-virgin olive oil
2 teaspoons freshly ground black pepper
Method
Firstly, make the salsa by mixing together the red onion, cilantro, mango, jalapeno, garlic, olive oil, lime zest and juice in a bowl. Season with salt and pepper, cover and refrigerate until needed. Preheat your broiler or griller. Use paper towels to pat the salmon dry and slice into 4 equal size pieces. Season well with salt and freshly ground black pepper. Fry the salmon pieces in a skillet, skin side down. When the flesh is transparent or white in color halfway up each fillet, transfer the skillet to the oven and broil over moderate heat for 2 to 3 minutes. Keep coking until the fish is cooked in the center and the top surface starts to brown. Remove from oven and let the salmon rest for 3 minutes. Serve immediately topped with the salsa.
Spiced Pork Recipe with Green Mango
Ingredients
For the Pork
1 teaspoons fish sauce
1 onion, finely chopped
1 teaspoon ground turmeric
2 tablespoons rice bran oil
1 litre (1 quart) chicken stock
1 tablespoon dried chilli flakes
1 tablespoon brown sugar, to taste
1 teaspoons shrimp paste (belachan)
4 garlic cloves, peeled and chopped
lime wedges and steamed rice, to serve
2 green mangoes , peeled, coarsely grated
1.2 kg (2 1/2 lb) lean pork , cut into cubes
6 cm ( 2 inch) piece ginger, peeled and chopped
For the Green Mango Salad
1 tablespoon fish sauce
2 teaspoons brown sugar
2 tablespoons lime juice
1/2 cup firmly packed mint leaves
1/4 cup fried Asian red eschalots
1 green mango peeled, thinly shredded
1/2 cup firmly packed coriander leaves
3 Asian red eschalots , halved, thinly sliced
Method
Combine the onion, ginger, garlic and shrimp paste in a food processor or blender and pulse to a smooth paste. Heat the rice bran oil in a deep frying pan over moderate to high heat. Add the paste, turmeric and chilli. Stir-fry for 1 minute or until you can smell the fragrance. Add the pork pieces and mix to thoroughly coat all sides of the pieces in paste. Then, fry the pork stirring occasionally for 8-10 minutes until the pork is golden in color. Add the fish sauce and mango and stir to combine well. Then, add the stock, reduce the heat so that the mixture barely simmers. Cover the pan with a lid and cook, stirring frequently, for about 2 1/2 hours, until pork is tender right through. Remove the lid and cook for an additional 15-20 minutes, until the sauce is reduced and thickened. Season to taste with sugar, fish sauce, salt and freshly ground black pepper. Meanwhile, assemble the green mango salad by firstly whisking together the fish sauce, sugar, lime juice and 2 teaspoons of water in a bowl until all the sugar dissolves. Combine remaining salad ingredients in a bowl, and toss with the dressing.
Mango and Coconut Upside-Down Cake Recipe
Ingredients
For the cake
4 free range eggs
1 cup plain flour
1 cup caster sugar
1 cup canned coconut milk
2/3 cup self-raising flour
1 1/2 cups desiccated coconut
200 g (7 oz) unsalted butter, softened
2 tablespoons melted butter, for greasing the pan
For the Mango topping
3 firm, ripe mangoes
50 g (2 oz) unsalted butter
1/4 cup brown sugar, firmly packed
Method
Preheat oven to 180 degrees C (355 degrees F). Grease a 24 cm x 30 cm (9 x 12 inch) deep baking pan with melted butter and line the base with baking paper. Make the mango topping, by removing the flesh from the mangoes and cutting into slices. Melt the butter in a small saucepan over moderate heat, add the brown sugar, mix well and simmer for about 60-90 seconds until the sugar is dissolved and well combined. Pour the mixture into the prepared tin and spread evenly over the base. Add the mango slices on top of the brown sugar mixture. Set the pan aside while you prepare the cake mixture. Mix the coconut milk and desiccated coconut in a small bowl and set aside. Using a stand or portable electric mixer, beat the butter and sugar until the mixture is pale and creamy. Add the free range eggs one at a time, beating after each one is added well. Sift the plain and self-raising flours into the bowl with the beaten butter, about half at a time mixing gently with a wooden spoon or spatula. Fold in the coconut mixture and mix until just combined. Spoon the cake mixture into the tin on top of the mangoes, flattening the surface with the back of a spoon. Bake in preheated oven for 30-35 minutes. Use a skewer inserted into the center of the cake to ensure the core of the cake is cooked. Remove the tin and let it stand for 10 minute before removing the cake by inverting onto a serving platter or plate. Serve warm.
Simple Green Mango Vegetable Curry Recipe
Ingredients
10 curry leaves
2 cinnamon quills
3/4 cup coconut milk
1 onion, finely chopped
2 tablespoon brown sugar
2 teaspoons curry powder
3 cardamom pods, bruised
1 teaspoon chilli powder
1 teaspoon ground turmeric
1 teaspoon black mustard seeds
4 cloves of garlic, finely chopped
1 long green chilli, finely chopped
4 green mangoes, peeled, sliced into wedges
2 1/2 tablespoons of grape seed or rice bran oil
4 cm (2 inch) piece ginger, peeled and finely chopped
Method
Heat the oil in a deep frying pan over moderate to high heat. Add the mustard seeds and stir-fry for 20-30 seconds until they begin to pop. Then, add the garlic, ginger, onion, curry leaves and green chilli, and stir-fry stirring occasionally for about 5 minutes. Reduce the heat under the pan to low, add the turmeric, curry powder and chilli powder, and cook briefly until fragrant. Add the cardamom, cinnamon, green mango and sugar, and stir to coat all the vegetables. Add 2 cups of water, mix well and cover the pan. Cook stirring occasionally, for about 8 minutes, until the mango starts to soften. Remove the lid and simmer for 8-10 minutes. Add the coconut milk, mix well and simmer for an additional 2 minutes. Season with salt and freshly ground black pepper. Serve with steamed rice, toasted coconut and coriander.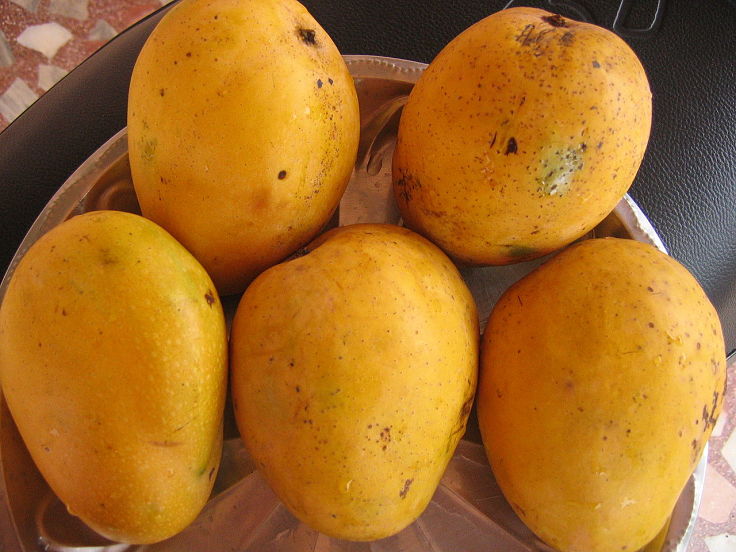 Source:
Gnt at English Wikipedia [CC BY-SA 3.0], via Wikimedia Commons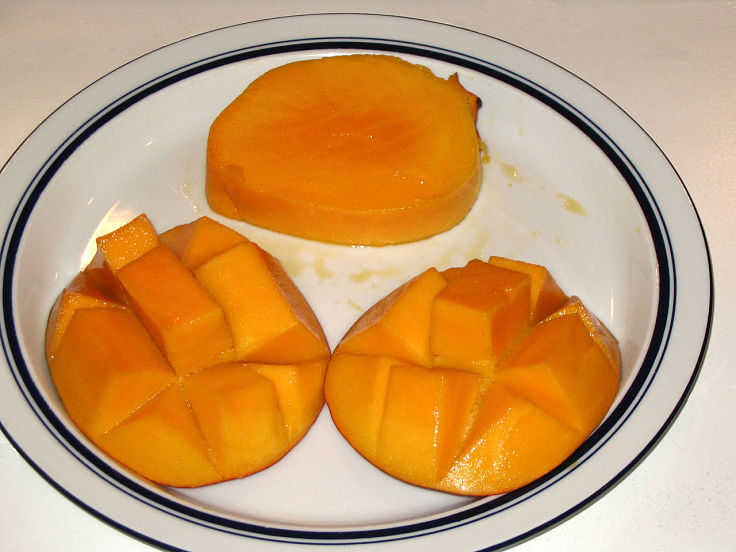 Source:
By Macaddct1984 at en.wikipedia (Own work) [Public domain], via Wikimedia Commons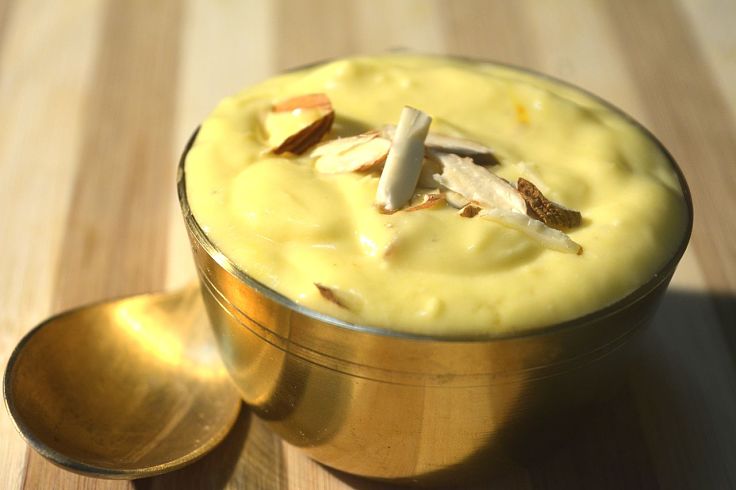 Source:
By Beingmarathi (Own work) [CC BY-SA 4.0], via Wikimedia Commons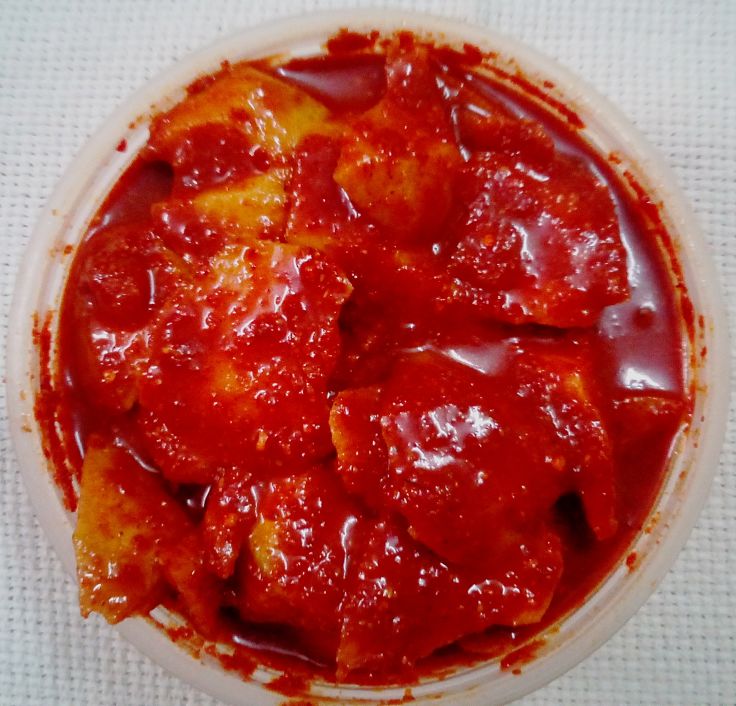 Source:
By Adhikarikm (Own work) [CC BY-SA 4.0], via Wikimedia Commons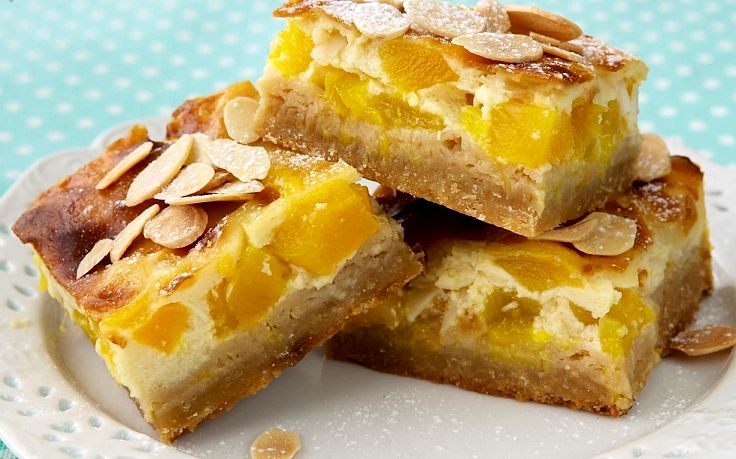 Source:
By VINZ (Own work) [CC BY-SA 3.0], via Wikimedia Commons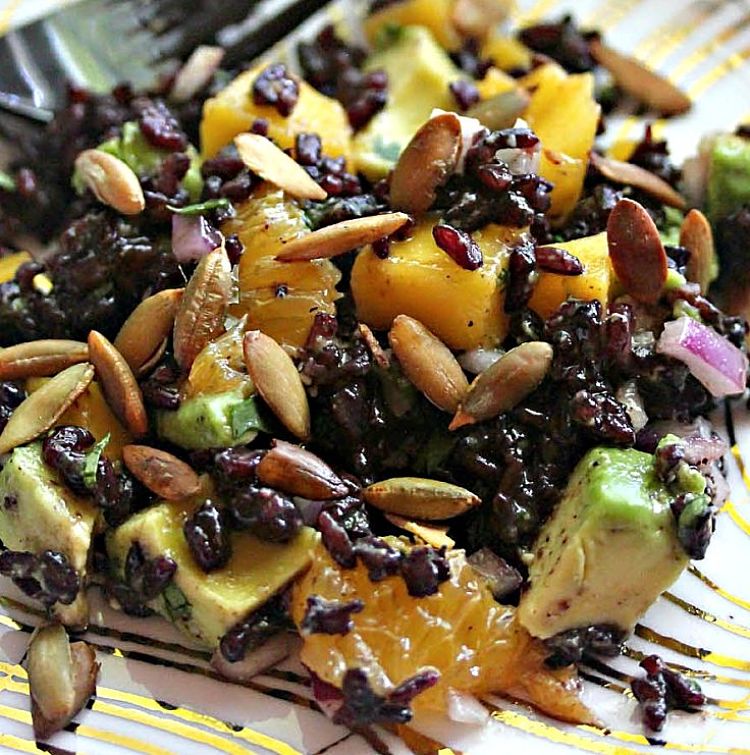 Source:
By VINZ (Own work) [CC BY-SA 3.0], via Wikimedia Commons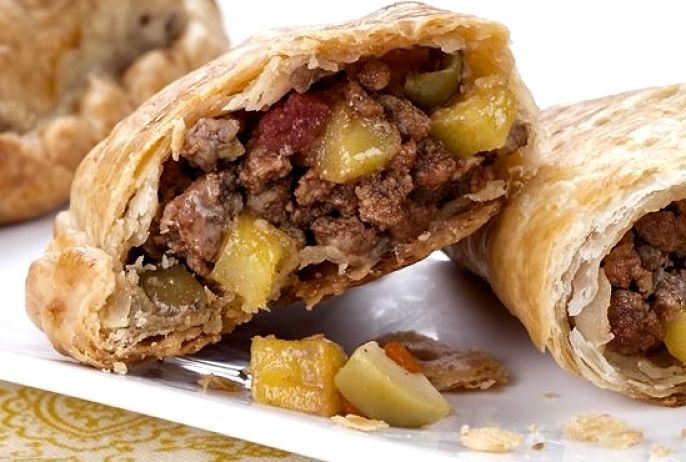 Source:
By VINZ (Own work) [CC BY-SA 3.0], via Wikimedia Commons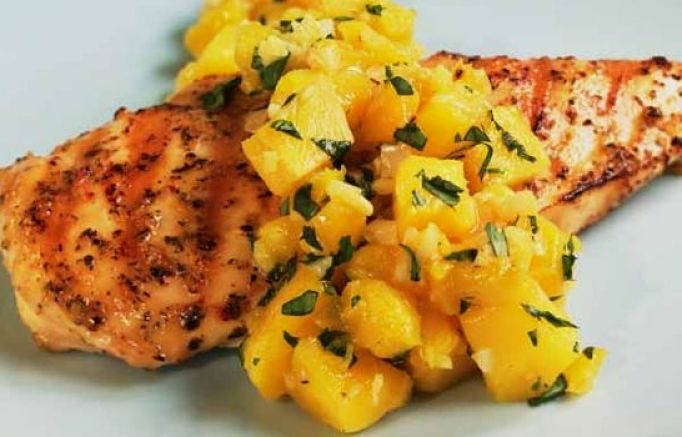 Source:
By VINZ (Own work) [CC BY-SA 3.0], via Wikimedia Commons