Frozen Yogurt Dessert Recipes Beat Ice Cream as a Homemade Treat
Frozen yogurt is easier to make at home without an ice cream machine, than ice cream. Yogurt is much healthier, as there are a wider variety of low-fat types available that contain live active cultures of friendly bacteria.
Freezing does not kill these beneficial bacteria. Even if the bacteria are not alive in the yogurt you buy, yogurt is much better for you than the milk from which it is derived.
This article dispels some myths about homemade frozen yogurts.
It describes how to make the yogurt desserts creamy, with and without, using an icecream machine.
There are many fabulous frozen yogurt recipes to try.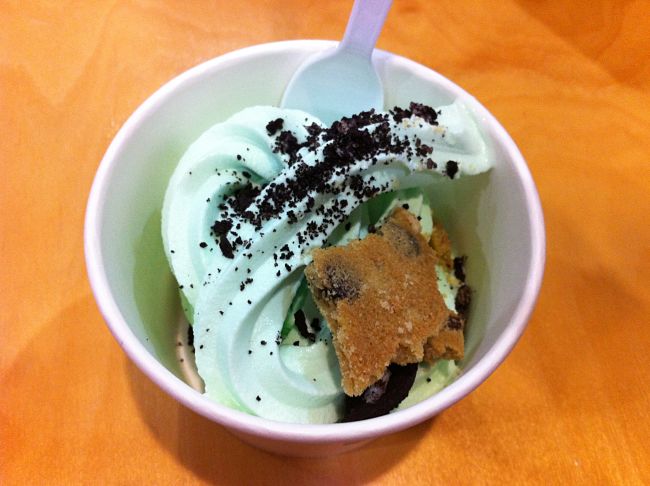 Myths Debunked and Tips Revealed for Frozen Yogurt
► Frozen yogurt is naturally or low-fat and so is a diet food
This not true. While plain low fat yogurt has relatively few calories they do add up in large servings. Even low fat frozen yogurt has about 35-45 calories per ounce typically the lowest-calorie flavor at most frozen yogurt shops) is about 30-35 calories per ounce (30 g) with about 20g of sugar. If you have a large serving of plain yogurt (16-ounce cup ) this will contain about 400 calories and 80g of sugar before adding any toppings, fruit or flavorings.
► Frozen yogurt is healthier than ice cream.
This is only marginally true with commercial ice cream and frozen yogurt (see the table at the end of the article). There are about 10% less calories in plain vanilla frozen yogurt than ice cream. This applies for the full cream and low-fat varieties. Yogurt has more protein and less sugar than ice cream. However homemade low-fat yogurt can be made with much less calories than ice cream.
► Frozen yogurt has the same calories as yogurt
This is not true as frozen yogurt is a denser product. The table at the end of the article shows that commercial frozen yogurt has twice the calories of yogurt.
► Adding Fruit to Frozen Yogurt Makes it Healthier with Lower Calories
This is only partially true because fruit has relatively high calories. While most fruits only have half the calories of the same volume of yogurt some fruits are very similar in calories. See the table for details
The lowest calorie fruits (per cup) are: Strawberries 45 calories; Pears, asian, 51 calories; Papayas, 54 calories; Raspberries, 60 calories; Grapes, 61 calories; Apples without skin, 62 calories.
The highest calorie fruits (per cup) are: Cherries, sweet, 84 calories, Oranges and Mandarins 84 calories; Plums, 90 calories; Pears, 97 calories and Mangos, 107 calories
► Frozen Yogurts are easier to make than Ice Cream
This is true when had made, especially with low fat varieties. The yogurt is denser and is less prone to forming ice crystals than ice creams. This means that it can be mixed by hand rather than requiring a mixer.
Calories in a Cup of Common Fruits Compared with Yogurt
| Description | Calories |
| --- | --- |
| Strawberries | 45 |
| Pears, asian | 51 |
| Papayas | 54 |
| Raspberries | 60 |
| Grapes | 61 |
| Apples without skin | 62 |
| Currants | 62 |
| Nectarines | 67 |
| Currants | 70 |
| Apples with skin | 73 |
| Grapefruit | 73 |
| Peaches | 73 |
| Apricots | 74 |
| Pineapple | 75 |
| Cherries, sour, red | 77 |
| Blueberries | 81 |
| Cherries, sweet | 84 |
| Oranges | 84 |
| Tangerines, (mandarins) | 85 |
| Plums, | 90 |
| Pears | 97 |
| Mangos | 107 |
| ************** | **** |
| Yogurt Plain | 245 |
| Low_fat Yogurt | 130 |
| Non fat Yogurt | 100 |
| Low Fat Frozen Yogurt | 214 |
| Non fat Frozen Yogurt | 164 |
Homemade Frozen Yogurt Recipes
Blueberry Low Fat Frozen Yogurt Recipe
1/3 cup sugar
2 cups Low fat plain yogurt (Greek style is best)
1 tablespoon lemon juice
1 cup non fat milk
2 cups fresh or frozen blueberries
Using a medium size saucepan bring the lemon juice, blueberries and sugar to the boil and then reduce the heat and simmer gently for about 5 minutes to soften the berries and make a syrup. Remove from heat, set aside to cool and then mash or blend using a hand mixer or small blender to make a puree.
Next, in a separate large bowl, whisk the milk and yogurt together until smooth. Then fold in the blueberry puree and combine. Pour the mixture into a 9 inch x 9″ inch (20cm x 20cm) metal pan and freeze for about 45 minutes. Remove the pan from freezer and mix the icy parts around the edge with the center portion until smooth. Replace the pan in the freezer and after 30 minutes repeat the mixing process. Do this again six times for each 30 minutes over a 2 hour period. The yogurt will them be relatively smooth and frozen and can be stored in the freezer until required.
You can freeze the mixture in an ice cream maker if you have one.
Homemade Frozen Yogurt with Peaches and Protein Powder
Using protein powder thickens the yogurt and generally means that minimal stirring is required during the freezing if no machine is used. It can also be fr4ozen using a machine
1 1/2 cup plain Greek yogurt (Low fat variety
1 cup sliced fresh peaches ( or thawed frozen peaches, or canned)
1/2 teaspoon vanilla extract
2 tablespoons whey protein powder, vanilla or plain flavor (optional but helps make a smoother yogurt when frozen)
Mix the yogurt, protein powder and vanilla extract in a medium bowl. Freeze for about 2 hours. No need to worry about ice forming as the next stage involves blending. Remove from freezer and let thaw slightly (about 10-15 minutes). Load the frozen yogurt to a blender or food processor, with the peach slices. Pulse several times until the peaches are chopped up, but do not homogenize. You want the peach to remain in pieces. Transfer back to a medium bowl or serving bowl and freeze for 1-2 hours.
Rich Frozen Yogurt with White Chocolate, Berries and Cream Cheese
This version has little water and high fat content, and so it freezes well without the need for multiple mixing and re-freezing.
300g (10 oz) low fat plain yogurt
100g (3.5 oz) white chocolate
150g (5oz) soft cream cheese
100g (3.5 oz) mixed frozen berries
Cut the chocolate into pieces and melt it in a bowl suspended over a pot of simmering water. Add the berries, yogurt and cream cheese. Mix well until the cheese softens and mixes into the chocolate. Spoon into serving bowls and freeze for 2-3 hours. Serve topped with berries and mint leaves.
Calories and Nutrients in Ice Cream, Yogurt and Frozen Yogurt
| Serving 100 g | Full Cream Ice Cream | Low Fat Ice Cream | Plain Yogurt | Non-Fat Greek Yogurt | Frozen Yogurt | Low Fat Greek Frozen Yogurt | Plain Non-Fat Frozen Yogurt |
| --- | --- | --- | --- | --- | --- | --- | --- |
| Calories | 201 | 120 | 66 | 60 | 189 | 110 | 100 |
| Calories from fat | 99 | 23 | 12 | 0 | 39 | 23 | 0 |
| Total Fat | 11.0 | 2.5 | 1.3 | 0 | 4.2 | 2.5 | 0 |
| Saturated Fat | 6.8 | 1.5 | 0.9 | 0 | 0.0 | 1.5 | 0 |
| Cholesterol (mg) | 44.4 | 10.0 | 6.6 | 6.6 | 61.3 | 25.0 | 0 |
| Sodium (mg) | 80.6 | 65.0 | 83.7 | 36.6 | 51.9 | 80.0 | 45 |
| Carbohydrates (g) | 23.6 | 19.0 | 7.9 | 4.7 | 29.2 | 16.0 | 20 |
| Sugars (g) | 21.5 | 18.0 | 7.5 | 3.3 | 19.8 | 15.0 | 19 |
| Protein (g) | 4.2 | 4.0 | 5.3 | 10.0 | 8.5 | 8.0 | 3 |