Easy Spanish Gazpachos Recipes - Meat Stew Served on Unleavened Bread
Gazpachos Manchegos shares its name with the famous cold soup, but this dish is very different - a meat stew traditionally made with rabbit of other game meat, served with or directly on an unleavened bread cake.
Gazpachos Manchegos originated in La Mancha as a shepherds dish, but it is now popular throughout Spain, including Alicante and Valencia. The unique feature of this dish is the unleavened bread made with whole wheat flour (from which the name of the dish is derived).
Traditional the game (or beef) stew was served on the bread cake and allowed to partially soak into the bread. Gazpachos manchegos can also be served with the bread as a side dish or with pieces added to the stew just before serving.
This article provides recipes for the game meat stew and the unleavened bread, to make Gazpachos manchegos at home.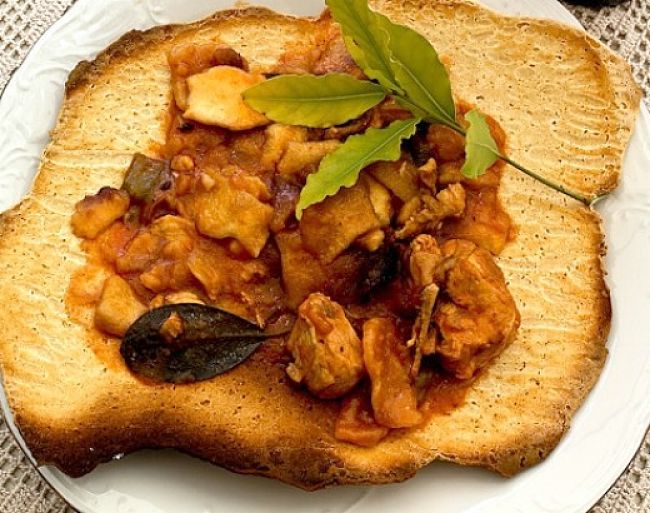 Stew served on bread cakes
Origins of the Name "Gazpachos"
In restaurants this dish is often served in a large flat loaf of unleavened bread with the top slices off, and with some of the bread scooped out. You can do the same thing, or make smaller bread cakes which can be served as a side dish or added to the stew itself.. The bread is the origin of the name of the dish. The word "Gazpachos" is derived from an early Arabic or Latin expression expression meaning fragment or piece, in reference to the portions of bread that are combined with the game eat stew.
Game Meat Stew Recipe for Gazpachos Manchegos
unleavened bread cakes (see below)
1/2 red pepper
250 gm (8 oz) of mushrooms
2 ripe tomatoes
1 garlic bulb
1 quail or ( about 400 gm; 14 oz chicken, duck or turkey)
1/2 rabbit or 1 1/2 kg (3 lb) beef or lamb
bay leaves, thyme and other herbs to taste
1 cup of water and 1/2 red wine
De-bone and chop the rabbit and quail (or other meats into bit size pieces - not too small). Dice the tomatoes and pepper, peel the garlic and chop.
Heat a small amount of grape seed, or rice bran oil (or other high temperature oil) in a heavy frying pan, and fry the meat lightly for about five minutes to brown the outside.
Add the bay leaves, garlic, tomatoes, and pepper. Continue frying for about 5 minutes.
Add hot water, 1/2 cup of red wine water and salt to taste and cook for about 30 minutes on low heat.
Add the chopped mushrooms, bay leaf, thyme and other herbs and cook for an additional 15-20 minutes until the meat is tender.
Break the bread cake into pieces (about a handful per person) and add to the dish just before serving, or add as a side dish. Or serve on bread cakes or within a large unleavened bread loaf.
Unleavened Bread Cake Recipe (Torta Cenceña) for Gazpachos Manchegos
1 1/2 glass of lukewarm water
extra virgin olive oil
1/2 kg (1 lb) of whole wheat flour
2 teaspoons of salt
Place the flour in a large bowl container and form it like a volcano like shape with a cavity in the center.
Pour the warm water and olive oil into the crater. Mix with a spoon. Remove the mixture to a large board or bench top and knead well for about 15-20 mixture until it begins to resist and has a soft texture. The olive oil helps to soften the texture.
Shape the dough into a ball, rub the outside with a small amount of olive oil, rubbed onto your hands. Let the dough stand for 60-90 minutes.
Pre-heat the oven to 430 degrees Fahrenheit ( 220 degrees C).
After resting the dough, divide it into portions and flatten with your fingers and a the rolling pin to the thickness of a pizza dough. For a whole loaf, flatten with your fingers to about 1 cm (1/2 inch) thick.
Prepare a baking sheet, rubbed with olive oil and dusted with flour.
Place the cakes or loaf on the baking sheet and bake for 15 or 20 minutes (30 minutes for the loaf).