Grilled Smoky Eggplant Yogurt Dip Recipe
Many people who don't like eggplant will love this dish provided you really char the eggplant when you grill or barbecue it, until the flesh collapses and the skin blackens. The flesh absorbs some of the smoke and aroma from the skin as it chars and this is what gives this dish its unique smoky taste that combines well with the tang of the Greek yogurt.
Ingredients
Pitted, sliced dates, as garnish (optional)
Fresh mint leaves, as garnish
1/2 teaspoon freshly ground black pepper
Juice of one small lemon
1/3 cup plain Greek yogurt
3 garlic cloves, finely chopped
1 1/2 pounds (750g) small, eggplants
3 pita breads, whole wheat, preferred
1 teaspoon coarse salt
1/2 cup fresh thyme leaves
1/2 cup fresh oregano leaves
3/4 cup high quality extra-virgin olive oil, plus some extra for serving

Heat the grill or charcoal barbecue to high heat. Blend the thyme, oregano, 1/2 teaspoon of salt with 3/4 cup olive oil, in a blender or food processor to make rough purée (generally 2-5 minutes). Season to taste with plenty of freshly ground pepper and salt.

Carefully open the pita breads into 6 flat halves. Brush both sides of each pita half with the herb purée. Next, grill the the eggplant, whole, on the hot grill or barbecue until skins shriveled and start to burn and the flesh has collapsed. This generally takes about 8 -12 minutes per side. Transfer to a bowl to allow to cool.

Next, grill the pitas coated with the herb mixture until crisp. This generally takes about 30 - 60 seconds per side. Let the pitas cool and then slice each pita round into 6 wedges.

Peel the grilled and cooled eggplants. Remove the flesh and transfer to a food processor or blender bowl. Add 1 tablespoon oil, lemon juice, pepper, garlic, yogurt. Season with pepper and salt. Blend to a rough paste and test the taste. Add more salt and lemon if needed. Put the dip in the center of a plate or dip server and garnish with dates, mint and fresh herbs. Surround the dip with the pita bread wedges.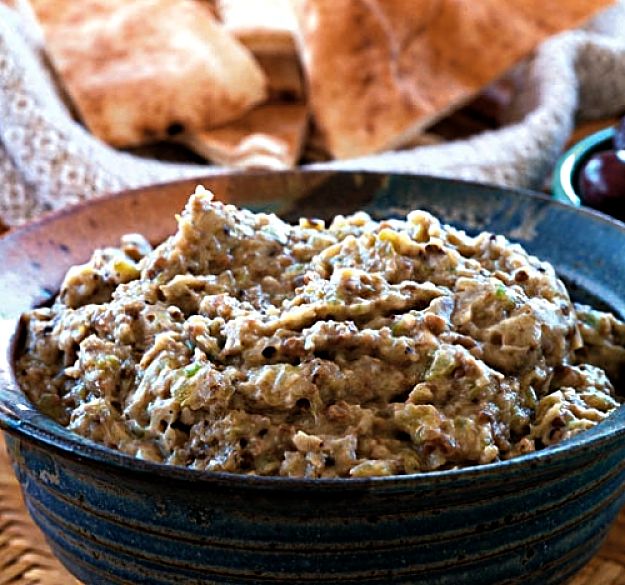 Original Image by the Author: Delightful eggplant dip served with crispy pita herb coated wedges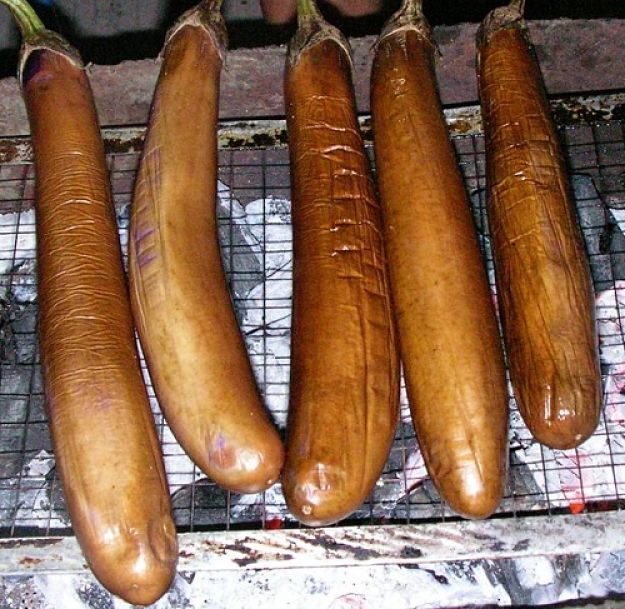 The eggplants should be grilled until they start to burn to get the smoky flavor into the dip
rex pe [CC-BY-2.0], via Wikimedia Commons