Grilled and Barbecued Fruit Recipes | Best Fruit for Grilling
The delicate flavors of fruit can be greatly enhanced and condensed by grilling them. They can be served as side dishes for main meals and as deserts. Fruits can also be steamed and roasted in the oven, but grilling and barbecuing imparts the unique smoky taste that provides something unique and memorable.
Stone fruit such as peaches, plumbs, apricots and nectarines work very well, but you can also grill and barbecue, figs, pears, apples, mangoes and many other fruits provided you have some way to keep them in place and together when they are being cooked on skewers. Most fruit only takes seconds to cook and you want to retain some firmness and texture.
The cooking should bring out the juices and flavors, add smokiness, soften the flesh while warming the fruit to enhance the taste and texture.
Below are some of the best ever grilled fruit recipes and a guide for which fruits to use and how to prepare them.
Grilled Peaches Stuffed with Blueberries
Ingredients
1/3 cup brown sugar
3 tablespoons lemon juice
1 cup blueberries (fresh or frozen)
4 large peaches (ripe but still firm - halved with pits removed)
Method
Wash the peaches, slice in half and remove the pits. Place peaches on a piece of aluminium foil, large enough so that it can be folded over the peaches to create a pocket. Place 2 tablespoons of berries into each half peach. Squeeze a little lemon juice onto each peach and top with 1-2 teaspoons of brown sugar. Fold up the foil to form a pocket and seal. Place on a hot grill and cook for about 15-20 minutes, turning only once. Remove the peaches from the foil and serve will still warm to hot.
Grilled Figs with Ricotta and Honey
Ingredients
8 fresh figs
1 tablespoon honey
200 g (7 oz)fresh ricotta
1/2 teaspoon ground cinnamon
1/2 teaspoon vanilla essence
2 1/2 tablespoons brown sugar
25 g (1 oz) blanched almonds, finely chopped
Preheat the grill or barbecue to moderate-high. Combine the brown sugar, almonds and cinnamon in a small bowl. Mix the ricotta, vanilla essence and honey in a small serving bowl as a dressing for the grilled figs. Slice half-way through each fig and gently prise them open. Fill each split fig cavity with some of the mixture. Grill the figs on a hot plate or on a piece of foil for about 4-5 minutes or until the sugar just starts to bubble. Serve the figs, immediately on small plates, with a dollop of the honey and ricotta sauce.
Cinnamon Apples - Barbecued of Grilled
Ingredients
1/2 cup water
1/4 cup lemon juice
1 teaspoon cinnamon
2 tablespoons brown sugar
2 firm apples, cored, peeled if desired, and cut into thick slices or quarters/eighths
Method
Mix the cinnamon and sugar in a small bowl. Add the lemon juice and water to a bowl with the apple slices. Grill the apple on a grill rack (or barbecue) until they brown slightly (about 6-8 minutes on each side). Once cooked, serve with a sprinkling of the sugar and cinnamon mixture.
Grilled Pineapple Kebabs Marinated in Rum
Ingredients
1/4 cup honey
1/2 cup dark rum
1/4 cup orange juice
1/2 cup packed brown sugar
1 pineapple, cut into large pieces suitable for skewering
Method
Combine the brown sugar, rum, honey and orange juice and mix until all the sugar is dissolved. Thread the pineapple slices onto metal skewers or wooden skewers soaked in water. Place the skewers on the pre-heated, moderate temperature grill and baste with rum sauce while the pineapple is cooked for about 10 minutes, turning several times. Remove from heat and let cook a little before serving with ice cream or yogurt.
Grilled Caramelized Fresh Figs
Ingredients
2 teaspoons honey
1/2 teaspoon sugar
Cooking spray or oil
1/4 cup crème fraîche
8 large fresh figs, sliced in half vertically
Method
Preheat the grill or barbecue to high temperature. Brush honey on the cut sides of the figs and lightly coat with oil. Place the figs, cut side down on a grill or barbecue rack or hot plate. Cook for 3 minutes until the cooked surface shows brown grill marks. Remove from the grill and dress with the cream mixed with 1/2 teaspoon of sugar.
Grilled or Barbecued Bananas
Ingredients
6 ripe bananas, unpeeled
6 tablespoons brown sugar
6 tablespoons orange liqueur
Ice cream or whipped cream for serving
Method
Make a slice lengthwise along each banana, without cutting all the way through. Open each banana up slightly and pack brown sugar into the slit. Drizzle the brown sugar with liqueur. Grill or barbecue covered with a piece of foil for about 4 minutes on each side. Serve the grilled bananas with ice crean or whipped fresh cream.
Mixed Spicy Rum Soaked Fruit Skewers - Grilled or Barbecued
Ingredients
1/2 cup sugar
1 pinch nutmeg
several cloves
1/4 cup dark rum
1 teaspoon honey
1/8 teaspoon ginger
1/4 teaspoon allspice
1/4 teaspoon cinnamon
1 tablespoon lime juice
1/2 tablespoon brown sugar
1 tablespoon pineapple juice
3 mangoes, peeled, with seeds removed
5 kiwis, peeled and sliced into thick rounds
1 punnet of strawberries, with hulls and leaves removed
1 pineapple, peeled, cored and chopped into medium size pieces
Method
Mix all the spices together in a small dish. Pour the honey, rum, juices into a small jug and mix in the sugar.
Thread the fruit slices onto the skewers. Sprinkle the fruit with the spice mixture. Then brush the fruit with the rum mixture. Grill the fruit until marked with brown streaks from the grill. Remove the skewers from the grill and use the remaining liquid as a dressing. Serve with cream or ice cream.
Grilled Apricots, Served with Almonds and Melted Chocolate
Ingredients
Spray oil
4 oz chocolate (112 g), melted
12 fresh apricots sliced in half and pitted
1/4 cup slivered almonds, toasted and then chopped
Method
Brush the apricots with a little oil. Barbecue or grill, the apricots cut side down, until golden brown, about (90 seconds). Flip the apricots over and grill for another 60 seconds minute. Transfer to a serving plate and drizzle with melted chocolate and almonds.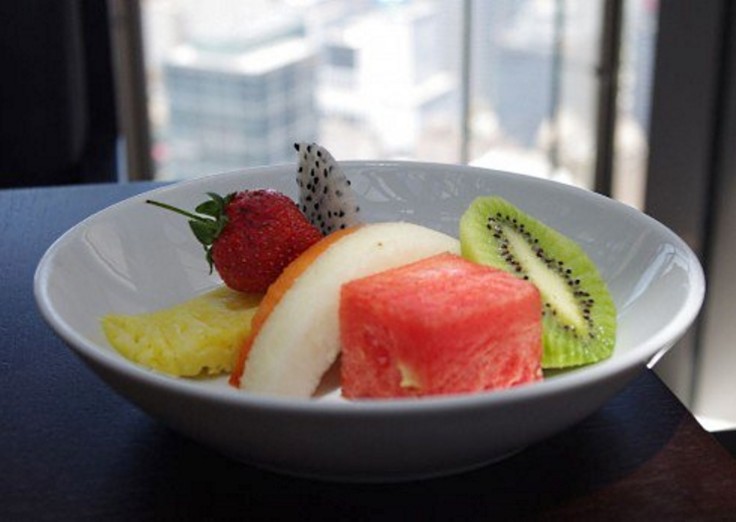 Source: Original Image - John Anderson
Source: Original Image - John Anderson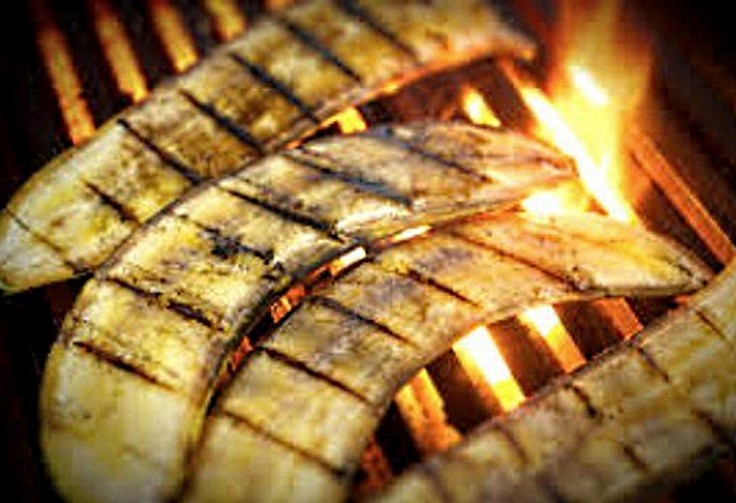 Source: Original Image - John Anderson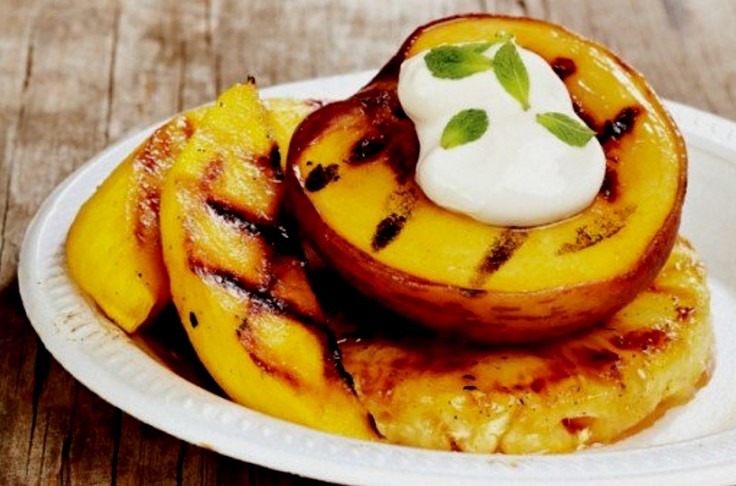 Source: Original Image - John Anderson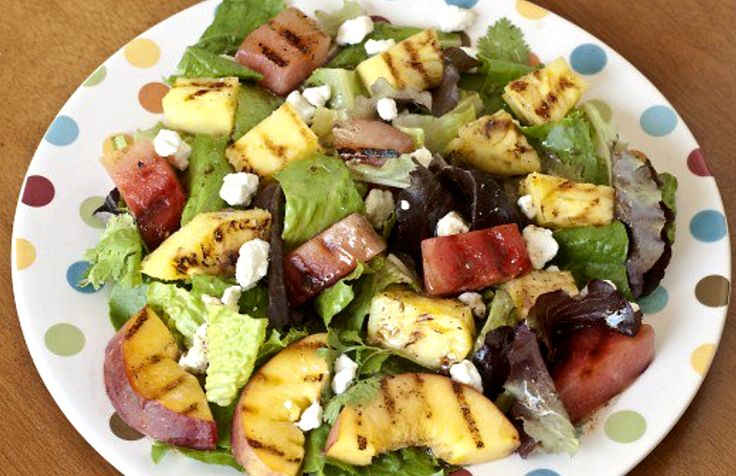 Source: Original Image - John Anderson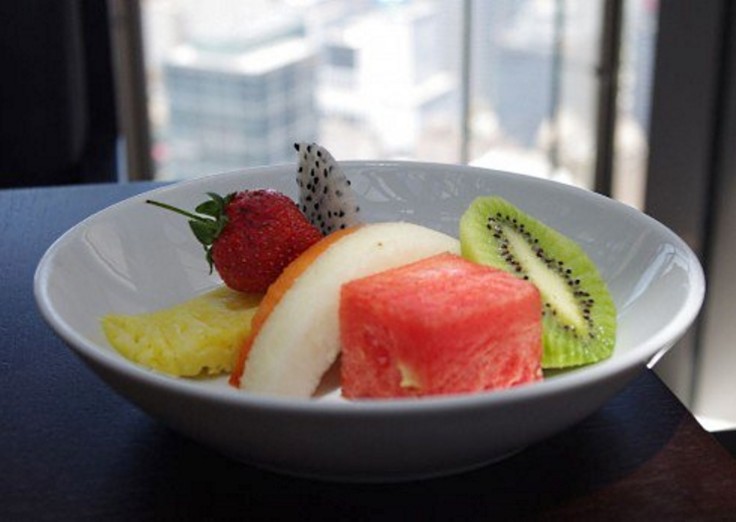 Source: Original Image - John Anderson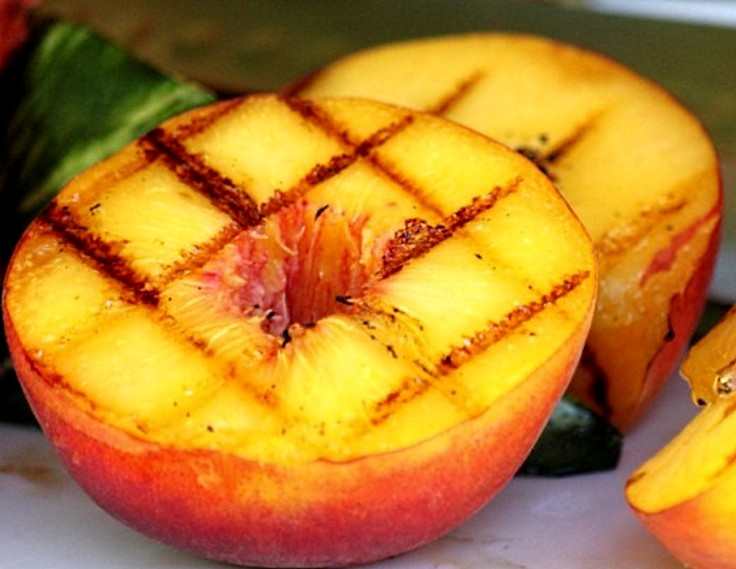 Source: Original Image - John Anderson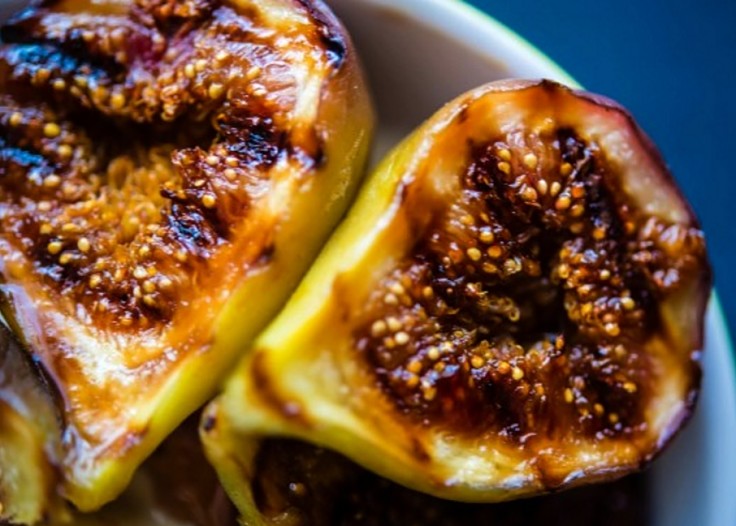 Source: Original Image - John Anderson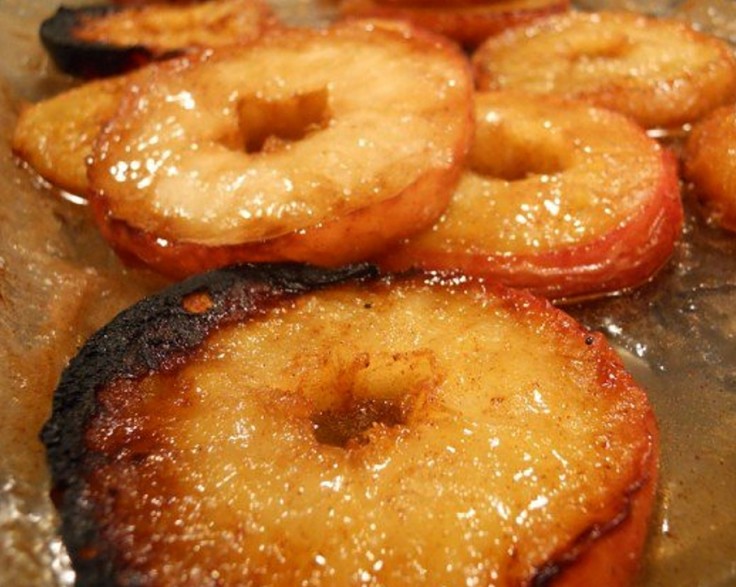 Source: Original Image - John Anderson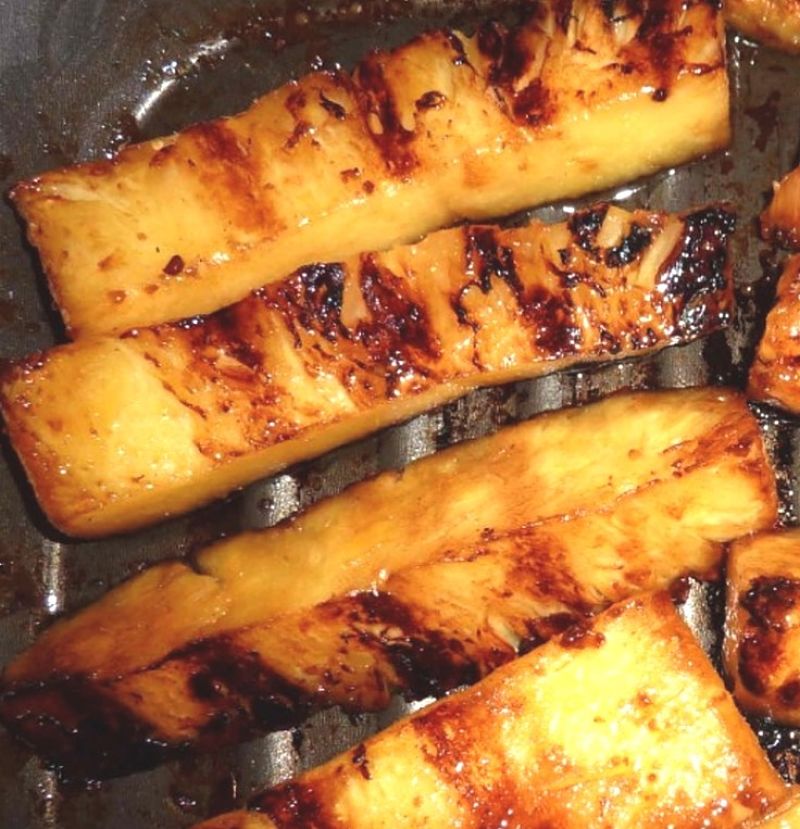 Source: Original Image - John Anderson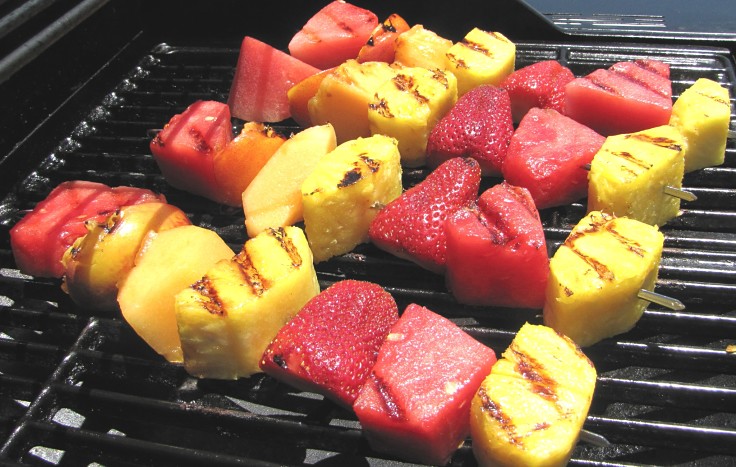 Source: Original Image - John Anderson
Source: Original Image - John Anderson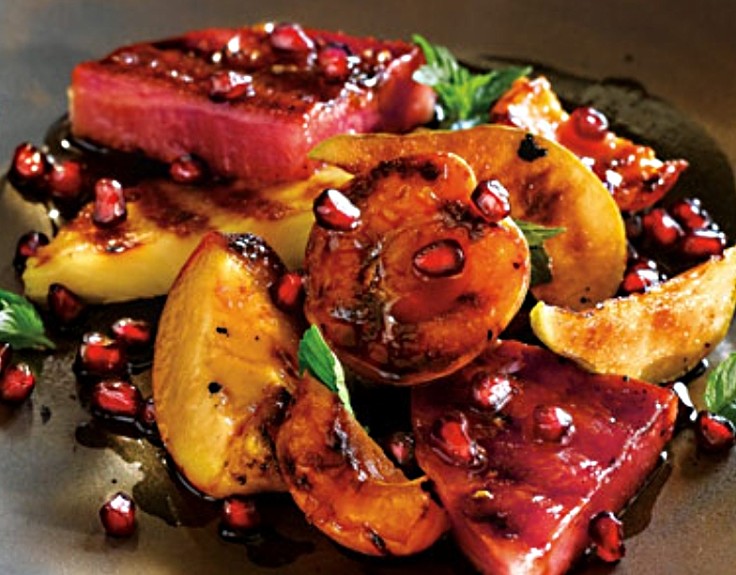 Source: Original Image - John Anderson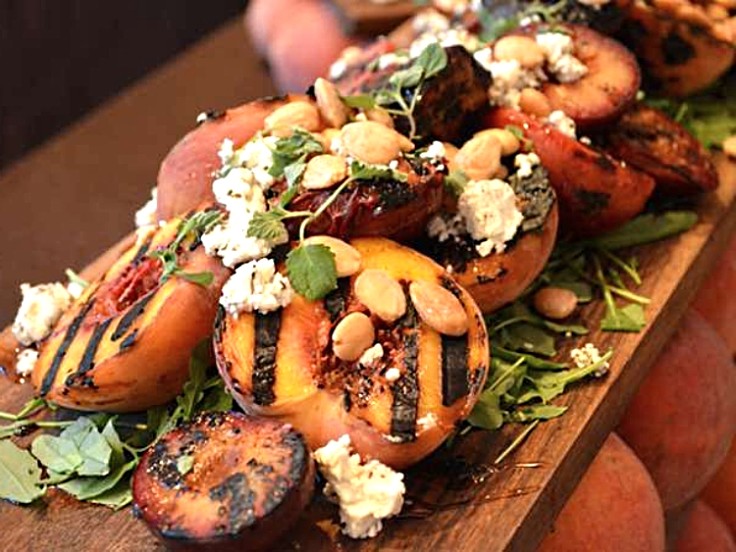 Source: Original Image - John Anderson