Guide for One Pot Cooking - Tips for One Pan Meals, Dishes and Recipes
One-pot cooking is a way of preparing meals where you cook all the ingredients in a single one pot - be it a wok, crock pot, frying pan, saucepan, casserole dish, or even a shallow oven dish.
It's not about saving on the washing up - its more about convenience and the style of cooking where the ingredients are combined into a single dish. Examples of a one-pot dish are a hearty stew, a Chinese stir-fry or a perfect paella.
My favourite pot is a modern stainless steel electric frying pan - broad and deep. It has a high wattage power element and a fine thermostat control. It can be used for a wide range of dishes ranging from wok-style Chinese meals to slow-cooked stews. Its high sides and broad base mean that it is versatile. It can even be put into the refrigerator and the food reheated later. Its large size means that large dishes can be cooked that can be used for two family meals. It can also be used as a serving dish. Discover all the tips and tricks for one pot cooking and some fabulous recipes to try.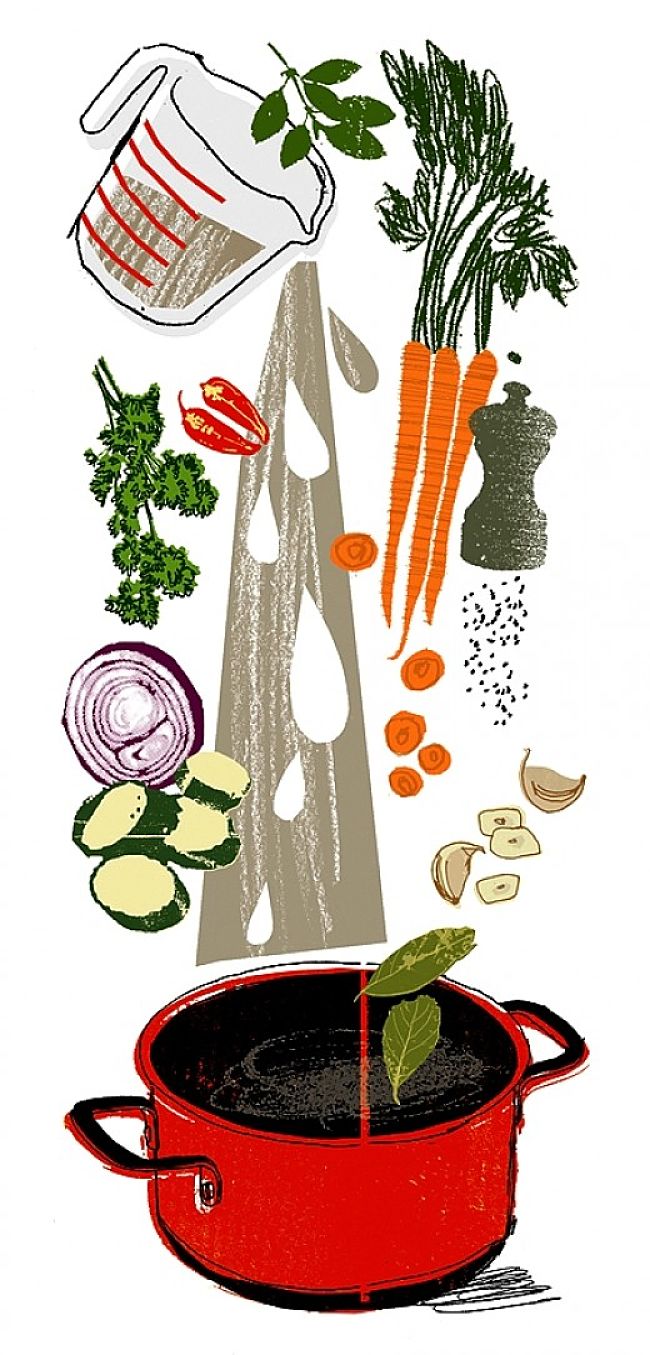 What are the benefits of One-Pot cooking?
► One of the best features of one-pot cooking is that the recipes often includes vegetables, peas, meat, rice and pasta, fresh herbs and spices added to the one pot, making it a great way to cook a convenient and nutritious meal the whole family will enjoy.
► Having all the ingredients in the same pot means the flavours are blended, but when cooked in the right way the individual items retain their own flavour and texture.
► Another benefit is slow cooking, which is well suited for using cheaper and tougher cuts of meat that are full of flavour but tough when fast cooked. Slow cooking is simple and convenient and saves time.
► Cooking everything together in one pot also allows all the flavours to blend into rice and vegetables, such as in the classic paella and similar dishes.
► It is perfect for developing natural cooking sauces that add to the appeal of the dish.
► A slow cooker, crock-pot, Slo-cooker or similar electric or stove pot are fabulous for one pot cooking, especially if you are busy all day doing other things. The ceramic lined or enamelled cast iron pots are the best for stove top cooking, as you can use them or frying onions and braising meat at the start. Just pop everything in first thing in the morning before you start your other activities. After several hours the aroma of the dish will develop - just in time for lunch or dinner.
► You can cook in bulk and reheat.This means that you devote more time to cook fabulous and complex dishes than you would if you had to cook for every meal. Generally the second serving tastes better than the first.
Tips and Tricks for One-Pot Cooking
► Timing is critical so cook components separately and the reassemble - isn't that cheating - not really as you are still are cooking everything in the one pot. Different elements need to be cooked for different lengths of time, so you need to add them at various time through the process. For Wok style meals, you need to stir-fry each item to perfection, remove and reassemble them back into the pot or frying pan for developing the sauces and the final cooking to blend the dish.
► For meat and vegetable curries and stews avoid the trap of just shoving everything in and cooking over the same time. Meat needs to be cooked slowly over a long time. Braised the meat on high heat with onions to brown the exterior slightly. Add the spices and cook briefly. Then turn down, add the liquid and cook for one or more hours. Potatoes, sweet potatoes carrots and other root vegetables need to be added about an hour before serving. Beans, snow peas and other green vegetables only require half an hour on slow heat. Peas, fresh herbs and other small items may only need fifteen minutes or so. The idea is that all the items in the dish are just cooked to perfection and retain their original texture and flavour.
► Search the internet for one pot recipes and other recipes you can adapt to the process. Don't forget to add your own ideas as well.
► Steaming is a great way to cook as it maximizing the taste, texture and colour of the food items, while retaining all the nutrients in vegetables, meat and fish. Simple and healthy steaming can be done in one pot is you are careful about the timing. All you need is a suitable steaming basket than can be added to your pot with lid. Heat the water to boiling and then reduce the temperature to moderate and place your vegetables and items in the steamer basket in the order of the time they need to be cooked. Some steaming baskets have layers or chambers for the separate items.
The simplest method is to put the harder vegetables, which take longer to cook into the steamer basket first. Steam for about two to five minutes. Then add another layer of less dense vegetables such as beans and snow peas, that take less time to cook, and continue to cook using the steam. You can add several more layers.
The aim is to ensure that all items are just cooked when you are ready to serve the dish. It is all in the timing and after a while you will perfect it. Chopping all the items into small pieces helps to reduce steaming times.
You can easily combine vegetables with pieces of fish, prawns or chicken placed on top, or in a separate chamber in the steamer. Add herbs and spices for flavour.
This is a wonderful way to make a simple, convenient, tasty and healthy meals in one pot in a very short amount of time. You can make simple dressing or sauces to add flavour. Many people used to salty and fat laden fast foods may take a while to adapt and appreciate the subtle gentle tastes of streamed dishes.
Fabulous One-Pot Recipes to Try
Paella Recipe
This a very adaptable dish can be varied to your own taste, available ingredients and your preferences. You can use prawns and other seafood and various types of meat, including beef, pork and chicken.
Ingredients
fresh herbs
2 bay leaves
1 onion, chopped
2 tomatoes, chopped
2 cups chicken stock
dash hot pepper sauce
1/4 teaspoon turmeric
1 green pepper, sliced
3 garlic cloves, minced
1 cup frozen peas, thawed
1/2 cup grated cheddar cheese
3/4 lb (375 g) hot Italian sausage
1 cup Paella rice or long-grain rice
Method
Slice the sausage thickly and fry in a large pot over moderate heat for 10 minutes. Remove the fat. Add onion and garlic, and fry until soft. Stir in the stock, tomatoes, green pepper, rice, bay leaves, turmeric, and hot sauce. Cover and simmer for 25-30 minutes or until rice is tender. Stir in peas, and season with salt and pepper to taste. Cook for 3 minutes. Spread cheese on top and slip into oven for a few minutes to melt the cheese. Serve hot with steamed vegetables or salad.
Japanese Chicken Stew Recipe
Ingredients
1 bundle watercress
2 cups bean vermicelli
2 cups red onion, chopped
1 rectangle dried seaweed
1 lb (500 g) chicken, cubed
1 Chinese cabbage, cut into large strips
1 cup carrots, sliced thin on the diagonal
1 lb (500 g) tofu, pressed and drained, cubed
8 dried shiitake mushrooms, soaked in water (preserve the water)
Method
Add about 1 inch (2 cm) of water to a large pot and add the seaweed while the water is cold. Heat the water and remove the seaweed just before the water boils. Add the remaining ingredients and cook on medium to low heat until all ingredients and cooked and just soft. Let cool and mix in the soy sauce, rice vinegar and lemon juice to taste. Add wasabi or other Asian spices if desired. Serve immediately.
Arroz con Pollo Recipe
This simple one pot dish is very popular in various forms throughout the Caribbean, and Latin America. The basic ingredients are chicken, paprika, garlic, bell peppers, rice, sausage, cumin, and tomatoes. In most recipes, the chicken is fried until well browned before adding all the ingredients.
Ingredients
1 cup chicken stock
2 teaspoon olive oil
1 teaspoon ground cumin
1 garlic clove, crushed
1 tablespoon tomato paste
1/2 teaspoon saffron threads
3/4 cup long-grain white rice
1 teaspoon ground sweet paprika
4 chicken thigh fillets. halved
1 brown onion, halved, coarsely chopped
2 fire-roasted peeled whole peppers, coarsely chopped
3 fresh tomatoes or 1 x 4009 can diced Italian Roma tomatoes
1/4 cup coarsely chopped fresh continental parsley (and other herbs)
Method
Heat the oil in a large heavy saucepan or Dutch oven over moderate heat. Add the onion
and garlic and fry, stirring, for 3-5 minutes or until the onion softens. Add the chicken and cook, stirring occasionally, for 3-5 minutes or until brown all over. Add the cumin, paprika and saffron and cook, stirring, for 1 minute or until aromatic. Add the rice, tomatoes and chicken
stock, and bring to the boil. Then, reduce the heat to low and simmer, covered, for 15-18 minutes or until chicken and rice are tender. Add the tomato paste, peppers and parsley, and cook, stirring, for 2-4 minutes or until heated through. Remove from heat and serve.
Prawn Jambalaya Recipe
Ingredients
1 onion, chopped
1 tablespoon canola oil
3 celery sticks, sliced
2 garlic cloves, chopped
1/2 teaspoon fennel seeds
3 tablespoons chopped parsley
1 tablespoon ground coriander
1 teaspoon mild chilli powder
1 tablespoon fresh thyme leaves
1 yellow pepper, roughly chopped
400 g (14 oz) can chopped tomatoes
1 teaspoon vegetable bouillon powder
100 g (3 oz) wholegrain basmati rice
150 g (4oz) pack small prawns, thawed if frozen
Method
Heat the oil in a large, deep frying pan or Dutch oven. Add the onion and celery, and stir-fry for 5 minutes to soften. Add the rice and spices. Then pour in the tomatoes with just under 1 can of water. Stir in the bouillon powder, pepper, garlic and thyme. Cover the pan with a lid and simmer for 30-40 minutes until the rice is tender and almost all of the liquid has been absorbed. Stir in the prawns and parsley, cook briefly to heat through, then serve immediately.
Spinach, Sweet Potato and Lentil Dahl Recipe
Ingredients
2 cups of spinach
2 cups vegetable stock
1 tablespoon sesame oil
1 garlic clove, crushed
1 red onion, finely chopped
1 red chilli, finely chopped
1 1/2 teaspoon of ground cumin
1 1/2 teaspoon ground turmeric
250 g (1/2 lb) red split lentils
2 sweet potatoes, cut into even chunks
1 cup of Thai basil, leaves torn, to serve
1 large piece ginger, peeled and finely chopped
4 spring onions, sliced on the diagonal, to serve
Method
Heat the oil in a large seep pan or Dutch oven with a tight-fitting lid. Add the onion and fry over low heat for about 10 minutes, stirring occasionally, until the onions soften. Add the garlic, ginger and chilli, and fry for 1 minute. Next, add the spices and cook for an extra 1 minute. Increase the the heat to moderate, add stir to coat the potato pieces with the spice mixture. Add the lentils, stock and seasoning. Bring the liquid to the boil, then lower the heat to a simmer and cook for 20 minutes until the lentils are tender and the potato is starting to soften. Taste and adjust the seasoning, then gently stir in the spinach. Once wilted, add the spring onions and basil just before serving.
Spanish Rice with Squid, Prawn and Fennel Recipe
Ingredients
1 cup white wine
5 tablespoon olive oil
4 garlic cloves, sliced
2 onions, finely chopped
chopped parsley, to serve
2 cups chicken or fish stock
300 g (1/2 lb) cleaned squid
1 teaspoon fennel seeds, toasted
1 lemon, juiced and zest collected
3 sachets squid ink (if available)
200 g (5 oz) paella or risotto rice
8 large king prawns, head and shell on
1 fennel bulb, half finely chopped, half finely sliced
Method
Slice the squid into rings and combine with tentacles, prawns in a bowl. Add 4 tablespoons olive oil, fennel seeds, the lemon juice, half the garlic and some seasoning, then set aside.
Heat oven to moderate. Heat the remaining oil in a shallow, wide oven-proof pan. Fry the onions and chopped fennel for about 10 minutes until soft and beginning to turn golden. Add the remaining garlic and cook for another 5 minutes. Sprinkle in the rice, stir and cook until it just starts to crackle. Pour in the wine, ink and stock and heat to a simmer, while stirring gently. Stir through most of the sliced squid, keeping a few rings and the tentacles back.
Transfer the pan to the oven, cook for 25 minutes, then place the prawns and remaining squid on top and drizzle everything with the oil from the marinade. Place in the oven for another 10 minutes or until all the liquid has been absorbed and the rice and seafood are just cooked. Scatter over the sliced fennel and fronds, lemon zest, and the chopped parsley. Serve on a large platter.
Summer Chicken Stew Recipe
Ingredients
lemon wedges, to serve
1 1/2 cups chicken stock
200 g (6 oz) green beans
2 tablespoon of olive oil
2 thyme sprigs, leaves picked
350 g (7 oz) frozen petit pois
500 g (1 lb) leeks, finely sliced
2 large garlic cloves, finely sliced
8 chicken thighs, skinless and boneless
500 g (1 lb) new potatoes, larger ones quartered, smaller ones halved
Method
Heat the oil in a large casserole dish or Dutch oven over moderate heat. Add the leeks, garlic and thyme. Cover and cook gently for 10 minutes, stirring regularly. Season the chicken with salt and pepper and transfer into the dish with the potatoes. Turn up the heat, add the stock and bring to a simmer. Gently bubble the mixture with the lid on for 30-40 minutes. Add the green beans and peas for the final 10 minutes of cooking. Season to taste, then ladle into bowls and serve after adding a squeeze of lemon.