Healthy Low-Calorie Biscotti Recipes Using Whole Wheat, Almond Flours
Biscotti are traditional Italian, sliced snack-breads, or oblong-shaped cookies or biscuits that are baked once, sliced and then baked again to create their unique dry and crunchy texture.
They are usually made with almonds, white flour and lots of sugar to be a sweet indulgence.
However, this recipe is a much healthier, Low-Calorie version that uses almond and whole wheat flours and much less sugar.
Enjoy the delights of Almond Biscotti without the high calorie and sugar load.
The almond and whole wheat flour add to the nutty taste and increase its complexity.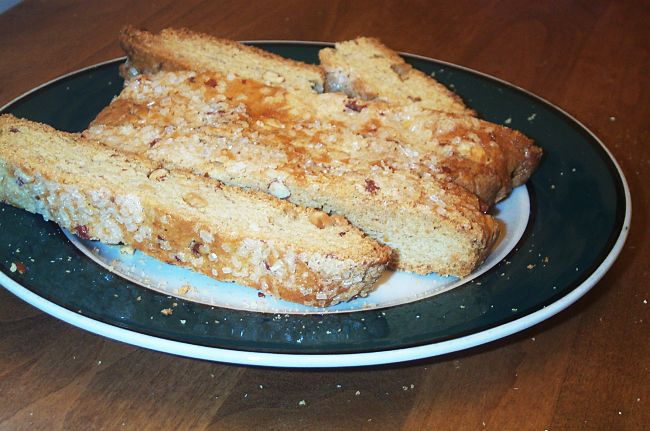 Healthy Biscotti Recipe
Ingredients
2 cups whole wheat flour (organic preferred) 1 teaspoon baking powder
1 teaspoon vanilla extract
3 large Free Range, Organic eggs
2/3 cup tightly packed brown sugar, or 1/2 cup of honey
1/4 cup of almonds that have been toasted and then roughly chopped
Method
Preheat the oven to 300 degrees F (150 degrees C). Take a flat baking sheet, spray with oil, and line with baking paper.
Mix the dry ingredients together in a small bowl including the almond flour, whole wheat flour, baking powder and salt.
In a separate bowl beat the sugar and eggs with an electric beater for about 2 minutes, then add the vanilla and beat for another 60 seconds.

Remove the bowl from the mixer and scrape down the side of the bowl. Then mix in the flour and combine to form a mixture that will resemble and very thick sticky batter. Add the almonds and mix again.

Turn the mixture out onto the baking sheet to form two long oblong-shaped logs. Leave them well separated on the baking sheet.

Bake in the preheated oven for about 50 minutes. The 'loaves' should be dry, lightly brown and cooked inside.
Remove from the oven and set aside for about 20 minutes to cool. Leave the oven on for the second baking.

Then slice each log quite thinly (about 1/2 inch; 1 cm thick), directly across each log or diagonally. Transfer the slices to the baking sheet and spread out so they are well separated (you may need a second sheet).
Bake for 10-15 minutes on each side, flipping once. Remove from the oven and cool.
See More Articles about Cakes and Great Baked Goods Recipes
=> Light Fruitcake Recipe with Gin Soaked Raisins
=> Best Easy Carrot Cake Recipes in the World and Best Icing, Frosting
=> Best Simnel Fruit Cake Recipe with Tips and Variations
=> Best Honey Cake Recipes - Bee Inspired by these great recipes
=> Tres Leches Cake Recipe - Easy to Make Latin American Dessert