Healthy Low-carb, Keto and Paleo Breakfast Recipes to Go For
Traditional breakfasts are high in carbohydrate and sugar being based on highly processed foods. Try these simple and healthy Keto, Paleo and Vegan recipes that are low carb and very healthy. They are easy to prepare, delicious and will sustain you more many hours, postponing the hunger pangs that occur with high carbohydrate breakfasts.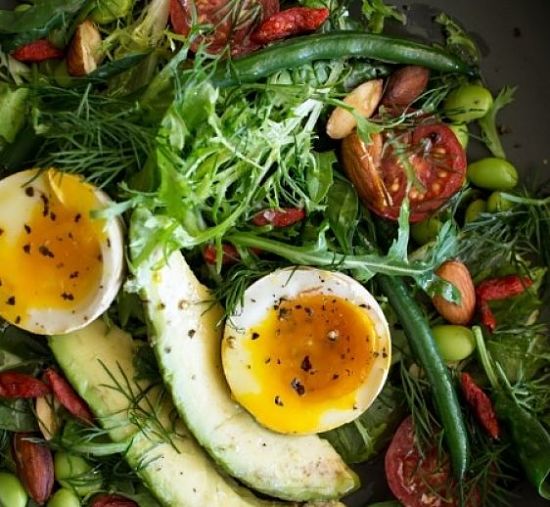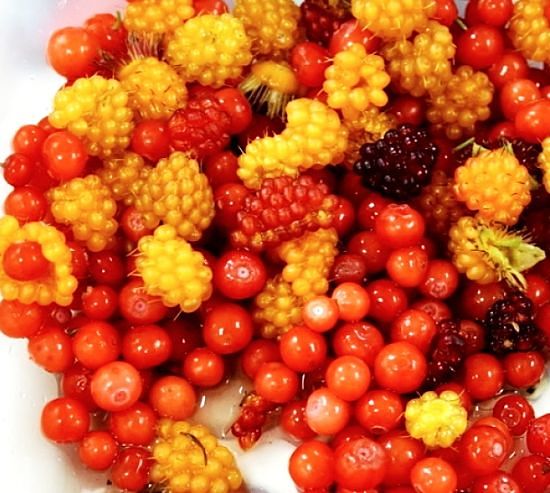 Low Carb Breakfast Salad Recipe
Ingredients
50g edamame
2 tablespoon almonds
50g small green beans
12 cherry tomatoes, halved
1 avocado sliced lengthwise
2 tablespoon natural yoghurt
sea salt and pepper to taste
1 lemon or lime, finely sliced
4 soft-boiled free range eggs
1 tablespoon apple cider vinegar
2 tablespoon dill or mint leaves
1 tablespoon extra virgin olive oil
2 tablespoon goji berries (optional)
100g mixed greens using rocket, baby spinach leaves or similar
Method
Boil or steam the edamame and green beans for three minutes or until just tender. Drain and remove the edamame pods.
Make the dressing by whisking the yoghurt, vinegar, olive oil, and a little water, sea salt and pepper in a bowl. Adjust the consistency by adding more water. Mix the green leaves, half the herbs and cherry tomatoes. Serve on four plates, topping with sliced avocado, sliced lemon, almonds and goji berries. Peel and slice the eggs in half adding to each plate. Serve with more dressing, salt and pepper to taste.
Tunisian Leblebi Style Breakfast Soup with Eggs, Greens, Beans and Tomatoes
Ingredients
1 onion, chopped
Sea salt and pepper
2 tablespoons olive oil
1 tablespoon ground cumin
2 tablespoon harissa paste
1 red capsicum, finely diced
2 tablespoons coriander leaves
400 g canned tomatoes, chopped
2 garlic cloves, finely grated
750 ml chicken or vegetable stock
1 tablespoon salted capers, rinsed
Extra virgin olive oil for serving
800 g chickpeas, drained and rinsed
2 hard-boiled free range eggs, sliced into 6 wedges
500 g silverbeet leaves, baby spinach or other green leaves, washed
Method
Fry the onion for five minutes until softened. Then, add the cumin, garlic and two thirds of the diced red capsicum and cook for an additional three minutes. Add tomatoes, soaked chickpeas, stock, salt and pepper and bring to the boil simmer the mixture gently for 10 minutes. Roughly chop the silverbeet or spinach leaves and simmer for about five minutes until wilted, Add one tablespoon harissa, mix and then add to the soup mixture. Top with egg wedges, capers, remaining harissa and red capsicum, olive oil and coriander leaves and serve.
Dairy-Free Fresh Mixed Berries Breakfast Recipe with Apple Cider Vinegar and Cashew Cream
Ingredients
1/2 cup slivered almonds
4 teaspoons apple cider vinegar
2 cups mixed fresh berries (whatever is available)
For the cashew nut cream
2/3 cup water
1 cup raw cashew nuts
8 drops stevia liquid
1 teaspoon vanilla essence (optional)
Method
You can make the cashew nut cream the night before and store in the refrigerator for several breakfasts. Place all the ingredients in a food processor and pulse until very smooth and creamy. Add a little extra water if the mixture isn't smooth. Divide the fresh berries between two small bowls. Pour 2 teaspoons of apple cider vinegar over each bowl, top with slivered almonds and a dollop of cashew nut cream and serve.
Keto Scrambled Eggs Recipe with Bacon, Feta, Spinach and Cream
Ingredients
4 large eggs
4 rashers of bacon
2 tablespoons butter
1 garlic clove, minced
1 cup fresh baby spinach
salt and ground black pepper
1/4 cup feta cheese, crumbled
2 tablespoons heavy whipping cream
Method
Whisk the eggs and cream together, throughly until well combined. Heat a large heavy skillet or frying pan over moderate heat and melt the butter. Then, add the spinach and garlic and stir until the spinach is just wilted. Then, sprinkle with salt and pepper. Add the egg mixture to skillet and Cook without mixing until the eggs just start to set around the edges. Gently lift and turn the mixture over from the edge of the pan toward the center, allowing the uncooked eggs to run back out to the edges. Continue to lift and turn over until the eggs are set. Remove the pan from heat and sprinkle with feta cheese. Serve immediately. Add some well cooked crispy fried bacon slices.
Low Carb Breakfast Shakshuka Recipe with Tomatoes, Parsley and Feta
Ingredients
1 teaspoon paprika
4 large ripe tomatoes
1 tablespoon olive oil
1 teaspoon ground cumin
2 large free-range eggs
1/2 small green capsicum
Salt and pepper, to taste
2 tablespoons of heavy cream
1/4 cup feta cheese, crumbled
1 small jalapeño chilli, sliced
1 tablespoons flat-leaf parsley, finely chopped
Method
Heat a large heavy skillet or frying pan over medium heat and melt the butter. Add the onion and cook until transparent. Then, add the chilli and green capsicum, and cook for about 4 minutes. Add the tomatoes, cumin and paprika, and cook for 5 minutes, allowing mixture to reduce. Add salt and pepper to taste. Then, make 2 small depressions in mixture with the back of a spoon and crack eggs into them. Sprinkle the feta over the top. Cover the pan with a lid and cook until the eggs are just done. Sprinkle over parsley and serve in the skillet.
Grilled Fresh Mushrooms with Garlic, Tahini and Haloumi
Ingredients
1/2 lemon, juiced
1 tablespoon tahini
2 small cloves garlic
Extra virgin olive oil
4 slices haloumi cheese
Salt and pepper to tastee
1 handful mint or coriander leaves
4 large portobello mushrooms, cleaned, stems trimmed
1 tablespoon currants, soaked in boiling water for about 10 minutes to plump, then drained
Method
Preheat your grill or BBQ. Season the cleaned mushrooms with salt and pepper. Grate the garlic onto the mushroom gills and drizzle with a little extra virgin olive oil. Grill for about 6-8 minutes, with gill sides up or until cooked and tender but still firm. Place on serving plates. Heat a pan with a teaspoon of oil and sear the haloumi slices on both sides for 1-2 minutes until golden brown. Lay the slices it over the mushrooms. Next, make the dressing by mixing the lemon juice, tahini, a dash of olive oil and 2 1/2 tablespoons of water until well combined. Spoon the dressing over the mushrooms. Scatter a few drained currants and mint over the top and serve. So delicious!
Hearty Chicken and Ratatouille Breakfast Recipe with Fresh Herbs
Ingredients
4 sprigs thyme
2 zucchini, cut into rounds
2 anchovies, roughly chopped
2 cups cherry tomatoes, halved
1/4 cup extra virgin olive oil
4 garlic cloves, roughly chopped
1 eggplant, cut into small pieces
1 red capsicum, cut into small pieces
salt and freshly ground pepper, to taste
1 yellow capsicum, cut into small pieces
4 chicken thigh fillets, with skin- let on
2 large brown onions, cut into medium size pieces
1/2 cup loosely packed basil or coriander leaves, torn

Method
Season the chicken thighs well with salt and freshly ground black pepper. Heat the oil in a large heavy skillet or frying pan high heat and brown the chicken well on all sides. Remove the chicken from the pan and set aside on a plate. Add the anchovies, onion and garlic to the oil and fry briefly until fragrant. Add the zucchini, capsicum and eggplant and fry until just cooked. Add the tomatoes and thyme and stir through. Season with salt and pepper then return the cooked chicken thighs to the pan. Simmer the ratatouille for about 8 minutes until the chicken is cooked through. Remove from the heat and let stand for about 10-12 minutes before serving, scattered with the basil leaves and some crumbled feta cheese.