Homemade Chicken Nuggets Recipe for Kids, Baked with Delicious Dips
Children of all ages love chicken nuggets and they make a wonderful snack for adults as well with honey-mustard and other fabulous dipping sauces. You can make them at home and keep them healthy simply by baking or grilling them rather than deep-frying. This means that the breadcrumb coating does not soak up the cooking oil and the fat and calories in the nuggets is kept low.
Making them at home also means that you can try all sorts of recipes and shape ideas to suit the entire family. There are also many delightful dipping sauce ideas you can try. The table below shows that homemade chicken nuggets are much healthier than fast-food commercial nuggets, with a quarter the fat and half the calories. Breadcrumbs really soak up the oil used for deep-frying. Baking and grilling eliminates the extra fat and calories added through frying.
Comparison of Nutrients in Commercial (Fast-Food) and Homemade Chicken Nuggets
| 4 Nuggets 4.6 oz ( 128g) | Homemade | Commercial |
| --- | --- | --- |
| Protein | 22 g | 20 g |
| Carbohydrates | 8 g | 11 g |
| Calories | 165 cals | 372 cals |
| Fat | 5 g | 24 g |
| Fiber | 1 g | 2 g |
| Sugar | 0.1 g | 0.2 g |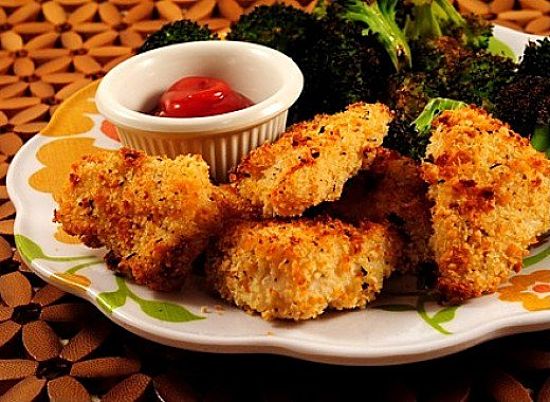 Basic Chicken Nuggets Recipe
Ingredients
2 boneless, skinless chicken breast halves
2 cups finely crushed cracker crumbs or 2 cups plain, wholemeal or Italian breadcrumbs
1 egg , beaten
2 cloves of fresh garlic, crushed of 1 teaspoon of garlic powder
1/4 teaspoon kosher or sea salt or 1/4 teaspoon table salt
1/4 teaspoon black pepper
1/4 teaspoon chili powder (optional)
Method
Pre-heat the oven to 375 degrees F (190 degree C)
Slice the chicken breasts into strips, about 1 inch (2cm) wide
Cut the strips into 'fingers', cubes or other shapes
Mix the dry cracker crumbs or breadcrumbs with seasonings and place on a plate.
Plunge the chicken pieces into egg mixture, then roll in the crumb mixture.
Spray a hallow baking sheet (pizza pan) with cooking spray
Bake at 375 degrees F (190 degree C), for 10-15 minutes, turning once, until crisp on outside and lightly browned.
Dip into your favorite sauce
Note: You can also coat zucchini sticks and bake them at the same time. You can make your own crumbs. Add dried parsley, onion powder, garlic powder and other herbs and spices. You can use firm fish pieces, scallops, or shrimp instead of chicken - or various combinations.

To make your own breadcrumbs, dry them out by placing on a rack over a cookie sheet in a low to moderate oven. When dry, cool and use a blender or food processor to make the breadcrumbs. Short bursts keeps the crumbs larger so they are crunchier. You can also blend wholemeal crackers.
Dipping Sauces
Honey Mustard Sauce
Ingredients
3/4 cup mayonnaise
juice from 1/2 lemon or 1 tablespoon lemon juice
3 tablespoons honey
2 tablespoons yellow mustard (mild or hot)
Horseradish (optional for extra taste - or chilli sauce)
2 tablespoons orange juice (less or more as needed)
Method
Except for the orange juice, combine all the ingredients and mix well. Thin to pouring or dipping consistency by adding some of the orange juice. Cover and chill prior to using.

Pineapple Sauce
Ingredients
1 cup pineapple juice
2 tablespoon sugar
1 tablespoon cornstarch
1/4 cup pineapple juice
1 (8 oz.) can crushed pineapple, drained
2 tablespoon cider vinegar
2 teaspoon mustard (mild or hot)
Method
Combine sugar and 1 cup of pineapple juice in a small saucepan
Heat over medium heat, stirring until all the sugar dissolves.
Combine cornstarch with the 1/4 cup pineapple juice and add to the pineapple juice mixture in the pan.
Bring the mixture to a boil and simmer for one minute, stirring continuously.
Simple BBQ Sauce
Ingredients
6 tablespoon tomato ketchup
2 tablespoon maple syrup
1/2 teaspoon Worcestershire sauce
1/2 teaspoon soy sauce
2-3 drops tabasco, (optional)
Method
Combine all the ingredients
Sweet and Sour Sauce
Ingredients
1/4 cup white vinegar
1 cup water
1/4 cup sugar
1/4 cup ketchup
2 tablespoons cornstarch, dissolved in 2 tablespoons of water
1 green pepper, finely chopped
1/4 cup of crushed pineapple, finely chopped
Method
Mix the first four ingredients in saucepan and heat to boiling. Add the dissolved cornstarch to thicken, stirring continuously. Add the pineapple and green pepper. Cool before serving.