Homemade Corn Tortillas Recipes and Whole Grain Wheat Flour Tortillas
Everyone loves the versatility of tacos, with some many interesting ideas for fillings and the experience of everyone making their own from a great variety of meat and vegetable filling ingredients. Then, there are a lovely variety of cheeses, salsas, guacamole and other sauces you can spice up these versatile main meals and snack ideas. Mexican food can be very healthy if you watch the calories and portion size.
Every good taco starts with a good tortilla and like most foods, the homemade ones taste better, are more nutritious and you can vary the ingredients to suit your taste, diet and how you was to use the tortillas.
There are many options apart from the traditional corn tortillas made with a special corn flour named 'masa harina'. The corn flour has been prepared with calcium hydroxide or "lime", which makes it easier to digest and more nutritious.
The calcium hydroxide releases niacin (a B group Vitamin) in the corn. The masa flour can be hard to find and there are various alternatives that are described in this article including:
cornmeal and corn flour (not masa harina)
whole grain wheat flour
fresh corn kernels
combination of corn flour and wheat flour
Traditional tortillas, and the variants, are fun to make and this article provides a wonderful range of recipe and ingredient options for you to try.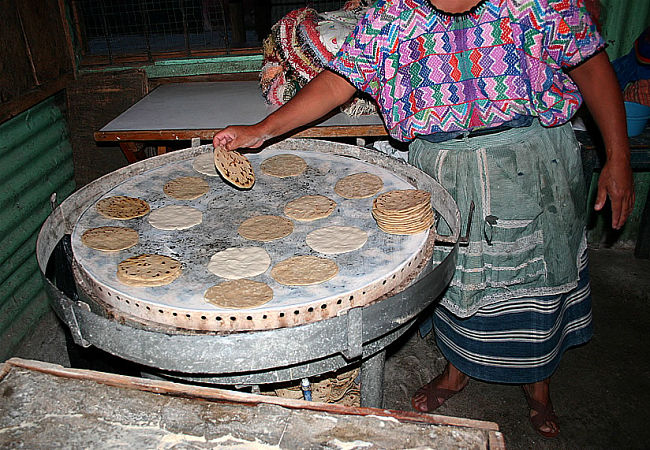 Simple Homemade Corn Tortillas (using masa harina)
1 1/2 cups warm water
1/2 tablespoon olive oil (or a neutral flavor oil such as grape seed or rice bran oil)
1/2 teaspoon salt
2 cups yellow masa harina
Tortilla press or a pie plate
Skillet (cast-iron, if possible)
Plastic bag or wax paper (for flattening the dough balls into flat tortilla shapes)
In a medium bowl, whisk the masa harina and salt. Then mix in the water and olive oil. Knead together until it forms a stiff dough (resembling playdough). Add a little water if the dough is too dry and crumbly, but make sure you mix it well before doing this. Set aside for about five minutes. Meanwhile heat a cast iron skillet (or heavy frypan) over high heat. The best way to make the tortilla rounds is using a tortilla press, which are cheap and widely available. You can also use a metal, or heavy ceramic plate as a press. Cover both sides of the press or plate with plastic film. Take a piece of dough about the size of a golf-ball and place it in middle of the tortilla press. Lower the lid of the press and squeeze down the handle. If you don't have a press, place a piece of plastic film on the bench or chopping board. Line the bottom of a heavy pie plate or another chopping board with plastic. Place the pie plate on top, and press down firmly with your hands, using your entire weight to flatten the tortilla. They should be tin and about 6 inches (12 cm) in diameter. Prepare the remaining tortillas

When the skillet is very hot, transfer a tortilla to the skillet and dry cook about 30-60 seconds. Make sure the tortilla is cooked, with a few charred spots in places, but not burnt. Flip the tortilla over with a spatula, press down firmly and cook the other side (about 30 seconds). Remove to a plate, and cover with a towel while you cook the remaining tortillas.
Easy Low fat Corn Tortillas (masa harina)
2 cups masa harina
1/2 teaspoon salt
1 1/3 cups warm water
Oil spray for cooking
Blend the salt and masa harina with a whisk or fork. Add 1 cup of the warm water. Stir the mixture together with a wooden spoon to form a dough. Add more water if required to make a firm dough that is neither too wet or too dry. Shape the dough into a long log shape. Section it into 12 equal pieces and roll each section into a round ball. Flatten each ball into a tortilla using the method described above.

Heat a cast iron skillet until very hot. Spray a tiny amount of oil onto the cast iron skillet and cook each side for about 45 seconds.
Cornmeal Tortillas
1 cup boiling water
2 tablespoons vegetable shortening or oil
1 teaspoon salt
1-1/4 cups wholemeal wheat flour
3/4 cup cornmeal
Waxed paper or plastic film
Combine the flour, cornmeal and salt in a bowl. Add the shortening and pour in the boiling water and mix well with a fork. Stir thoroughly till the mixture becomes a tight and thick dough. Flatten and cook as described in the first recipe.
Whole-Wheat Flour Tortillas
1/2 cup oil (grape seed, rice bran, macadamia or avocado oil)
2 1/2 cups whole-wheat flour
1 cup warm water
1 teaspoon salt
Mix all the dry ingredients well by hand or in a mixer. Gradually add the warm water, while mixing and work the mixture into a stiff dough. Divide the dough into about 12 equal sized portions rolled into a ball. Flatten into tortillas and using the methods described in the first recipe, cook the tortillas.
Whole Wheat Flour Tortillas - Recipe 2
1 1/2 cups boiling water
2 teaspoons salt
1/2 cup shortening (butter or margarine)
4 cups whole wheat bread flour
1 cup all-purpose flour
Extra flour for rolling out
Mix together the flour and salt in a large bowl. Rub in the butter or margarine using the tips of our fingers until the mixture resembles oatmeal or breadcrumbs. Make a cavity in the center or the mixture, and add the boiling water. Mix with a spoon into a dough and knead with your hands to form a firm ball. Divide the dough into pieces the size of golf balls. Place on a tray, cover with a cloth and set aside for an hour or so. Then roll out to form thin tortillas.

Heat a griddle or a heavy frying pan over high heat. Cook each tortilla for about 10 seconds on each side. When you see bubbles form on the top, flip the tortilla over and cook the other side and cook for about 30 seconds.
Mixed Wholemeal and White Wheat Flour Recipe
2/3 cup water
4 tablespoons canola oil
1 teaspoon baking powder
1 teaspoon salt
1 cup whole wheat flour
1 cup white flour
Combine flours, baking powder, and salt in a medium bowl. Blend in the oil and water and mix with a fork or spoon. Mix the dough until it forms a stiff dough ball. Turn out onto a floured surface and knead several times. Divide the ball into 8-12 portions. Flatten each ball into a flat tortilla using a rolling pin, flipping over several times. Heat a heavy frying pan to very high temperature and dry fry each tortilla for 30-40 seconds, flip over and cook for 30-40 seconds on other side. The first side should have a few brown spots and bubbles and the second side will be more blotched with scorch marks.
Tortilla Recipe Using a Combination of Whole Corn and Wheat Flours
1 1/2 tablespoons shortening, cold
2 cups warm water, more or less, as needed
3/4 teaspoon sea salt (or regular salt)
1/8 teaspoon cream of tartar
1 teaspoon baking soda
2 teaspoons oil
1 cup whole wheat flour
1 cup bread flour
2 cups masa harina flour
Combine all the flours, cream of tartar, baking soda, salt and shortening in a large bowl. Add the warm water slowly until a firm dough ball is formed. Add the oil and knead the dough for several minutes till it is stiff, smooth and a little sticky. Cover with a towel and set aside for about 30 minutes. Divide and shape into 16 small dough balls and press out into tortilla discs using a tortilla press, or a heavy plate. Cook each tortilla on a hot cast-iron skillet for about 30-60 seconds on each side.The tortilla should be soft, warm, flexible with a few black marks.
Homemade Fresh Corn Tortillas
2 teaspoons Ground Cumin
1 1/2 teaspoons Sea Salt
3/4 Cup Golden Flaxseed, Finely Ground
1 Tablespoon Ground Chili Powder
1 Tablespoon Lime Juice
1 1/2 Cups Chopped Yellow or Red Bell Pepper
3 Cups Fresh Corn Kernels
Using a food processor or blender, pulse the corn and bell pepper until an even size. Add the remaining ingredients and blend until smooth and well combined. Divide and form into tortilla shapes. Place the tortillas onto dehydrator trays or baking trays and dehydrate at about 115 degrees F (45 degrees C) for 3 to 4 hours. You can dry the tortillas in an oven at the same very low temperature. Flip the tortillas over and dry for about 2 hours. Cook as described above.
Related Articles, Information and Recipes to Try
=> Best Gourmet Taco Recipes : Fabulous Homemade Tacos
=> Top 20 Taco Recipe Collection - Beef, Pork, Chicken, Seafood, Vegetable, Vegan
=> Vegan Green Jackfruit Recipes: Barbecue, Curry, Taco, Pasta, Carnitas and Stir-Fry
=> Mexican Bunuelos Recipes with Fresh Berry Sauce and Fruit
=> Easy Sopapilla Recipes - How to Make Authentic Mexican Sopapillas
=> Mexican Food Calories - How to Make Healthy Meal Choices