Homemade Fried Rice Recipe Secrets - Shrimp, Egg, Pork, Chicken
Fried rice is one of the most annoying dishes to make at home - no matter what you do it always turns out either soggy or oily - probably both. So I embarked on a sojourn to discover the secrets of making perfect homemade fried rice just like you get at local Chinese Restaurants.
Fried rice has been an important part traditional Chinese food and may have existed since 4000 BC. The dish spread throughout Southeast Asia and was adapted and modified by various countries and is very popular in the West.
There are a wide variety of fried rice types and recipes but the basic elements are cooked rice, a high temperature cooking oil such as peanut or grape seed oil, fish and soy sauce. To the basic fried rice can be added a huge variety of cooked meats and seafood such as Shrimp, Calamari, Fish, Ham Egg, Pork, Beef and Chicken. Fresh Stir-fried onions and vegetables are added to provide texture and taste. It provides a meal by itself or can be a great accompaniment to other Chinese and Asian dishes.

Before proceeding to the recipe there are five secrets that you should know about, and a set of procedures to follow for making perfect fried rice in your own kitchen.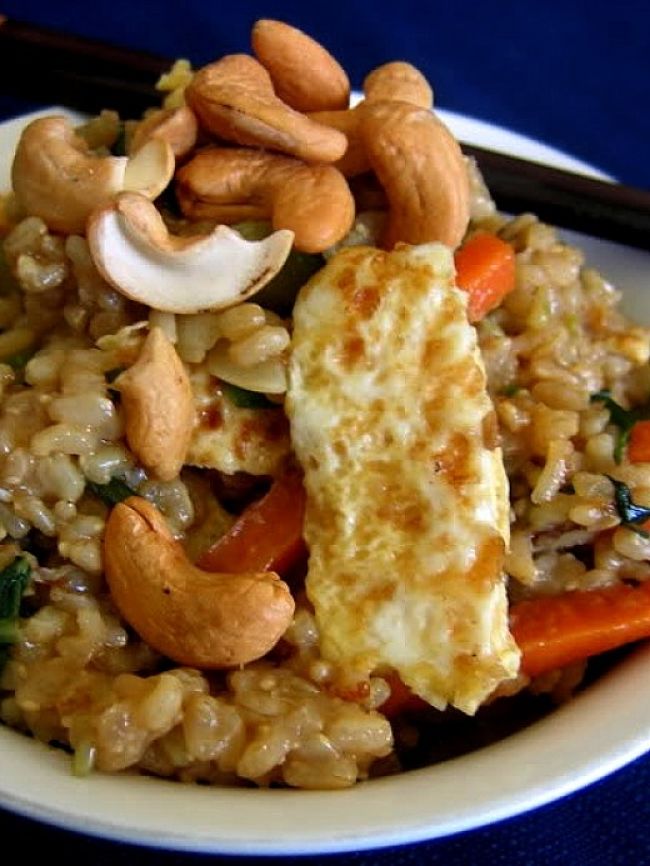 Secrets for Perfect Homemade Fried Rice
Secret #1 - The Rice - The preferred type is long-grained Jasmine Rice. Don't use freshly cooked rice - very important. It is hot, very moist, steamy and straight out of the rice cooker or pan can be quite sticky. This combination is just perfect for making soggy and oily fried rice. The best fried rice is made from cold day-old rice. Storing it uncovered in the refrigerator dries out the rice grains and makes them ready for frying. The preferred type is Jasmine Rice. You can use freshly made rice by following these instructions: If I want to make fried rice with freshly cooked rice you have to dry and chill the grains before frying. Make a batch of rice in a rice-cooker or a saucepan, but use 1/4 to 1/3 less water than normal - don't worrying if its slightly uncooked. You want to make a rice that is a little on the dry side and just cooked. Spread the cooked rice out on a baking sheet in a single layer, let it cool and stop steaming and then put the baking sheet in the refrigerator for about 30 minutes to completely cook it down and dry out the grains.

Secret #2 - Use a High Quality Asian Fish Sauce - Choose a brand that is tea-colored and not dark like soy sauce. You only need a little but it makes all the difference to the taste generating a salty and sweetish taste like no other. Add about 1/2 teaspoon right at the end of the cooking period with the soy sauce. Add a little extra for taste but don't overdo it and make the rice too salty and pungent. It should complement the taste of the soy sauce. Make sure you evenly distribute the sauce evenly throughout the dish.

Secret #3 - Chinese Sausage - The fat in the sauce imparts a unique flavor. Dice the sausage into small squares and put them into a warm wok on low heat for for a few minutes. This will allow the flavor of the fat to ooze out and impart a lovely smokey flavor to the oil when frying the ingredients to be added to the fried rice.

Secret #4 - Very High Heat - You need to get the wok very hot before you add the rice and make sure that the cold rice does not lower the temperature too much. Do the rice in batches if you need to, but the frying must be done on very high heat. The aim is to ensure every individual grain of rice is coated in hot oil so that any extra moisture is absorbed by the rice and evaporated off. The heat also blends all the flavors together and renders down and concentrates liquid seasonings such as soy sauce, fish sauce and wine that is added. Your fried rice should be very dry when its done, with the grains separated as much as possible.
Homemade Fried Rice Recipe
3 cups cooked cold rice (break up the chunks to separate the grains)
1/4 teaspoon sesame oil
1/2 cup fresh chopped green Chinese vegetables
2 teaspoons fish sauce
1/4 cup of peas (optional)
2 teaspoons soy sauce
2 Eggs, beaten with a whisk
1 teaspoon Chinese or other wine
Salt and Pepper to taste (optional)
2 green stalks onions finely chopped (or 1/2 brown onion chopped)
1/2 cup diced Chinese sausage
1 teaspoon grated or finely chopped fresh ginger

Other Ingredients:
1 cup crab, cooked chicken (separated into strands), smoked pork (sliced), shrimp, squid, fish, ham or many other ingredients. These ingredients should be stir-fried and added to the rice with the stir-fried vegetables.
Cooking The Homemade Fried Rice
Marinate the crab (drained), chicken, pork or shrimp with grated or finely chopped fresh ginger, cooking wine, sesame oil for about 15 minutes.

Heat the wok or frying pan to medium-low temperature. Add the chopped Chinese sausage to the wok and cook gently to get the sausage to releases its fat into the wok – this will generally take about 5 minutes. Remove sausage from the pan with a slotted spoon or ladle, retaining as of the oil as possible in the wok. Increase the heat to high-medium add a little oil. Add the beaten eggs to the wok and cook gently until the eggs are just cooked but still quite soft. Stir-fry the meat or seafood and larger vegetables, until just cooked. Remove leaving as much oil in wok as possible.

Top-up the oil in the pan so that there is about two teaspoons present. Increase the heat to high and when the oil is very hot and just starting to smoke, add green onions and stir fry for about 15 seconds. Add the rice (in batches if your heating source cannot maintain a high heat) – breaking up any chunks in the rice. Fry the rice until it heated through and all the grains have been coated in oil rice heat up in the wok. Add the vegetables, fish sauce, soy, pepper and salt. Next add the Chinese sausage, egg and meat or seafood mixture. Keep stir-fry until all ingredients are blended and steaming hot. Serve immediately.