Homemade Fruit Strips, Roll Ups, Fruit Leather Recipes, All made with Real Fruit
Fruit leathers, strips or roll ups are dehydrated fruit - based products in the form of flexible stripes or sheets that are appealing for children.
Being condensed products that are compact and require no refrigeration, they theoretically provide a practical way to encourage for children and adolescents to eat more fruit fruit.
However the proof is in the pudding, and despite deceptive claims on the packages, fruit leather, strips and roll-ups don't contain all the nutrients of whole fruit.
Many only contain fruit juices as flavors and most commercial varieties are burdened with added sugar and fats.
The good news is that you can make your own fruit strips, leather and roll ups at home with some simple recipes. Some vitamins and antioxidants will be inevitably lost in the drying process but most of the goodness of the original fruit will be preserved.
See how to make homemade fruit leather that consists of pure fruit - nothing else.
Also see a summary of the nutrient facts for homemade fruit leather compared with commercial varieties, and fresh and dried fruit.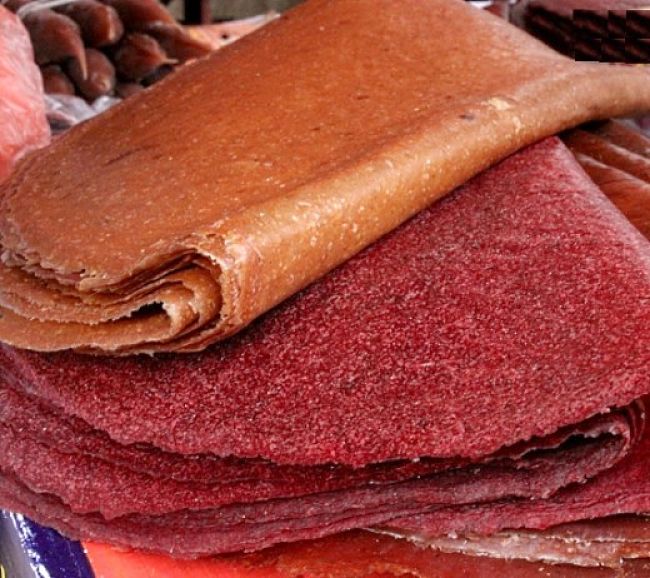 Nutrients in Commercial and Homemade Dehydrated Food Strips Compared with Fresh and Dried Fruit
The energy content of fruit leather and roll ups is very high
Energy density (Calorie Density):
1560 kJ/100 g; 374 Calories /100g
Energy (Calories) per serve:
240 kJ ; 57 Calories /100g
The image below shows the energy density (Calories per 100g) for a range of foods in comparison. Most fresh fruit is less than 0.5, whereas dried fruit and fruit leather has the energy density of many fast foods. Of course the portion sizes are much smaller (14g is a typical serve). It is important to eat dehydrated fruits in moderation.

In Australia a major food company was condemned by authorities for claiming their Roll-Ups were "made with 65% real fruit".
The label was amended to stated merely that the product was "made with real fruit".
However a check shows that the major ingredient is maltodextrin, a form of starch, derived from maize and the product contains 30% sugar.
The product also has added canola oil.
Energy Density Contrasts for Various Foods (Calories per gram)
Making Fruit Leather and Roll Ups at Home
If you have lots of fruits on hand, or fruit is cheap and plentiful, you can quickly and easily convert the fruit into fruit leather and roll ups. It will last indefinitely when properly dried, and it can be frozen for long term storage. You can do it in a commercial food dryer, but it can be done in a conventional oven. If your children won't eat fresh fruit this is a good way to provide bundles of energy and nutrients. The nutrient facts for fruit leather are summarized in the table below.

The key points concerning the nutrients are:
The Vitamin and antioxidants levels are equivalent to an a similar serving of fresh fruit. The vitamins should be much higher because most of the water has been removed and the dehydration should concentrate the nutrients. This occurs with the minerals, but nut with the vitamins and antioxidants that are destroyed during the drying process. Vitamin C levels are quite high, but Vitamin A and the B-group vitamins are much lower than they should be.
The fiber levels are lower than expected for a dehydrated and concentrated product. Typically fruit leathers contain about 7g of fiber per 100g, which is similar to that of dried fruit. Fresh fruit has much more fiber as the skins of the fruit are often removed before the fruit is dried into commercial fruit strips and roll ups.
They fat level of commercial fruit leathers (about 3-5%) is much higher that in fresh fruit or dried fruit as oils are added during the processing to make the products softer, more pliable and more palatable.
Fruits suitable for Making Homemade Fruit Leather and Roll Ups
Most fruits can be used. You can create shapes, bands and rainbows by using combinations of various fruits. Common fruits are:
Apples
Pears
Strawberries
Raspberries
Blueberries
Apricots
Peaches
Plums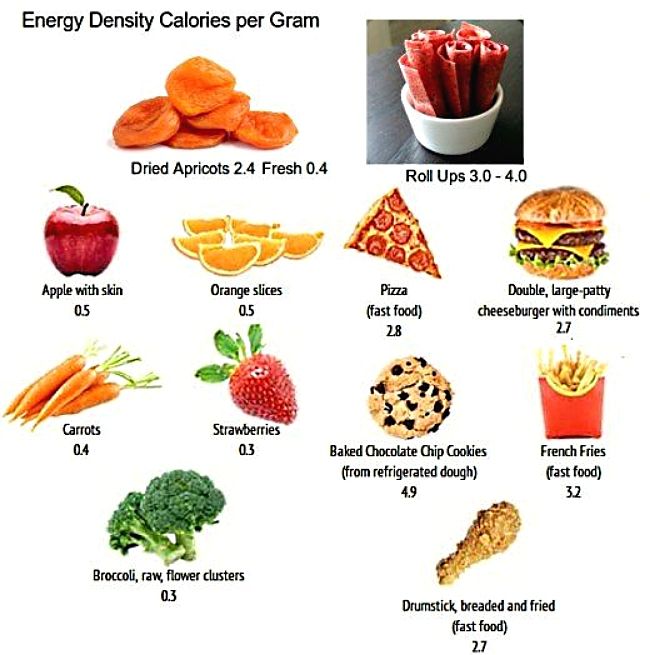 Recipe for Making Fruit Leather at Home
4 cups of fresh fruit
1/2 cup water
1 teaspoon freshly squeezed lemon juice
Sugar or sweetener (if you must)
Cinnamon or nutmeg or other spices (optional)
Fresh Herbs or Spinach finely chopped (optional)
Oven Drying Method for Making Fruit Leather Roll Ups
Wash the fruit and remove the pits, cores etc. Chop the fruit. Don't peel the fruit unless absolutely necessary. Put fruit into a large pan or saucepan with 1/2 cup of water for every 4 cups of chopped fruit. Bring to a boil and then simmer, using low heat for 10-20minutes. The fruit needs to be soft and cooked through and the time take will vary with the fruit. You can use mixed fruit or do separate batches to make patterns and stripes for the fruit strips. Puree the fruit until very smooth using a portable blender or chopper, in the pan or remove bland and add back to the saucepan. Simmer gently while stirring for 5-10 minutes to thicken the fruit puree.
To enhance the flavor, add spices such as cinnamon, nutmeg, or herbs or 1 teaspoon of lemon juice. Line a shallow greased baking sheet with a rim using sturdy plastic wrap (microwave safe) or several layers of parchment. Brush a little oil on the plastic wrap to stop the fruit puree from sticking. Pour out the mixture into the baking sheet and spread to an even thickness of 1/8 to 1/4 inch (4-6 mm).
Place the baking sheet in the oven set to a low temperature of 140 degrees F (60 degrees C) and dry the fruit mixture slowly for 8-12 hours. The fruit leather is done when it is not sticky, has a smooth surface and comes away in a sheet when pulled. Peel the leather from the plastic wrap, slice it into long strips. Place grease proof paper strips on top and roll into serving sizes. The paper helps to stop the leather turning into a rock. You can use icing sugar instead if you don't want to unwrap it. Store the fruit leather roll ups in an airtight container in the refrigerator or freezer.
Food Dehydrator Drying Method for Making Fruit Leather Roll Ups
Prepare the puree as in the recipe above. Line the food dehydrator trays with strong thick plastic wrap (microwave safe plastic wrap). Pour out the puree into the lined trays to about 1/8 to 1/4 inch (4-6 mm) thick. Make sure the air can circulate in the dehydrator. Set the temperature of the dehydrator to about 135 degrees F (55 degrees C) and run the machine for about 8-12 hours. Remove the trays, peel off the leather and cut and slice as above.
Nutrient Comparison of Fruit Leather with Other Fruit Products 100g
| Nutrient | Unit | Fruit Leather Rolls 100g | Raw Fresh Apricots 100g | Dried Apricots 100g | Apricot Nectar | Dried Apples 100g |
| --- | --- | --- | --- | --- | --- | --- |
| Energy | Cal | 371 | 48 | 241 | 56 | 243 |
| Protein | g | 0.1 | 1.4 | 3.39 | 0.37 | 0.93 |
| Total lipid (fat) | g | 3 | 0.39 | 0.51 | 0.09 | 0.32 |
| Carbohydrate | g | 85.8 | 11.12 | 62.64 | 14.39 | 65.89 |
| Fiber | g | 7 | 2 | 7.3 | 0.6 | 8.7 |
| Sugars, total | g | 49.16 | 9.24 | 53.44 | 13.79 | 57.19 |
| Minerals | | | | | | |
| Calcium | mg | 32 | 13 | 55 | 7 | 14 |
| Iron | mg | 1.01 | 0.39 | 2.66 | 0.38 | 1.4 |
| Magnesium | mg | 20 | 10 | 32 | 5 | 16 |
| Phosphorus | mg | 31 | 23 | 71 | 9 | 38 |
| Potassium | mg | 294 | 259 | 1162 | 114 | 450 |
| Sodium | mg | 317 | 1 | 10 | 3 | 87 |
| Zinc | mg | 0.19 | 0.2 | 0.39 | 0.09 | 0.2 |
| Vitamins | | | | | | |
| Vitamin C | mg | 120 | 10 | 1 | 0.6 | 3.9 |
| Thiamin | mg | 0.084 | 0.03 | 0.015 | 0.009 | 0 |
| Riboflavin | mg | 0.02 | 0.04 | 0.074 | 0.014 | 0.159 |
| Niacin | mg | 0.1 | 0.6 | 2.589 | 0.26 | 0.927 |
| Vitamin B-6 | mg | 0.3 | 0.054 | 0.143 | 0.022 | 0.125 |
| Folate | µg | 2 | 9 | 10 | 1 | 0 |
| Vitamin B-12 | µg | 0 | 0 | 0 | 0 | 0 |
| Vitamin A | IU | 57 | 1926 | 3604 | 1316 | 0 |
| Vitamin E | mg | 0.56 | 0.89 | 4.33 | 0.31 | 0.53 |
| Vitamin D | | 0 | 0 | 0 | 0 | 0 |
| Vitamin K | µg | 18.2 | 3.3 | 3.1 | 1.2 | 3 |
| Lipids | | | | | | |
| Fatty acids, total saturated | g | 0.672 | 0.027 | 0.017 | 0.006 | 0.052 |
| Fatty acids, total monounsat | g | 1.48 | 0.17 | 0.074 | 0.038 | 0.013 |
| Fatty acids, total polyunsat | g | 0.552 | 0.077 | 0.074 | 0.017 | 0.093 |