Homemade Genuine Kottu Roti Recipes with Chicken, Egg, Beef, Vegetables, Shrimp
Now you can make Kottu Roti, the famous Sri Lankan Street Food at home using these great recipes. The sliced flatbread soaks up the spicy flavors of the chicken, beef and vegetable curry for a delightful snack, lunch or main meal. It is a wonderful way to make use of left-over curry from the night before. The traditional Kottu roti is made with Godhambara roti, also called roti canai originating from Malaysia, or paratha flatbread from India. But, any thin flatbread will do, as it is merely used to soak up the liquid to make it easier to eat with a folk or spoon. There are many variations and you can invent your own. Try some of the recipes below. Some other options are: chicken, beef, pork, fish, egg, cheese and a variety of vegetable variations.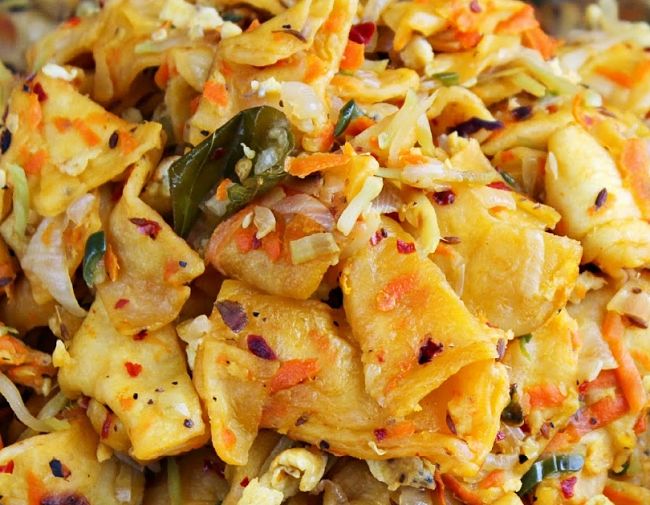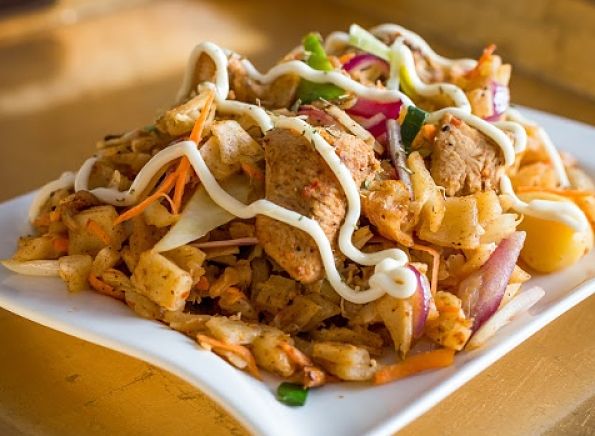 Traditional Sri Lankan Chicken Kottu Roti Recipe
Ingredients
3 free range eggs
1 cup sliced leeks
1 cup grated carrots
3 garlic cloves minced
1/2 medium brown onion
1/4 of a cabbage sliced
Salt and pepper to taste
1 large piece of ginger, minced
1 cup shredded cheese (optional)
1/2 teaspoon cayenne pepper (optional)
6 large jalapenos or other hot peppers, halved and sliced
2 tablespoons rice bran, grape seed or other vegetable oil
2 cups of shredded cooked chicken, or leftover chicken curry
1 lb (500 g) chopped godhamba Roti, flour tortillas or other flatbread
for the Curry Spices (if leftover curry is not used)
1/3 cup chicken stock
1/4 teaspoon black pepper
1/2 teaspoon cayenne pepper
1/2 teaspoon ground cinnamon
1 tablespoon Sri Lankan curry powder or similar
Method
Use a large wok or heavy frying pan, stir-fry the onion in the hot oil until just starting to soften. Add the chopped garlic and ginger, sautéing for a few seconds, without burning. Add all the vegetables, the curry spices, salt and pepper, and stir-fry for a few minutes. Add the chicken, cayenne pepper and the curry sauce and stir-fry the mixture until the vegetables are just starting to soften. Whisk the eggs together in a bowl. Add to the mixture, scrambling the eggs. Add cheese as an option. Turn down the heat. Then, quickly add the shredded roti, and mix thoroughly until the roti is completely coated with the mixture, soaking up the juices. Cook for about 5 minutes over low heat. Serve hot from the pan with extra leftover curry sauce. You can use cooked beef, pork, or extra vegetables for different versions.
Stir-Fried Mixed Vegetable Kottu Roti Recipe with Eggs
Ingredients
5 garlic cloves
8 curry leaves
1/2 teaspoon ground cumin
1 tablespoon tomato paste
1 tablespoon dark soy sauce
1 carrot, cut into julienne
Lemon or lemon wedges, to serve
2 small red onions, thinly sliced
3 free range eggs, lightly beaten
1 long green chilli, thinly sliced
1 cup) thinly shredded white cabbage
2 tablespoons rice bran or grape seed oil
Large piece peeled ginger, roughly chopped
Coriander sprigs, other fresh herbs to serve
1 tomato or small red capsicum, roughly chopped
3 roti canai or paratha, or other flatbread, finely chopped
1 tablespoon Sri Lankan curry powder (or see curry spice mixture in previous recipe)
Method
Combine tomato, green chilli, curry leaves, half the sliced onion, ginger and garlic in a food processor and process to form a paste. Next, heat the oil in a large wok or heavy frying pan over high heat. Add the blended spice paste and sauté, stirring frequently, for 5 minutes or until slightly coloured. Add the curry powder, curry spice mixture (see above), tomato paste, cumin and soy sauce, and mix through. Add the cabbage, carrot and remaining sliced onion, and saute for 1-2 minutes, until vegetables are just starting to soften. Add the roti and cook for 2 minutes or until well combined and heated through. Push the mixture to the side of the wok, add beaten egg and stir for 1 minute or until just set. Stir to combine the egg with the rest of the mixture. Serve hot with lemon wedges, extra chilli, coriander or other fresh herbs.
Classic Mixed Vegetable Sri Lankan Kottu Roti Street Food Recipe
Ingredients
1 teaspoon ground cumin
1 teaspoon chili powder
Salt and pepper to taste
1 tablespoon fennel seeds
1 tablespoon tomato paste
1 tablespoon dark soy sauce
1 medium sized tomato, sliced
1 tablespoon coriander powder
4 garlic cloves, whole and chopped
Lemon or Lime wedges, for garnishing
2 medium sized jalapenos, thinly sliced
1 large piece of ginger, whole, chopped
1 tablespoon grape seed or race bran oil
1 medium sized carrot, peeled and julienned
2 medium onions, half sliced, rest quartered
2 bell peppers (one green and one red), sliced
Coriander and other fresh herb leaves, for garnishing
1 teaspoon Sri Lankan curry powder (or similar alternative)
2 whole roti, or other flatbreads cut into very thin strips and sliced
Method
Make the curry paste by pulsing the garlic, ginger, tomato, half an onion, and 2 jalapenos in a blender or food processor to form a paste. Heat the oil in a wok or heavy pan over high heat and toast the fennel seeds. Then, add the paste from the blender bowl and cook while stirring for 1 minute. Then, add the tomato paste and dark soy sauce and cook for 30 seconds. Next, add the chili powder, ground cumin, coriander powder, curry powder into the mixture and combine well. Lower the heat to moderate high heat and cook together for another 2 minutes. Finally add the shredded roti in, and mix thoroughly into the paste. Continue to cook for an additional 2 additional minutes, and serve hot with extra chilli sauce and fresh herbs.
Easy Homemade Lamb Kuttu Roti Recipe
Ingredients
4 curry leaves
1 black cardamom pod
1 teaspoon cumin seeds
2 garlic clove, sliced
1 teaspoon coriander seeds
1 teaspoon fenugreek seeds
1/4 white cabbage, shredded
1 green chilli, finely sliced
lime or lemon wedges, to serve
3 spring onions, finely sliced
small bunch coriander, to serve
2 free range eggs, lightly whisked
1 large piece ginger, finely grated
1 tablespoons rice bran or grape seed oil
1 carrot, peeled and sliced into thin strips
250 g (1/2 pound) roast lamb or left-over lamb curry
2 rotis (or similar flatbreads) torn into small pieces
For the curry sauce
1 cup coconut milk
1 tablespoon soy sauce
1 tablespoons tomato purée
1 teaspoon good quality Sri Lankan curry powder or similar
Method
Heat a frying pan over a moderate to high heat. Toast the spices and curry leaves for several minutes until aromatic. Grind the spices and a pinch of salt using a pestle and mortar. Add in the ginger and garlic, and crush to form a paste. Combine the ingredients to make the curry sauce. Heat a wok or heavy frying pan over a high heat and add half the oil. Fry the rotis briefly until starting to brown around the edges, then remove onto a plate. Next add the rest of the oil, followed by the spice paste, and mix to combine well. Add the carrot, cabbage, chilli and lamb, and stir-fry for 5 minutes, then spring onions. Stir-fry for 2 minutes more, cooking the egg in a well made in the mixture. Return the rotis to the pan and mix to combine well. Serve hot, garnished with coriander leaves and lime wedges.
Simple Vegan Kottu Roti Recipe with Mushrooms
Ingredients
Salt and pepper to taste
1 teaspoons chili powder
1 cup of shredded cabbage
2 tablespoons tomato puree
2 teaspoons dark soy sauce
1 cup finely sliced mushrooms
Coriander or other fresh herbs
1/2 cup finely sliced red onion
1 tablespoon Sri Lankan curry powder
Bunch of scallions cut into short pieces
4 tablespoons grape seed or rice bran oil
1 carrot julienned i.e. cut into thin long strips
3 Roti's, Paratha's or other flatbreads shredded into thin strips
For the Paste
1 large tomato
3 curry leaves
4 garlic cloves
2-3 green chilies
2 medium size onions
Method
Coarsely grind the paste ingredients using food processor, blender or chopper. Finely shred the flat breads, such as parathas, or similar. Heat oil in a large pan or wok. Add the coarsely ground mixture and stir-fry until the mixture aromatic and golden brown. Next add the chili powder, curry powder, tomato puree and soy sauce and combine mix well form a thick sauce. Add salt and pepper to taste. Add the shredded parathas or other flatbreads and mix well until the pieces are well coated with spices. Reduce the the heat and add carrot and scallions and mix well. Cook slowly for a few minutes and then serve hot with fresh herbs and extra fresh chilies.
Easy Sri Lankan Shrimp Kottu Roti Recipe
Ingredients
2 green chillies
1 teaspoon cumin
2 teaspoons paprika
1 teaspoon turmeric
2 teaspoons coriander
2 celery stalks, chopped
Salt and pepper to taste
1 red onion, fine chopped
1/2 cabbage head, finely chopped
1 tablespoon fresh ginger grated
4 cloves of garlic, finely chopped
Parsley or fresh herbs for garnish
3 carrots, chopped finely lengthwise
8 roti or similar flatbreads
4 tablespoons grape seed or rice bran oil
1 lb (500 g) of fresh shrimp or frozen shrimp, thawed
Method
Heat 2 tablespoons of oil in a wok or frying pan over moderate heat. When the oil is hot, add the shrimp, 1 teaspoon coriander, 1 teaspoon paprika, 1/2 teaspoons cumin and 1/2 teaspoons turmeric and sauté the mixture for 4-5 minutes. Remove the shrimp and set aside. Add the remaining oil to the same pan and sauté onion for about 5-6 minutes, stirring frequently.Add in the garlic and ginger and fry for about 2 minutes. Next, add the carrots, celery, and cabbage and sprinkle with the remaining coriander, paprika, cumin and turmeric. Reduce the heat to low heat on slow cook the vegetables until just tender. Shred the roti with a sharp knife. When the vegetables are cooked add the shrimp, the cut shredded roti and chopped green chillies. Season with salt and pepper and mix well to fully coat the roti pieces with the sauce. Serve hot, garnished with extra chillies, parsley and your choice of fresh herbs and sauces!