Homemade Granola Bars Recipes
Homemade granola bars (otherwise known as muesli, cereal, or breakfast bars) taste much better than the supermarket variety and are much healthier, as you know exactly what YOU put into them. You can simply make a basic recipe and add the ingredients you want, and omit the fat, corn sugar, processed foods, artificial color and flavors and other junk that is found in many bars your buy ready-made. You can add any combination of sunflower seeds, raisins, sultanas, dried mango, dried apple, died banana, a variety of dried fruits, chocolate pieces, chopped nuts or various sorts, cherries, wheat germ. You name, it you can add it.
Granola bars keep well in an airtight container and are just perfect for snacks, parties and for school lunches. They make an ideal breakfast-on-the-go and a great for taking on bush walks and hikes, or for a snack when playing sport. You can easily adjust the recipes shown below to deal with allergies by using gluten free flour, eliminating all nuts (particularly any traces of peanuts in any of the ingredients if this is a concern). You can replace the sugar with honey or molasses or make sugar-free granola bars that the whole family will love. Many people also blend fresh herbs and spices into their bars for extra taste and nutritional benefits (for example Echinacea, Basil, Sage Ginkgo Biloba). You can also add sunflower seeds, other seeds, wheat germ and various sources of protein.
This article provides a guide for making healthy granola bars at home and includes several recipes shown below. It begins with a review showing that most commercial granolas bars are unhealthy and are essentially candy bars wrapped in a 'health food' wrapper.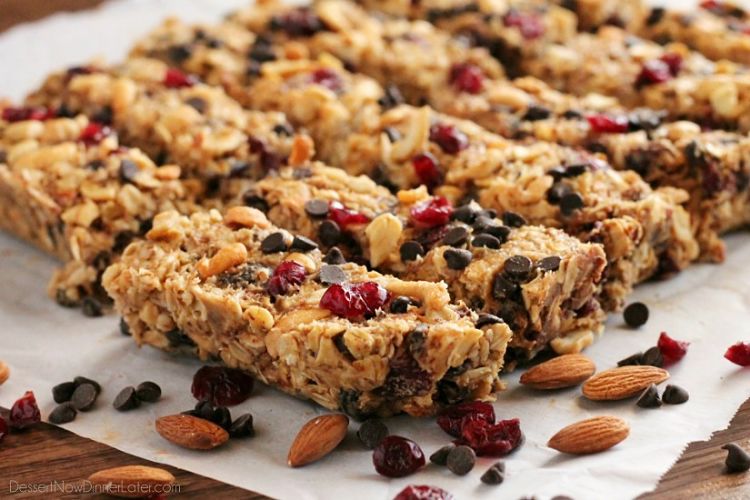 Traditionally, granola bars were made by combining granola muesli (mostly consisting of rolled oats) with dried fruit, nuts, seeds and spices, plus flour and a little oil. The mixture was formed into bars and baked to form chewy or hard bars.
But in the last 10-20 years, the basic granola muesli has been corrupted by processed foods, sugar, fat and many unnatural ingredients. As a consequence the granola bar has evolved into a sugar and fat packed snack that may contain marshmallows, pieces or chips of chocolate, caramels and other candy items, fat and artificial flavours.
Most of the ingredients are artificial and highly processed (even the 'fruit' is not natural). May contain very little fibre and what you get in the end with is a snack that is stuffed with sugar and of fat, with low fibre, high calorie density and little nutritional value.

What's Wrong with Commercial Granola Bars

Most granola bars, cereal bars, muesli bars and breakfast bars now contain sweets and candy like ingredients and they are often dipped in a sugary syrup, chocolate, or sugar laden yogurt topping.
A close scrutiny of the nutrition labels may shock you can many contain more than 20% sugar and lots of fat. Many granola bars are virtually high calorie candy bars, which is illustrated by the comparison below.

One 46-gram pack of Nature Valley - peanut butter bars contains 229 calories 149 mg of sodium, 10 grams of fat and about 10 grams of sugar.

In comparison a 45-gram 'Kit Kat' chocolate bar, of the same size, contains 229 calories, 34 mg of sodium, 11 grams of fat and about 21 grams of sugar.

The table shown below compares the nutrients for a range of Best Muesli bars and Worst Museli bars in a survey conducted by Choice Magazine in Australia.
Also shown for comparison are the nutrients in an apple and a Mars bar. In the table 'OK' is used to signify that the bar met the criteria. For example the criteria for fibre was that the bar contained at least 1.8 g of dietary fibre per bar.

The Good bars were very good with all the nutrient criteria being met with low calorie densities, low fat, low sugar and high fibre, and were similar to an apple

The Bad bars were very bad with almost none of the nutrient criteria being met and high calorie contents per bar, resembling that of a Mars bar.

But the good news is that you can avoid all this by making them at home from wholesome whole food ingredients.

What Makes Homemade Granola Bars Special
Your can return to the original recipe basically combining real granola containing nutritious rolled oats and other whole grains and seeds, fruit, nuts and spices for a genuinely healthy delicious and wholesome snack.
You can include whatever ingredients you like
You can make them chewy or hard and any size of shape you want
They are much cheaper when you make them at home
They are very versatile and can be used for a variety of purposes as snacks, party foods, deserts, trail food and lids lunches
They keep and store well
They are very easy to make
The Best and Worst Commercial Granola Bars
| Cereal bars | Energy per bar (kJ) | Calories per 100g | Energy | Whole grains | Saturated fat | Sugars | Dietary fibre | Bar size (g) |
| --- | --- | --- | --- | --- | --- | --- | --- | --- |
| | | | <600 kj per bar | Major component | < 1.5 g per bar | <10 g per bar | >1.8 g per bar | |
| BEST | | | | | | | | |
| Apple red (for comparison) | 320 | 55 | OK | | OK | OK | OK | 140 |
| NESTLE Ski DeLite Apple & Pear | 363 | 363 | OK | OK | OK | OK | OK | 24 |
| FIT & ACTIVE Grains Delight | 452 | 329 | OK | OK | OK | OK | OK | 33 |
| NICE & NATURAL Apricot Muesli Bars | 540 | 370 | OK | OK | OK | OK | OK | 35 |
| UNCLE TOBYS Chewy Muesli Bars (Apricot) | 540 | 418 | OK | OK | OK | OK | OK | 31 |
| NICE & NATURAL Choc Chip Muesli Bars | 570 | 391 | OK | OK | OK | OK | OK | 35 |
| A O Apricot & Almond Bars | 600 | 411 | OK | OK | OK | OK | OK | 35 |
| WORST | | | | | | | | |
| Mars Bar (for comparison) | 697 | 418 | | | | | | 40 |
| CADBURY BrunchBar Cranberry & Orange | 650 | 446 | | OK | | | | 35 |
| NICE & NATURAL Yoghurt Natural Nut Bars | 703 | 482 | | | | | | 35 |
| KELLOGG'S K-time Muffin Bars Apple | 719 | 383 | | | OK | | | 45 |
| BE NATURAL Almond and Apricot Bars | 790 | 474 | | | | | OK | 40 |
| SUNIBRITE Apricot & Muesli Slices | 849 | 453 | | | | | OK | 45 |
RECIPES
Simple Basic Recipe

4 1/2 cups rolled oats
1 teaspoon vanilla extract
1 cup wholemeal flour
1 teaspoon baking soda
1/2 cup honey
2/3 cup butter, softened; or margarine
1/3 cup packed brown sugar (optional)
chopped dried fruit and nuts (optional)
Preheat oven to about 320 degrees F (160 degrees C). Lightly grease or spray one 9x13 inch pan with oil.
In a large mixing bowl combine the oats, baking soda, vanilla, flour, margarine or butter, honey and brown sugar. Add the raisins, sultanas, seeds, nuts etc.
Transfer the mixture to the prepared pan and press down. Bake at 320 degrees F (160 degrees C) for about 20 to 25 minutes or until golden brown.
Allow to cool down properly for about 40 minutes then slice into bars.
Let completely cool in the pan before removing and serving (otherwise they make break and crumble).
Rich Granola Bars

2 cups raw rolled oats
1/2 cup raw sunflower seeds
1 cup sliced or slithered almonds
1/2 cup of wheat germ
1/2 cu of honey
1/4 cup dark brown sugar
1/2 teaspoon salt
1 tablespoon unsalted butter
2 teaspoons vanilla extract
1/2 cup chopped dried fruit, fresh fruit (combination of apricots, dried mango, cherries or blueberries, raisins, sultanas)
Grease a 9 by 9-inch (20cm x 20cm) baking dish and set aside. Preheat the oven to 350 degrees F (170 degrees C).
Spread the sunflower seeds, almonds, oats and wheat germ onto a half-sheet baking pan. Transfer to the oven and toast for 15 minutes, stirring several time.
Combine the honey, butter, brown sugar, vanilla extract and salt in a medium saucepan and warm over medium heat. Continue cooking until the brown sugar has completely dissolved.
Remove the toasted oat mixture from the oven and to the liquid in the saucepan, add the dried fruit, and mix thoroughly.
Pour the mixture into the prepared baking dish and press down, and bake in the oven for 25 minutes at 300 degree F (150 degrees C).
Remove the pan from the oven and let cool down thoroughly for about an hour
Cut into squares and store in an airtight container for up to a week.
Fruity Granola Bars

2 cups raw oatmeal
3 tablespoons unsalted butter
1 cup shredded or desiccated coconut
1 cup sliced or slithered almonds
2/3 cup good quality honey
1/2 cup chopped pitted dates
1/2 cup toasted wheat germ
1/4 cup light or dark brown sugar
1/4 teaspoon sea salt
1 1/2 teaspoons vanilla extract
1/2 cup dried cranberries
1/2 cup chopped dried apricots
Preheat the oven to 350 degrees F (170 degrees C). Grease an 12 by 8-inch (20cm x 25 cm) baking dish and line it with baking paper.
Toast the almonds, oatmeal and coconut on a sheet pan for about 15 minutes, until browned.
Pour the mixture into a large mixing bowl and add the wheat germ.
Turn down the oven temperature to 300 degrees F (50 degrees C).
Place the honey, brown sugar, butter, vanilla and salt in a saucepan, bring to boil cook for about 1 minute and then pour onto the oatmeal mixture. Mix in the apricots, cranberries and dates and stir well. Transfer the mixture to the prepared pan and press down.
Bake for about 30 minutes, until light golden brown, cool for about 1-2 hours before slicing.