Homemade Hazelnut Spread Recipe Collection with Four Healthy Options
Commercial chocolate hazelnut spread has a bad reputation and a checkered history for high sugar content, high calories and being basically unhealthy.
The good news is that hazelnuts are very healthy nuts and you can make vegan spreads and other homemade versions that are relatively low cal and have little or no sugar.
You can control and adjust the ingredients to what you want using low sugar chocolate, sugar substitutes and artificial sweeteners. These spreads still taste delicious and are suitable for kids and adults.
There are four fabulous recipes to try. These spread make great food gifts for Christmas and other occasions.
A full chart comparing the nutrients in hazelnuts with other nuts (almonds, Brazil nuts, macadamia nuts, pecans and walnuts) is included.
Heath Benefits of Hazelnuts Compared with Similar Nuts
The chart below summarizes the health benefits of 100g of raw hazelnuts compared with other similar nuts

► Hazelnuts are very high in calories because of their high fat content. Most of the fats are the 'good' types such as the mono-unsaturated oleic fatty acid. However the calories are still high, with 628 calories in 100 g., which is comparable to similar nuts. This is offset by the small servings generally eaten and the bonus offered by the nuts being rich in dietary fiber, minerals, many essential vitamins, and phyto-chemicals which have anti-oxidant properties.

► Hazels have higher levels of folate than other nuts with 113 mcg in 100 g of fresh nuts contain 113 µg; that is about 28% recommended daily intake of this vitamin.

► Hazelnuts are an excellent source of many other vitamins, especially E, K and C.

► Hazelnuts are a good source of B-complex vitamins such as thiamin, pantothenic acid, riboflavin, niacin and pyridoxine (vitamin B-6).

► Hazelnuts are free of gluten and cholesterol and are a rich source of minerals like manganese, iron, magnesium, zinc, potassium, calcium, copper and selenium.
Vegan Style Chocolate Hazelnut Spread Recipe
Ingredients (multiply the quantities for larger quantities)
1/2 teaspoon vanilla essence
2 tablespoons pure maple syrup
3 tablespoons cocoa or cacao powder
150 g (6 oz) finest quality raw hazelnuts
6 tablespoons Soy Milky Lite (almond milk or similar, non dairy milk)
Method
Preheat oven to 180 degrees C (355 degrees F). Line a greased or sprayed baking tray with baking paper.
Spread the hazelnuts to form a single layer on the baking tray. Add to the hot oven and bake for about 5-8 minutes until the skins have started to become darker and you can start to smell the aroma of the roasted hazelnuts. Remove most of the skins by rubbing the hazelnuts in your hands or wrapped in a towel. You don't have to remove all the skins, just most of them.
Grind the hazelnuts to a paste, with the consistency of peanut butter using a food processor or blender on high spreed for 1-2 minutes. Transfer all the other ingredients to the processor or blender bowl and process for another 20-30 seconds to thoroughly combine. The spread can be preserved in sterile jars, sealed with sterile lids. Best stored in the refrigerator.
Healthy Homemade Chocolate Hazelnut Spread using Honey
Ingredients
1 1/2 cup hazelnuts, toasted and skinned
1/3 cup organic, raw cacao powder or cocoa powder
1/4 - 1/2 cup honey or 2/3 cup pureed dried dates (natural sugars)
2 tablespoons hazelnut oil, coconut oil, or grape seed oil (neutral taste)
Pinch of sea salt
Method
Toast and skin the hazelnuts and then process to a smooth paste in a food processor. Add the honey, cacao or cocoa powder and sea salt. Process briefly to combine well. Add the oil. Adjust the taste to your liking by adding more salt, honey or oil. This spread is not as sweet as commercial spreads. Transfer to jars and keep in the refrigerator. Of it hardens, it can be softened by heating in a microwave oven. A small jar can be left at room temperature for 1-2 days.
Healthy Hazelnut Spread with Artificial Sweeteners
Ingredients
2 cups raw hazelnuts ( anout240g)
1 1/2 tablespoons of good quuality vanilla extract
1/4 cup cocoa powder
1/4 cup xylitol, or agave, or honey, or maple syrup,
1 packet stevia
1/4 teaspoon salt
2 teaspoons grape seed or rice bran oil (optional for extra smoothness)
1/2 cup almond milk or other milk
Method
Roast hazelnuts for 8-10 minutes at 400 degrees F (200 degrees C), and rub to remove most of the skins. Blend the nuts to a smooth paste in a food processor or blender. Then add all the remaining ingredients and process until smooth.
Rich Chocolate Hazelnut Spread (use sparingly)
This version has lots of calories, but is it very nice on toast as a thin layer
Ingredients
2 teaspoons vanilla extract
250 g (8 oz) unsalted butter
400 ml (2 cups) condensed milk
100 g (3.5 oz) ground hazelnuts
2 tablespoons hazelnut oil (or grape seed oil)
150 g (4 oz) unsweetened dark chocolate, roughly chopped
Method
Preheat the oven to 180 degrees C (355 degrees F). Place the ground hazelnuts on a baking sheet and spread out to form a thin layer. Roast for 3–4 minutes, stirring once until the powder has a rich golden brown color. Remove from the oven and set aside to cool.

Melt the chocolate and one third of the butter in a small heatproof bowl placed over a saucepan of simmering water (or use the microwave). Add the condensed milk and warm this as well. Add the roasted hazelnut powder and the rest of the ingredients to the bowl and mix well until the spread is smooth and glossy.

Pour the warm spread into sterilized pots or jars, then set aside loosely covered to cool completely before sealing with sterilized lids.
Simply Low Calorie Hazelnut Spread Recipe
Ingredients
1 tablespoons honey
2 tablespoons coconut oil
1 teaspoon vanilla extract
1 cup whole hazelnuts or filberts
2 tablespoons cocoa powder, unsweetened
Method
Pour the hazelnuts onto a foil lined cookie sheet and roast at 400 degrees F (200 degrees C) for 7-15 minutes. Then, cool the hazelnuts and rub between with your hands to remove the skins. Grind the nuts in a food processor or blender on high speed, to a smooth paste. Add the remaining ingredients and mix until smooth and well combined.
Unsweetened Chocolate Hazelnut Spread Recipe
Ingredients
1/2 cup honey
1/2 teaspoon of salt
1/4 cup unsweetened cocoa powder
2 cups raw hazelnuts (about 2 cups)
2 tablespoons rice bran or grape seed oil
Method
Preheat your oven to 400 degrees F (200 degrees C). Place nuts on a lined baking sheet and toast for 8-12 minutes, and set aside to cool for 5 minutes. Transfer nuts to a clean towel and rub and roll to remove some of the skins. Pulse the nuts in a food processor for 4-5 minutes, until you get a smooth nut butter paste. Add the honey, cocoa, and salt and pulse again to combine well. Then, slowly add the oil in a stream while running the processor.
Nutrients in Hazelnuts compared with similar popular nuts
| Nutrients in 100g serving | hazelnuts, filberts | almonds | brazil nuts | macadamia | pecans | walnuts |
| --- | --- | --- | --- | --- | --- | --- |
| Calories (kcal) | 628 | 589 | 656 | 720 | 691 | 653 |
| Protein (g) | 14.96 | 21.41 | 14.32 | 7.9 | 9.17 | 15.24 |
| Total Fat (g) | 60.74 | 52.52 | 66.42 | 75.77 | 71.96 | 65.22 |
| Total Carbs (g) | 16.68 | 18.66 | 12.28 | 13.83 | 13.86 | 13.72 |
| Dietary Fiber (g) | 9.52 | 9.88 | 7.41 | 8.47 | 9.52 | 6.7 |
| Sugar (g) | 4.34 | 4.62 | 2.33 | 4.59 | 3.99 | 2.61 |
| Vitamins | **** | **** | **** | **** | **** | **** |
| Vitamin C (mg) | 6.35 | 0 | 0.71 | 1.06 | 1.06 | 1.41 |
| Thiamin (mg) | 0.64 | 0.19 | 0.62 | 1.2 | 0.66 | 0.34 |
| Riboflavin (mg) | 0.11 | 0.71 | 0.04 | 0.16 | 0.13 | 0.15 |
| Niacin (mg) | 1.8 | 3.5 | 0.3 | 2.47 | 1.17 | 1.13 |
| Pantothenic Acid (mg) | 0.92 | 0.31 | 0.18 | 0.76 | 0.86 | 0.57 |
| Vitamin B6 (mg) | 0.56 | 0.12 | 0.1 | 0.28 | 0.21 | 0.54 |
| Folate (mcg) | 112.87 | 49.38 | 21.16 | 10.58 | 21.16 | 98.77 |
| Vitamin B12 (mcg) | 0 | 0 | 0 | 0 | 0 | 0 |
| Vitamin A (IU) | 21.16 | 7.05 | 0 | 0 | 56.44 | 21.16 |
| Vitamin E (mg) | 15.03 | 23.74 | 5.71 | 0.53 | 1.41 | 0.71 |
| Vitamin K (mcg) | 14.11 | 0 | 0 | | 3.53 | 2.82 |
| Minerals | **** | **** | **** | **** | **** | **** |
| Calcium (mg) | 112.87 | 236.33 | 158.73 | 84.66 | 70.55 | 98.77 |
| Iron (mg) | 4.69 | 3.28 | 2.43 | 3.7 | 2.54 | 2.89 |
| Magnesium (mg) | 162.26 | 268.08 | 377.43 | 130.51 | 119.93 | 158.73 |
| Phosphorus (mg) | 289.24 | 479.72 | 726.63 | 186.95 | 278.66 | 345.68 |
| Potassium (mg) | 680.78 | 659.61 | 659.61 | 366.84 | 409.17 | 440.92 |
| Sodium (mg) | 0 | 17.64 | 3.53 | 3.53 | 0 | 3.53 |
| Zinc (mg) | 2.43 | 2.96 | 4.06 | 1.31 | 4.51 | 3.1 |
| Copper (mg) | 1.72 | 1.03 | 1.74 | 0.75 | 1.2 | 1.59 |
| Manganese (mg) | 6.18 | 1.83 | 1.22 | 4.13 | 4.5 | 3.41 |
| Selenium (mcg) | 2.47 | 3.17 | 1917.11 | 3.53 | 3.88 | 4.94 |
| Fatty Acids | **** | **** | **** | **** | **** | **** |
| Saturated Fat (g) | 4.47 | 3.95 | 15.14 | 12.06 | 6.18 | 6.13 |
| Monounsat. Fat (g) | 45.65 | 33.41 | 24.55 | 58.88 | 40.8 | 8.93 |
| Polyunsat. Fat (g) | 7.92 | 12.37 | 20.58 | 1.5 | 21.62 | 47.17 |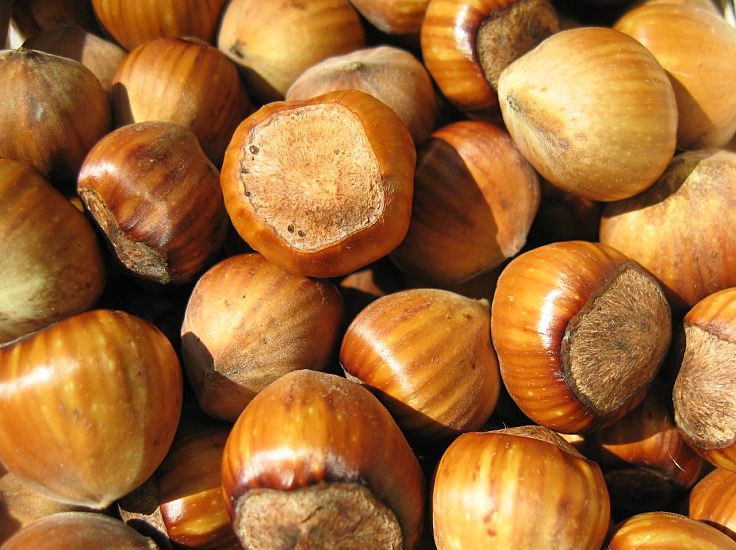 Source:
Nova: Public Domain, via Wikimedia Commons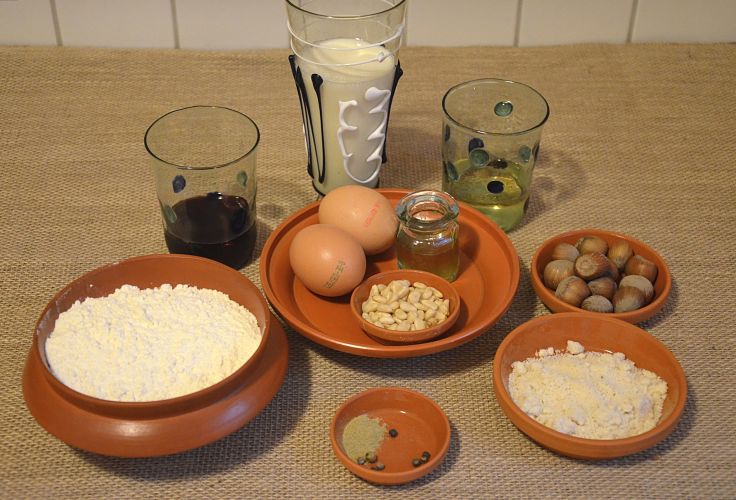 Source:
By Carole Raddato from FRANKFURT, Germany [CC BY-SA 2.0], via Wikimedia Commons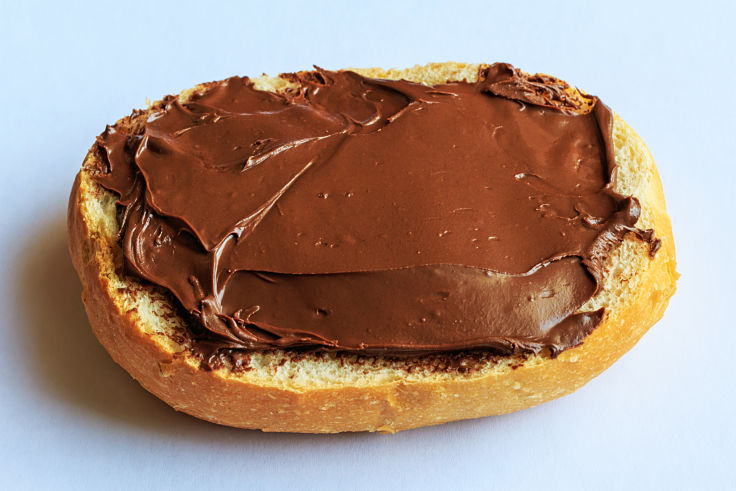 Source:
By A.Savin [Public Domain], via Wikimedia Commons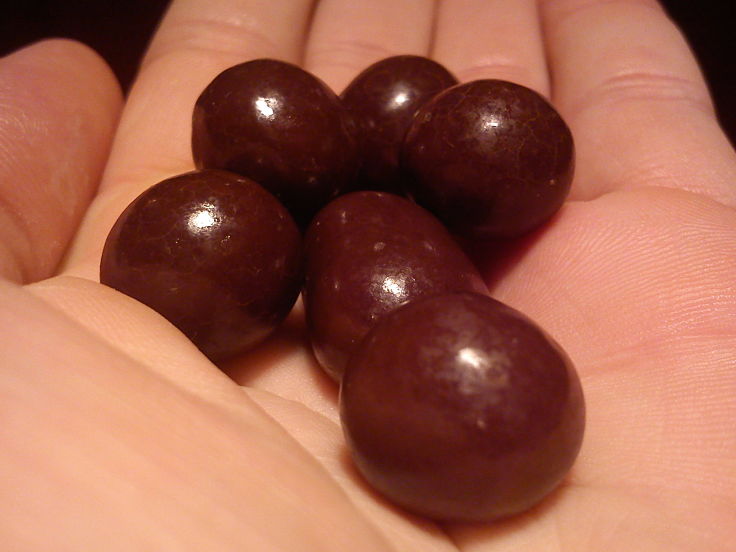 Source:
By MOs810 (Own work) [CC-BY-SA-3.0], via Wikimedia Commons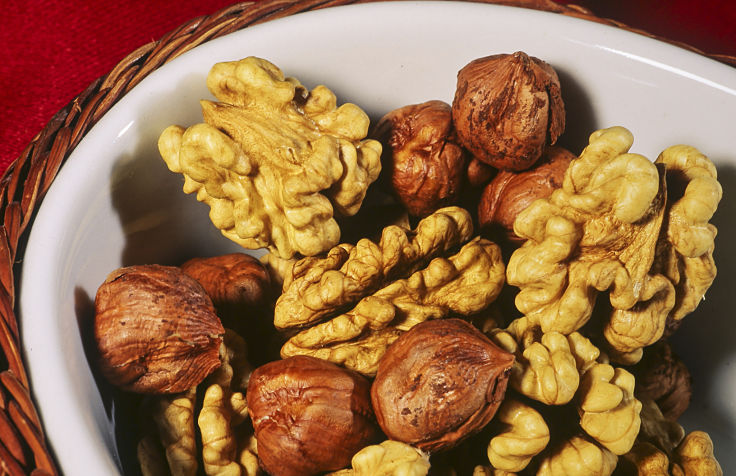 Source:
By INRA DIST from France [CC BY 2.0], via Wikimedia Commons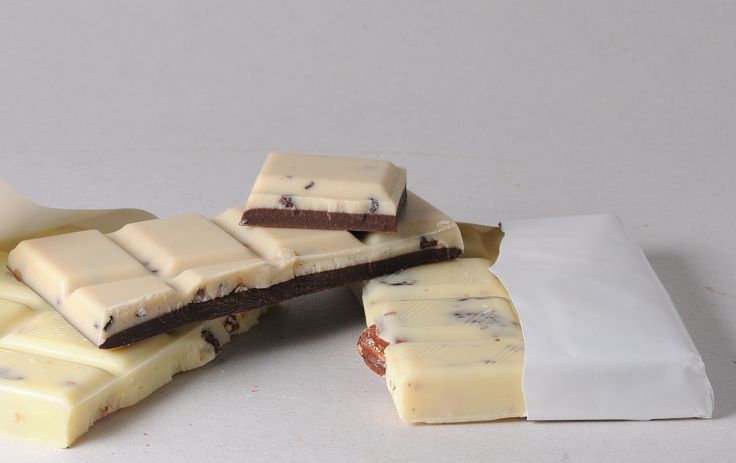 Source:
By Simon A. Eugster (Own work) [CC BY-SA 3.0], via Wikimedia Commons