Homemade Hummus Recipes - Easy, Healthy Options with Nutrition Facts
Hummus is a popular food dip, spread and side-dish or Arabic and Middle Eastern origin made from cooked and mashed chickpeas. Various other ingredients are added to give flavour and richness including olive oil, lemon juice, chopped peppers, paprika, spices, tahini (or tahina) (ground, hulled sesame seeds, salt and garlic).
Today, hummus is popular throughout the Middle East, North Africa, Morocco, Turkey, and throughout the world in Middle Eastern cuisine restaurants. Chickpeas, also known as garbanzo beans, are healthy, high-protein legumes.
Hummus has a healthy array of nutrients and has many versatile uses as a dip or side dish, as a spread on Turkish pide and Lebanese breads, sandwiches and wraps, as dressing to your pasta and salad, as a healthy dip for raw vegetables and in many other ways. There are a huge range of variations and varieties.
Hummus can be easily made at home in the style and variety that you prefer.
See how to make homemade hummus using some of the best recipes available.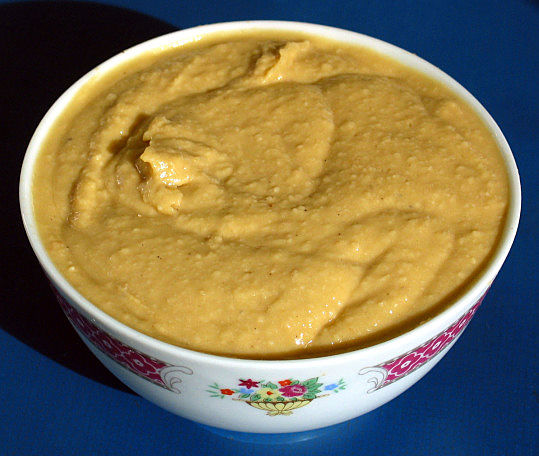 Health Benefits of Hummus and Ingredients
The nutrition data for homemade hummus is listed at the end of the article. Hummus contains cholesterol, very little saturated fats and is high in protein (4 g per 100g serve). Hummus is rich in Omega 3 fatty acids and a large variety of amino acids, which makes it a favorite for vegans. Hummus has relatively high calories (171 Calories per 100g), more than twice the level in cottage cheese dips, but this is similar to than that for a yogurt dip (140-160 Calories per 100g). Fiber is also relatively high at 4g per 100g serve.
Folate and Vitamin E, Vitamin K and B-group vitamins are relatively high. Hummus is relatively rich in mineral including Calcium, iron, Magnesium, Zinc and Copper.
Ingredients
Tahini, made from sesame seeds has high fat and calories, but only a small amount is used in hummus. Most of the fat is unsaturated and it has relatively high protein levels.
Olive Oil is one of the healthiest oils and features in the popular Mediterranean Diet. It has low levels of saturated fat and high monounsaturated fat, which is healthier.
Garlic and Lemon juice are rich in vitamins and antioxidants and help maintain immune system.
Homemade Tahini
1/4-1/2 cup vegetable oil
4 cups sesame seeds
Preheat the oven to 350 degrees F (175 degrees C). Place the sesame seeds out over a shallow baking tray and bake, stirring frequently, until fragrant, but not brown (about 8 - 10 minutes). Set aside to cool. Place the toasted sesame seeds in a blender or food processor with the vegetable oil and blend into a smooth paste (about 5 minutes).
Simple Hummus Recipe (Using Canned chickpeas)
2 tablespoons olive oil
1/2 teaspoon salt
2 cloves garlic, finely chopped or crushed
1 1/2 tablespoons homemade tahini
5 tablespoons lemon juice
1/4 cup liquid from can of chickpeas (or water)
16 oz (450 g) can of chickpeas or garbanzo beans
Drain chickpeas and keep the liquid. Combine all the other ingredients in a food processor or blender or 1/4 cup of water or liquid from chickpeas (not all of the liquid). Blend for about 3-5 minutes using a low setting until smooth and thoroughly mixed. Garnish with coriander or parsley (optional).
Options: Add some red chili. Replace the tahini with 1/2 teaspoon of cumin. Add fresh ginger or paprika. Add a pinch of cayenne pepper.
Spicy Homemade Hummus
3-4 cloves of garlic, crushed or finely chopped
3/4 cup of olive oil
1 cup tahini – you can buy it or make your own using the recip eabove
Juice from 2 lemons
3 x 16 oz (450 g) cans chick peas or Garbanzo beans
Salt and freshly ground black pepper to taste
1/2 teaspoon Cumin
1/2 teaspoon Paprika
1/4 teaspoon Cayenne pepper
1/2 teaspoon Red Chili powder
Put all ingredients into a blender or food processor and blend until smooth and silky. Garnish with a sprinkle of paprika and parsley and serve with pita bread, crusty sourdough bread or various middle Eastern Breads.
Hummus Recipe 3, Made with Dried Chickpeas
Extra virgin olive oil
2 teaspoons cumin seeds
4 allspice berries (or similar)
4 green cardamom pods
2 lemons, juiced, salt flakes
4 cloves garlic, finely grated
200 g (7 oz) tahini
2 teaspoons baking soda
350 g (12 oz) dried chickpeas
About 1/2 – 3/4 cup iced water
1 bunch chicory or parsley
Soak the chickpeas overnight in plenty of water. Then drain and transfer to a large saucepan. Add fresh water and the baking soda, bring to the boil and simmer for about 40 minutes or until the chickpeas are just tender and cooked (time will vary so check). Then remove about 1/3 of the chickpeas from the saucepan and drain. Simmer the other 2/3 of the chickpeas for another 15 minutes until very tender and soft, drain. Add these soft chickpeas to a blender or food processor and blend to a thick, stiff paste. Add the garlic, tahini and lemon juice and process for an extra 1-2 minutes. Add a little cold water to create a light and fluffy texture. Season with salt and pepper. Grind all the spices and some salt together using a mortar and pestle with some salt. Take out the cardamom husks from the spice powder. Roll the whole chickpeas you set aside in the spice mix until well coated. Using medium heat, fry the spice-covered chickpeas in olive oil until fragrant and golden. Combine the two mixtures to make the hummus. Garnish with chopped chicory or parsley.
Hummus with Slow Roasted Tomatoes
1/2 teaspoon of salt and black pepper to taste
1/4 cup water
2 tablespoons olive oil, plus more for drizzling over the finished hummus if desired
2-3 tablespoons fresh lemon juice
1/4 cup tahini sauce
2-3 tablespoons of garlic puree (or less)
1 16 oz can garbanzo beans (chickpeas)
(or use scant 1/2 cup sun-dried tomatoes and a little water)
1/2 cup slow roasted tomatoes (or sundried tomatoes)
Drain the chick peas using a colander until the water runs clear. Blend the tomatoes in a food processor or blender for about 30 seconds. Add the drained beans, and process for an additional about 1-2 minutes. Add the lemon juice, tahini sauce,, olive oil, and half the water and blend for 30-60 seconds until smooth (add more water as required).
Hummus with Beets
1 tablespoon lemon zest (2 lemons)
1 tablespoons ground cumin
1 small clove garlic, chopped
5 tablespoons lemon juice
2 tablespoons tahini
1/2 pound (250 g) beets (four medium-sized beets) cooked and cubed
Pinch of sea
Fresh ground pepper to taste
Place all ingredients in a blender or food processor and blend until smooth.
Green Olive Hummus with Green Olives

1/4 teaspoon cayenne pepper
1/4 teaspoon. sumac
1 tablespoon tahini
1/2 cup green olives (stuffed with pimentos)
juice of one lemon
3 cups chickpeas (canned) rinsed well and drained
3 large cloves garlic
salt and pepper taste
5-6 whole olives for serving
Blend the garlic in a food processor or blender. Add the lemon juice and chickpeas and pulse to chop coarsely. Next, add the , tahini, green olives, spices and seasonings, and blend until everything is mixed, but leave it a little course. Season to taste, and dress with whole olives and a little fresh parsley.
Hummus with Carrot
1/4 teaspoon paprika
pinch cayenne
1/2 teaspoon ginger paste (or finely minced ginger)
1/4 teaspoon ground coriander
1/2 tablespoon tahini
1/2 teaspoon of salt
2 tablespoons, freshly squeezed lemon juice
16 oz (450 g) can chickpeas, rinsed and drained, or 1 1/2 cups cooked dried chickpeas
2-3 cloves garlic
1/4 cup water
2 medium-size carrots, washed, peeled and sliced (about 1 cup)
Cook the carrots on the stove or in the microwave. Transfer the cooked carrots, water, and garlic to a blender or food processor and process to a puree consistency. Add the lemon juice, chickpeas, and salt and blend until smooth. Add the remaining ingredients and blend to combine well.
Lemon Ginger Hummus
finger size piece of ginger, peeled and finely minced
1/2 teaspoon salt
2 medium lemons, juiced and zest removed from the skins
2 tablespoon of olive oil
1 tablespoons tahini
30 oz (850 g) chickpeas, washed, drained and rinsed until water runs clear
salt and pepper to taste for finishing
Using a food processor or blender, pulse the olive oil, chickpeas, tahina and lemon juice until well-combined. (They can also be blended by hand through a sieve or using a potato masher) Add the ginger, salt and pepper and blend well.
Nutrition Facts for 100 g of Homemade Hummus
| Nutrient | Average amount in serving of 100g |
| --- | --- |
| Energy, Cal | 177 Cal |
| Energy, Kj | 742 kj |
| Protein | 4.86 g |
| Total Fat | 8.59 g |
| Saturated Fat | 1.12 g |
| Polyunsaturated Fat | 2.08 g |
| Monounsaturated Fat | 4.91 g |
| Carbohydrate | 20.12 g |
| Sugars | 0.46 g |
| Dietary Fiber | 4 g |
| Calcium, Ca | 49 mg |
| Iron, Fe | 1.56 mg |
| Magnesium, Mg | 29 mg |
| Phosphorus, P | 110 mg |
| Potassium, K | 173 mg |
| Sodium, Na | 242 mg |
| Zinc, Zn | 1.09 mg |
| Copper, Cu | 0.22 mg |
| Manganese, Mn | 0.57 mg |
| Selenium, Se | 2.4 mcg |
| Vitamin C, total ascorbic acid | 7.9 mg |
| Thiamin | 0.09 mg |
| Riboflavin | 0.05 mg |
| Niacin | 0.4 mg |
| Pantothenic acid | 0.29 mg |
| Vitamin B-6 | 0.4 mg |
| Folate, total | 59 mcg |
| Choline, total | 27.8 mg |
| Vitamin A, IU | 5 IU |
| Vitamin E (alpha-tocopherol) | 0.75 mg |
| Tocopherol, beta | 0.01 mg |
| Tocopherol, gamma | 0.04 mg |
| Vitamin K | 3 mcg |
| Cholesterol | 0 |
| Amino Acids | |
| Tryptophan | 0.06 g |
| Threonine | 0.18 g |
| Isoleucine | 0.21 g |
| Leucine | 0.35 g |
| Lysine | 0.29 g |
| Methionine | 0.08 g |
| Cystine | 0.07 g |
| Phenylalanine | 0.25 g |
| Tyrosine | 0.13 g |
| Valine | 0.21 g |
| Arginine | 0.5 g |
| Histidine | 0.13 g |
| Alanine | 0.21 g |
| Aspartic acid | 0.54 g |
| Glutamic acid | 0.88 g |
| Glycine | 0.22 g |
| Proline | 0.20 g |
| Serine | 0.24 g |
Related Articles and Recipes for Dips
=> Homemade Chicken Nuggets Recipe for Kids, Baked with Delicious Dips
=> Best Blue Cheese Recipes for Dips, Sauces, Bakes, Pasta and Meat Dishes
=> Grilled Smoky Eggplant Yogurt Dip Recipe
=> Homemade Dukkah Recipes – Egyptian Seasoning for Rubs, Dips with Nuts, Seeds, Spices