Homemade Pork Scratchings, Crackling Recipe for Roasts and Picnics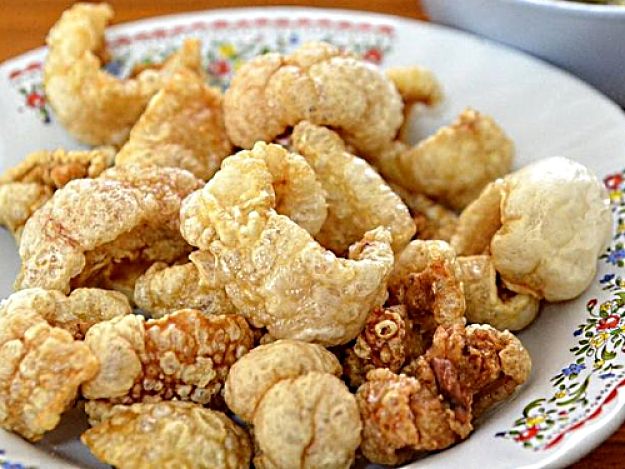 Homemade Pork Scratchings, Crackling Recipe for Roasts and Picnics and Snacks Anytime
Christian Cable [CC-BY-2.0], via Wikimedia Commons
Spicy roasted pork scratchings or cracking are greet snacks at picnics, barbecues, parties, and of coarse with roast pork and other meats. Adding spices enhances the flavor. This recipe is a family favorite and I hope you and your family enjoy it as well. You can change the spices to suit. Options include a combination of cumin, paprika and fennel seeds. The paprika gives the strips a rusty red glow. One tip is to start with very dry pork rind as wet rind won't crackle. You also need about 1 (1/2 inch) of fat under the rind. The best way to do it is to ask your butcher cut out strips of dry pork rind about the size of your little finger.
Spiced Pork Scratchings (Crackling Fingers)
500g (1 lb) good quality dry pork rind, with a layer of fat under the skin of 1cm (1/2 inch)
1/2 teaspoon whole fennel seeds
1/2 teaspoon whole cumin seeds
1/4 teaspoon of smoked paprika (choose sweet, medium or hot)
1 1/2 tablespoons of sea salt
Dry roast all the spices in a pan until the aroma rises. Then transfer the spices to a mortar, add the paprika, 1 tablespoon of salt and grind the mixture together intro a powder. Preheat the oven to hot, 220 degrees C (430 degrees F). Rub the rind cut into finger shaped pieces with half of the salt and set aside for 20-30 minutes. Put a rack into a roasting tray in a baking pan and arrange the rind pieces on the rack so that they don't touching each other. This allows the fat to drip off as the rind roasts. Roast in the preheated oven for about 20-25 minutes. Rotate the position of the roasting tray about every 5 minutes to evenly roast the rind and stop any burning in a hot spot in the oven. The scratchings are ready when they are bubbly and crisp, right through. Place the hot scratchings into a bowl, add the spice mix and toss to coat all surfaces.

The best time to eat them is straight after cooked, when they have cooked a little. However they will remain crisp and nice if you keep them in an airtight container in the refrigerator.