Homemade Refried Beans Recipe Collection: Healthy, Versatile, Nice
Refried beans in cans are widely used in Mexican food dishes such as tacos, nachos, tostadas, burritos and other tortilla dishes. However, the beans are fried in lard and other unhealthy fats and canned refried beans have high levels of salt.
One cup of canned refried beans contains 3 g of fat, about half of which is saturated fat. Most commercial version are cooked with lard and other unhealthy animal fats. A one cup serve also contains about 800 mg of salt, which is almost one third of the daily allowance for sodium (far too high).
However, the good news is that you can easily make your own version of refried beans at home that much healthier, full of delightful aromas, flavors, interesting textures and all the fiber and protein in beans without the harmful additives. You will find homemade refried beans much more versatile than the canned version.
The term 'refried' is a misnomer. The name is based on a mistranslation of the Mexican Spanish term 'frijoles refritos' which really means "well-fried beans", not 'fried twice'. The term refers to beans that are well-cooked, softened and mashed into a paste. The beans are boiled, baked and sometimes fried, but only once, not twice. Pinto beans are commonly used for this dish but you can used many other varieties such as black, black-eyed, red beans or a combination of many dried beans. Using different beans adds to their appeal for various uses.
The raw beans are soaked, then boiled, mashed into a paste and then baked or fried using a wonderful variety of herbs and spices. Homemade refried beans can be used as a side-serve for other dishes or as the foundation for making and wonderful array of dips and sauces.
The homemade version is much healthier because you can use healthy oils, low salt, herbs and spices and low-fat cooking methods.
Discover four fabulous recipes for making tasty refried beans from scratch, at home.
Options and Key Elements for Making Homemade Refried Beans from Scratch
The Beans
The usual choice is pinto beans which have a creamy texture when mashed, and a nice flavor. Black beans are also popular in Mexico, and they are smaller, harder and take longer to mash. You can use black-eye beans and many other. Or you can use a mixture of beans to add a range of flavors.
The Aromatic Ingredients
You can add a range of ingredients to develop aromatics, interesting textures and flavors. This includes garlic, onion of various types, cilantro, basil, oregano, mint, parsley or epazote, which is a common Mexican herb. Fresh herbs are better, but dried herbs can still provide the aroma you want.
The Fats Used to Cook Refried Beans
Some recipes use lard, bacon drippings, mixed vegetable oil, olive oil, margarine and even butter. Most of these options are unhealthy as they contain saturated fats. Olive oil has a low smoke point temperature and is a poor choice if you want to fry at high temperature, which really brings out the flavors. Good healthy choices for high temperature frying are rice bran oil, grape seed oil and peanut oil. Bacon drippings probably provides the most flavor, but is high in saturated fat, and there have been many warnings issued about the dangers of processed meat meats.
Best Way to Mash the Beans
The way you mash the cooked beans, determines the thickness and texture of the refried beans. This also depends on the amount of liquid added to the recipe. Hand mashing with a potato masher tends to produce a thicker and slightly crunchy texture that some people like. Using a blender or food processor is best for thinner and smoother outcomes. A stick immersion blender, or a Mexican bean masher is the easiest option as it reduces the amount of handling required.
Spices for Refried Beans
The spices you add is up to you. Cumin and chipotle powder pair well with the beans and impart an earthy taste. You can add chilies and even jalapenos, to make a spicy hot refried beans. Some salt is needed, but try to minimize the amount by adding last, after the herbs and spices have been added and you have tasted the refried beans.
Recipes for Making Refried Beans from Scratch
Simple Vegan Refried Beans Slow Cooked in a Crock Pot
Ingredients
1/2 fresh lime
1 teaspoon cumin
1/2 teaspoon salt
3 cups vegetable broth
1 teaspoon onion powder
1 teaspoon chili powder
5 medium size garlic cloves
2 tablespoons Extra Virgin olive oil
1 pound dry pinto beans ( or other beans you prefer)
Method
Rinse the beans using plenty of water, removing any broken beans or extraneous items. Put the beans in a large Crock Pot, and add enough water to fill it 2/3 full with water. Cover and set aside overnight for the beans to soften. Pour the beans into a colander and rinse several times with water. Transfer the beans back into the Crock Pot (or a heavy pot or Dutch oven for slow cooking on a stove). Add vegetable broth, salt, chili powder, cumin, onion powder, garlic and olive oil. Cook on a low setting for 8-10 hours, until the beans are soft and well cooked, but not mushy. Set aside to cool. Then, blend using an immersion blender, a stand-alone blender or food processor until they reach your desired consistency. Some people like the beans left a little crunchy. Season with extra salt, freshly ground black pepper and freshly squeezed lemon juice. You can add chopped herbs such as coriander, basil, mint or parsley at this stage. Serve warm of cold. The mashed beans will keep for 2-4 days in the refrigerator. They can be frozen for several months. Dividing a large amount into small portions, prior to freezing makes it easy to use small amounts as required.
Simple Refried Beans with Onions and Fresh Herbs
Ingredients
Salt to taste
1 cup vegetable stock
2 medium cloves of garlic
2 cloves of garlic, chopped
Water for cooking the beans
1/2 lb (250 g) dried pinto or black beans
2 sprigs fresh epazote (if available) or 1/2 cup of oregano
1 medium white onion, peeled and halved, with half finely chopped
6 tablespoons rice bran oil, grape seed oil or other preferred oil
Method
Well cover the beans with cold water in a large pot. Add the herbs sprigs, the garlic cloves, half a whole onion, and a little salt. Bring the water to the boil over high heat, and then lower the heat to a gentle simmer and cook until the beans are tender (about 1-2 hours). Drain the beans and discard the herb sprigs, garlic and onion. Next heat the oil over moderate to high heat. Add the minced onion, the chopped garlic and cook until the onions are tender and light brown in color (about 5-7 minutes). Add the beans and fry for about 2-3 minutes. Add 1 cup of stock, mix and then mash the beans using a potato masher to create a chunky purée( or use a blender). Reduce the heat to medium and adjust the consistency by adding more stock. Cook gently for 5 minutes, while stirring to allow the mixture to thicken. Season with salt and pepper and serve warm or cold.
Hot and Spicy Refried Beans Recipe
Ingredients
1 bay leaf
Salt to taste
1 tomato, coarsely chopped
1 red onion, finely chopped
3 cloves of garlic, finely chopped
Cilantro or other fresh herbs as a garnish for serving
1 cup pinto beans (or kidney beans, black beans or other beans)
2 green pablano chilles, green chillies (or similar hot chillies), sliced thinly
Method
Soak the pinto beans, or other beans overnight. Drain and then cook the beans by simmering in boiling water until soft. Heat a heavy skillet over medium-high heat, add 2 teaspoons of rice bran oil, or grape seed oil, and fry the garlic and onions until they are soft. Add the bay leaf, tomatoes and fry the mixture for 2 minutes, while stirring, until tomatoes are soft. Add the cooked and drained pinto beans, mix and combine well. Cook for 5 minutes and then remove from the heat and mash the beans using a potato masher or a blender. Season with salt and pepper. Add herbs leaves such as cilantro (optional) and serve warm or cold.
Homemade Refried Beans with Diced Onions and Bell Peppers
Ingredients
1 teaspoon of cumin
Salt and pepper, to taste
1 1/2 cups vegetable stock
1 tablespoon of chili powder
1 medium onion, finely chopped
2 cloves of garlic, finely chopped
2 teaspoons of rice bran or grape seed oil
3 cups cooked pinto beans (should be soft)
1 teaspoon of paprika or your choice of spices
1 medium size green or red bell pepper, finely diced
Method
Heat a large heavy frying pan or Dutch oven over moderate heat. Add chopped onion, garlic and pepper and cook until translucent and soft. Add the chili powder, cooked beans and broth. Bring the mixture to the boil, and then lower the heat to a gentle simmer and cook covered for 10-15 minutes. Mash the beans and other ingredients using a potato masher to a coarse puree. Put the pot back on the stove and simmer, uncovered, while stirring for an additional 10 minutes. Add a little more stock is the mixture is too thick, otherwise keep cooking until the mixture thickens to the desired consistency. Serve warm or chilled. The mixture can be frozen for later use.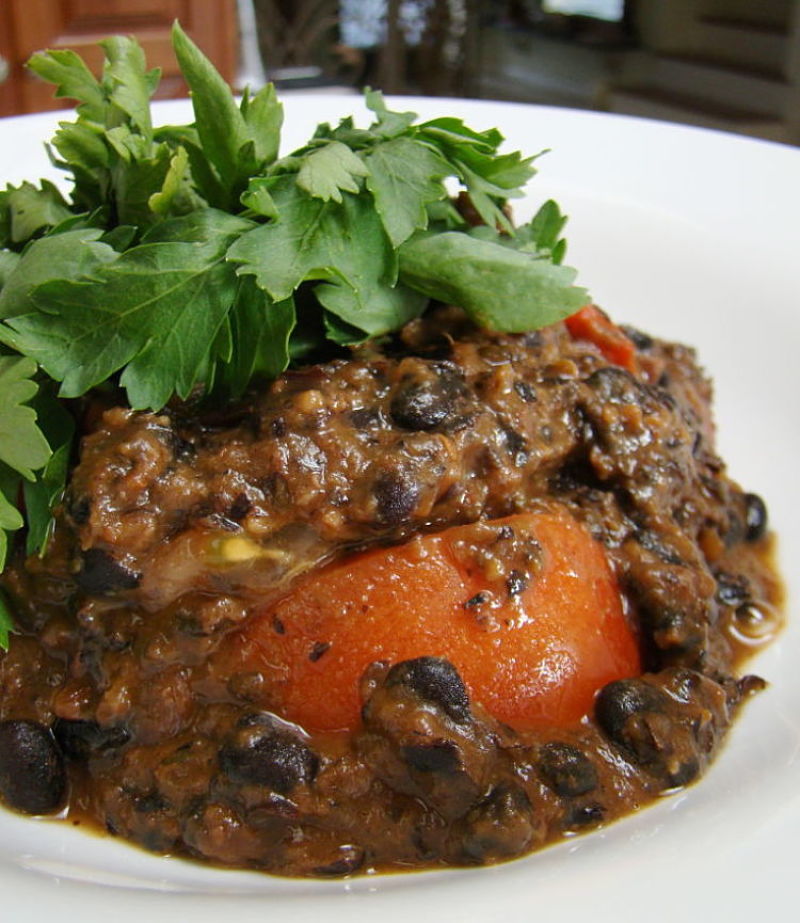 Source:
Vegan Feast Catering [CC BY 2.0], via Wikimedia Commons
Source:
Drywontonmee [CC-BY-SA-3.0], via Wikimedia Commons
Source:
Vegan Feast Catering [CC BY 2.0], via Wikimedia Commons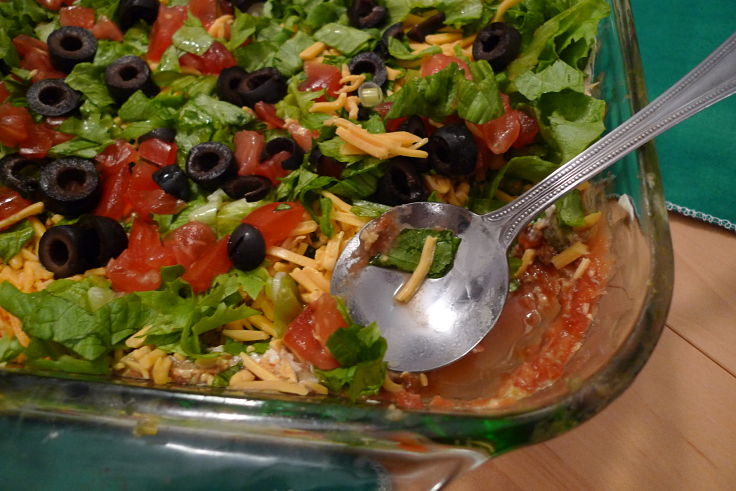 Source:
By lauren [CC BY 2.0], via Wikimedia Commons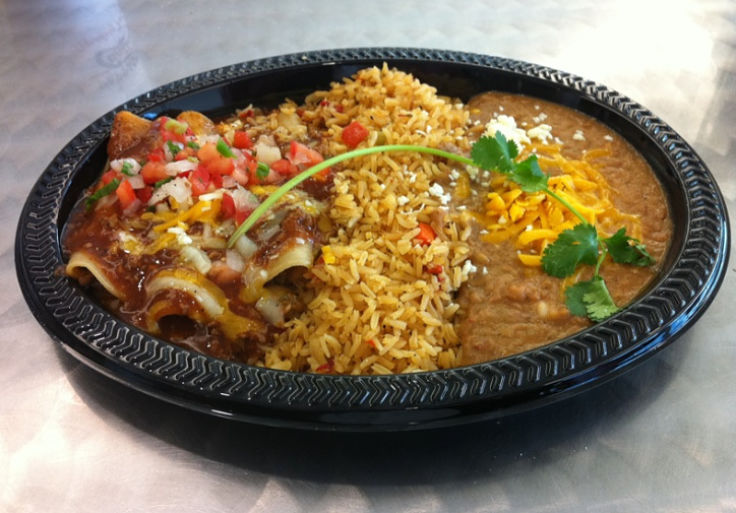 Source:
By Dion Hinchcliffe [CC BY-SA 2.0], via Wikimedia Commons