Homemade Sausage Rolls Recipes - Healthy Gourmet Ideas and Tips
The humble sausage roll has a terrible reputation as being a junk snack food, usually dragged from the freezer, heated, served too hot and doused in tomato sauce to hide the weird filling which appears to be mostly bread crumbs.
Cheap, fatty and unappealing. Bakeries in Australia produce some monstrous versions made with real sausages infused with fat, or frankfurters (hot-dog style pork sausage). These varieties are second only the battered and deep fried 'Pluto-pups' as the worst fast food ever. The famous 'Pluto-pups' is made from a frankfurter on a stick which is battered and deep fried (fat on fat on fat).

Its time to revisit the humble underrated sausage roll and give it a healthy makeover and use some imaginative ingredients. The homemade gourmet versions described below, can be served with homemade tomato ketchup, chutneys, salsas and elegant fruit based sauces, rich in fresh herbs and spices. They provide a fabulous party food. Add a fresh salad and they can become a simple and quick dinner, or they make a healthy kids party food. Homemade sausage rolls freeze well (when uncooked) and can be pulled out of the freezer and cooked directly in the oven when from frozen, allowing an extra 20 minutes to the cooking time. Homemade sausage rolls are simple to make at home just use you imagination and some creative health ingredients.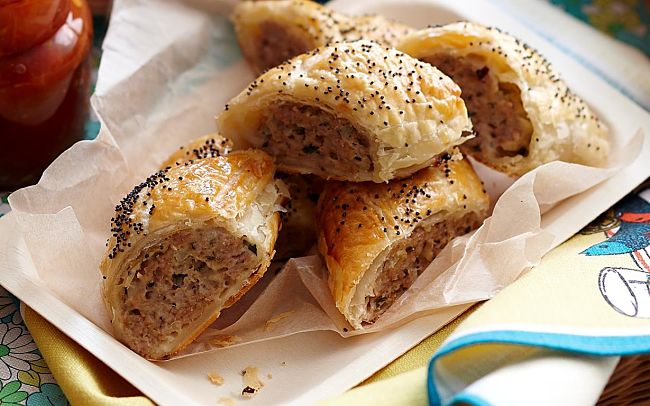 Requirements for Making Homemade Sausage Rolls
Pastry - The supermarket puff pastry or filo pastry are fine. There is no need to make your own unless you are really keen. Just follow the instructions

Meat - Good quality ground beef, pork, lamb or chicken is what makes a major difference. Everyone knows that mince is generally made from poor quality off cuts and fat trimmings. It has high fat and poor quality. You need to find high quality ground meat, make your own or simply chop a piece of meat very finely. It does not necessarily have to be minced. Choose a medium to high quality cut of beef with a lot of flavour and minimal fat.

Herbs and Spices - Use fresh herbs for maximal flavour.

Vegetables - One issue is that hard vegetables may not cook in the 25 minutes cooking time for the pastry. The simple solution is to finely chop the vegetables and to partially pre-cook them.
Home Made Sausage Rolls - Recipe One
3 sheets puff pastry
1 zucchini, coarsely grated
1 carrot, coarsely grated
1/4 cup parsley, roughly chopped
1 small onion, finely chopped
100g (4oz) cheddar cheese, grated
2 tablespoons tomato sauce or ketchup
2 eggs
Pinch of salt and freshly cracked pepper
4 (500g; 1lb) premium Italian veal or pork sausages
Sesame seeds and poppy seeds
Method
Preheat oven to 180 degrees C (355 degrees F).
Add onion, cheese, tomato sauce, parsley, 1 egg, pepper, salt to a large mixing bowl and mix well.
Squeeze the water from the zucchini and carrots and add to the bowl.
Tear open the Italian sausages and transfer the sausage meat to the bowl. Combine thoroughly and set aside.
Slice each sheet of pastry in half to provide six rectangular strips of pastry. Take a one 6th portion of the sausage mixture and roll into the shape of a snake, just shorter than the longest side of the pastry. Place each snake on one side of the pieces of pastry.
Break the remaining egg into a small bowl and whisk a little, and use it to paint onto the exposed pastry.
Gently fold the pastry over the mince-snake to made a sausage roll. Press the edges firmly together with the back of a fork making sure the join is tightly sealed.
Brush the top of the sausage roll with a little egg wash and sprinkle with poppy seeds and sesame seeds.
Slice the sausage rolls into the serving sizes and position on a lightly greased oven tray.
Bake for 20 – 25 minutes until cooked and showing a golden colour.
Serve with tomato chutney or a homemade sauce or salsa.
Home Made Sausage Rolls - Recipe Two
2 kilo premium, low fat minced beef
1 brown onion, diced
2 carrots, grated
1 bunch parsley
1 red onion, diced
1/2 cup Worcestershire sauce
5 cloves garlic, chopped
1 cup of milk
1/4 cup tomato sauce
2 packets of puff pastry
1 egg
Method
Preheat oven to 180-200 degrees C (360 degrees F).
Grate the carrots, finely chop the red and brown onions, finely dice or crush 5 cloves of garlic, and mix in a bowl and add the finely chopped parsley.
Place the mince into a second bowl and add the Worcestershire sauce and tomato sauce. Using you hands mix the ingredients to combine thoroughly. Add the chopped vegetables from the other bowl.
Whisk one egg and 1/2 a cup of milk in a small bowl as set aside.
Take a piece of the just thawed pastry and cut in half to form two rectangles. Take a portion of the meat mixture, roll and place it along the side of a piece of puff pastry. The meat mixture roll should be about the thickness of thin pork sausage.
Drag a fork all along the other edge of the puff pastry. Then rub the egg and milk mixture along the fork grooves.
Roll the pastry into a tube and seal well. Rub some of the milk and egg mixture on the top of the sausage roll. Cut the roll into serving size sausage rolls.
Place the completed sausage rolls onto a greased baking tray, and bake in the oven for about 15 minutes or until golden brown.
Home Made Sausage Rolls - Recipe One (pork and chicken mince)
4 sheets frozen puff pastry
2 carrots, well peeled and sliced into chunks
1 medium onion, peeled and quartered
1/2 cup fresh flat-leaf parsley
500g (1lb) chicken mince
500g (1lb) pork mince
1/2 teaspoon salt
1/4 teaspoon white pepper
1 egg, lightly beaten
Method (Using a food processor)
Preheat oven to 180°C (355 degrees F).
Add the carrots, parsley and onion to a food processor bowl and pulse to chop coarsely.
Place the mince, pepper and salt in a large bow and mix well with you hands.
Divide the mixture into 8 equal portions.
Slice each sheet of defrosted pastry in half. Form a portion of mince into a sausage shape and place along the edge of the pastry.
Brush the sides of the pastry with the egg mixture, fold the edge of the pastry over roll it to seal firmly.
Brush the top of the pastry with egg and cut each roll into the serving size portions.
Place rolls on greased baking trays about 2cm (1 inch) apart. Bake for 20-30 minutes until cooked through and golden brown in colour.
Home Made Sausage Rolls - Recipe 4
30g (1oz) butter
1 tablespoon Worcestershire sauce
100g (3 1/2 oz) chopped mushrooms
1 tablespoon Tabasco sauce
450g (1lb) premium minces meat
1 tablespoon dried thyme
450g (1lb) ready-rolled puff pastry
salt and freshly ground black pepper
1 egg, beaten Method (as above)
Home Made Sausage Rolls - Recipe 5 (Chicken Mince)
1 cup fresh wholemeal breadcrumbs
500g (1 lb) fresh chicken breast mince
2 eggs
1 carrot, finely grated
1 zucchini, finely grated
1/4 cup chopped flat-leaf parsley leaves
1/4 cup chopped coriander leaves
1/2 onion, grated
1 tablespoon sesame seeds
4 sheets puff pastry, thawed
Tomato or homemade sauce, to serve
Preheat the oven to 200 degrees C (360 degrees F)
Line to flat baking sheets with baking paper or spray with oil.
Combine the chicken, crumbs and one egg in a food processor.
Transfer to a bowl, and mix the chicken with vegetables and herbs, then season with salt and pepper.
Place one pastry sheet on a surface sprinkled with flour and cut in half.
Spoon about an eighth portion of mixture along the centre of each piece of pastry.
Fold one edge of pastry over, brush the other edge with beaten egg. Then fold the other edge over make a roll and seal well.
Cut the rolls into pieces and position on baking sheets, cover and then chill for about 30 minutes.
Brush the outside of each roll with whisked egg and cover with a sprinkling with sesame seeds. Bake for about 25-30 minutes until the rolls are cooked through lightly browned, all over.
Make the most of summer produce with our zucchini recipes, strawberry recipes and mango recipes.
Home Made Sausage Rolls - Recipe 6 (Pork Mince)
3 sheets reduced-fat puff pastry
2 slices wholemeal bread, crumbed
500g (1lb) low-fat pork mince
1 medium washed potato with skin on, grated raw
1 tablespoon bran
2 teaspoons mixed herbs
1 medium onion, chopped
2 teaspoons dried sage
1 tablespoon Worcestershire sauce
1/2 teaspoon salt
2 tablespoons tomato sauce or fresh tomato puree

Method as above
Enjoy!