Homemade Starbucks Iced Chai Tea Latte Recipe with Coconut
Did you know you can easily make your own Chai Iced Tea Latte with coconut, almond or standard milks? You can adapt the teas you use spices and sweeter to suit your taste. Make a glass or a jug using the tow recipes provided below. Don't use those insipid Chai concentrates, do it yourself to get all the full flavors.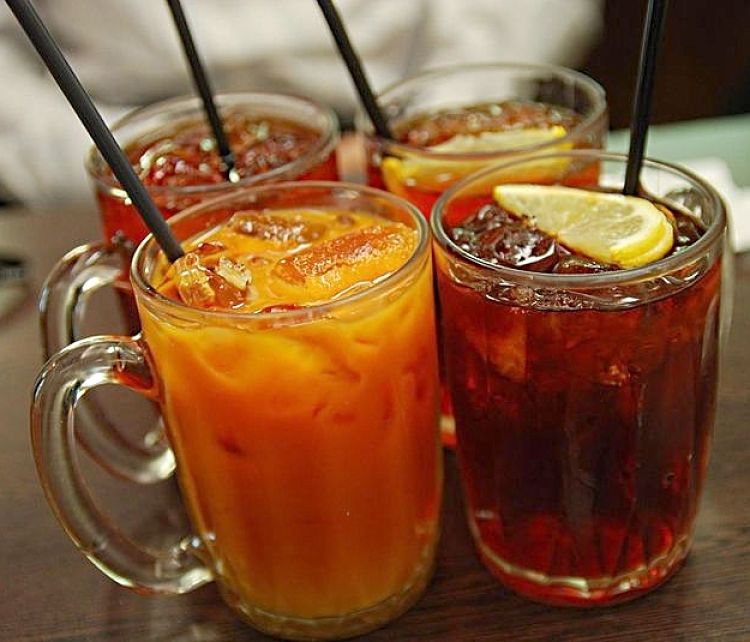 Source:
By Alpha [CC-BY-SA-2.0], via Wikimedia Commons
Standard Iced Chai Tea Latte Recipe
2 cups milk (or almond milk), very cold
6 black tea bags (choose single varieties or the mixture you like)
1/2 teaspoon ground cardamom (or 1/2 teaspoon fresh, ground with pestle and mortar)
4 cups water
Freshly ground pepper and a few grains of salt (makes it taste smooth)
1/4 teaspoon ground cloves (or 1/4 teaspoon freshly ground)
1/4 teaspoon ground ginger (or 1/4 teaspoon freshly ground)
1/4 teaspoon ground cinnamon (or 1/4 teaspoon freshly ground)
1/3 cup cup honey (or other sweeter such a maple syrup or molasses)
Crushed ice or ice cubes for serving

Boil the water, stopping heating, add the tea bags and stir. Set aside to steep for 5 minutes, jiggling occasionally. Remove tea bags, add the spices and the honey and mix until dissolved. Refrigerate until cold (note using the freezer compartment is quicker. Stir 2 cups of very cold milk into the cold tea and serve over ice.
Coconut Iced Chai Tea Recipe
4 tablespoons of thick, good quality coconut milk
Honey, or other sweetener to taste
4 tea bags (orange pekoe, darjeeling or similar)
4 cups of water
1-2 cloves
2 cardamom pods
1 star anise
1 slice root ginger
1/2 vanilla pod
1 cinnamon stick
Ice cubes for serving

To extract the flavors from the fresh spices, add them to 4 cups of water and simmer for 5 minutes. Lower the heat, add the tea bags and steep for about 4 minutes, then remove. You can add honey or other sweetener at this stage or just before serving. Pour the tea and spices mixture into a jug, refrigerate for 2 hours until very cold. Strain the mixture into a jug for serving. To serve, add ice cubes to six glasses and half-fill with the tea
and add some coconut milk.

Enjoy!