Tandoori Masala Spice Mix Recipe - Four Homemade and Delicious Options
Tandoori Masala spice mix is a masala specifically crafted for use in a tandoor (clay oven) in traditional north Indian, Afghan and Pakistani cooking. Tandoori chicken, shrimp and other dishes are very popular items on the menu of many Indian restaurants.
You can make your own tandoori style chicken, beef and shrimp dishes using a grill, barbecue or oven. A paste is made by combining the dry tandoori spice mix with yogurt and lime juice that is used coat the meat prior to cooking at high temperature.
The specific spice ingredients vary in different regions and you can make your own variations to suit region. Typical ingredients include garam masala, ginger, onion, garlic, cayenne pepper, fenugreek and paprika. A pestle and mortar is often used to grind the spices together.
The spice mix can be stored for weeks or months. Tandoori masala spice mix can also be used for other dishes such as tikka and butter chicken.
This article provides four fabulous recipes with a range of complexity in terms of ingredients. You can add or omit various ones to suit your taste.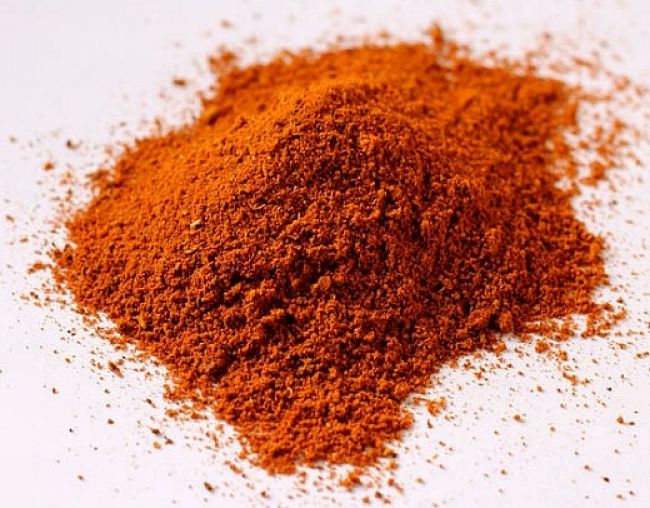 Homemade Tandoori Masala Spice Mix Recipe 1
1/2 teaspoon red chilli powder
1 teaspoon turmeric
2 teaspoons Dried Fenugreek Leaves
4 teaspoons paprika powder
1 tablespoon coriander powder
2 tablespoons cumin (ground)
2 tablespoons garam masala
Mix all the ingredients above using a whisk or spoon and store it in an airtight container. The spice mix should stay fresh for about 5 weeks.
Homemade Tandoori Masala Spice Mix Recipe 2
Raw Ingredients
3 sticks of cinnamon or cassia bark
1 teaspoon whole fenugreek seeds
1/4 cup whole coriander seeds
1/2 tablespoon whole cardamom pods (1 pod of black cardamom, optional)
1/2 tablespoon whole cloves
1/2 tablespoon whole black pepper
1 tablespoon whole cumin seeds
1/2 cup mild long red Kashmiri chillies
Ground Ingredients
3-4 tablespoons paprika (provides color as well as flavor)
1/2 teaspoon ground turmeric
1/2 teaspoon grated nutmeg
1 teaspoon dried ground garlic
1 teaspoon dried ground ginger
Combine the raw ingredients together and add to a hot, dry heavy pan. Heat, for about 1 - 2 minutes to release the flavors and aroma, until the spices release a beautiful aroma.

Transfer to the bowl of a blender or food processor and add the ground ingredients. Blend well to form a smooth powder. Store in a cool dry places in an airtight container.
Homemade Tandoori Masala Spice Mix Recipe 3
1 teaspoon ground brown Cardamom Seeds
1 teaspoon fresh ground Black Pepper
1 teaspoon ground Cinnamon
1 teaspoon Fenugreek Powder
2 tablespoons ground Coriander
1 1/2 tablespoons Cumin Powder
1 teaspoon Mace Powder
1/2 teaspoon grated Nutmeg
1 teaspoon Cloves Powder
1 teaspoon ground Ginger
1 teaspoon Garlic Powder
2 teaspoons Red Food coloring (optional)
Mix all the ingredients and push the mixture through a fine sieve to blend well. Store in an airtight container in a cool, dry place.
Homemade Tandoori Masala Spice Mix Recipe 4
1 teaspoons Turmeric Powder
3 teaspoons Food Color (dry, red); Or use paprika to add color
1 teaspoon Mint (dry powder)
2 teaspoons Dry Mango Powder
3 teaspoons Dry Ginger (ground)
4 teaspoons Red Chili Powder
4 teaspoons Garlic powder
3 teaspoons Cumin Seeds
4 teaspoons Coriander Seeds
Mix all the ingredients together and dry grind them using a pestle and mortar.
Related Articles and Recipes for BBQ Spice Mixes and Rubs
=> Best Chimichurri Sauce Recipe for Argentine Food
=> Best Grilled and Barbecued Vegetable Recipes
=> Make Buffalo Wing Sauce at Home - Quick, Easy Recipes
=> Grilled Flank Steak Recipes: Marinated, Stuffed, Barbecued with Sauces
=> Jamaican Jerk Spices Rub Recipes for Pork, Beef, Lamb, Turkey, Chicken and Fish
=> Homemade Fajita Spice Mix and Seasoning Recipe with Ingredient Options
=> Tandoori Masala Spice Mix Recipe - Four Homemade and Delicious Options