Homemade Teriyaki Sauce Recipes - Easy to Make, Use as Marinade
It is not widely known that you can easily make wonderful homemade Teriyaki sauce at home using readily available ingredients. It is as good, if not better than, the genuine Japanese sauce and marinade that you can buy in the shops.
Teriyaki is a traditional Japanese cooking method in which foods are broiled or grilled after soaking in a sweet soy sauce marinade.
In Japan, Teriyaki is mostly made with fish such as skipjack tuna, yellowtail, marlin, salmon, mackerel and trout.
In the West it is more common to use pork, chicken, lamb and beef as well as seafood such as squid. Traditionally the various types of meat are marinated, brushed or dipped in Teriyaki Sauce repeatedly before, during and after cooking.
The Teriyaki marinade and sauce is traditionally made by heating and combining sake or mirin (Japanese wine) with soy sauce and a little honey or sugar, and sometimes fresh ginger. The sauce is boiled to reduce down to the desired thickness.
There are a variety of recipes and approaches that are outlined in this article. Teriyaki sauce is surprisingly versatile both as a sauce added to a stir fry or to a cooked dish or as a marinade. Once you discover how easy it is to make Teriyaki sauce, you will find that you use it more and more for many dishes, such as Teriyaki chicken, pork, beef, fish and other seafood.
It can also be used as a salad dressing and used to add spice and flavor to grilled vegetables and stir fried Chinese vegetables.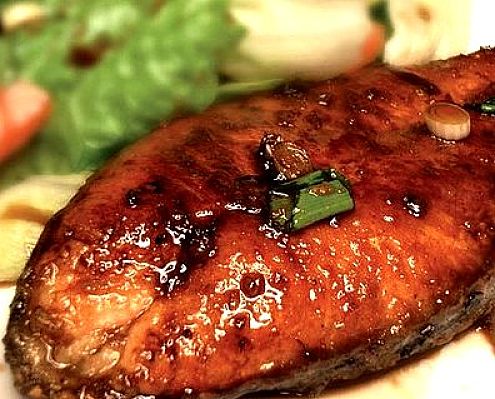 Teriyaki Sauce Recipe 1
1 dash red pepper flakes
1 tablespoon minced fresh ginger
7 cloves garlic, minced
1/3 cup white sugar, or 1 tablespoon of Honey or Molasses
1 teaspoon sesame oil
4 1/2 teaspoons rice vinegar
1 cup soy sauce
2/3 cup mirin (Japanese sweet rice wine)
black pepper to taste
Pour the mirin into a medium size saucepan and bring to the boil over high heat. Once boiling reduce the heat to low-medium, and simmer for about 10 minutes to thicken slightly. Add the rice vinegar, sesame oil, soy sauce and sugar or honey. Add the seasoning ingredients ginger, pepper flakes, garlic and black pepper. Then simmer the mixture for an additional 5-10 minutes to thicken the sauce. Cool and store in a tightly sealed glass jar or other container in the refrigerator.
Teriyaki Sauce Recipe 2
1/4 cup cold water
2 tablespoons cornstarch
2 tablespoon of good quality honey
5 tablespoons of brown sugar or 2 tablespoons of molasses
1/2 teaspoon crushed and chopped fresh garlic
1/2 teaspoon finely chopped fresh ginger
1 cup water
1/4 cup soy sauce
Add all the ingredients to a medium saucepan, except for the cornstarch and 1/4 cup of water that are used to thicken the sauce once prepared. Bring the mixture to the boil and then reduce heat to a simmer. Mix the cornstarch and 1/4 cup of cold water in a small cup or bowl until the starch is fully dissolved. Pour the dissolved cornstarch into the saucepan and heat while stirring continuously until sauce thickens. You can add a little extra water if the Teriyaki sauce is too thick. Cool and store in a glass jar with a lid in the refrigerator. It can be kept for a week or so.
Teriyaki Sauce Recipe 3 (using Mustard)
6 cloves garlic, minced
2 teaspoons dry mustard or yellow mustard
2 teaspoons ground ginger
2 tablespoons honey
1/4 cup oil
1/2 cup soy sauce
salt to taste

Mix all the ingredients together in a small bowl, blender or shaker.
Teriyaki Sauce Recipe 4
1 tablespoon sesame seeds
1/4 cup cold water
2 tablespoons cornstarch
2 tablespoons honey
1/3 cup brown sugar
2 medium fresh garlic cloves, finely chopped
1 teaspoon fresh ginger, finely chopped
1 cup water
1/4 cup soy sauce
1/4 teaspoon togarishi pepper (optional)
Add all the ingredients to a saucepan, except for the sesame seeds, pepper, cornstarch and 1/4 cup of water and bring almost to the boil. Dissolve the cornstarch in 1/4 cup of cold water in a cup and then pour into the saucepan. Continue heating until the sauce reaches the desired thickness. Cool and then add the togarishi pepper and sesame seeds. Sore in a glass jar.
Uses for Homemade Teriyaki Sauce
Grilling chicken marinated in homemade Teriyaki sauce is probably one of the favorite dishes. It provides the chicken a beautiful shiny glaze and provides a sweet, savory flavor to the chicken.
Salmon Teriyaki is also a lovely dish, either added to the fish while grilling or barbecuing or spooned as a sauce over a piece of cooked smoked salmon with finely sliced green onions.
Teriyaki sauce can also be used in many non-traditional ways as a marinade or sauce for hamburgers and steaks and even for sausages.
Homemade Teriyaki sauce is also delightful when sprinkled over steamed, baked or stir fried vegetables. Sprinkle some roasted sesame seeds on top for an extra dash of flavor and color
Homemade Teriyaki sauce can also be added to sticky rice.
It can also be used as a glaze for ham and roast pork.
Related Articles
=> How to Make Garlic Sauces, Aioli, Toum - Best Sauce Recipes, Tips, Variations
=> Pesto Sauce Variation Recipe Collection - Gremolata, Chimichurri, Parsley & Other Herbs
=> Best Chimichurri Sauce Recipe for Argentine Food
=> Make Buffalo Wing Sauce at Home - Quick, Easy Recipes
=> Collection of Best Sauce Recipes for Fish Fillets
=> Spanish Romesco Sauce and Romescada Fish Stew Recipes
=> Lemon Sauce Recipes - Sweet, Savory, Sour, Spicy, Tangy
=> 10 Easy Butter Sauce Recipes and Cooking Tips
=> 14 Best Nut Sauce Recipes: Peanut, Almond, Pecan, Macadamia, Walnut, Cashew
=> Best-Fettuccine-Alfredo-Sauce-Recipes-with-Interesting-Additions
=> Beurre Blanc Sauce Recipes with Lemon, Dill, other Herbs for Seafood
=> Best Harissa Paste and Sauce Recipes to Spice Your Life
=> Best Chermoula Sauce and Marinade Recipes for Fish, Seafood, Chicken and Meat
=> Homemade Horseradish Sauce Recipes, Other Uses for Fresh Horseradish
=> How to Make Lemon Curd, Recipe for Lemon Butter Sauce for Fish Sauce
=> Best Pesto Recipe Homemade, Nutritious, Delicious Basil Pesto Sauce
=> Homemade Tartar Sauce Recipe