How To Make Panades from Leftovers, and Best Egg Strata Recipes
The word 'Panade' is used for two different dishes: (1) thick paste that binds other ingredients together or (2) a baked casserole dish made from layers of bread and cooked vegetables, milk and stock and butter. Bread is used to cover the bottom of a baking or casserole dish and also inserted as layers with ingredients such as cooked vegetables, leftovers and shredded cheese. Then stock or milk is poured over the entire dish, baked, topped with cheese and baked again. The stale bread soaks up the broth or milk and the baking removes moisture so that the dish is quite dry when baked.. The bread itself takes on a smooth, velvety texture and absorbs the flavors and the top crisp and crunchy flowing with melted cheese.
Strata is a similar bread layered casserole dish made with eggs, stale cubed bread and cheese. It is a popular dish for brunch or breakfast dish and can even be made as a dessert. To the basic recipe, you can add a huge variety of vegetables, herbs, poultry, seafood, fish or meat.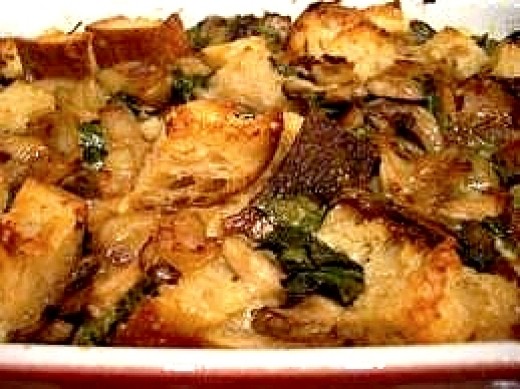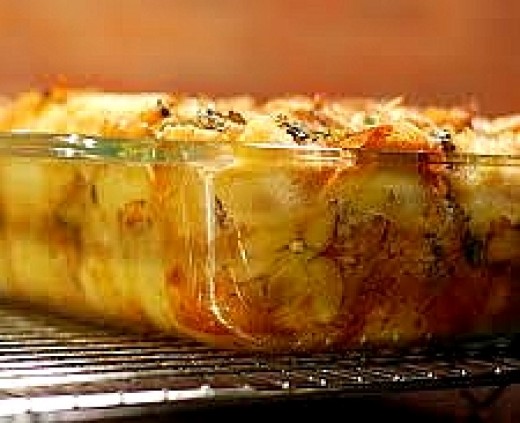 Best Ever Panade Recipe
Note: Strada and panade are very similar, but strada has eggs, panade does not.

A panade is the perfect way to use all your leftover vegetables and your stale bread to make a superb dish that is a unique combination of warm custard-soft spoonfuls, crunchy edges, crunchy beans and celery and chewy bits. Savory, healthy and so satisfying, you should try this soon. You'll love it!

Ingredients for Panade
Filling

1 small butternut squash (about 1 lb; 500 g), seeded, peeled and cut into thin slices
1 bunch Swiss chard or black kale with center stems removed
1 head cauliflower, trimmed and cut into thick slices
2 leeks, white parts only, finely chopped [or onions]
Fresh herbs and spices to taste
OR Leftovers - 1-3 cups of filling (after cooking) - Try any combination of onions, celery, carrots, beans, chard, mustard greens, ham, chicken, nuts - or whatever else sounds yummy. The 1-3 cups is about the amount you need after cooking the leeks or onions. Warm the leftovers in the oven or microwave.
Liquid Mix
6 cups whole or skimmed milk (or you can use soy, chicken or vegetable broth)
6 tablespoons butter
Salt
4-6 slices day-old country style bread (sliced, or cut into chunks or cubes), each 1 inch thick, Toast, or bake if preferred.
1-2 cups ( 8 oz; 250g) fontina cheese, thinly sliced or any other cheese sliced or grated)
Heavy cream, optional.
Method
Preheat oven to 375 degrees F (190 degrees C).
In a saucepan melt 2 tablespoons of butter over medium heat. Add the leeks [or onions] and sauté until transparent and soft (about 5 minutes). Add the milk, another 4 tablespoons of butter and 2 teaspoons salt. Bring to a boil and then take off the heat.
Line the bottom of a heavy, ovenproof 5-quart pot or casserole with slices of bread, or bread pieces. Spread the slices of squash [or leftovers] as an even layer over the bread and pour on 2 cups of the hot milk mixture. Add with more slices of bread and then top with the kale and cauliflower slices [or leftovers]. Press down on the ingredients to compact them in the pot.
Pour the remaining milk or both mixture over the top. Keep adding the milk until its almost at the rim. Season with salt. Put a lid on the pot or cover with aluminum foil and bake for about 30 minutes.
Uncover and spread the cheese over the top. Return the pot to the oven without a cover and bake for about 30-40 minutes until the liquid is absorbed and the cheese has melted. When the cooked panade has cooled, it should be dry rather than liquid.
Serve immediately or let cool and put in the refrigerator for up to 3 days. To reheat, slice the panade into wedges. Put the slices on ovenproof plates, pour some cup cream and bake for 15-20 minutes in an oven preheated to 375 degrees F (190 degrees C).
Variations
Ingredients can include bok choy, sausage, ham, cooked navy beans, cloves of minced garlic, corn kernels, green peas, broad beans, sliced green beans.
Parmesan, Swiss, gruyere and many other cheeses can be used
Basil, sage, rosemary and other herb can be added
Added chili, cumin and other spices for more flavor.
Serve with sour cream and some sliced avocado
Easy Breakfast or Brunch Strada
Ingredients

► 5 large eggs
► 1/2 cup half-and-half
► 1/2 cup whipping cream
► 1/4 diced pimiento, chopped
► 1/2 cup chopped green chilies, drained
► 7 ciabatta bread slices (3/4-inch-thick)
► 1/2 cup onion (chopped and cooled in the refrigerator)
► 1 (8-oz; 250g) package shredded Mexican four-cheese blend
► 1/2 (8-oz; 250g) package shredded Monterey Jack cheese (or similar)

Method

Preheat oven to 425 degrees F (220 degrees C). Break the bread into bite-size pieces. You will need about 6 cups, firmly packed. Using a large bowl, combine the pimiento, chilies, Monterey Jack cheese, Mexican cheese, onion, half-and-half, eggs and cream. Then add the bread and gently stir through. Pour the mixture into greased 9-inch (20cm) deep dish pie pan. Bake for about 2-25 minutes until set in the middle and browned on top. Serve immediately.