How to Barbecue - Masterclass, Gourmet BBQ Recipes, Tips, Menu Ideas
It is easy to produce burnt offerings on the backyard barbecue but what are the secrets of a great gourmet barbecue? Its a bit like photography. If you take a wonderful photograph the first thing everyone says is "what camera do you use?"
But its not the equipment that matters but the preparation, menu choices, recipes and respect and understanding of the food and what you are trying to do with it.
This article provides a Barbecue Masterclass that aims to turn those burnt BBQ offerings into gourmet meals that you will be proud of and will impress your friends.
So its time for a re-think and so lets start from scratch and review how to do it properly. There are some great recipes at the end of the article.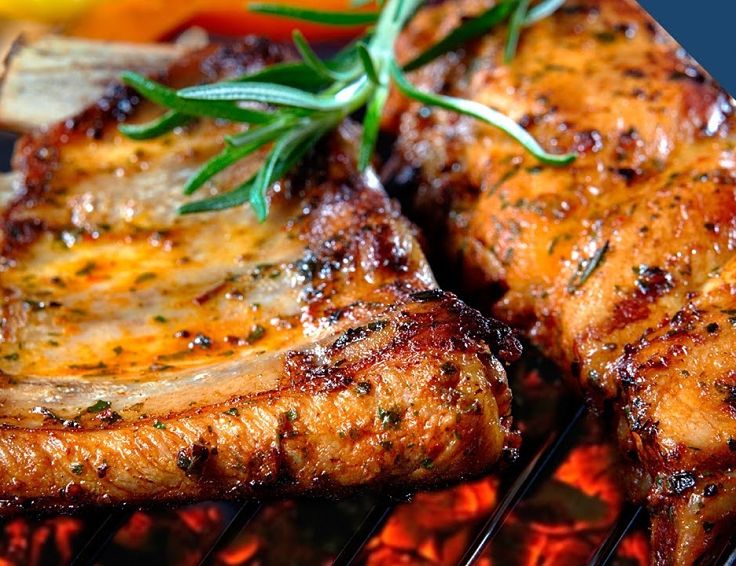 Respect and Understand your Food Ingredients
Why so many people would buy a beautiful prime cut of meat or buy top quality vegetables and mushrooms and then burn them beyond recognition so that they lose their character and quality is a major mystery. People assume that if they have the Rolls Royce BBQ with all the bells and whistles and buy top quality ingredients assumimg their barbecue foods will be magnificent. Nothing is further from the truth. The key is how you treat your ingredients, understand what's required to cook them well. Begin by showing respect for the ingredients. It is a big mistake to get the steaks from the fridge just before cooking them and put them straight onto the barbecue. The meat needs to be brought to room temperature, seasoned appropriately, and excess marinade removed and lightly coated with olive oil just prior to cooking. Make sure you thoroughly clean the cooking surface of the BBQ every time. Nothing ruins a lovely piece if meat quicker than cooking it on a dirty hotplate or grill. The worst offender is the marinade. Always remember to shake off any excess marinade so that it doesn't create flames and burn the outside of the steak. Consider rinsing the marinade off before cooking. You can add marinade to the food once it is cooked, but NEVER reuse liquid used to marinade the meat as it may be contaminated with bacteria. Set aside a small quantity of fresh marinade for this purpose.
Flames look Good but are a Bad Idea
Cooking with flames may looks fancy and professional as is done by the professional Celebrity chefs on TV to add flavor. Doing it at home on the BBQ is too hard to control and will generally burn the meat. Cooking on hot coals, not flames, create the magical taste for meat cooked over a wood or charcoal fire. Timing when the flames have just died down on a wood fire is critical to stop the fire flaring up when you add the meat and the fat drips down to fire up the flameUsing flames from a gas-fired barbecue to produce flames is simply going to engulf and ruin your food. Flames will blacken the steak and will often overcook the meat. Only add small amounts of cooking oil to a hot plate as the oil may catch fire whacking it on the grill. Steaks only need a small splash of olive oil and a little salt before being barbecued
Get to Know your BBQ
As with preparing any meal, you need to get organised well before you start barbecuing. Make sure you have everything ready near the BBQ as walking away to get things after you have started can be disastrous.Critical to any successful BBQ is knowing the right temperatures needed for the dishes you are cooking and how to control those temperatures. It gets complicated when you are cooking different types of meat and vegetables on the same BBQ surface. Timing is also critical, both in terms of the amount of time required for each type of food and having everything cooked to perfection at the end of the BBQ session. If you just throw everything on together and hope for the best it generally be a disaster - some items will be over cooked, some will be undercooked and all the unique individual flavors will be lost.It is a matter of knowing where the hot spots are on you BBQ, using the hot plate and grill for different purposes and cooking each of the items individually even if on the same surface. Some items may need to be cooked on high heat for a short period of time and then moved to a cooler areas when just about cooked. This is where the art of a good BBQ cook comes to the fore - knowing when to add each item, moving them around on the cooking surface to control temperatures and having everything cooked to perfection at the same time at the end of the cooking period.
Making Sure the Temperature is Correct
Prepare the wood or charcoal fire about 30 minutes or more before grilling. For wood make sure the flames have died down and cook over the hot coals. Wait until the temperature is correct. Generally the bbq heat source should be medium-hot with a layer of coals and no flames. To test the temperature hold your hand over the fire at cooking height, palm side down:
HOT - your hand can remain for only 1 - 2 seconds.
MEDIUM-HOT - your hand can remain for 3 - 4 seconds.
MEDIUM - your hand can remain for 4 - 5 seconds.
Be patient and wait until the temperature is right. Toss in a few aromatic wood chips for a 'smoked flavor' using mesquite, alder, hickory or fruit wood chips.To increase the heat - push the coals together, lower the grilling surface, or fan the fire. Leave an area with few coals to which you can move the items if the flames flare up. If the fire flare-ups, remove the food briefly and spray water lightly over the flames. Keep a squirt bottle of water handy for flare-ups, or keep a hose nearby for larger BBQs.
Creating a Beautiful BBQ Meal
Remember that most of the flavor in a BBQ dish comes from the raw ingredients enhanced with spices, the marinade and the sauce added after the food is cooked. Juts about anything
can be done on a barbecue, especially one that has a wok and roasting hood. Below are several tips and hints.
Add salt and spies towards the end of the cooking. Many spices will burn if added too early. Adding salt or soy sauce to items on the BBQ before they are removed appears to enhance the flavor. There are many spices that enhance the flavor of meat and vegetable on a BBQ.
Fresh seafood is also a delight when cooked on a BBQ. Start with a clean slate and choose thick cutlets from species such as tuna, swordfish or salmon that remain firm when cooked. Large prawns can be cooked directly on the plate or grill. You can wrap mussels, clams, pippies and small prawns in small foil packages to cook on the BBQ. Soft fish or whole fish can be barbecued in a foil packet.
Ratatouille is a fabulous barbecue dish for summer, but the trick is not to overcook the vegetables.
Grilled vegetables - The high heat will cook them quickly with delightful taste. Asparagus can be easily cooked by drizzling with olive oil, seasoning and grilling until tender. Vegetable shish kebabs can also be tasty. Corn cobs are beautiful on a BBQ. They can be husked and placed directly on the grill or wrapped in foil. Some people like corn cobs cooked in their husks directly on the BBQ. Dunk in water to stop the husks burning.
Make sure that you wash everything after handling the raw meat. Don't put the cooked meat back onto the same plate you used for the uncooked meat.
Coat the grate or grill with a fine layer of vegetable cooking spray, or brush the food with cooking oil to prevent it from sticking.
How to Cook a Perfect Steak of a Barbecue
Follow this easy guide for barbecuing steak to produce tender, juicy meat that's full of flavour and cooked to perfection:
Step 1. Take the steak out of the fridge about 1 hours before cooking and set it aside covered. Bring the steak to room temperature just before cooking. It can become very tough if it goes straight from the fridge to the barbecue. The steak will cook more evenly if the inside is not cold. Frozen mean should be thawed in the fridge well before use.
Step 2. Preheat your barbecue grill or hotplate on a moderate to high setting. This ensure that the outside gets blasted with heat when it is added, sealing in the juices. Brush both sides of the steak lightly with grape seed, rice bran or peanut oil to prevent it from sticking to the
barbecue. This is better than brushing the barbecue surface, as it prevents excess oil from burning. Excess oil can cause flare-ups and create smoke.
Step 3. Drain any marinade from the steak, by wiping down, before placing it on the barbecue to cook. Excess liquid can burn and smoke imparting the wrong sort of taste. If you' are cooking your steak on a hotplate, the liquid can boil around the meat, broiling the meat, lowering the temperature and making it tough.
Step 4. Wait until just before cooking to season your steak with salt, pepper and rubs. The salt can draw out the flavoursome juices from the meat, making it tough. Season one side with salt and pepper, then cook the steak with seasoned-side down first, to seal in the flavour. Season
the other side by adding to meat on the barbecue just before turning over.
Step 5. Cook the steak on the barbecue, using long-handled tongs to turn the steak, until cooked to your liking. The old rule of only turning once is a good principle for steak especially when the meat is not covered with a marinade. Turning more frequently allows the juices to escape as the outer surface is not sealed. With marinate you may need to turn more than once to avoid turning. Cooking times vary, depending on the thickness and cut of meat.
Step 6. After cooking, allow the steak to 'rest' by transferring the cooked steak pieces to a plate and cover with foil. Set aside for 5-7 minutes to rest and this helps to make the steak as tender as possible. Heat tends to push the juices to the core of the steak. Resting it after cooking allows the meat to relax, and the juices then re- distribute evenly throughout the steak, making it juicy and tender.
How to Know When your Steak is Done - Just the Way You Like It
The time required to cook a steak varies depending on its thickness, the cut of meat and how you like it done. The first test is a simple one - Simply press the centre of the steak with the back of your tongs:
=> Rare will feel soft;
=> Medium - slightly firmer and springy;
=> Well done - very firm with no spring.
Cooking Time Guide
For steak 1.5 cm (1/2 inch) thick:
Rare - 1 to 1 1/2 minutes each side
Medium - 2 to 3 minutes each side
Well done - 3 to 4 minutes each side
For steak 2-3 cm (1 inch) thick:
Rare - 2 to 3 minutes each side
Medium - 4 to 5 minutes each side
Well done - 5 to 6 minutes each side
Sensational Steak Marinade Recipes to Try
Soy, Chilli and Ginger Marinade
1/3 cup dark soy sauce
2 garlic cloves, crushed
2 teaspoons grated fresh ginger
1/2 teaspoon Chinese five spice
1 large fresh red chilli, de-seeded, and thinly sliced
Marinate for 4 hours or overnight
Oregano and Fresh Lemon Marinade
2 garlic cloves, crushed
1 teaspoon dried oregano
1 tablespoon fresh lemon juice
1/3 cup extra virgin olive oil
1 tablespoon fresh thyme leaves
Marinate for up to 2 hours
Indian Korma Curry Marinade Recipe
1/4 cup) olive oil
2 tablespoons mild korma curry paste
2 tablespoons chopped fresh coriander
Marinate for 2-4 hours
Olive Tapenade, Red Wine and Parsley Marinade Recipe
1/3 cup extra virgin olive oil
2 tablespoons red wine
2 garlic cloves, crushed
2 tablespoons olive tapenade
2 tablespoons fresh continental parsley, chopped
Marinate for up to 4 hours
Important Safety Precautions
To avoid potential cross-contamination and the risk of food borne illness, follow these steps:
=> Keep raw meat away from other foods, including vegetables and salad items such as lettuce and tomatoes. Use a separate set of cooking utensils such as cutting boards, knives, dishes and other cooking equipment when handling raw and cooked meats. For example, do not put cooked meat back onto the same plate used to bring the raw meat to the BBQ. Raw juices can contaminate
your cooked food and cause food borne illness if the bacteria and agents proliferate while the food is being kept warm before serving.
=> Wash your hands thoroughly and carefully with soap and warm water for at least 30 seconds before and after handling raw meat.
=> Clean all your cooking equipment, utensils and work surfaces, and then sanitize them with a mild bleach solution. Then liberally rinse with lots of clean water and air dry (or use fresh clean paper towels).
Fabulous Barbecue Recipes to Try
Barbecued Lamb with Argentinian Chimichurri Sauce
Ingredients
4 bay leaves
1 tablespoon salt
4 lamb backstraps
3/4 cup olive oil
2 teaspoons pepper
1/2 cup onion, chopped
3 teaspoons dried thyme
3 teaspoons dried oregano
4 large cloves garlic, chopped
3 teaspoons cumin seed, roasted and ground
for the Chimichurri sauce:
2 bay leaves
1/2 tablespoons salt
1/3 cup white vinegar
4 cloves garlic, chopped
1/4 cup extra virgin olive oil
1 cup curly parsley, finely minced
1/4 cup oregano leaves, finely minced
1 cup flat leaf parsley, finely minced
1/2 jalapeno chilli, coarsely chopped, with seeds
Method
Mix all the marinade ingredients in a large bowl then add the lamb and massage it with the marinade. Cover and refrigerate for about 3 hours or overnight, turning lamb once or twice.
Make the Chimichurri sauce by coarsely chopping the jalapeno add crushing the garlic. Transfer to a mortor bowl with the bay leaves and salt. Grind with a pestle to form a rough paste (or puree with a small amount of vinegar in a blender). Add the oil, vinegar and herbs. Continue mashing until sauce is blended and has a fine texture. Add a little more oil if necessary to create a smooth mixture.
Barbecue the lamb over a hot flame or coals for about 5 minutes on each side until well
seared. Transfer lamb to cutting board, and let rest for 5-10 minutes. Slice and serve with the Chimichurri sauce drizzled on top, reserving some of the sauce to serve on the side.
Barbecued Tatouile Recipe
Ingredients
Salt and pepper
2 medium zucchini
4 cloves, garlic crushed
16 cherry or small tomatoes
2 medium red onions, quartered
1/4 cup chopped flat-leaf parsley
3 tablespoons finely chopped oregano
1/2 cup, plus 2 tablespoons olive oil
2 Japanese eggplants, halved lengthwise
2 medium yellow squash, halved lengthwise
2 medium red capsicums, seeded and quartered
2 medium green capsicums, seeded and quartered
Method
Preheat your barbecue to moderate-high. Place the eggplants, onions, zucchini, squash, capsicums and tomatoes in a large shallow baking dish. Add 1 cup of olive oil, and toss to coat. Season liberally with salt and freshly ground pepper. Place the vegetables on the the barbecue and cook for 5-7 minutes with the lid open. Halfway through the cooking, turn the vegetables over and remove the tomatoes from the barbecue and place them in a large bowl. Cover the barbecue and cook the remaining vegetables until almost cooked through (about 2-3 minutes). Remove the vegetables and chop them coarsely on a clean cutting board coarsely. Combine the chopped vegetables with the tomatoes. Add the remaining olive oil, garlic, oregano and
parsley, seasoning with salt and pepper to taste. Serve warm or at room temperature.
Grilled Aged Rib-eye with Onion, Tomato and Chipotle Salsa Recipe
Ingredients
sea salt
4 x 250 g (8 oz) grass-fed rib-eye steaks
for the Salsa
juice of 1 lime
extra virgin olive oil
4 large vine-ripened tomatoes
1/2 cup extra virgin olive oil
sea salt and freshly ground pepper
1 1/2 tablespoons chipotle chilli powder
1 small red onion, peeled and finely sliced
1 tablespoon roughly chopped flat-leaf parsley
Method
Season the steaks well with sea salt after allowing them to come to room temperature. Barbecue the steaks over a hot flame or coals for about 5-7 minutes each side until well seared. Transfer the steaks to cutting board, and let rest for 5-10 minutes. Slice and serve with the Chimichurri sauce drizzled over, reserving some of the sauce to serve on the side.
Related Articles on Barbecuing Methods and Recipes
=> Yogurt Marinated Chicken Recipes for Barbecue or Grill
=> Grilled and Barbecued Fruit Recipes | Best Fruit for Grilling
=> How to Cook Potatoes Direcly on the Grill or Barbecue
=> How to Pre-Cook Vegetables for Perfect Grilled and Barbecued Meals
=> Best Grilled and Barbecued Vegetable Recipes
=> Grilled Flank Steak Recipes: Marinated, Stuffed, Barbecued with Sauces
=> Korean Barbecue Recipes - Home Made Beef, Pork, Ribs, Chicken Dishes
=> Barbecued Grilled Tuna Steak Recipe, Spice-Crusted with Tahini Sauce
=> How to Grill Fish on Barbecue, Grilled Fish Recipes and BBQ Tips
=> Pairing Wines with Various Types of Barbecued Meats and Mushrooms
=> Resting Meat After Cooking - Tips and Guides for Grilling, Roasting, Barbecuing