How to Cook Asparagus in a Pan, on the Stove, Grill, Barbecue, Bake, Steam
Asparagus a tasty and delightful vegetable that is so easy and quick to prepare in so many ways. It provides a good source of natural fiber, vitamins and nutrients. The asparagus is a part of the lily family.
Asparagus originated more than 2,000 years ago in the eastern Mediterranean, and has long been prized for its unique texture, delicate taste, ease of preparation and reported medicinal and aphrodisiac qualities. It can be grown easily in home gardens and is a perennial that can produce an annual harvest for decades.
Asparagus spears grow up from a subterranean crown planted in sandy soils. The spears can grow a hand-span in length in a 24-hour period. The spears are mostly are green and there is a purple variety which is smaller with a more fruity taste. The white spears are harvested in the absence of light, before the green color develops, and have a more delicate taste.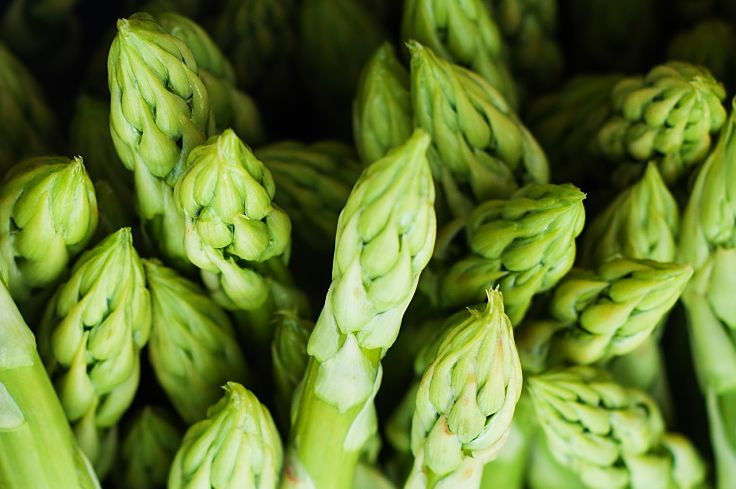 Asparagus is a nutritionally well-balanced vegetables, rich in folic acid, and is a good source of fiber, potassium, thiamin, and vitamins B6, A, K and C.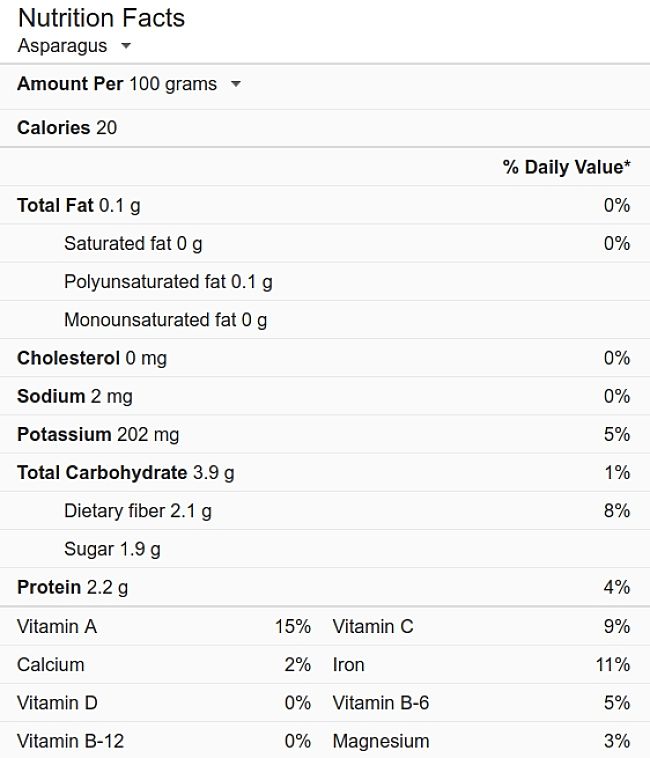 Buying Asparagus - Search for firm heads with buds that have not begun to develop. The stems, can be thick or thin, but should not be woody, firm but not dried out. Look for asparagus that is sold standing in water to keep it from drying out.

Preparation - Remove the woody end of the stalk by simply snapping the ends off. The stalk will snap at the point where the woody part ends. If you prefer you can trim the ends of the stalks with a knife at the same point. If the spears are thick, you can peel them lightly with a vegetable peeler, but this is not usually necessary.
Methods for Cooking Asparagus
You can enjoy asparagus raw in a salad (or lightly steamed or boiled) with minimal preparation. It can also be cooked in a number of ways.
Steamed
Place water in the lower half of a steamer pan. Add 1 teaspoon butter and 1/4 teaspoon salt, and bring the water to the boil. Trim the stalks and peel the ends if needed. Place the asparagus into the top half of the steamer pan set, or and Asian steamer. Steam for about 4 to 9 minutes according to the thickness. Don't overcook, remove when just tender.
Cooking in the Oven
Preheat your baking oven to 425 degrees F.
Trim and rinse the asparagus with cold water; drain and dry with paper towels. Place the stalks in a bowl. Add about 1 tablespoon of olive oil to the stalks in a bowl. You can us an oil infused with lemon, garlic or other herbs.
Line a heavy baking sheet with baking paper or aluminum foil, and spray with oil.
Add the asparagus and season with salt and pepper (or a drizzle of light soy sauce). You can also add other flavors such as diced shallots, garlic, ginger and red peppers or a sprinkling of grated Parmesan cheese.
Bake until just tender -Young, slim stalks 5-6 minutes; thicker stalks up to about15 minutes. Test for doneness regularly using a fork to stop overcooking.
Drizzle the cooked asparagus with lemon or lime juice, or balsamic vinegar.
Boiling in a Pan
Ingredients
1 bunch of fresh medium sized green or white asparagus
2 Tablespoon of high quality extra virgin olive oil or other oil
2 Tablespoon freshly grated Parmesan cheese
Salt and freshly ground black pepper
1 teaspoon lemon zest (freshly grated)
Method
Prepare the asparagus by washing, trimming thoroughly and peeling the stalks if needed. Cut into short sections, making slices at a slight diagonal angle.Half-fill a medium sized saucepan with water and bring to a boil. Reduce the heat and simmer for exactly 2 minutes. Sieve the asparagus and while still hot, toss in a bowl with the olive oil, lemon rind, grated Parmesan, salt and pepper to taste. Serve immediately while warm.
Microwave
Fresh asparagus can get washed, trimmed, peeled and steamed in the microwave in less than 8 minutes. Steam only until they are just tender but still have texture and are not overcooked. Place the asparagus 2 to 3 deep in a rectangular dish with one tablespoon of water. Cover with plastic wrap or a lid, allowing a vent for steam to escape. Cook on high heat for about 2 minutes. Sprinkle the spears with salt, pepper, a little lime or fresh lemon juice, and the serve immediately.
Grilled Asparagus
Asparagus is fabulous cooked on the grill or barbecue which imparts a slightly smokey or charred flavor. Clean the asparagus, lay it on a very clean grill or a grill pan if the spears are likely to fall through. Brush the asparagus with extra virgin olive oil, toasted sesame oil or some another flavored oil your like. Grill on moderate heat for about 3-5 minutes, or until just tender (test regularly with a fork). Sprinkling with salt, pepper and other spices when almost cooked.
Asparagus Recipes
Stir-Fried Asparagus with Ginger, Cashews or other Nuts
Ingredients
1 pound (500g) of fresh asparagus, cleaned and chopped into bite-size pieces
2 teaspoons sesame oil
1 tablespoon grape seed or other high temperature vegetable oil
1 tablespoon of finely chopped green ginger,
1 tablespoon soy sauce
1/2 cup cashews, chopped (or blanched almonds, macadamia nuts)
Method
Heat a wok or fry pan and add the oils. When the oil is hot and just starts to smoke, stir fry the ginger for about one minute, add the asparagus and cook for another 3 stirring vigorously, until barely tender and still bright green. To help cook the asparagus without burning, slash in a little water. Add the soy sauce and cashews and cook for one or two minutes and serve immediately. You can brown the nuts before adding to the dish.
Grilled Asparagus with Creamy Lemon Sauce
Ingredients
1 pound (500 gm) of fresh prepared asparagus
1 1/2 tablespoons of extra virgin olive oil
2 tablespoons of freshly squeezed lemon juice
1/3 cup white wine
1/2 cup of cream
2 tablespoons butter
1 tablespoon finely chopped parsley or chives (optional)
Method
Coat the asparagus with a sprinkle of olive oil and grill or BBQ for about 6 minutes until tender and slightly browned. Vary the cooking time depending on the heat of the grill and the thickness of the asparagus. Take a small frying pan and simmer the wine over moderate heat until it reduces by about a half. Add the cream and simmer gently until the sauce thickens. Then add the butter, lemon juice and chives or parsley (optional). Stir until the sauce is smooth. Simmer for longer to get a thicker sauce. If its too thick add some water and whisk vigorously. Serve the asparagus with the lovely lemon sauce.
Related Articles about Asparagus and White Sauce
=> Health Benefits Asparagus, Nutrition Facts and Cooking Tips
=> Cooking Fresh Asparagus - How to Fry, Roast, Steam, Microwave and Grill
=> Best-Fettuccine-Alfredo-Sauce-Recipes-with-Interesting-Additions
=> Beurre Blanc Sauce Recipes with Lemon, Dill, other Herbs for Seafood
=> Homemade Horseradish Sauce Recipes, Other Uses for Fresh Horseradish
=> How to Make Lemon Curd, Recipe for Lemon Butter Sauce for Fish Sauce
=> How to Make Hollandaise Sauce - Simple Easy Recipes, Tips, Variations