How to Cut, Peel, Prepare an Avocado - Best Avocado Recipe Ideas
There are many ways to cut and peel an avocado, the method described below is simple and foolproof and avoids squishy bits and mess. It is simple, easy and fast. It is the perfect way to prepare avocado for the recipes included at the end of the article. Always start with avocados that are just a little firm. Avocados that are overripe are very hard to peel, cut and to prepare. To help pick a ripe one pick up an avocado that looks ripe up and look closely at the stem end. If you can pull the stem out very easily the avocado is rip. Otherwise gently squeeze an avocado - unripe one will feel hard to a gentle squeeze, the skin of an over-ripe avocado will feel a little loose.
The ripeness you choose when you buy them depends and how quickly you want to use the avocados. Choose softer ones for immediate use, firmer ones for delayed use.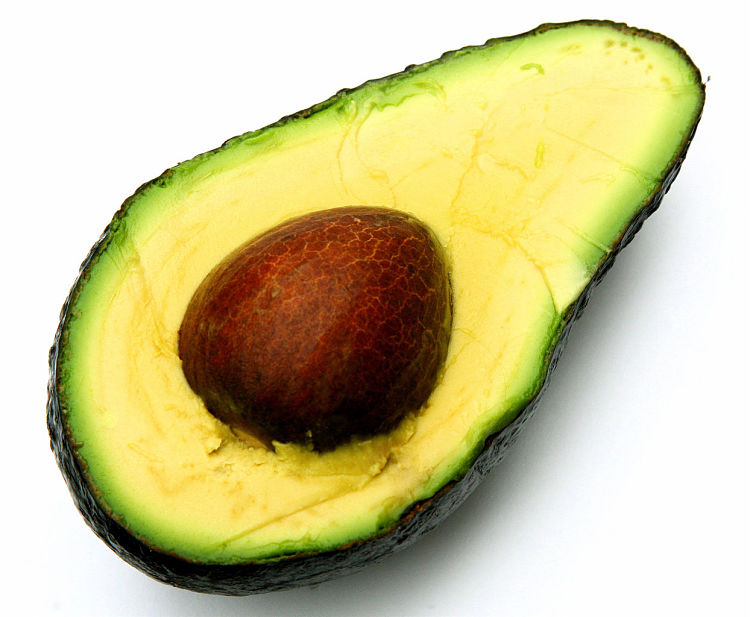 Method for Cutting and Peeling an Avocado
Step 1. Grab the avocado gently with one hand and with a broad-blade sharp knife cut through the avocado to the seed all the way round.

Step 2. Rotate one half gently while holding the other tightly. Open the two halves to expose the seed.

Step 3. There are three ways to proceed depending on whether you want to keep the two halves of the avocado intact
Sector Method - One way is to make one or more cuts, lengthwise on the half avocado that has the seed so that it is easier to remove each of the sectors with skin attached. You can gently twist the knife blade between the sectors to separate the sectors from the seed.
Spoon Method - You can simply use a spoon to scoop out the seed.
Insert a Knife into the Seed -This method can be dangerous so be careful. Using a towel and grab the avocado with the seed pointing upward. Gently swing the knife so that the blade wedges firmly. The knife can then be used to pull the seed out after rotating it slightly.
Step 4. Removing the flesh - the method you use depends on whether you want to keep the avocado in halves or sectors or chop the avocado.
Spoon Method - you can simply scoop out the flesh of the avocado with a spoon, which is ideal for preparing guacamole. To make it easier to scoop out the flesh, take a small knife and gently make a series of cuts in a cross-hatch pattern. Only cut into the flesh not into the avocado peel. Then you can easily use a spoon to scoop out the avocado pieces.
Sector method - use a knife to slice the flesh of the avocado halves into sections. It does not matter if you cut through the peel. Use your fingers to gently remove the avocado sectors from the peel.
How to Stop a Sliced Avocado from Browning
Squeeze some fresh lime or lemon juice on the exposed area and seal it with plastic film as airtight as you can. Store in the fridge with the cut side down.
Spray the cut surface with a little cooking oil spray sprayed and covered it with foil and store in the fridge.
Wonderful ways to Use Avocados

Avocado is much more than just a tasty addition to dips such as guacamole. It can be the base of a hearty satisfying meal when eaten in salads, added to pizza and tacos and in many other dishes.
Avocados contain many vitamins, minerals, active enzymes,soluble fiber, easily digested proteins and fats.
Avocados make a delightful addition and accompaniment to many meat and poultry dishes, and are ideal for snacks.
Detailed Nutrient Summary for Avocado (100g)
| NUTRIENTS 100 g Whole Avocado | Units | Amount | recommended dietary intake and percent supplied by 120 g |
| --- | --- | --- | --- |
| Energy | kJ | 862 | 8700 |
| Protein | g | 2 | 50 |
| Fat Total | g | 21.4 | 70 |
| saturated | g | 4.8 | 23% of total fat |
| trans | g | 0 | |
| monounsaturated | g | 12.8 | |
| polyunsaturated | g | 4.7 | |
| Omega 3 (ALA)* | mg | 115 | 200 |
| Plant sterols (total)* | mg | 83 | |
| Fibre, total dietary | g | 5 | 30 |
| Fibre soluble | g | 2 | |
| Carbohydrate total (sugars) | g | 0.5 | |
| MINERALS | | | |
| Calcium | mg | 14 | 800 (2%) |
| Iron | mg | 0.64 | 12 (7%) |
| Magnesium | mg | 27 | 320 (10%) |
| Phosphorus | mg | 48 | 1000 (6%) |
| Potassium | mg | 509 | 3800 (16%) |
| Sodium | mg | 4 | 920 (<1%) |
| Zinc | mg | 0.56 | 12 (6%) |
| Copper | mg | 0.27 | 3 (11%) |
| Manganese | mg | 0.23 | 5 (6%) |
| VITAMINS | | | |
| Folate | mcg | 120 | 400 (18%) |
| Biotin | mcg | 4.9 | 30 (20%) |
| Pantothenic acid | mg | 1 | 5 (24%) |
| Vitamin C | mg | 11 | 40 (29%) |
| Vitamin E | mg | 1.9 | 10 (23%) |
| Vitamin K | mcg | 21 | 80 (31%) |
| OTHER | | | |
| Beta carotene | Eq mcg | 179 | |
| Lutein + Zeaxanthin | mcg | 271 | |
| Antioxidant capacity ORAC | umol Trolox Equivalent | 1922 | |
| Antioxidants Polyphenols | mg GAE | 142 | |
| | | | |
Avocado Recipe Ideas

A la carte - Prepare fresh slices of avocado and drench in lime juice and garlic salt as a light snack or an appetiser.
Avocado with Seafood Ceviche - Peel and remove the seed from an avocado. Halve it lengthwise. Trim the base of each half so it sits flat. Into each half, add de-veined, peeled and diced raw prawn and some raw scallops. Add segments of orange, lime and lemon. Add a drizzle of extra-virgin olive oil, some lime juice, minced jalapeno pepper, finely sliced red onion, finely sliced fennel and a little coriander.
Chilled Avocado Soup - Blend avocado slicers with lime juice, sour cream, chicken stock, garlic, chopped tarragon and mint. Serve the soup with smoked chicken or crab tossed with a corn-and-cucumber salsa. Garnish with crushed tortilla chips or pieces of bread.
Guacamole Recipe - Mash a peeled and avocado until soft, then add minced garlic, serrano chilli, a finely diced red onion, diced tomato flesh, lime juice, coriander, chopped fresh oregano, a pinch of cumin and salt to taste. Mix until all combined and incorporated.
Japanese Tuna Salad with Avocado - Combine 125 m1 of soy sauce, 75 g of sugar and one small knob of ginger, finely chopped. Heat and mix until the sugar has dissolved. Then set aside to cool. Next, cube a peeled avocado and slice a piece of sashimi-grade tuna into cubes about the same size. Gently combine with the dressing. Add minced chilli, toasted sesame seeds and spring onion as a garnish. Serve with iceberg lettuce cups.
Pasta - Add fresh avocado cubes combined freshly graded Parmesan to boost the taste. Or smash the avocado and used as a lovely green sauce.
Soup - Avocado is perfect when added to hot soups as a garnish with freshly baked croutons or grated cheese.
Vegetarian Avocado Breakfast Recipe - Toast a slice of wholemeal bread or hard crusted olive bread. Top with slices of avocado, then garnish with sliced red onion, feta, cherry tomatoes, basil and parsley. Drizzle with lemon or lime juice and extra-virgin olive oil.
Avocado and Chocolate Pudding - Avocado with its rather neutral taste and creamy texture is just perfect for thickening a beautiful dessert. Avocado pairs well with chocolate, peanut butter and all sorts of fruits.
Stuff Avocado with various fillings - Stack your avocado with a variety of fillings for an easy snack or light lunch. Some suggestions are crab, chilli and mustard. Or try sun dried tomatoes, olives and spring onions topped with beans and cheese..
Wrap up Avocado in a Sushi Roll - Avocado makes a great addition to any sushi roll using a combination of ingredients.

Griddle or Grill Avocado Halves - Place your unripe avocados on the griddle to soften them. This also boosts their taste.
Tofu and Avocado Rice Bowl Recipe

Ingredients
kosher salt
1 cup brown rice
1 avocado, sliced
1/4 cup canola oil
2 tablespoons soy sauce
2 tablespoons white miso
1 can pinto beans, rinsed
2 tablespoons rice vinegar
Scallions and red chillies sliced, for serving
14 ounces (350 g) extra-firm tofu, cut into 1-inch pieces
Method
Cook the rice in the usual way. Season the tofu and fry in oil using moderate heat until golden brown. Combine the soy sauce, miso, vinegar, 2 tablespoons of oil in a small bowl. Serve the avocado, scallions, tofu, beans and chillies over the rice, drizzled with the dressing.
Salmon, Green Beans and Avocado Recipe

Ingredients
2 avocados, chopped
3 tablespoons olive oil
1 lb (500 g) green beans
1 teaspoon ground coriander
kosher salt and black pepper
1 tablespoon chopped fresh dill
1 tablespoon white wine vinegar
4 pieces boneless, skinless salmon
Method
Heat your grill or broiler. Toss the beans with 2 tablespoons of the oil. Season with salt and pepper on a rimmed baking sheet. Nestle the fish on the beans and sprinkle with coriander, salt and pepper. Broil or grill until the beans are crisp-tender and the fish is just opaque (about 6-8 minutes). Mix the vinegar, dill, avocados, 1 tablespoon of oil, and 1/2 teaspoon salt in a medium bowl. Serve the fish and beans topped with the avocado mixture as a dressing.

Avocado Caprese Burger Recipe
Ingredients
1 avocado, mashed
4 buns for serving
1 tablespoon of canola oil
4 slices fresh mozzarella
sliced tomato, for serving
kosher salt and black pepper
1 1/4 lb (700 g) ground beef chuck
2 tablespoons chopped fresh basil leaves
Method
Heat an oiled grill to moderate. Combine the avocado, basil, and 1/2 teaspoon salt and pepper in a small bowl. In another bowl, season the beef with salt and pepper. Use your hands to form the meat into burger patties. Grill the patties covered, until cooked in the middle. Top each burger the cheese and grill, covered, until the cheese melts. Place the burgers on buns and top with tomato slices, and avocado mixture on the buns.

Shrimp and Avocado Nachos Recipe
Ingredients
kosher salt
2 radishes, sliced
2 avocados, chopped
1/4 red onion, sliced
2 tablespoons canola oil
6 oz (125 g)tortilla chips
1/2 teaspoon cayenne pepper
fresh cilantro leaves and sour cream, for serving
6 oz (125 g) Cheddar cheese, grated (about 1 1/2 cups)
12 oz (300 g) peeled and deveined medium shrimps (raw)
Method
Pre-heat you oven to hot. Line an oiled, rimmed baking sheet with foil. Layer the tortilla chips, cheddar cheese, and onion on the pan and then bake until the cheese is melted (about 4-5 minutes). Next, heat the oil in a large skillet over medium-high heat. Add the shrimp, cayenne, and 1/2 teaspoon of salt. Stir-fry until the shrimp are opaque (about 2-3 minutes). Serve the nachos topped with the radishes, cilantro, cooked shrimp, avocados and sour cream.
Cutting and Peeling an Avocado - Image Array