How to Make Beef Jerky at Home - Drying Methods, Recipes and Safety Tips
Jerky is lean meat that is trimmed to remove fat, cut into strips, marinated and salted and then dried to preserve the meat, which makes and excellent snack. It is not cooked but may be smoked.
Many commercial jerky products use finely ground poor quality meat, seasonings, and form the ground beef into flat shapes prior to drying. These products contain inferior ingredients, sugar and processed flour and are not as healthy as homemade jerky where you can be sure of the ingredients.
Many commercial jerky products have high sugar content and can be very sweet, unlike biltong, which rarely contains sugar.
You can easily make your own jerky and you can control the ingredients and flavor you like. This article describes how to make your own jerky safely.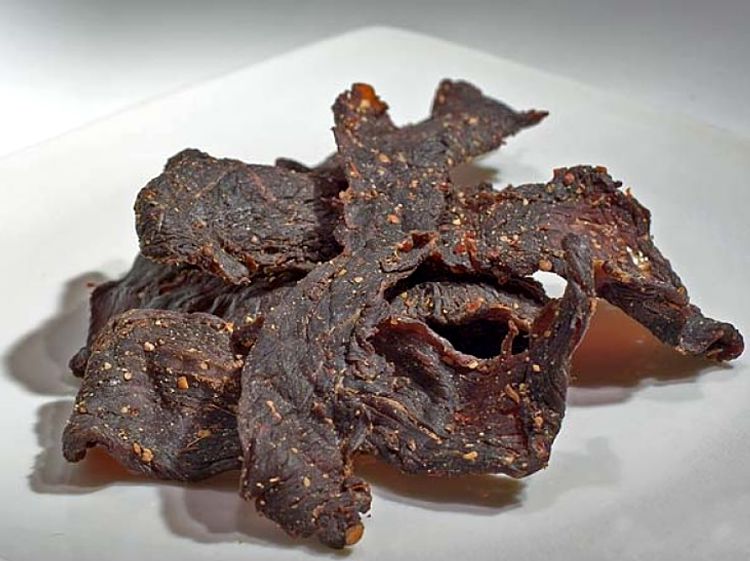 During the drying process the protein to moisture content ratio is reduced to 0.75 to 1.0). This cures the meat and preserves is as the bacteria cannot grow when its dry and growth is also inhibited by salt. There are well defined safety guidelines which are summarized below. Jerky is ready-to-eat and is a great healthy snack, especially for people on diets such as the paleo diet and needs no additional preparation. It can generally be stored for up to 12 months refrigeration. A typical 30 gm portion of jerky contains less than 1 gm of fat, 10-15 gm of protein, 0-3 gm of carbohydrates and about 600 mg of sodium.
Choosing the Cut of Beef - Select a lean cut like sirloin, round eye, or top round. Remove all the fat and this may mean you have to chop the slices. You should choose whether you want wide strips requiring the meat sliced about one inch thick (2.5 cm) or thinner for narrow strips. To make the slicing easier, freeze it for about 3-5 hours before slicing. You can make the slices thinner than way and be more consistent.

Slicing the Beef - To slice your beef into thin slices, you need a very sharp thin knife. Slice the meat into very thin strips less than 1/20 inches thick (about 2mm). You can choose to cut against of with the grain . Some people find that cutting against the grain makes the jerky easier to chew. Remove any fat as you go along and try to make the strips a uniform length.

Marinade the Strips - Soak your beef slices in a marinade for half a day or overnight in the fridge. There are several recipes shown below. The meat will absorb the flavor in the marinade which will help cure the meat.

Preparing the beef for drying - you can do this on the grill or in your oven. For safety reasons heat the beef briefly to160 degrees F (70 degrees C). Do not cook the beef - simply heat it to this temperature for a few minutes. You can sprinkle the jerky with salt as this will help the dehydrating process.

Drying the Beef Jerky - There are three options (note: the microwave does not work). Spray the racks with non-stick cooking spray to stop them sticking.
How to Make Drying Meat to Make Jerky Safe and Healthy
Drying is the oldest and most commonly used method historical method of food preservation. It has been done safely for centuries. Canning technology for food preservation is less than 200 years old. Freezing became a practical method only during the last 100 years when electricity became widely available.
Drying technology is both simple, readily available and safe when the key rules are followed. The scientific principal for preserving by drying is to remove moisture. Enzymes cannot efficiently contact or react with the food once it is dry. This applies to enzymes in the meat that spoil the food. It also applies to bacteria, fungi, or naturally occurring autolytic enzymes in the the raw food. Stopping this enzymatic action preserves the food from biological deterioration.
What Types of Food are Suitable for Drying?
Sun drying is used for drying fruit and vegetables. However solar drying is not recommended for making meat jerky due to a lack of an adequate and steady heat source. There is also an unacceptable risk of contamination by animals, insects, dust, and bacteria if the meat strips are left out in the open. Drying using an artificial heat source is the preferred method because the meat is dried quickly at controlled safe temperatures, which prevents bacteria proliferating. The heat drying is done by placing food in a warm oven, smoker or a food dehydrator. Meat can also be dried over an open flame or hot coals using a camp fire or barbecue. The main components of a built-for-purpose meat dryer and food dehydrator include:
a source of heat;
thermostat temperature control and monitoring system;
air flow to circulate the dry air;
trays to hold the food during the drying process;
screens to prevent insect contamination;
methods to simplify cleaning and sterilisation
Why is the Correct Temperature Important when Making Jerky?
There are potential risks of Salmonella and E. coli problems with homemade jerky when temperatures are too low. The same principle applies for keeping food warm. There is a danger zone of moderate temperatures that are ideal for bacteria and pathogens to proliferate in the food.
The USDA current recommendation for making jerky safely is to heat beef to 160 degrees F (70 degrees C), and for poultry to 165 degrees F (75 degrees C) before starting the dehydrating process to kill off any bacteria or other agents. Most dehydrator instructions do not include this important step. After heating to 160 degrees F (70 degrees C) or 165 degrees F (75 degrees C) and leaving the meat strips or minced meat at this temperature for 20-30 minutes, it can be transferred to your choice of dryer or dehydration method.
The jerky should be dried at a uniform temperature of 130 degrees F (55 degrees C) to 140 °F (60 degrees C) to ensure the process is fast enough to dry the food quickly before it spoils. The heating and air flow must remove enough water that microorganisms are unable to grow. The danger in dehydrating meat and poultry that has not been pre-heated to a safe temperature is that bacteria will not be destroyed. They will multiply quickly during the drying.
Does Marinating the Meat Make it Safe?
Scientific studies have shown that marinating meat does not make raw meat safe.
Does Cooking the Meat, Partially or Completely Before Drying Make it Safe?
Yes this helps, but the meat should be dried immediately and quickly and not set aside before starting the drying
Is Commercially Made Jerky Safe?
Yes, the commercial drying process is monitored in federally inspected plants by inspectors of the U.S. Department of Agriculture's Food Safety and Inspection Service. Products may be cured or uncured, dried, and may be smoked or unsmoked, air or oven dried. Jerky sourced from overseas sources or 'back-yard' operators my be very risky.
What is the Safe Storage Time for Jerky?
Commercially packaged jerky can be kept 12 months; home-dried jerky can be stored 1 to 2 months. Storing in the refrigerator helps to keep it safe and reliable.
Are There Special Considerations for Wild Game Jerky?
Yes, there are special considerations when making homemade jerky from venison or other wild game. Venison particularly can be heavily contaminated with fecal bacteria. Fresh beef is usually rapidly chilled after death, but deer and other wild game carcasses are typically held at ambient temperatures for hours or days, potentially allowing bacteria to multiply in the meat.

USDA's Recommendations for Making Homemade Beef Jerky Safely
Defrost frozen meat in the refrigerator, not on the kitchen counter.
Heat beef to 160 degrees F (70 degrees C), and for poultry to 165 degrees F (75 degrees C), for 30 minutes before the dehydrating. Use a food thermometer to check that this temperature has been reached, internally in the meat before dehydrating it.
Dry meats in an oven or food dehydrator that has an adjustable temperature dial and will maintain a temperature of at 130 degrees F (55 degrees C) to 140 °F (60 degrees C)
Use clean equipment and utensils, preferably plunging the equipment in boiling water for several minutes.
Keep beef, pork, poultry and other meat refrigerated while being stored. Do not leave the meat out at room temperature before being used.
Avoid cross contamination of working surfaces and utensils. Use color coded chopping boards to deep raw meat contaminating the finished product.
Always wash hands thoroughly with soap and water before and after working with meat products.
Marinate meat in the refrigerator. Don't save the marinade for re-use, discard it. Marinades are used to tenderize and flavor the jerky before dehydrating it.
Beef Jerky Recipes Including The Best Ever Marinades
Spicy Beef Jerky Recipe with Honey Herbs and Pepper
Ingredients
1/4 cup water
1/4 cup ketchup
1 teaspoon salt
1/4 cup olive oil
1 teaspoon oregano
5 lb ( 2 1/2 kg) beef
1/4 cup wine vinegar
1 teaspoon garlic powder
1 tablespoon onion flakes
1 tablespoon liquid smoke
1/4 cup Worcestershire sauce
3 tablespoons honey or brown sugar
1 teaspoon of freshly ground black pepper
Method
Slice the meat into strips about 1/8 inch (3.5 mm) thick, and about 4 inches (10 cm) long. Mix all the ingredients in a non-reactive pot and soak the meat strips, covered, storing in the refrigerator, overnight or for 2 days, stirring once or twice. Place the drained meat strips on a rack in your oven, with door slightly open, or a jerky drier until the strips are completely dry.
Sweet and Sour Beef Jerky Recipe with Soy Sauce, Chilli Sauce and Sugar
Ingredients
1/2 cup soy sauce
1/2 cup brown sugar
1 teaspoon onion powder
1 teaspoon garlic powder
1/4 cup Worcestershire sauce
1/2 teaspoon liquid smoke flavoring
1/2 teaspoon freshly ground black pepper
1 lb ( 500 g) fresh meat strips, thinly sliced
1 teaspoon hot pepper sauce (e.g. Tabasco or hot chilli sauce)
Method
Stir together all the ingredients until well mixed. Place the meat with the marinade a resealable plastic bag, and squeeze out the air. Marinate in the refrigerator for 2-3 days hours, mixing several times. Remove meat from marinade, drain discarding the excess marinade. Dry the jerky according to the manufacturer's instructions of your smoker or dehydrator, or using your oven or barbecue.
Chinese Beef Jerky Recipe (Oven Dried)
Ingredients
1/2 cup light soy sauce
4 1/2 tablespoons honey
1 teaspoon white pepper
3 lb (1 1/2 kg) flank steak
1 1/2 tablespoons sesame oil
4 large garlic cloves, minced
1 tablespoons fresh ginger, minced
1 1/2 tablespoons crushed red pepper
Method
Cut meat in half lengthwise and then slice diagonally crosswise-style into very thin strips. Transfer to shallow pan. Combine marinade ingredients and use to rub thoroughly into meat until all surfaces well covered. Refrigerate the strips over night. Preheat your oven to 250 degrees F (120 degrees C). Line 2 large baking sheets with foil and place wire racks over the top of each. Arrange meat on racks in single layer. Bake for 30-45 minutes. Turn the meat over on the racks and bake again for an additional 30 minutes. Lower the heat to low and bake for 40 minutes (or until the meat is lightly browned but not burned). Continue to dry the meat in a low oven until thoroughly dry. Pack the jerky into air-tight jars and store in the refrigerator.
Bayou Cajun Beef Jerky Marinade Recipe
1/4 cup cold water
1/2 teaspoon sea salt
1/2 teaspoon onion powder
1/2 teaspoon garlic powder
1 teaspoon ground red pepper
1/2 teaspoon smoked paprika powder
3 tablespoons Zatarain's hot sauce
1 lb (500 g) Thinly Sliced Beef Top Round
1/4 teaspoon Curing Salt (Prague Powder #1 or similar)
Cranberry Turkey Jerky Marinade Recipe
1/4 cup honey
1/2 cup orange juice
1 cup cranberry sauce
1/2 teaspoon allspice
1 tablespoon brown sugar
1/4 teaspoon curing salt (Optional)
1 lb (500 g) Turkey Breast, cut into thin strips
10 juniper berries (crushed into very small pieces)
Vietnamese Style Beef Jerky Dry Rub Recipe
1 teaspoon salt
3 tablespoons sugar
2 teaspoons vegetable oil
2 tablespoons minced garlic
1 tablespoon turmeric powder
1 lb (500 g) Beef Bottom Round
1 tablespoon five spice powder
1 tablespoon red pepper flakes
3 tablespoons minced lemongrass
1/2 teaspoon ground black pepper
Lime Beef Jerky Marinade Recipe with Jalapeno
1/2 teaspoon salt
2 tablespoons honey
1/2 teaspoon garlic
2/3 cup orange juice
1 teaspoon ground cumin
1/4 teaspoon Curing Salt
1 lb (500 g) eye of round beef
2 diced jalapenos (seeds removed)
1/4 cup freshly squeezed lime juice
Teriyaki Style Beef Jerky Marinade Recipe
1/2 cup soy sauce
2 tablespoon honey
1 teaspoon sesame oil
1 tablespoon soy sauce
1 teaspoon dried ginger
2 tablespoon brown sugar
1 teaspoon garlic powder
1 tablespoon rice vinegar
1 teaspoon smoking oil or curing salt
1 lb (500 g) eye of round roast beef cut
Garlic Black Pepper Beef Jerky Marinade Recipe
1/4 cup soy sauce
1/4 cup cold water
1/2 teaspoon sea salt
2 tablespoon brown sugar
1/4 teaspoon Curing Salt
1/4 teaspoon onion powder
1/2 teaspoon garlic powder
2 teaspoon ground black pepper
1 lb (500 g) beef eye of round roast
Thai Style Spicy Beef Jerky Marinade Recipe
2 basil leaves
1/2 cup cold water
1 small garlic clove
1 tablespoon fish sauce
2 tablespoon fresh cilantro
2 tablespoon chilli garlic sauce
1 lb (500 g) lean beef, eye of round cut