How to Make Bruschetta - Best Easy Recipes and Topping Variations
Bruschetta is an Italian antipasto dating from about the 15th century. It is a simple dish that has to be made properly, with fresh ingredients, to enjoy the full flavour and texture. It is made from crusty white Italian Bread that is grilled or roasted, then rubbed with fresh garlic and topped with extra-virgin olive oil, pepper and salt. Bruschetta is usually served as an appetizer or snack, and is popular as a party food. Variations include the addition of many toppings including spicy red pepper, vegetables, tomato, beans, ham and various other cured meat, and a variety of cheeses. Probably the most popular recipe involves garlic, fresh basil leaves, fresh tomato, and perhaps onion or mozzarella.

Tasting a homemade bruschetta made with fresh ingredients is memorable eating experiences that far exceeds the tired and lifeless versions served at many restaurants. This article includes a recipe and tips for making the perfect homemade bruschetta.
Tasting a homemade bruschetta made with fresh ingredients is memorable eating experiences that far exceeds the tired and lifeless versions served at many restaurants. There several tips for the perfect homemade bruschetta.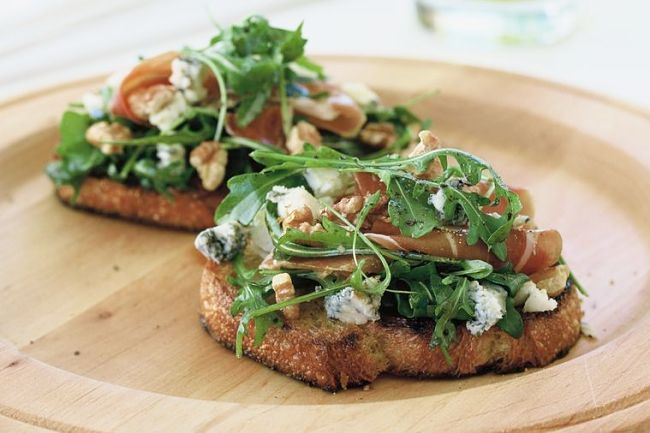 Top Tips for Making Bruschetta at Home
The Bread - Choose crusty Italian country bread that is thickly sliced.

Toasting the Bread - Toast both sides of the bread over hot fragrant coal on a barbecue or open fire. Otherwise use a cast-iron ridged griddle or as a last resort an ordinary domestic grill set on high so that the bread is close to the flame or element. You need high heat and the bread should be a deep brown with occasional much darker patches on the outside crust areas. This adds flavour to the bread.

Rubbing with Garlic - Make several slashes with a knife along the surface of each piece of bread. This is important as it allows the garlic and olive oil to penetrate slightly into the bread. The surface is then rubbed with a peeled clove of garlic. Try to get large cloves of garlic as this makes it easier.

The Olive Oil - You need high quality Italian extra virgin olive oil or an equivalent varietal local olive oil that is bursting with flavour. Sprinkle or drizzle the oil, quite freely so that it runs across the surface into the bread, and little pools of oil are left all around the base of the plate where it has gone right through.

The Toppings - Done properly the basic bruschetta is perfect as is, with salt and freshly crushed black pepper. But if you must have topping then you will need very red, very fresh and ripe, firm tomatoes at room temperature and fresh crisp basil leaves (not limp and tired). The best ingredients are picked straight from the garden. Halved cheery tomatoes can be busting with flavour and provide a different texture to standard tomatoes. Try to avoid the thick skinned supermarket tomatoes that are coarse and have no flavour.
Simple Bruschetta Recipe with Tomato and Basil
Makes 12, sufficient for 4-6 people
Ingredients
1 ciabatta loaf, cut in 12 thin to moderate slices. Or choose a similar crusty bread with moderately large cavities or 'bubbles' when cut.
1 large clove garlic, freshly peeled and rubbed in salt
about 5 tablespoons or high quality extra virgin olive oil
Topping Ingredients:
5-6 red, plump and ripe tomatoes or 18 plum cherry tomatoes, halved
several torn basil leaves
extra virgin olive oil
sea salt
freshly milled black pepper
Method
Prepare the tomatoes by placing them in a bow or boiling water. Leave them for 1 minute, then drain and slip off the skins and chop them finely. Cherry tomatoes can be halved and gently roasted, grilled or fried very briefly until the skins just start to wrinkle.
Heat the griddle over high heat for about 10-15 minutes or prepare the barbecue set to high heat.
Position the bread slices diagonally across the griddle, and cook them for about 45-60 seconds on each side. They should be a golden color all over, dry and crisp with charred strips across each face of the bread, and the crust should show darker patches. (Alternatively, toast them under a conventional grill.)
When the slices are toasted use a very sharp knife to cut 3 little slashes across each side of the read slice and rub the garlic all over the surface of the bread. Drizzle or sprinkle olive oil (about half a tablespoon) of over each surface of the bread.
Top with the prepared tomatoes and basil leaves. Add salt and freshly milled black pepper and add a few more drops of olive oil to the surface before serving
Simple and Effective Bruschetta Recipe
Ingredients
1⁄2 teaspoon salt
2 teaspoons minced garlic
1⁄4 cup grated Parmesan cheese
2 tablespoons balsamic vinegar
1⁄3 cup fresh basil, thinly sliced
3 tablespoons extra-virgin olive oil
1 teaspoon freshly ground black pepper
1 baguette, cut in half length-wise and toasted
2 1⁄2 cups minced roma tomatoes, finely chopped
Method
Add the garlic, basil, vinegar, tomatoes, olive oil, cheese, salt and pepper to a medium size bowl and mix well. Set aside for at 15-20 minutes at room temperature to allow the flavors to mellow and infuse. Slice the bread into individual pieces, toast (if desired) and spoon the mixture on the top. Serve immediately.

Classic Italian Bruschetta with Avocado and Onion Recipe, with 9 Variations

Ingredients
4 tomatoes, diced
cooking oil spray
1 tablespoon olive oil
1 clove garlic, crushed
1 large red onion, diced
cracked pepper, to season
1 avocado, de-stoned, diced
1 cup basil leaves, chopped
1 tablespoon balsamic vinegar
4 large slices sourdough bread
Method
Using a small bowl, add the tomatoes, basil, garlic, oil, red onion, avocado and vinegar. Mix well and season with salt and pepper. Spray each piece of bread with cooking oil spray. Then grill the bread slices under the grill until crispy and browned, or toast on a barbecue grill. Top each piece of bread with a serving of the tomato mixture. Top with a little cheese and fresh herbs if you like and serve immediately.
Fabulous Brusschetta Variations to the Above Recipe
Basil pesto bruschetta: Omit the avocado. Spread toasted bread with a teaspoon of basil pesto. Top with crumbled feta, some baby spinach leaves and the tomato mix.
Mushroom bruschetta: Omit avocado and oil. Add finely chopped, sautéed mushrooms and crumbled low-fat feta to tomato mixture. Sprinkle with fresh parsley to serve.
Lemony bruschetta: Replace olive oil and vinegar with 1–2 tablespoons of lemon juice. Combine the ingredients. Before serving, sprinkle the topped toast with a little lemon zest.
Roasted vegie bruschetta: Finely chop leftover roasted vegetables, such as pumpkin, zucchini, capsicum, onion and tomato. Spoon over toasted bread then drizzle with a little balsamic vinegar before serving.
Capsicum bruschetta: Replace tomato with 1 cup of fried capsicum strips or chargrilled capsicum (skin removed). Pat with a paper towel to remove some of the oil. Chop and combine with other ingredients in the recipe above.
Haloumi bruschetta: Omit avocado and add a teaspoon of lemon juice to the tomato mix. Replace the chopped basil leaves with finely chopped coriander. Top each piece of bread with tomato mix and add a thin slice of grilled haloumi.
Bocconcini and tomato bruschetta: Omit the avocado. Spoon the tomato mixture onto each piece of bruschetta, then top with 2–3 slices of bocconcini and season with pepper to taste. Return to the grill and cook for an additional minute to warm slightly, and then serve.
Breakfast bruschetta: Top each piece of grilled sourdough with a slice of tomato, avocado, a little ricotta and one poached egg. Season with freshly ground black pepper to taste. Top with a some finely chopped parsley.
Honey and goat's cheese canapés: Cut each piece of bread into quarters to get smaller, canapé-sized pieces. Spray each piece lightly with oil, and then place under the grill to toast. Drizzle a little honey onto each piece of bread and then top with goat's cheese and mint.

Classic Italian Bruschetta Recipe
Ingredients
sea salt
extra virgin olive oil
1 garlic clove, cut in half
freshly ground black pepper
6 pieces thickly sliced ciabatta
handful of flat-leaf parsley leaves, finely shredded
for the Mushroom topping
3 tablespoons olive oil
6 frozen porcini (cepe) mushrooms, thawed and sliced (or similar variety)
for the Cherry tomato topping
basil leaves
3 tablespoons olive oil
1 onion, finely chopped
2 large handfuls cherry tomatoes
Method
Prepare the mushroom topping by heating some oil in a frying pan and sauté the mushrooms until golden frown. Using another pan, gently sauté the onions until caramelised. Add the cherry tomatoes and stir until lightly softened. Toast the bread, and rub the sliced garlic clove onto one side of each piece of toast and sprinkle with parsley. Drizzle with extra virgin olive oil and spoon on a serving of the mushroom or tomato topping. Scatter with basil leaves. Season with salt and pepper, and serve immediately.
Bruschetta with Spicy Pickled Mussels and Fennel Aïoli
Ingredients
1 cup water
fennel aïoli
1 teaspoon salt
1 cup white wine
2 tablespoon sugar
2 kg (4 lb) mussels
salt and white pepper
1 1/2 cups cider vinegar
1 teaspoon chilli flakes
8 slices or crusty bread
2 teaspoons fennel seeds
1/4 cup fennel, peeled, diced and very briefly blanched
Method
Heat a heavy pan or Dutch oven over a high heat with a tiny amount of water. Add half the mussels with half the wine. Cover the pan with a lid on and give it a little jiggle. Remove the mussels when they open. Repeat for the next batch of mussels. Set aside to cool. Prepare the picking mixture by heating some oil in a heavy pan. Add the fennel seeds and chilli flakes. Cook, stirring continuously, until you can smell the aromas. Add in the water, vinegar, sugar and salt and bring the mixture to the boil. Then lower the heat and simmer gently. Remove the mussels from their shells and transfer to the pickling mixture. Simmer for several minutes. Allow to cool and set aside in the refrigerator until they are used.
To prepare the bruschetta topping, remove the mussels from the liquid and slice into large chunks. Add to a bowl with the diced fennel, add a splash of oil, give a little stir and taste for seasoning. Toast the bread. Spread with a generous amount of fennel ïoli over each slice before spooning over a serving of the mussel mix. Serve immediately.
Broccoli Rabe Bruschetta Recipe
Ingredients
salt
garlic
pepper
olive oil
Italian bread
parmesan cheese
1 bunch broccoli rabe
Method
Blanch the broccoli rabe in a saucepan of salted boiling water and cook for 5-10 minutes. Drain well, and slice the vegetable into medium size pieces. Fry 3 or 4 cloves of chopped garlic in hot until the garlic become transparent. Add the drained broccoli rabe, salt and pepper, and mix well. Serve on slices of country bread that have been brushed with olive oil and toasted until crisp. Top with grated Parmesan cheese and serve immediately
Bruschetta with Cherry Tomatoes, Basil, Olives and Feta
Ingredients
sea salt
2 cloves garlic, halved
freshly ground black pepper
8 thin slices of ciabatta bread
2 cups of fresh basil leaves, washed
20 pitted green Sicilian olives, halved
extra virgin olive oil, to brush and serve
3-4 cups of cherry tomatoes, washed, halved
200 g (3 oz) Greek or Bulgarian feta, crumbled


Method
Heat your char grill to high. Brush the bread slices on both sides with olive oil and grill until char marks appear. Rub each piece with a garlic half. Combine the tomatoes, olives, basil, extra virgin olive oil in a small bowl and season to taste. Top bread with the tomato mix, crumbled feta and an extra drizzle of olive oil. Serve warm with extra herbs and cheese on top.