How to Make French Toast - Recipes, Sweet, Savoury, Cinnamon, Milk
French toast, which is a simple dish of bread dipped in beaten eggs, then fried, has a fascinating history and despite the name is widely cooked throughout the world with lots of regional variations. Both sides of the slices of egg-dipped bread are fried in butter until they are golden brown and cooked through. French toast can be served as a sweet dish with sugar, milk, nutmeg or cinnamon added to the egg mixture before frying. When cooked the French toast can be then topped with sugar, herbs, pepper, fruit, butter, syrup, or many other items. It is also popular as a savory dish without milk, when a simple pinch of salt and pepper is added, and then served with a sauce such as ketchup, tomato, soy or a mayonnaise based sauce.
Australians have a unique version where the toast is buttered and spread with Vegemite (a black yeast extract) before being dipped in eggs and fried. There are lots of other variations concerning what is spread on the bread before frying, the ingredients in the egg based dip and what is added after frying. A stuffed version is also popular where a sandwich is made with various fillings and then coated with eggs and fried. This article describes how to make sweet and savory French toast and the various variations you can try.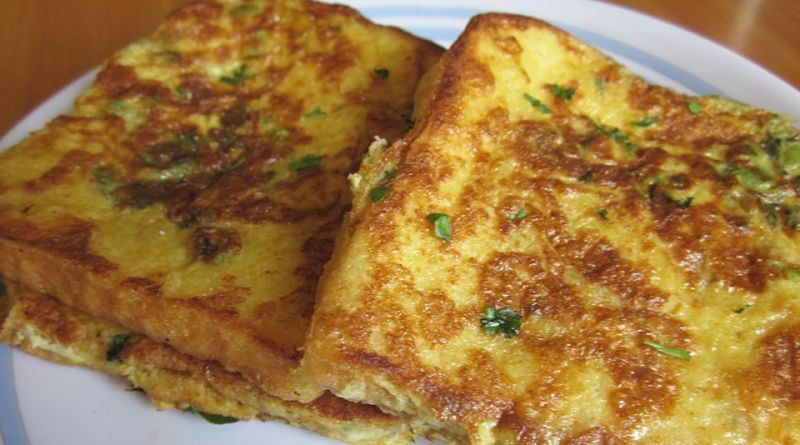 The earliest reference to dipped and fried bread recipes is a collection of Latin recipes dating to the 4th or 5th century and 14th and 15th century German and English recipes. A 1660 recipe under the title 'French Toasts' refers to toasted bread soaked in sugar, wine and orange juice. A Middle Ages dish called 'suppe dorate' was popular in England that resembled a Norman dish called 'tostees dorees' .

The simple combination of bread, milk and eggs dates back to Medieval times, when the coating and toasting process was used to make stale loaves more palatable. Whether the French (or Normans) were truly the first to dip bread and fry is disputed by many but the name 'French' stuck. In England it was called 'nun's toast', 'pain perdu', or 'lost bread,' perhaps referring the recovery of bread that would otherwise have been discarded.
There are many dishes throughout the world that are similar to 'French Toast':
Egg toast
Spanish toast
German toast
Eggy bread
Egg dip
Gypsy toast
In French-speaking Canada, a similar dish is known as 'pain dare' (Golden Bread) and the most popular topping for this dish is maple syrup.
In the United Kingdom savoury rather than sweet variations are more common - a version with jam was once popularly known as Poor Knights of Windsor. Raisin toast is also used to create: 'Spotty French Toast'

In Pakistan, the French toast is known as Meetha toast (sweet toast) and is very popular in breakfasts as a snack food.
In Burma, it is known as 'Bombay toast'.
In Italy, a variation is served as Mozzarella in carrozza (mozzarella in carriage). This is made by placing a slice of fresh mozzarella between two slices of bread and the whole dipped in egg and fried.
In Germany, a version called 'Arrne Ritter' (poor knights) is made from bread leftovers, mixed with of sugar and cinnamon. Sandwiches are filled with plum-jam or with vanilla sauce and then fried. A version made with wine instead of milk, is called 'Betrunkene Jungfrau' 'drunken virgin'.
Major Variations
Sweet - made with bread soaking in milk or cream and topped with cinnamon, maple syrup and other sweet ingredients

Savoury - not made with milk. Toast is dipped in egg and sprinkled with salt and pepper before frying. Often eaten with ketchup or tomato sauce

Pre-Dipping Options - The bread can be buttered and spread with cream cheese or Vegemite before being dipped.

Toppings - The cooked slices are often topped with gravy, ice cream, cheese (often with ham), treacle, bacon, marmalade, powdered sugar, yogurt, sugar, chocolate, tomato ketchup (when sugar is not used), fruit, whipped cream, lard, beef, beans, applesauces, molasses, fruit syrup, golden syrup, maple syrup, Vegemite, Marmite, honey, peanut butter, butter, jam and various nuts such as walnuts, pecans and almonds.

Stuffed French Toast - This is made from sandwich with two pieces of bread filled with cheese, ham, jam, strawberries, avocado, bananas or other fruit and a wide variety of other fillings. The bread is normally buttered on the outside. The Stuffed French Toast is usually topped with maple syrup, butter, powdered sugar for sweet versions, and various sources for savoury ones.
Recipes
French Toast with Milk Recipe
2 eggs
1/2 cup milk or half milk and half water
1/2 teaspoon vanilla extract (optional)
Cinnamon, nutmeg or other spices to taste
4 thick slices of day-old bread, white, sourdough or wholemeal. French and Italian bread work well. If the bread need to be dried, toast it briefly or place the slices in a moderate oven for several minutes
1 tablespoon of butter
Beat the eggs and milk with a whisk or electric hand mixer. Add the seasonings and vanilla.
Melt the butter in a griddle or skillet (no-stick versions work well) or over medium heat.
Dip and briefly soak the bread slices in the batter, making sure you coat both side. Hold above the mixture for about a minute to drain.
Fry the bread in the pan until golden browned on each side.
Serve with powdered sugar, honey or syrup.
Stuffed French Toast Recipe
Follow the above recipe but make a sandwich first. You can use a variety of sweet and savoury fillings such as cream cheese and jam, peanut butter, banana slices, sauteed apple slices. Press firmly so that the sandwich stays together when fried. Many people lightly butter the outside of the bread.
French Toast without Milk (Savoury or Sweet)
3 eggs
1/2 tablespoon butter
3 slices of bread
1/2 teaspoon vanilla (optional)
1/2 teaspoon nutmeg powder (optional)
1 tablespoon sugar (optional)
1/2 teaspoon cinnamon (optional)
Salt and pepper to taste
Powdered sugar(optional)
Mix the nutmeg, egg, salt, sugar, cinnamon, vanilla in a bowl. Continue mixing to blend everything together until smooth.
Melt the butter on a griddle, skillet or non-stick pan on moderate heat.
Dip the bread into the egg mixture.
Make sure that both sides are properly soaked in the mixture. This moistens the bread without using milk.
Fry both sides of the bread in the pan until golden brown. Add flavourings