How to Make Ginger Wine - Guide and Three Fabulous Homemade Recipes
Ginger Wine is made by fermenting ground ginger and raisins. It was first produced commercially in 1740 in London by the Finsbury Distilling Company. Ginger's medicinal properties in helping digestion and even as an aphrodisiac, were much promoted in these early days. These claims undoubtedly contributed to the popularity of ginger wine that has continued through to the present day.
The best known modern commercial product is the famous Stone's Green Ginger Wine. Ginger Wine is very popular in the winter months and can be enjoyed on its own or over ice. Probably the most popular mixed drink with ginger wine is the renowned 'Whisky Mac', which is a combination of ginger wine and whisky. It is created by adding 1 oz green ginger wine to 1 1/2 oz Scotch whisky (2 to 3 ratio). The mellow flavour of the ginger wines and its warming aftertaste blends well with the whisky - great for beating the winter blues.
Ginger Wine can also be combined with lemonade, soda or bitter lemon. Other popular drinks made from ginger include ginger beer and ginger ale. Root beer is also made from ginger.
This article describes how to make your own homemade ginger wine using three great recipes.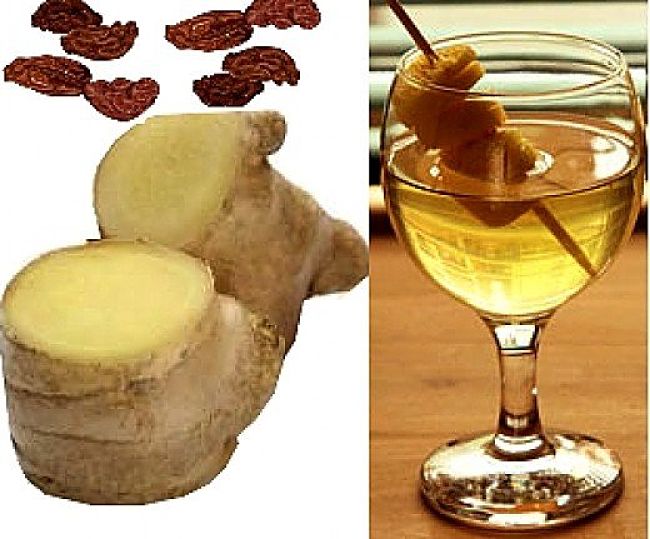 Homemade Ginger Wine Recipe 1
Ingredients
Yeast nutrient
1 sachet white wine yeast
500 g (1 lb) raisins, chopped and squashed
Zest and juice of 4 lemons
1.4 kg (2.8 pounds) of sugar
5 litres (5 quarts) of water
One piece of fresh ginger - 5 inches / 12cm long

Method
Peel the ginger and slice very finely. Using the plastic fermenting bucket or another large non-metal container, add the ginger, lemon zest and raisins. Then pour over 2 1/2 litres (2 quarts) of boiling water. Cover and set it aside for 24 hours. Next add an additional 2 1/2 litres (2 1/2 quarts) of boiled and cooled water. Next add the yeast nutrient, lemon juice, sugar, and stir until the sugar is completely dissolved. Next add the yeast by following the instructions provided on the packet. Cover and leave the mixture to ferment for 3 - 4 days then pour into a demijohn through a sterilised funnel and sieve. Fit a bubble trap and leave to ferment for several months. Decant off into a fresh demijohn and set aside until the ginger wine clears and then bottle.
Homemade Ginger Wine Recipe 2
Ingredients

250 gm Ginger peeled and chopped
1 Orange
1 Lemon
200 gm Raisins
8 to 10 Dry red chillies
2.5 litres of Water
1 teaspoon of yeast
1 teaspoon of Pectic enzyme (or use the peeled skin from half a papaya as a substitute - to help clear the wine)
1 kg of White Sugar
Method

Wash and dry the ginger and then chop it finely without peeling. Collect the zest from the orange and lemon and then extract the juice and set aside. Add the zest, sugar, chopped ginger, raisins and dry red chillies to the water in a large pot and bring to the boil. Continue boiling the mixture mix for about an hour, when the mixture will have been reduced to half its volume. Add the juices from the orange and lemon and set aside to cool. When the liquid has cooled to warm, add the yeast and pectic enzyme (or papaya peel). This enzyme will help to clarify the wine by breading down the pectin carbohydrate in wines which causes a cloudy haze, which won't disappear by standing th wine.
Pour the liquid into a large plastic, glass or ceramic container. Cover and lead for about 10 days, stirring once a day. Strain the mixture and store the liquid in the dark for another 20 days. Without disturbing the sediments that has settled transfer the wine to bottles. It may take some time for the wine to mature and the haze to clear. If necessary filter and transfer to fresh clean bottles. After about a month the wine will be ready to drink.
Homemade Ginger Wine Recipe 3
Ingredients

4 tablespoons dried ginger
1 campden tablet
1 gallon (3.8 litres) water
1 teaspoon yeast nutrient
wine yeast
3 1/2 pounds (1.6 kg) of sugar
juice of two lemons
zest of 2 lemons
2 oranges, peels and sliced
8 ounces (225 gm) of raisins

Equipment

fermentation bucket
strainer
clear wine demijohn (with airlock)
Method

Add about half water and ginger to a large pot and simmer for about ten minutes. Add the lemon zest and sliced oranges and simmer for an extra fifteen minutes. Strain the mixture into the fermentation bucket. Pour the remaining water to the pan and boil the ingredients again for another 15 minutes to extract all their flavor. Strain this liquid into fermentation bucket. Add all the remaining ingredients into the fermentation container except for the wine yeast. Cool the liquid down until it is lukewarm ( this may take 10-12 hours). Add the wine yeast and stir the liquid twice daily for about five days. Then pour the mixture through the strainer into the demijohn. Let the ginger wine ferment for about six weeks. Rack the wine at intervals of two to three months until the ginger wine is at least twelve months old. This process involves siphoning the wine into another separate container to eliminate the sediment that collects. After 12 months wine is then ready to drink.
Related Articles and Recipes
=> Health Benefits of Ginger - Nutritional Facts, and Dietary, Medicinal Benefits
=> Best Sangria Recipes with Fruit, Red or White Wine, Liqueurs, Herbs
=> How to Make Ginger Wine - Guide and Three Fabulous Homemade Recipes
=> Ginger Beer Recipe Ideas - How to Make Homemade Ginger Beer
=> Homemade Sports Drinks for Revitalizing After Exercise
=> Homemade Root Beer - Recipes, Guides and Tips using Extracts
=> Residual Sugar in Wine - Sweetness Chart and Calories in Wine Summary
=> Calories in White Wine and Nutrition Facts for White Wine Styles, Varieties
=> Best Sangria Recipes with Fruit, Red or White Wine, Liqueurs, Herbs