Lemon, Lime and Bitters Recipe - Homemade
Lemon, Lime and Bitters is a refreshing non-alcoholic cocktail style drink popular in Australia and New Zealand as a refreshing drink for golf players at the 19th hole. It can be purchased from most hotel bars in Australia, and as a prepared soft drink (soda) or syrup in supermarkets.
The commercial variety has high sugar levels, and is not made from freshly squeezed lemon juice. However this simple and refreshing summer drink can be made at home with freshly squeezed lemon and lime juice, containing all their natural vitamins and minerals. You can substitute honey for the sugar and reduce the amount of sweetener in the drink. Despite its bitterness many kids love it.
This article shows you how to make fresh lemon line and bitters and the syrup from natural ingredients. There are many variations you can try.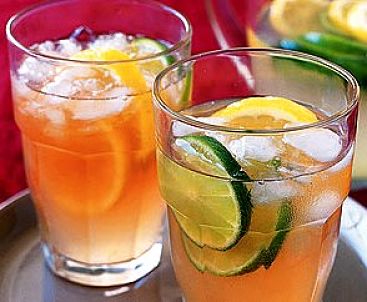 Homemade Fresh Lemon Lime and Bitters Drink
Ingredients
2 medium lemons freshly squeezed and filtered
1 lime freshly squeezed and filtered
1/2 teaspoon Angostura Bitters (vary according to your taste. The drink should have a slightly bitter taste)
1 teaspoon sugar or pure honey to taste (just enough to remove the edge from the bitterness - depends on taste)
Mineral water or soda water added to a large glass with ice.
Method
Add ice to a glass, add the lemon, lime, bitters and honey to a large glass.
Top the glass with the mineral or soda water and sir to mix.

You can make a larger quantity in a jug and kept in the refrigerator.
Simply adjust the quantities of the ingredients as necessary.
Homemade Lemon Lime and Bitters Syrup Recipe
Ingredients
1 litre (1 quart) of warm water
Juice and zest of 3 limes
Juice and zest of 3 lemons
1/2 lime rind
1/2 lemon rind
1 piece of fresh ginger root finely chopped
1 teaspoon Angostura Bitters
20 gm ( 0.7 oz) citric acid
pinch of salt
2 cups of sugar
Method
Add all ingredients, except the sugar to a saucepan.
Bring to a boil and simmer for about 30 minutes.
The volume of the liquid should reduce to about half.
Remove from heat, add the sugar and stir to dissolve.
Filter through sieve while still hot.
Pour into a glass jar other container and chill.
Add the syrup like a cordial to a glass with ice.
Top with lemonade or soda water and serve.
Refreshing Lemon, Lime and Bitters Drink - Bar Recipe
Ingredients
Lemonade or lemon Soda
6-8 dashes Angostura aromatic bitters
5 oz (150 ml) fresh lime juice or 1 oz (15 ml) of lime cordial
Method
Line the inside of a tall drink glass with Angostura aromatic bitters. Add ice and swirl until the inside of the glass is evenly coated with aromatic bitters. Top up the glass with lemonade or soda, and add 15 ml of lime cordial or fresh lime juice. Garnish slices of lemon and lime.
Related Articles
=> Homemade Sports Drinks for Revitalizing After Exercise
=> Drink Only When Thirsty - Beware: Drinking Excess Water Can Be Fatal
=> How Much Caffeine? Comparison Charts for Food, Coffee, Tea, Energy Drinks
=> Which Wines are Worth Cellaring and Aging Before Drinking
=> Health Benefits of Drinking Pure Plain Water
=> Health Benefits Drinking Coffee and How Caffeine Lowers Risk of Depression
=> Energy Drinks: Side Effects, Health Concerns, Dangers with Alcohol
=> Best Easy Homemade Stock Recipes for Soups, Stews, Curries and Drinks
=> Sorrel Recipe Ideas : Soups, Sauces, Quiche, Jamaican Food, Drinks
=> Homemade Energy Drinks and Electrolyte Replacement Drinks
=> Homemade Kahlua Recipes - How to Make Kahlua Coffee Liqueur Drinks