Best Meatloaf Recipes - Tips, Healthy Ways to Boost Meatloaf Flavor
Meatloaf has a bad reputation as a fat-laden, stodgy, boring comfort food that your mother made for family meals - it was filling, cheap and OK to eat when piled with ketchup or gravy. But most meatloaf is high in fat, full of calories and stuffed with white bread and so not very healthy or interesting. However this article will show you how to turn the traditional meatloaf into a delightful, tasty and healthy meal - high in protein, low in calories and chock full of whole foods, vitamins and nutrients.
Make meatloaf is healthy, inexpensive and nice to eat using these recipes and ideas - full or flavor, texture and color. Meatloaf can be as varied as the person who makes it.
This article include lots of recipes, tips and suggestions of the ingredients you can add to spice it up. Homemade meatloaf can be prepared in minutes ready for the oven. It keeps well and can be frozen and so there are no excuses that it takes too long to prepare it.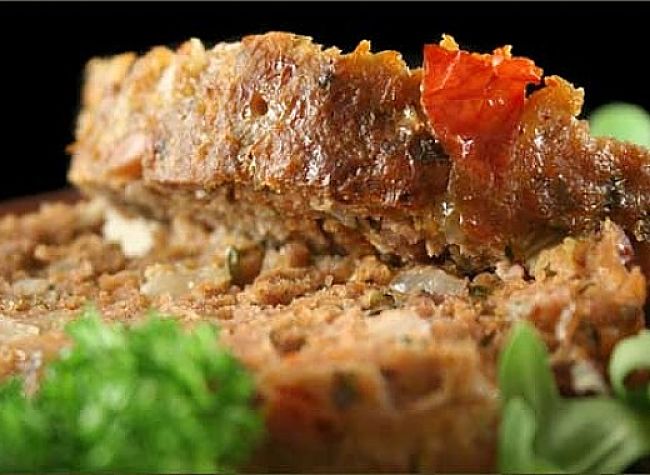 Meatloaf Recipes and Tips
Tips for Making Healthy Meatloaf - low fat, fewer calories, wholefoods, lots of fibre and Vegetables
Use High Quality Lean Meat -Reduce the amount of meat by replacing with tofu, vegetables, mushrooms and grains. This means that you can afford high quality meat that is low in fat. Use good quality meat, including beef or pork, that is 90% lean or leaner. Ground chicken or turkey have lower levels of 'bad' fats.
Add Grains - Replace some of the meat with whole grains, including cooked quinoa, whole wheat, rolled oats, wheat bran or wheat hearts, bulgur, cooked beans, lentils or barley. All these whole grains are tasty, add texture and provide vegetable protein and fiber.

Add Vegetables - You can add a huge variety of finely chopped cooked vegetables including beets, pumpkin, sweet potatoes, potatoes, kale, onion, tomatoes fresh and dried, carrots, celery stalks, long onion, green beans and peas (uncooked or frozen), garlic. If you need to hide them from the kids run them through a food processor.
Skip the Yolks - Replace two whites for every whole egg to help bind the meatloaf while avoiding the fat, cholesterol and calories in the yolks. One egg yolk has 54 calories and 5 gm of fat, whereas the yolk contains about 16 calories and less 1 gm of fat.
Use Whole-Wheat and Whole-Grain Ingredients - Breadcrumbs are an integral part of the texture and taste of meatloaf. The breadcrumbs help maintain the shape and structure and they make the loaf less dense. Choose good quality whole-wheat breadcrumbs instead of white bread, and make your own as the package crumbs have doubtful quality. The whole wheat adds fiber, nutrients, protein, texture, taste and vitamins. You can also add other whole grain ingredients such as bran wheat germ, oatmeal and other seeds such as beans, sesame as well as a variety of nuts.
Boost the Flavor - Use you imagination and add also sorts of extra ingredients to boost the flavor and make the meatloaf more interesting. Options include all sorts of herbs and spices, curry pastes, dried mushrooms, sun-dried tomatoes, chili, soy sauce, chopped ginger or ginger slices, olives, beans, hard cheese, seeds and nuts all of which boost the flavor without adding many extra calories. Brown sugar, honey and molasses can be added to provide a sweeter taste for children. Using a mixture of meats also provides interesting flavors.
Basic Healthy Meatloaf Recipe
1 tablespoon yellow mustard
3 tablespoons brown sugar
3 tablespoons tomato sauce
1 cup of wholemeal breadcrumbs
3/4 cup milk
2 large eggs
2 pounds lean ground beef
1 package onion soup mix
Other ingredients for flavor such as herbs and spices
Preheat the oven to 350 degrees F (190 degrees C). Combine the ground beef, onion soup mix, breadcrumbs, egg and milk together. Transfer to a suitable size loaf tin and press down firmly. Combine the tomato sauce, brown sugar and mustard and add to the top of the meatloaf. Transfer to the oven and cook uncovered, for about 60 minutes. When done, take the meatloaf out of the pan and place on a serving plate. Let stand for 10-15 minutes before serving.
Tips for Fabulous Homemade Meatloaf
Don't handle or mix the ingredients too much, otherwise the ground meat it will compact, producing a tougher, drier meatloaf.
One trick is to soak the bread crumbs in the liquid before putting the meat into the mixture. This makes sure the all the breadcrumbs are soaked and you won't risk having dry pieces of bread in the meatloaf, which is one of the most frequent problems
When you use ground turkey or chicken for the meat always add extra breadcrumbs otherwise the loaf will end up too heavy and dense.
Replace some of the ground beef with ground pork or lamb for a little lighter texture and interesting taste.
Try lots of interesting ingredients to boost the flavor and make it more interesting every time you make it (it doesn't have to be the same every time). You can add mashed potato, grated carrots, chopped tomatoes, sun-fried tomatoes, diced - raw or cooked onions, or whole cherry tomatoes, chopped mushrooms, cooked spinach, various varieties of cheese, or sour cream. You may need to add an extra egg or two to help hold the meatloaf. Seasonings such as salt (or soy sauce) and pepper.
When the meatloaf is cooked, let it rest for 10-20 minutes before slicing and serving. This helps the juices to redistribute through the loaf and helps to promote a the texture that is tender, juicy, and moist.
Just about all meatloaf types that can't be frozen and reheated to serve. This offsets the time taken to prepare and cook the meatloaf. Make an extra large one or two medium size ones and freeze one for later. You can thaw a frozen meatloaf in the oven or microwave for a quick fabulous dinner in minutes.
For food safety reasons is best to use a meat thermometer to make sure it is cooled in the middle of the loaf. For beef cook until the internal temperature reaches a minimum of 160 degrees F (70 degrees C). For poultry meatloaf cook till the internal temperature reaches 165 degrees F (74 degrees C).
Healthy Meat Loaf Recipe with Beans and Flaxseeds

2 tablespoons ketchup
1/2 teaspoon garlic powder
1/3 cup ground flaxseed
1/2 cup seasoned wholemeal bread crumbs
1 large carrot, peeled and shredded (about 1 cup)
2 large omega-3 eggs, beaten
1 pound lean ground beef (90% or higher)
1 15-ounce can black beans, drained and rinsed
Salt and pepper to taste
Preheat the oven to 375 degrees F (190 degrees C). Lightly oil or coat a medium size baking dish (adequate to take the meatloaf) with cooking spray or oil. Using a fork, mash the beans in a large bowl using a fork until still a bit chunky but mostly smooth. Mix in the eggs, beef, carrot, ground flaxseed, bread crumbs, garlic powder (or crushed fresh garlic) and ketchup. Season with salt and pepper to taste and mix until just combined. Using your hands helps to mix it thoroughly and quickly. Position the meat loaf in the center of the baking dish. Work the meatloaf into a rectangular shape, about three inches (7 cm) high. Cover the top and sides of the meatloaf with two tablespoons of ketchup. Bake about one hour until the meat thermometer reading reaches about 160 degrees F (70 degrees C). Let rest for 10-15 minutes before serving.
Spicy Meatloaf Recipe with Mustard and Horseradish

2 eggs, beaten
1/2 cup ketchup (make your own, it's much healthier!)
1 teaspoon dried mustard
1 tablespoon dried horseradish
1 teaspoon dried oregano
1 cup whole wheat bread crumbs
3/4 cup onions, chopped
2 lbs. ground beef (90% lean or more)
1 tablespoon olive oil
Preheat oven to 375 degrees F (190 degrees C). Grease an 8x4" loaf pan with olive oil. In a large bowl, hand mix all of the ingredients into a large bowl. Shape into a loaf shape and place in the pan. Bake for 75-90 minutes or until done.
Healthy Meat Loaf Recipe with Garlic and Onion

1 tablespoon vegetable oil (for frying)
1/3 cup milk, whole
1 teaspoon black pepper, fresh cracked
1 teaspoon salt
1/4 cup Worcestershire sauce, original
2 large eggs, beaten
1 tablespoon minced garlic
2 stalks celery, diced
1/2 large yellow onion, diced
1 cup whole wheat bread crumbs
2 lb ground beef (80-85% lean)
Glaze
1 tablespoon white vinegar
2 tablespoon Worcestershire sauce, original
1/2 cup brown sugar
3/4 cup ketchup
Mix the ingredients for the glaze and set aside. Mix well. Set aside. Preheat oven to 325 degrees F (160 degrees C). Brown the onion, celery and garlic and add to the other ingredients in a bowl. Using your hands or a wooden spoon, mix the ingredients without overworking the mixture to keep it light when cooked. Form the mixture into a load shape and coat with the glaze. Lightly press into a large rectangular loaf pan and make the top flat. Spread the remaining glaze evenly on top surface of the meatloaf. Bake for 1 hour, with potatoes, pumpkin and sweet potato pieces to be served with the dish. Rest for 15-20 minutes before serving.
Healthy Meat Loaf Recipe 4with Carrots and Parsley

1/4 cup barbecue sauce
1 egg, lightly beaten
2 tablespoons tomato sauce
1 small brown onion, grated
1 carrot, peeled, coarsely grated
1 cup fresh wholemeal breadcrumbs
1 pound (500g) extra lean beef mince
2 tablespoons flat-leaf parsley leaves, chopped
Preheat oven to 185 degrees C (360 degrees F). Lightly grease a baking tray and line with baking paper. Place all the ingredients in a large bow and season with salt and pepper. Mix until just combined using your hands or a large wooden spoon. Shape the mixture into a rectangular shaped meatloaf. Place on the prepared baking tray and bake for 25 to 30 minutes. Remove from oven. Spread barbecue sauce over the top surface of the meatloaf. Replace back into the oven and cook for an additional 10-15 minutes. Let rest for 5-15 minutes before serving.
Italian Style Meatloaf Recipe
1/3 cup ketchup (or more as needed)
1/3 teaspoon ground black pepper
2 eggs
1 teaspoon seasoned salt or beef bouillon powder
1/3 cup chopped fresh parsley (do not substitute)
1/3 teaspoon oregano
1/2 teaspoon basil
2 tablespoons minced or pressed garlic
1/4 cup grated Parmesan cheese
1 1/2 cups Italian breadcrumbs
4 slices bacon
1 large sweet onion, chopped
1 16 oz can diced tomatoes
2 large peppers, red or green, coarsely chopped
2 1/2 lbs ground beef (lean)
onion and garlic powder to taste
Preheat oven to 375 degrees F (190 degrees C). Combine all the ingredient except for the bacon and ketchup, in a large bowl. Transfer the mixture to a loaf shaped baking pan, and make a dome shape top. Brush the top with ketchup and then sprinkle with garlic powder, onion, salt and pepper. Cover the top with the slices of bacon. Bake uncovered about 90 minutes, basting occasionally.
Healthy Meat Loaf Recipe with Bell Peppers, Mustard and Spicy Sauces

2 teaspoon Worcestershire sauce
2 tablespoon Dijon mustard3 tablespoon brown sugar
3 tablespoon Balsamic vinegar
1/2 cup water or beef stock (can use bouillon)
1 cup ketchup
1 8 oz can tomato sauce
1/4 teaspoon pepper
1/2 teaspoon onion powder
1/2 teaspoon garlic powder
1 1/2 teaspoon salt
1 egg
1 large green bell pepper, chopped
1 large onion, finely chopped
3-4 cloves garlic, finely minced
1/4 cup fresh parsley, chopped
1 cup fresh Italian style bread crumbs
1 1/2 pounds ground beef (lean)
1/4 cup Parmesan, grated (optional)
In a small bowl, combine all the ingredients and mix until just combined. Form the mixture into a loaf shape. Transfer to shallow rectangular pan or bread loaf tin, lightly oiled. Bake for about 75-90 minutes at 350 degrees F (180 degrees C), basting occasionally with ketchup or your favorite barbecue sauce (homemade if possible).
Related Articles for Side Dishes Using Meat
=> Which Meats Have the Highest Contamination Risks for Food Poisoning?
=> Q&A Cancer Risks of Processed Meat- Bacon, Sausages,Ham and Red Meat
=> Beer Can Burgers - Bacon and Meat Bowl Burger Recipes with Stuffing, Toppings, Sauces
=> Best Blue Cheese Recipes for Dips, Sauces, Bakes, Pasta and Meat Dishes
=> Tips to Make Perfect Meatballs - Best Homemade Meatballs Recipes
=> Easy Homemade Meatball and Sauce Recipes with Delicious Variations