Easy Homemade Salad Dressing Recipes - Healthy and Tasty
Why make your own salad dressing? Well, just read through the list of ingredients in commercial bottled salad dressings and you will see that any resemblance to any ingredients derived from any living thing or natural ingredients is poorly an accident. Instead you will see a chemical concoction including preservatives, sodium, artificial flavours and colours and other questionable ingredients known only by their numbers.
When you make your own dressings you can be creative and use the ingredients that you want and like, and vary the recipes to perfectly match the dishes and salads you have prepared. Because homemade dressings contain no artificial preservatives they won't keep for more than a day or so in the refrigerator, but they are so easy to make and are far better when freshly made. This article describes how to make your own salad dressings.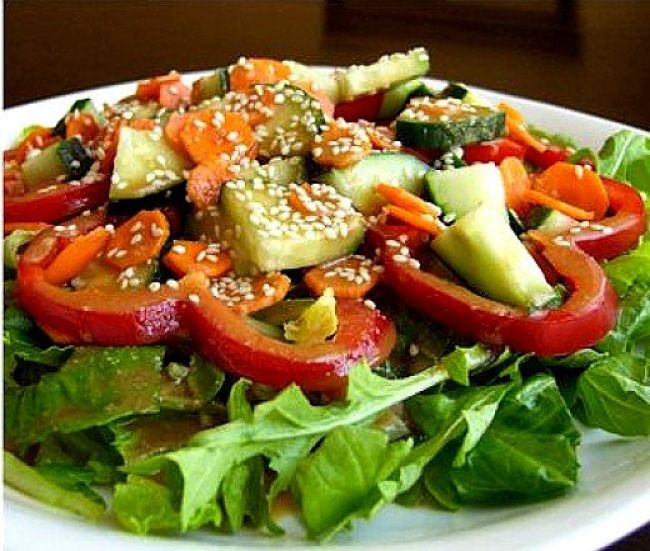 The Basic Method
A salad dressing is simply an emulsion or suspension formed by mixing two liquids that don't normally mix together. One of the liquids (normally the vinegar) is mixed in an oil base so that tiny droplets and formed and suspended within the other, forming a thick, glossy mixture. These Vinaigrette-type dressings are unstable as the oil droplets will gradually coalesce and separate from the vinegar if the dressing is left standing for too long.
Although it depends on personal taste, there are several quick tips for making dressings:
The balance should generally be 1 part vinegar to 3 parts oil, but this ratio can be changed to taste.
Add the seasonings you ant to the vinegar before whisking or shaking the oil. That way, the seasoning, salt and sugar will dissolve and mix evenly throughout the dressing.
Choose the vinegar carefully and use a white vinegar, cider tarragon or some lighter style vinegar. Don't use malt vinegar when making dressings as it is simply too strong and will overpower the dressing. Balsamic vinegar is delicious, it also has a strong taste and may not suit every salad and so mix with other vinegars. Balsamic based dressings are best suited to simple, tomato-based fresh salads.
Instead of wicking you can just shake the mixture. Just put the ingredients in a jar with a lid and shake it vigorously. You can store it in the container and shake again before use.
Extra-virgin olive oil is the ideal oil choice and there are many varieties and flavours from strong and peppery to delicate and fruity, or even slightly bitter. Choose the oil flavour to complement the ingredients in your salad.
Nut oils work well but can have strong favours. Good examples such as walnut, macadamia or hazelnut. So mix these oils with a mild olive oil.
You can experiment with different flavours of vinegar and oil. You can try using cider vinegar or many of the other varieties, or use lemon juice or other juices instead of vinegar.
One tip for a good basic vinaigrette is to always add a teaspoon of dijon mustard. This adds tang to the taste, but more importantly it acts as an emulsifer agent to help keep the vinegar and oil from separating from the emulsion.
Simple Oil and Vinegar Recipe
1/3 cup vegetable oil
3 tablespoons olive oil
3 tablespoons cider vinegar
freshly squeezed juice of one lemon
1 teaspoon sugar
1 teaspoon salt
freshly-ground black pepper
Transfer all ingredients to a small bowl and whisk to mix thoroughly. Or transfer the ingredients into a glass jar with a lid and shake well to combine. Keep in the refrigerator. Remember shake well again each time before using.
Low-fat Honey Mustard Vinaigrette
1 cup apple cider vinegar
2 teaspoons honey
1 1/2 tablespoons of your favourite stone ground mustard (or dijon mustard)
Transfer all ingredients in a small bowl or a glass jar with a lid. Shake or whisk together until well mixed. Keep in the refrigerator.
Creamy Yogurt and Herb and Dressing
1/2 cup plain yogurt (not fat-free or low fat, as oil is needed )
1 tablespoon lemon juice
1 teaspoon dried dill
1 teaspoon dried parsley
garlic salt (and other seasonings to taste)
Combine all the ingredients in a medium bowl or transfer to a container with a lid and sake vigorously. Refrigerate to store.
Blue Cheese Salad Dressing
1 cup crumbled blue cheese (Roquefort)
1 cup sour cream
1 teaspoon freshly squeezed lemon juice
1 teaspoon sugar
1 teaspoon finely chopped onion and garlic
1/2 teaspoon salt
Mix all ingredients by whisking or shaking in a container with a lid. Chill before use, and the flours are enhanced by storing overnight.
Caesar Salad Dressing
1 1/2 tablespoon dijon mustard
1 1/2 teaspoon minced garlic
1 egg yolk
1/2 cup olive oil
1 or 2 anchovies (optional)
juice of 1 lemon
1/4 teaspoon salt
2 tablespoons grated Parmesan cheese
Transfer all the ingredients part from the olive oil into a food processor or blender. Blend for few seconds and then gradually add the olive oil making the all ingredients are mixing well and the oil emulsifies into the mixture.
Red Wine Vinegar Salad Dressing
1/2 teaspoon. freshly-ground pepper
1 teaspoon. prepared mustard (we used dijon)
1 cup olive oil
2 teaspoons salt
1/4 cup red wine vinegar
Place the pepper, salt, mustard and a small part of the oil in a medium sized bowl and whisk well. Add a little of the red wine vinegar and whisk again. While stirring constantly, add the remaining vinegar and oil a little at a time until all ingredients are blended.
Homemade Ranch Dressing
1/4 teaspoon dried parsley
1/4 teaspoon dried chives
1 cup mayonnaise
1 teaspoon onion salt
1/4 teaspoon garlic powder
1/4 teaspoon salt
1/4 teaspoon white pepper
1 cup buttermilk
Transfer all ingredients, apart from for the buttermilk, in a large mixing bowl. Mix to combine well. Blend with an electric mixer or food processor, slowly at first and then faster until smooth. Slowly add the buttermilk, and beat until it is well mixed in.
Balsamic Vinegar Salad Dressing
1 tablespoon soy sauce
1/2 cup balsamic vinegar
1 teaspoon finely chopped garlic
2 tablespoon honey
1/2 cup olive oil
1/2 teaspoon dried red pepper flakes or dried chilli
In a food processor or blender, mix all the ingredients except for the olive oil. Reduce the speed and gradually add the olive oil a dribble at a time. Continue blending until the mixture is well combined and smooth. Refrigerate in a glass jar with a lid, and shake each time before using.
Related Articles, Information and Recipes to Try
=> Best Homemade Salad Dressing Recipes, Tips for Perfect Vinaigrette
=> Best Waldorf Salad and Dressing Recipe - Modern Healthy Versions
=> Best Panzanella Recipe Collection - Tuscan Salads with Bread, Tomato, Basil
=> Best Tabbouleh Salad Recipes with Couscous, Bulgur, Quinoa, Fruit and Herbs